Mar 19 2022
Éanna beat Phoenix BC 68-48 in InsureMyHouse.ie Billy Coffey U18 Men's National Cup final
Éanna have won the InsureMyHouse.ie Billy Coffey U18 Men's National Cup, defeating Phoenix BC 68-48 at Neptune Stadium.
Cathal O'Sullivan got the game's opening score with a long range three point jump shot with a little over a minute gone. Ryan Calo got Phoenix's first points, followed not long afterwards by a lovely three from Fiontan Rogers. By end of the quarter it was the Belfast club in front, 23-18.
The second quarter saw Éanna gain the upper hand, Viktor Lovic and Neil Coghlan were controlling the inside well and they were ahead 37-29 at the break.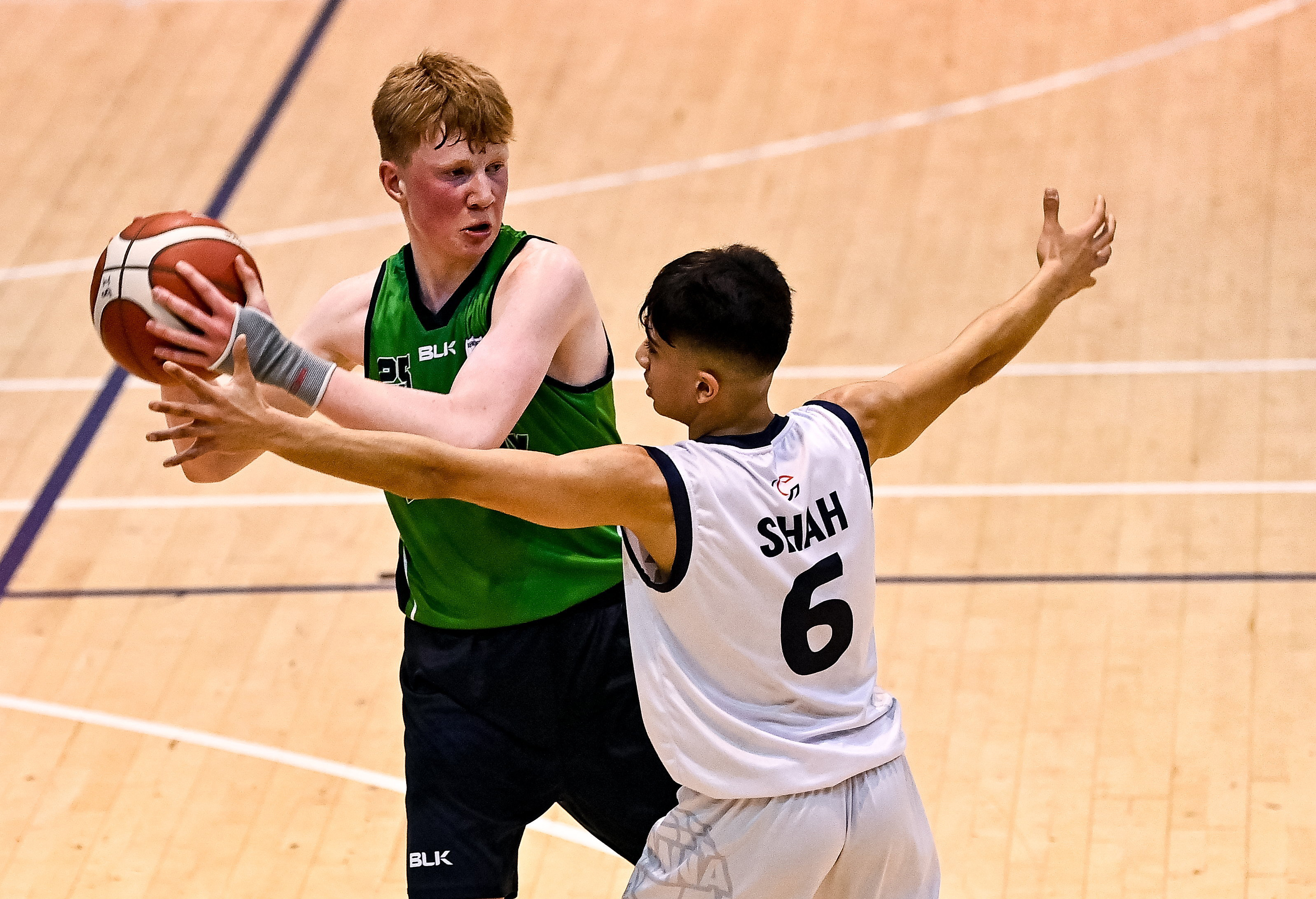 Phoenix struggled to get the ball to fall in the second half and Éanna's advantage was 20 points at the end of the third - O'Sullivan, MVP Nathan Comerford and Shanay Shah were proving hard to contain as they attacked the basket and the Dublin club led 60-40. The game fizzled out after that, with the teams scoring 8 points apiece in the final quarter, as Éanna kept Phoenix at arm's length.
O'Sullivan finished as the game's top scorer on 25 points, with Shah on 16 and MVP Comerford on 14. For Phoenix their scoring was headed by Ryan Calo (13), Fiontan Rogers (11) and Callum Keys (10).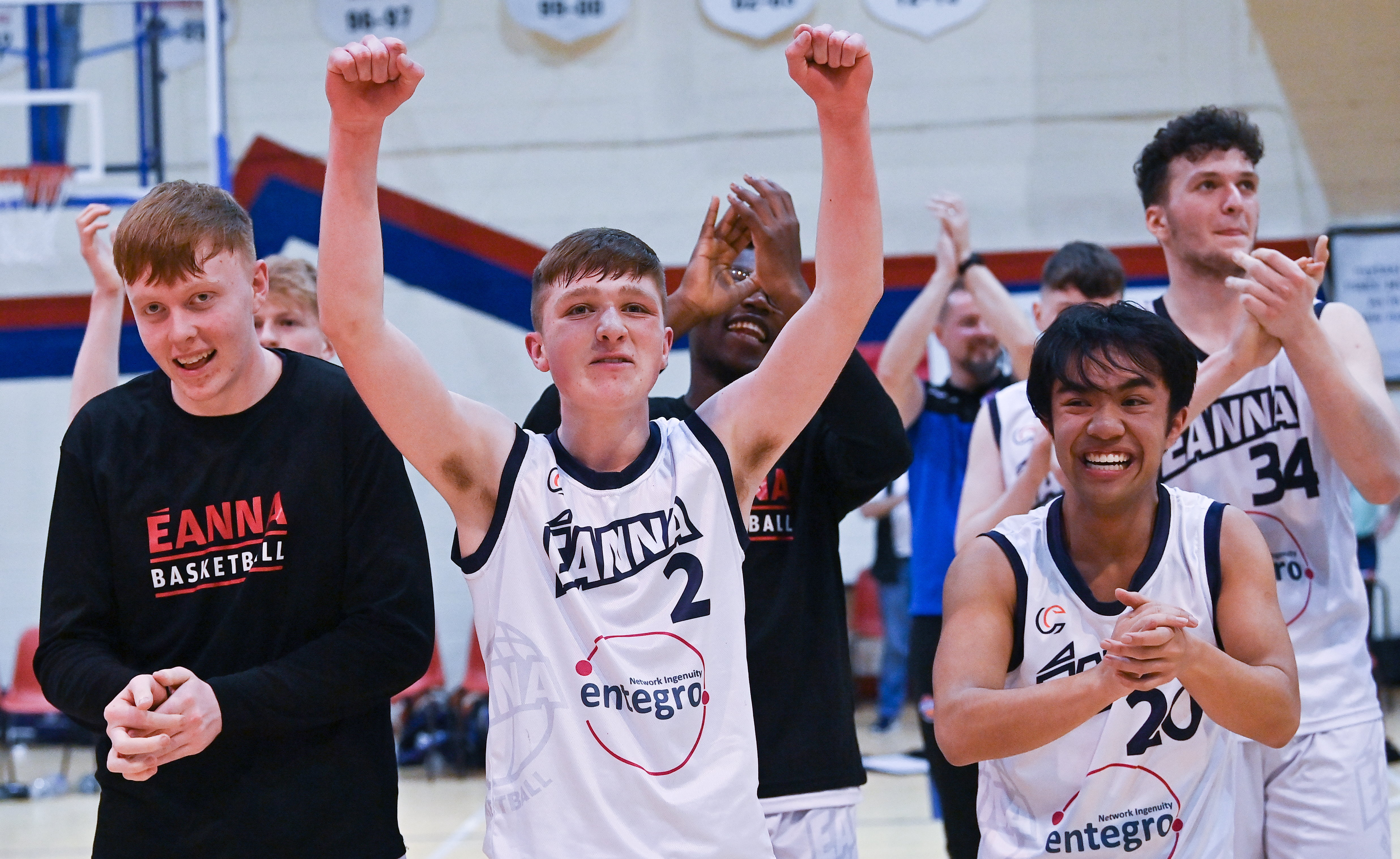 Ciaran O'Sullivan, Éanna head coach, said: "It's absolutely massive, I am thrilled for the lads. It was a great game and Phoenix really put it up to us, a really, really good side and pushed us to the end. Yeah I am absolutely thrilled for the lads and the travelling support from Dublin as well, a fantastic day out.
"We had really good intensity on defence, I think we battled hard on defensive end right 'til the end. I think we kept a very good Phoenix team to less than 50 points all game. I am really happy with the defensive effort from the lads and again they played it right to the final buzzer, very aggressive on offence as well. So, just really good intensity I think that what did it for us in the end."
Quarter scores: Q1: 23-18, Q2: 6-19, Q3: 11-23, Q4: 8-8
Top scorers:
Phoenix BC 48 (29)
Ryan Calo 13, Fiontan Rogers 11, Callum Keys 10
Éanna 68 (37)
Cathal O'Sullivan, 25 points, Shanay Shah 16, Nathan Comerford 14
Phoenix: Thom Kimber, Tom Keaney, Ryan Calo, Omar Akhonzada, Jacob Byrne, Fiontan Rogers, Thomas Sloan, Callum Keys, Zach Lynas, Jacob Warner, Eoghan Sherry, Jake Calo
Head Coach: Richard Berzins
Assistant Coach: Alan Ferris and Mike Calo
Manager: Brian Keys
Éanna: Luke Meghen, Jaycee Capinpin, Cathal O'Sullivan, Sean Brady , Neil Coghlan, Shanay Shah, Izu Nwagwu, Viktor Lovic, Nathan Comerford, Chuk Chime, Kyle Finn, Sean Wall.
Head Coach: Ciaran O'Sullivan
Assistant Coach: Darren McGovern