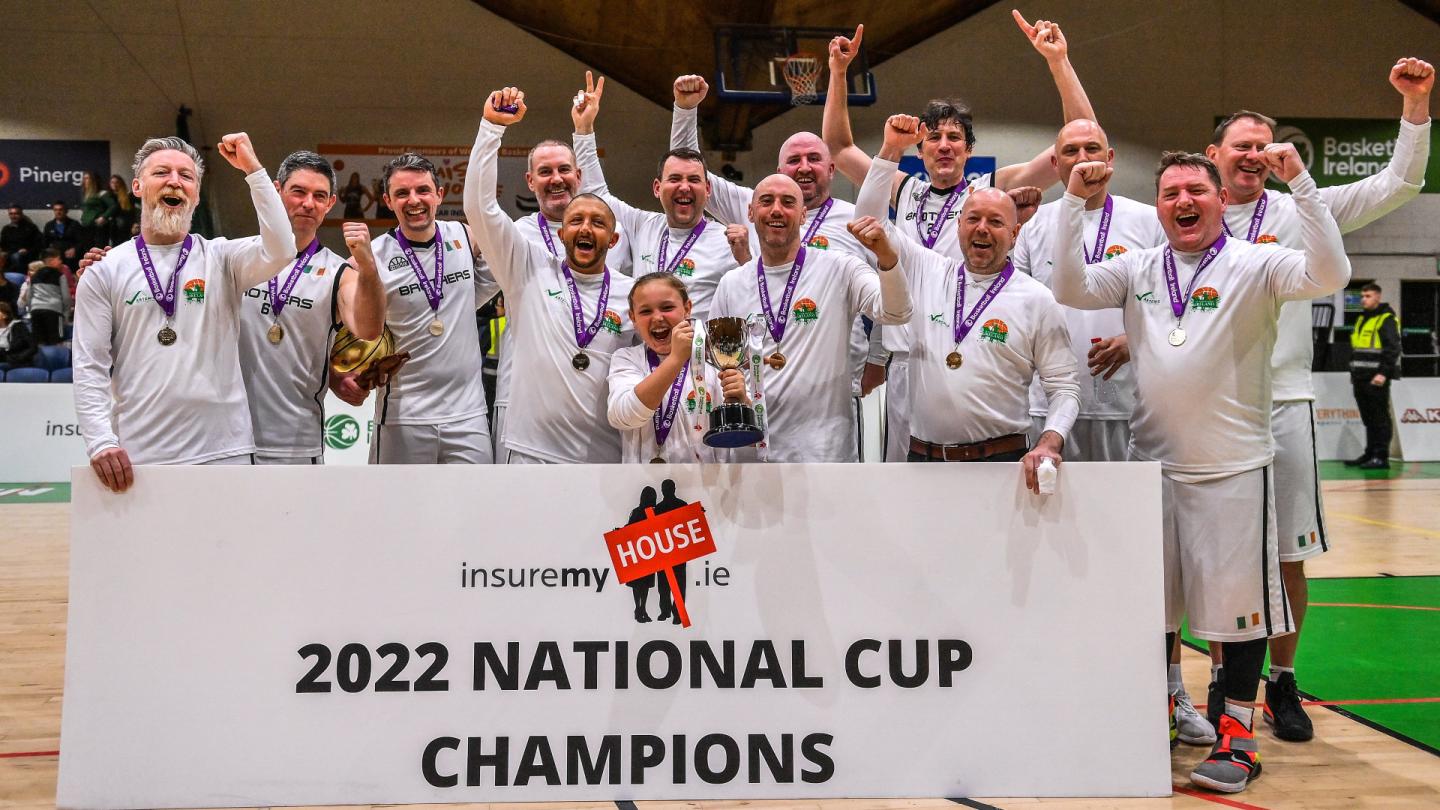 Apr 03 2022
Dublin Vikings beat Midlands Masters 64-51 in InsureMyHouse.ie Masters Over 40's Men's National Cup final
Dublin Vikings have won the inaugural InsureMyHouse.ie Masters Over 40's Men's National Cup, beating Midlands Masters 64-51. Paddy Kelly showed his class once more, hitting 21 points, along with his 14 rebounds, to help him claim the MVP.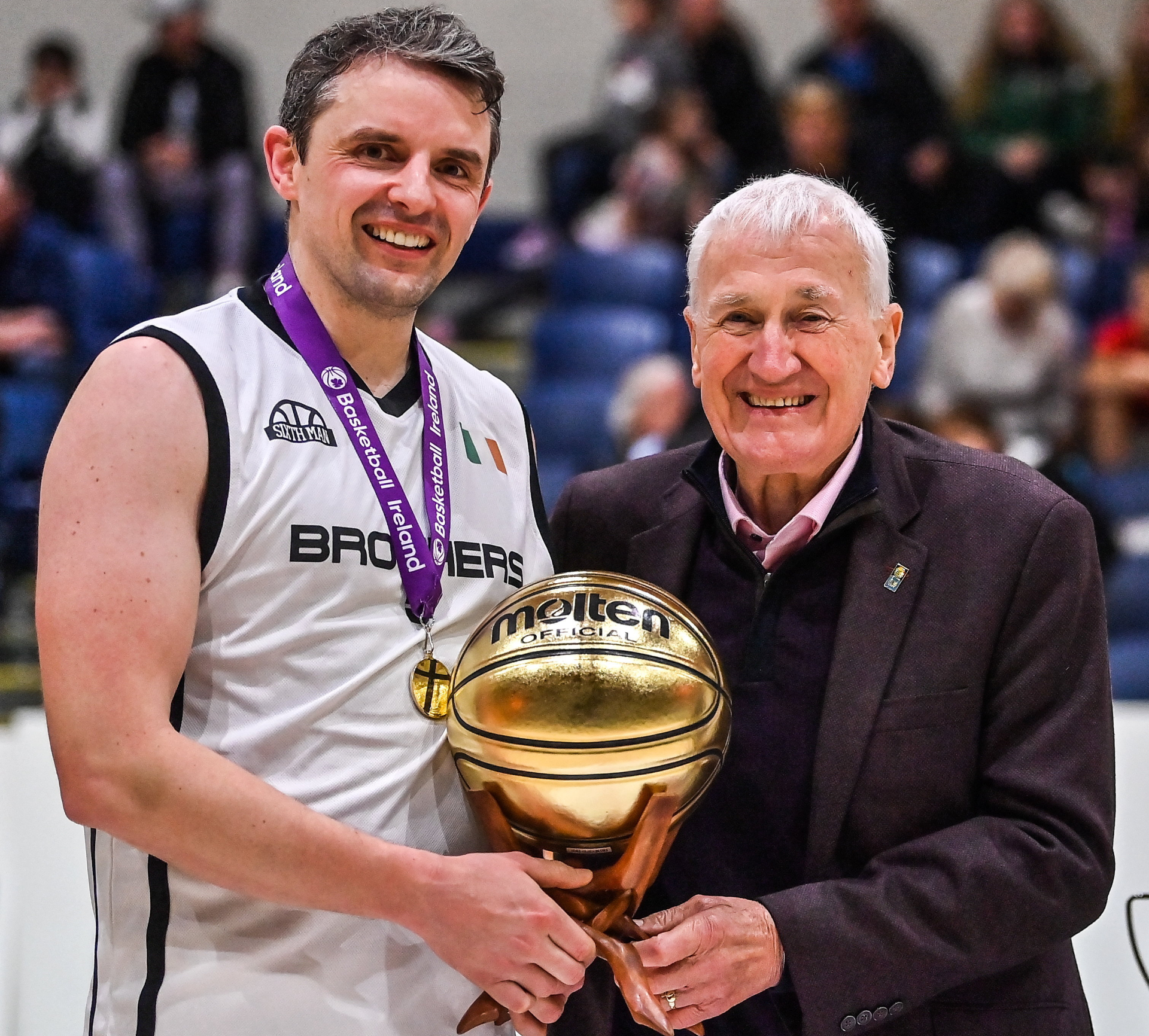 Paddy Kelly of Dublin Vikings is presented with the MVP by Basketball Ireland board member Tony Burke
Dublin Vikings started brightly, a Bernard Walsh three point jump shot and a layup from captain Ian Durham had them 12-4 in front with three minutes gone. But Midlands Masters got themselves back into it and Pierce Fagan's turnaround jump shot in the last minute brought the game level at 22-22.
Midlands Masters built themselves a five-point lead in the second quarter, Alan Burnell's layup saw them 36-31 up with less than two minutes to go. It was level at 36-36 by half-time, following Scottie Sommersgill's three point jump shot and another Durham layup for Dublin Vikings.
Dublin Vikings opened up an eight point lead, a Kelly layup was followed by a Peder Madsen three point jump shot and they were ahead 48-40, with three and a half minutes to go in the third. A Noel O'Hara jump shot for Midlands Masters in the final minute closed the gap to six, 48-42.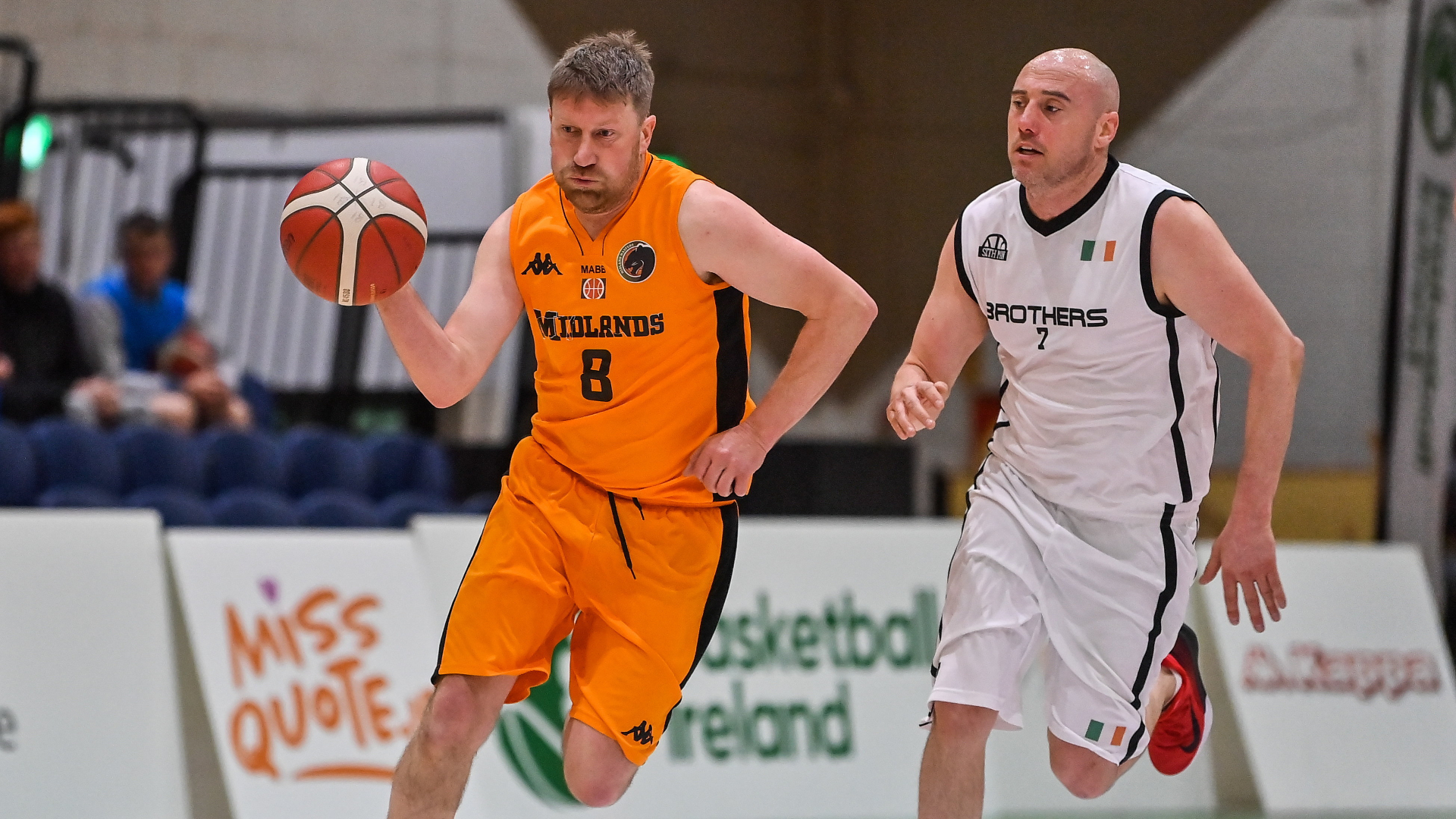 Rody McEvoy of Midland Masters in action against Ian Durham of Dublin Vikings during the InsureMyHouse.ie Masters Over 40's Men National Cup Final 
Back-to-back three point jump shots by Sommersgill at the start of the quarter handed Dublin Vikings a 12 point advantage. Paddy Kelly, who converted 11 of his 16 free throws, kept the scoreboard ticking over for Vikings too. Midland Masters captain Greg Dunne landed a three point jump shot with a little over a minute to go, to reduce the deficit to 10, but another Walsh three pointer for Dublin Vikings, his fourth of the game, was the final score as they ran out 64-51 winners.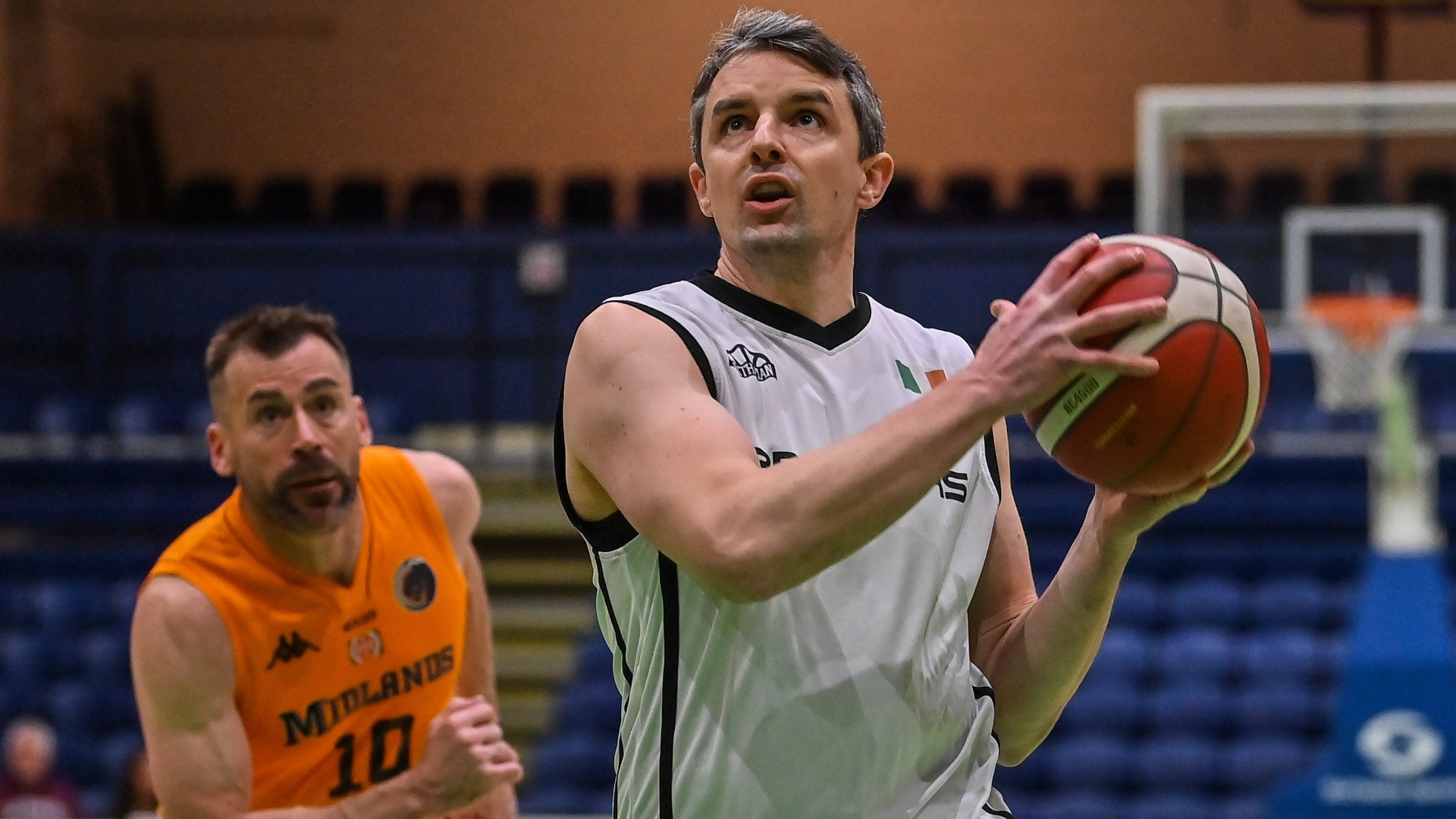 Paddy Kelly scored 21 points for Dublin Vikings in their InsureMyHouse.ie Masters Over 40's Men's National Cup win
MVP, Paddy Kelly, said: "It's great to be back playing with these guys. I played with some of these guys many, many years ago, so it was really good fun to get up and down. They gave us a good game today, it was tough in the last quarter, but we held out and we're just delighted to get the win.
Kelly, who was a Men's Super League final MVP in 2011 and 2008 for Killester, added: "It's just about playing together as a team. These guys fought hard all year and it was a tough couple of away games. The last week we had a really tough game against Neptune, we were dead and buried at half-time and came back and it took a lot of resolve. So a really good team effort today and we all had to chip in – at Over 40's we don't have the energy to kick on for very long, so it was a really good team effort today."
Top three scorers:
Midland Masters – Noel O'Hara (12), Martas Kraniauskas (12), Alan Burnell (8)
Dublin Vikings – Paddy Kelly (21), Bernard Walsh (12), Scottie Sommersgill (9)
Midlands Masters: Noel O'Hara, Pierce Fagan, James Mulhall, Aidan Gallagher, Rody McEvoy, Anthony Dunne, Alan Burnell, Greg Dunne, Gediminas Simkus, Martas Kraniauskas.
Head coach: Keith Conroy
Dublin Vikings: Richard Owen, Scottie Sommersgill, Paddy Kelly, Peder Madsen, Ian Durham, John Quigley, Marius Kazlauskas, Solius Kulvellis, Bernard Walsh, Tomas Saltonas, Tony McDonogh, Mike McClaverty
Head coach: Bernard Walsh