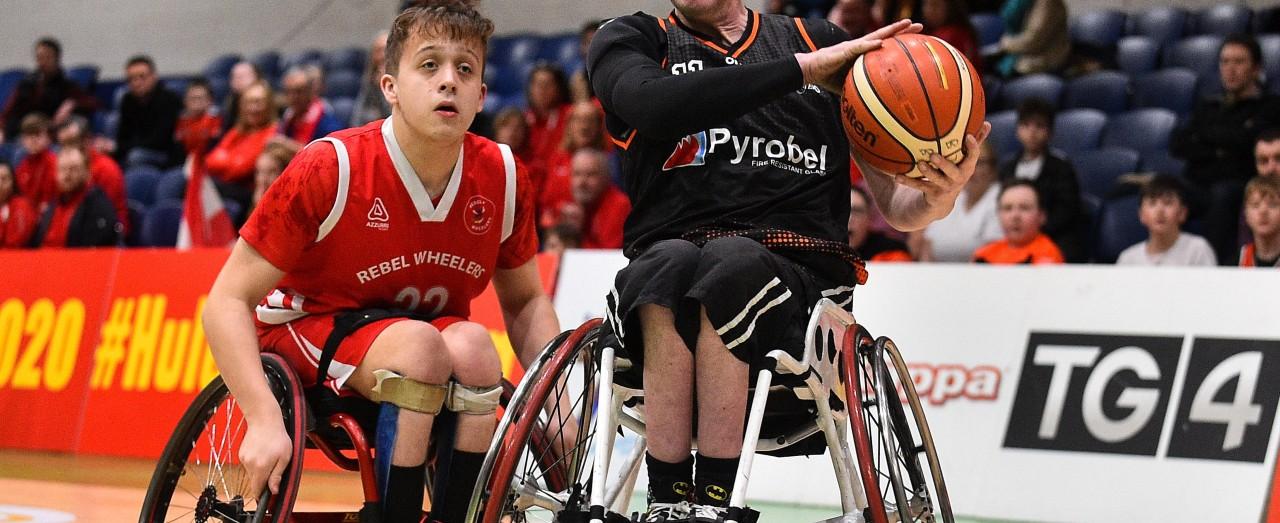 FAQ
---
I would like to play wheelchair basketball – how can I get involved?
Children between the ages of 5 and 15 years of age can play locally and non-competitively in one of the 11 multi-sport junior clubs based around Ireland. Visit the IWA Sport (Irish Wheelchair Association) website to check out the contact information of their clubs. https://iwasport.com/clubs-sport-sections/
There are ten senior wheelchair basketball clubs catering for players from the age of 15 upwards located throughout Ireland.
The IWA also runs a national programme at U23 and senior level.


---
What are the competitive opportunities to play wheelchair basketball in Ireland?
The IWA currently runs a ten-team senior national league and cup programme which runs from October to May. All teams meet on average every three weeks to play a round of fixtures. Their U23 programme is also competitive and is a shorter three-team regional competition.


---
What ages are catered for?
The senior clubs and national league caters for players from the age of 15 years upwards. The IWA also hosts a junior programme which is generally suited to younger players of a primary school going age.
---
Do I have to have a disability to play wheelchair basketball in Ireland?
You don't need to have a disability to play wheelchair basketball and everybody - regardless of skill or experience - can enjoy the sport.
Irish Wheelchair Basketball believes in a policy of inclusion, meaning able-bodied participants and athletes with a disability play alongside each other at domestic level. The one exception is that you must have a disability to compete internationally.
---
How do athletes with various disabilities and functional capacities compete fairly against each other?
In wheelchair basketball, fairness is ensured through a process called classification, where every athlete, with or without a disability, is assigned a numeric value that reflects his or her functional potential on the court to perform skills specific to the sport such as wheeling, dribbling, passing, reaction to contact, shooting, and rebounding.
In Ireland, classifications are closely based on the international classification system and range from 0.5 to 4.5. Lower class athletes are more limited in their functional skills. Currently the total number of points on the court assigned for each of the five players may not exceed 19 points at any one time in the national senior league.
---
How does wheelchair basketball differ from 'running' basketball?
The basic rules of wheelchair basketball are very similar to 'running' basketball with a few minor modifications. The aim of each team is to score into the opponents' basket and to prevent the other team from gaining control of the ball or scoring. The measurements of the court and the height of the baskets are identical, as well as the scoring system. A game consists of four periods of ten minutes.
---
How does dribbling work in wheelchair basketball?
A player may wheel the chair and bounce the ball simultaneously, however, if the ball is picked up and\or placed on the players' lap, s/he is only allowed to push twice before they are obligated to shoot, pass, or dribble the ball again. There is no double dribble rule in wheelchair basketball. A traveling violation occurs if the player takes more than two pushes while in possession of the ball and not dribbling.
---
What organisation is responsible for the governance and coordination of wheelchair basketball in Ireland?
Irish Wheelchair Association-Sport is responsible for the governance and coordination of wheelchair basketball programmes in Ireland. In addition to welcoming new players into our sport, they also welcome volunteers to get involved in their clubs.