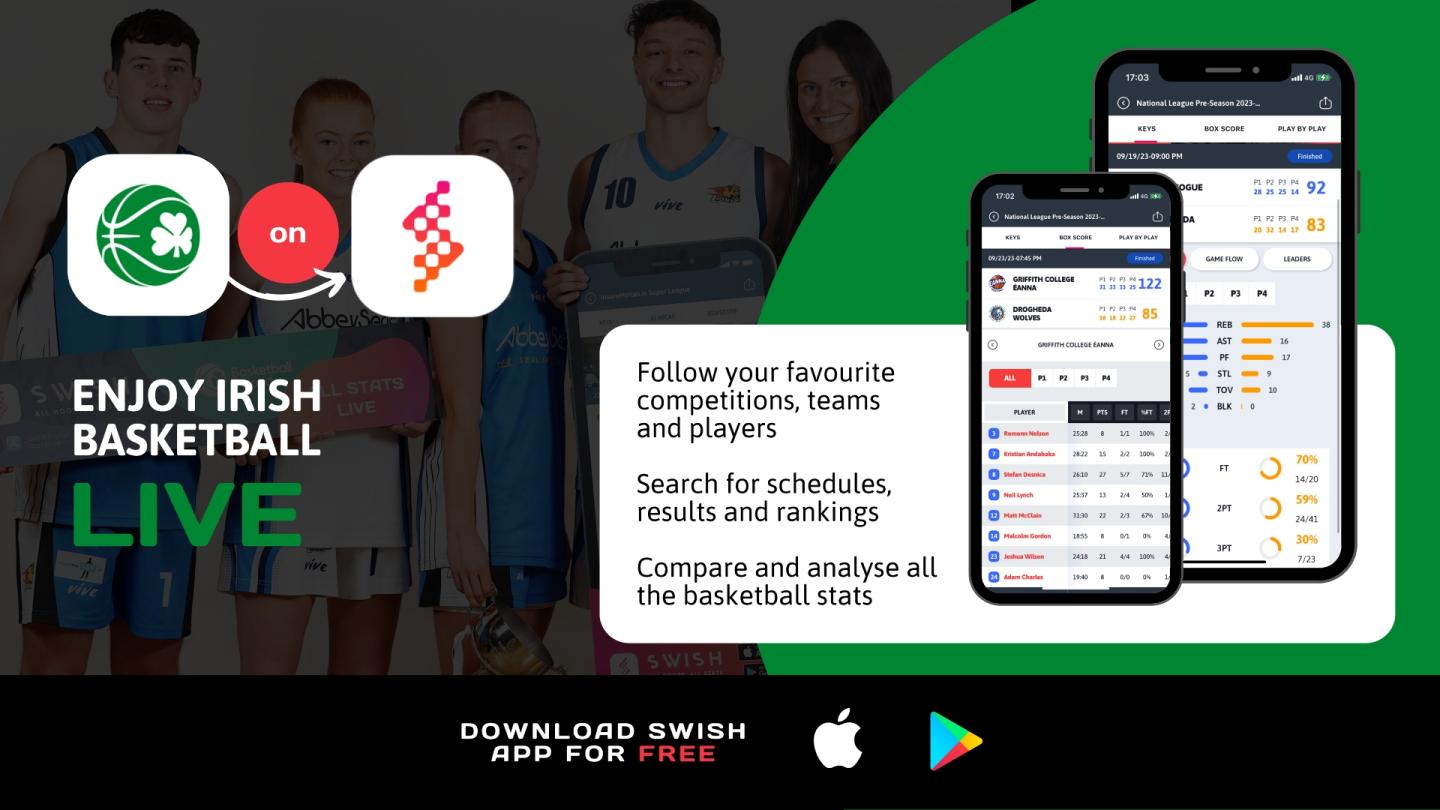 Sep 29 2023
Advanced Statistics now available to Irish basketball fans through SWISH 2.0 app
Basketball fans in Ireland will have more data than ever available to them during the 2023/24 season, as Basketball Ireland's digital scoresheet provider NBN23 launches their new and improved SWISH 2.0 app, with a host of additional features.
SWISH 2.0 will include advanced statistics on the InsureMyVan.ie Super League, MissQuote.ie Super League, InsureMyVan.ie Division One and MissQuote.ie Division One for the first time, as well as live scores, player data, fixtures, results and tables.
A new user interface has been integrated into SWISH 2.0, allowing customised comparison of your favourite players and teams, along with a more fluid search engine to improve and simplify the in-app experience.
This will be the second season of the partnership between Basketball Ireland and NBN23, with National League, International, Schools and Masters basketball featuring on the app in its inaugural year. Even more games games will be covered during 2023/24 season, including college basketball and regional competitions such as Dublin Ladies Area Board, North West Area Board and LLR, with others also to be added.
"With our partnership with NBN23, basketball is taking significant strides in Ireland," said Basketball Ireland CEO John Feehan. "The advantage of a new application that allows us to offer the best experience to our users will further enhance the growth of our sport. We are eager to benefit from SWISH 2.0, the premier application in the market, and enjoy all its new features."
CEO of NBN23 Miguel Bullón added: "With SWISH 2.0, we aimed to meet and exceed user expectations, following their desire to access more data, obtain more statistics, and follow this sport more easily live. We've turned it into the best app on the market and the only one in the basketball world that offers all these unprecedented functionalities. Essential to provide Basketball Ireland with an app on par with its competitions."
The Swish All Hoops app is available to download for free in both the App Store and Google Play Store.