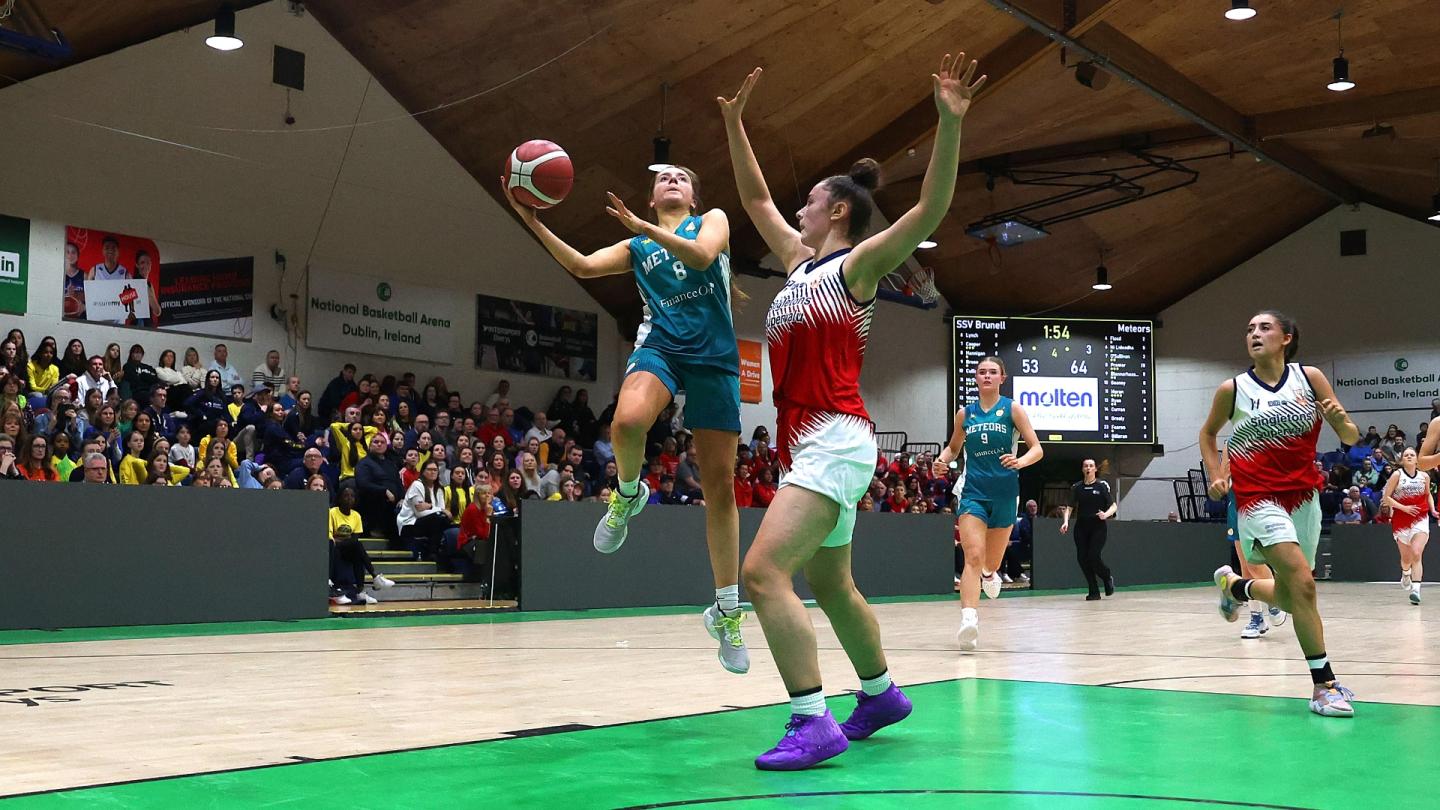 Nov 06 2023
30 teams to participate in qualifying tournaments for the InsureMyHouse.ie U18 Women's National Cup
The bracket has become a reality for 30 teams across Ireland, as they bid to qualify for the knockout stages of the InsureMyHouse.ie U18 Women's National Cup, with tournaments taking place at four locations to determine who will advance.
You can follow all the scores and stats live by downloading the Swish All Hoops app here.
FORMAT
As mentioned the 30 teams competing will play in four regionalised tournaments, with two pools in each region. Each team will play one another once as well as a cross pool game in some cases, to determine the top two teams in each group, who will advance to the semi-final stages. The semi-final winners of each qualifying tournament will qualify for the knockout stage of the InsureMyHouse.ie U18 Women's National Cup, with the tournament finals used to decide seeding.
POOLS
1A - Gurranabraher Credit Union Brunell, Tolka Rovers, Dublin Raiders, Fr.Mathews.
1B - Malahide BC, Tipperary Knights, Oblate Dynamos, TK Bobcats.
2A - East Cavan Eagles, Cobh, Maigh Cuilinn, Belfast Star.
2B - Glanmire BC, Portlaoise Panthers, Liffey Celtics.
3A - Meteors, Cahersiveen, Killester, Kilkenny Stars.
3B - Limerick Celtics, Firhouse, Drogheda Wolves, Douglas Panthers.
4A - St. Mary's Castleisland, Templeogue, Ongar Chasers, Tullamore.
4B - Ballincollig, Dundalk Ravens, Tralee Magic.
POOL 1 - Gurranabreher Credit Union Brunell
Saturday, November 11th
10:00
Ct 1
Gurranbraher Credit Union Brunell
V
Fr.Mathews
Ct 2
Tolka Rovers
V
Dublin Raiders
11:30
Ct 1
Tipperary Knights
V
TK Bobcats
Ct 2
Oblate Dynamos
V
Malahide
13:00
Ct 1
Gurranbraher Credit Union Brunell
V
Tolka Rovers
Ct 2
Dublin Raiders
V
Fr.Mathews
14:30
Ct 1
Oblate Dynamos
V
TK Bobcats
Ct 2
Tipperary Knights
V
Malahide
16:00
Ct 1
Dublin Raiders
V
Gurranbraher Credit Union Brunell
Ct 2
Fr.Mathews
V
Tolka Rovers
17:30
Ct 1
Malahide
V
TK Bobcats
Ct 2
Oblate Dynamos
V
Tipperary Knights
Sunday, November 12th
10:00
Ct 1
Winner Pool 1A
V
Runner Up Pool 1B
Ct 2
Winner Pool 1B
V
Runner Up Pool 1A
Final
12:00
Semi Final 1 W
V
Semi Final 2 W
POOL 2 - East Cavan Eagles
Saturday, November 11th
10:00
Ct1
East Cavan Eagles
V
Belfast Star
Ct2
V
11:30
Ct1
Cobh
V
Cumann Cispheile Mhaigh Cuilinn
Ct2
Portlaoise Panthers
V
Liffey Celtics
13:00
Ct1
East Cavan Eagles
V
Cobh
Ct2
Portlaoise Panthers
V
Glanmire
14:30
Ct1
Belfast Star
V
Cumann Cispheile Mhaigh Cuilinn
Ct2
Liffey Celtics
V
Glanmire
16:00
Ct1
Cobh
V
Belfast Star
Ct2
V
17:30
Ct1
East Cavan Eagles
V
Cumann Cispheile Mhaigh Cuilinn
Ct2
V
Sunday, November 12th
Semi Finals
10:00
Winner Pool 2A
V
Runner Up Pool 2B
11:30
Winner Pool 2B
V
Runner Up Pool 2A
Final
13:30
Semi Final 1 W
V
Semi Final 2 W
POOL 3 - Meteors
Saturday, November 11th
10:00

Ct1

Meteors

V

Killester

Ct2

Firhouse

V

Drogheda Wolves

11:30

Ct1

Cahersiveen

V

Kilkenny Stars

Ct2

Limerick Celtics

V

Douglas Panthers

13:00

Ct1

Meteors

V

Kilkenny Stars

Ct2

Limerick Celtics

V

Firhouse

14:30

Ct1

Cahersiveen

V

Killester

Ct2

Douglas Panthers

V

Drogheda Wolves

16:00

Ct1

Cahersiveen

V

Meteors

Ct2

Douglas Panthers

V

Firhouse

17:30

Ct1

Killester

V

Kilkenny Stars

Ct2

Drogheda Wolves

V

Limerick Celtics
Sunday, November 12th
Semi Finals

10:00

CBS

Winner Pool 2A

V

Runner Up Pool 2B

11:30

CBS

Winner Pool 2B

V

Runner Up Pool 2A

Final

13:30

CBS

Semi Final 1 W

V

Semi Final 2 W
POOL 4 - St.Marys Castleisland
Saturday, November 11th
10:00
Ct1
St.Marys
V
Tullamore
Ct2
V
11:30
Ct1
Templeogue
V
Ongar Chasers
Ct2
Ballincollig
V
Tralee Magic
13:00
Ct1
St.Marys
V
Ongar Chasers
Ct2
Dundalk Ravens
V
Tralee Magic
14:30
Ct1
Templeogue
V
Tullamore
Ct2
Ballincollig
V
Dundalk Ravens
16:00
Ct1
Templeogue
V
St.Marys
Ct2
V
17:30
Ct1
Ongar Chasers
V
Tullamore
Ct2
V
Sunday, November 12th
Semi Finals
10:00
Winner Pool 4A
V
Runner Up Pool 4B
Winner Pool 4B
V
Runner Up Pool 4A
Final
12:00
Semi Final 1 W
V
Semi Final 2 W