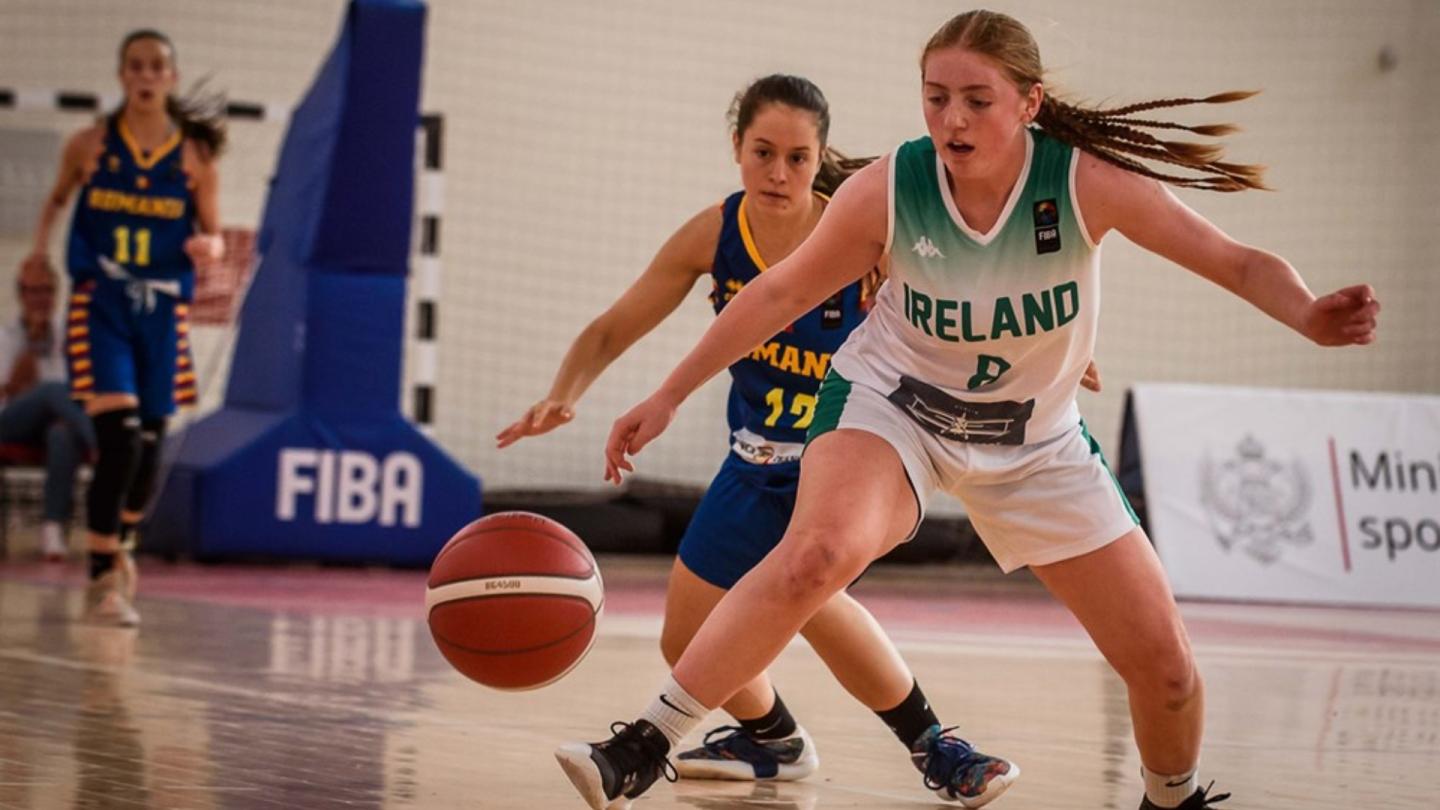 Oct 21 2022
41 players selected for Basketball Ireland's U17 Women's National Team Academy programme
Basketball Ireland announce selection of 41 players to the U17 Women's National Team Academy programme.
The U17 National Team Academy Programme will run with a similar ethos and structure to its U14 and U15 counterparts. It will serve as a bridge to the U18 squad for those involved at the FIBA U16 European Championship and give those who missed out on that opportunity but continue to develop, the chance to experience coaching and practice at a high level and to remain engaged with the Basketball Ireland pathway.
The coaching ticket of Andy Gill, Paul O'Brien, Kelly Ahern and Ian Lynch are vastly experienced at both international and at InsureMyVan.ie and MissQuote.ie National League level.
Speaking about the announcement, Basketball Ireland's Academy Lead Martin McGettrick said:
"The U17 National Team Academy programme is a new exciting departure for Basketball Ireland and this age group. This programme will focus on player development from October to May and then there will be a summer programme element similar to the U15 academy.

With the addition of four coaches to support the players, we feel that whether it's as the full group or split group (players divided geographically) there will be an emphasis on improvement and development.

We are delighted to have Kelly Ahern, Paul O'Brien, Andy Gill and Ian Lynch work with the players on this programme."
Players selected for Ireland U17 Women's National Team Academy
Ireland Women's U17 National Team Academy Programme
PLAYER

CLUB

POSITION

1.

Kelly

Bracken

Liffey Celtic BC

Point Guard

2.

Keeva

Byrne

Templeogue BC

Shooting Guard

3.

Meaghan

Carr

Oblates BC

Shooting Guard

4.

Claudia

Comellas

Carlow Basketball

Point Guard

5.

Ava

Crean

Limerick Celtics

Shooting Guard

6.

Rachel

Creedon

TK Bobcats

Point Guard

7.

Claire

Cuddihy

Limerick Celtics

Point Guard

8.

Naosishe

Dillon

Bearna BC

Guard

9.

Ellie

Doyle

Malahide

Point Guard

10.

Aoibhin

Dunphy

Kilkenny Stars

Forward

11.

Elahna

Faapito

Dundalk Ravens

Shooting Guard

12.

Abby

Fitzpatrick

Malahide BC

Shooting Guard

13.

Megan

Gallagher

Dundalk Ravens

Forward

14.

Niamh

Galvin

Tullamore BC

Forward

15.

Katie

Glynn

Killester BC

Point Guard

16.

Rachel

Griffin

TK Bobcats

Centre

17.

Leah

Horan

Belfast Star

Forward

18.

Lilli

Hughes

Carrigaline BC

Shooting Guard

19.

Daisy

Ighedosa

Ongar chasers

Forward

20.

Sophie

Kavanagh

Killester BC

Centre

21.

Leah

Kelly

DCU Mercy

Point Guard

22.

Melissa

Lynch Larkin

Meteors

Forward

23.

Anna

Markey

Dundalk Ravens

Shooting Guard

24.

Catherine

McCreanor

Belfast Star

Point Guard

25.

Caitlin

McDermott

Killester BC

Forward

26.

Leah

McMahon

St Pauls Killarney

Guard

27.

Kiya

Mothiram

Forward

28.

Sarah

Mullins

Templeogue BC

Shooting Guard

29.

Esther

Niebemuo

Dublin Lions

Forward

30.

Kate

O Neill

Oblates BC

Shooting Guard

31.

Lucy

O Shea

Cobh BC

Shooting Guard

32.

Emily

O'Connor

Malahide CS

Shooting Guard

33.

Ella

O'Sullivan

Glanmire BC

Shooting Guard

34.

Mya

Pardy

Liffey Celtics

Forward

35.

Laoise

Quinn

Maree

Forward

36.

Aoife

Robertson

Meteors

Point Guard

37.

Faye

Sutcliffe

Oblate BC

Centre

38.

Kate

Symes

Malahide BC

Shooting Guard

39.

Sarahrose

Walsh

Cobh BC

Forward

40.

Alli

Walsh

Limerick Celtics

Shooting Guard

41.

Jasmin

Walsh

Tolka Rovers

Shooting Guard

42.

Jodi

Geaney

Meteors BC

Shooting Guard