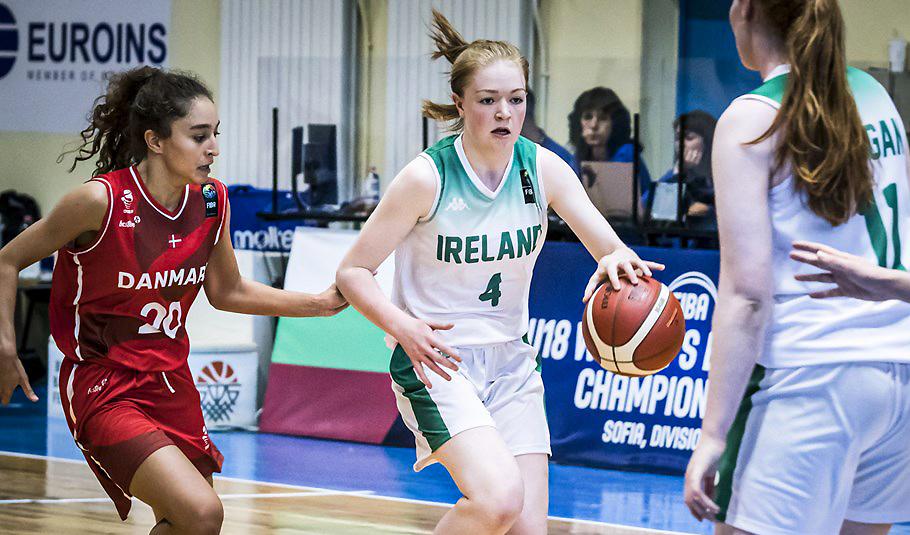 Jul 30 2022
Impressive victory for Ireland against Denmark in FIBA U18 Women's European Championship opener
Ireland U18 women worked tirelessly to deservedly come out on the winning side of a ding-dong battle against a strong Denmark outfit in the first game of their FIBA U18W European Championship in Sofia.
Buoyed by the supporters who traveled, Tommy O'Mahony's team were impressive on both ends of the court throughout the first game in the group phase. The momentum seemed to be deserting Ireland deep in the third quarter, as they trailed by four, but their 16-4 dominance in the fourth quarter was a sight to behold, some intense defensive efforts putting them in good stead ahead of the second game against Serbia on Sunday afternoon.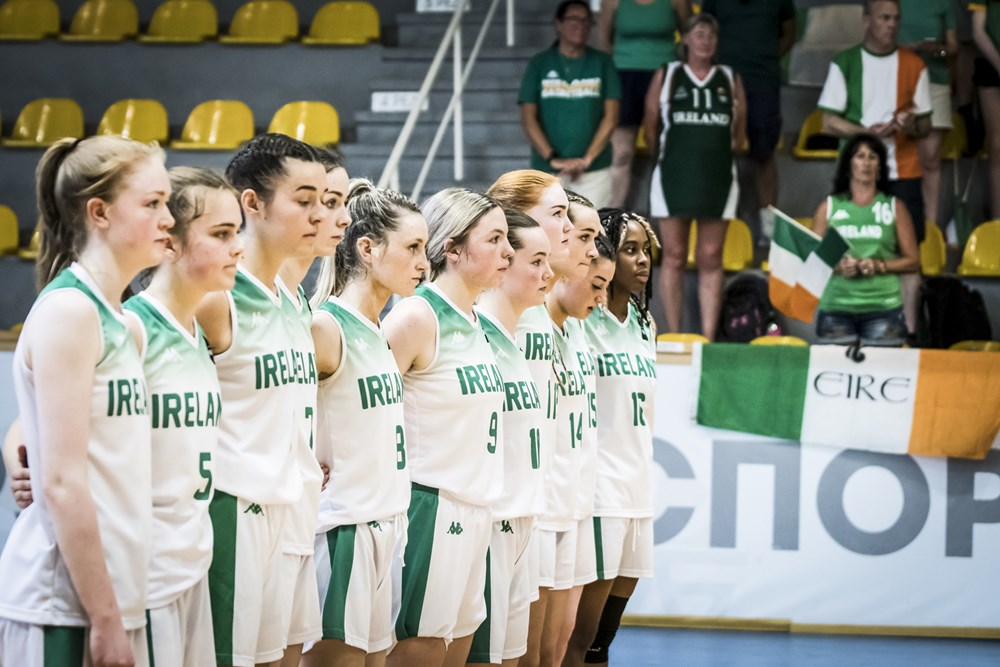 Ireland U18W team before the game against Denmark.
Energy was the name of the game for O'Mahony's side. The performances of the players who came off the bench kept the scoreboard ticking for the U18 team constantly, even when things weren't going their way. Micaiah Fubarra and Amy Duggan contributed with hauls of six and seven, respectively, including a clutch three from Duggan when the game was in the melting pot.
In the paint, Ireland's efficiency at times stood out, shooting 42% in comparison to the 29% of the Danes. Lucy Coogan played a major part in that stat, as she top scored with 21 points from a 42% field goal percentage. On top of that, Coogan was a force at flipping the possession.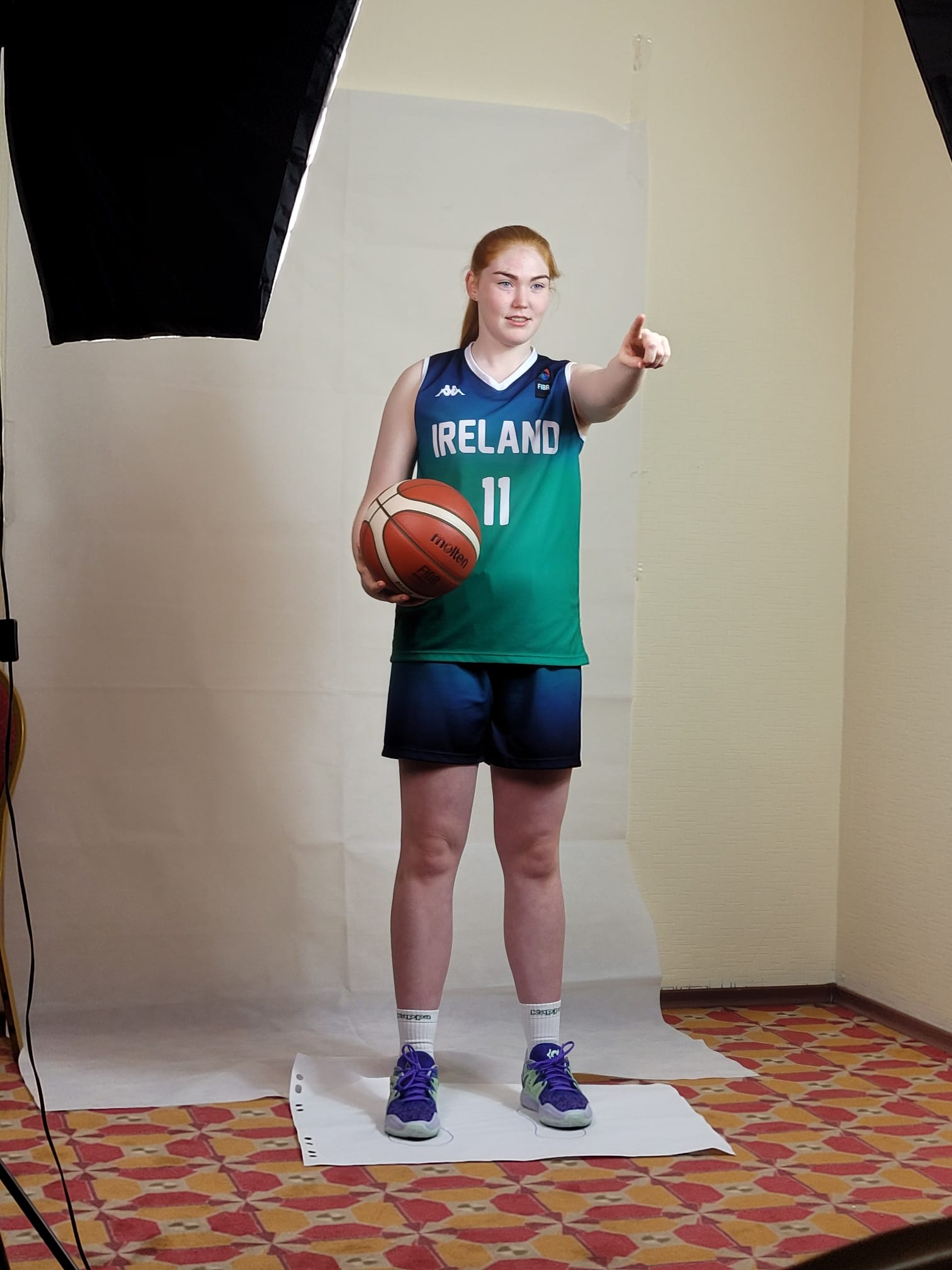 Top scorer Lucy Coogan
The well-rounded performance was personified by many, but in particular, Sarah Hickey's shooting exploits and Maria Kealy's work rate, appearing all over the pitch. While they both dabbled in the forays of the other at both sides of the court, 18-year-old Hickey, who featured for the U20 team at their FIBA European Championship last week, ended up with a superb tally of 18 points and 18 rebounds. The aforementioned Kealy got 10 points, seven rebounds and eight assists. Her importance to the team was highlighted by the fact that she played all 40 minutes of the game. A crucial cog in the team, stepping up in what was an excellent showing of intensity in defence from all.
After the 64-54 win, attention now turns to Serbia tomorrow afternoon at 14:15.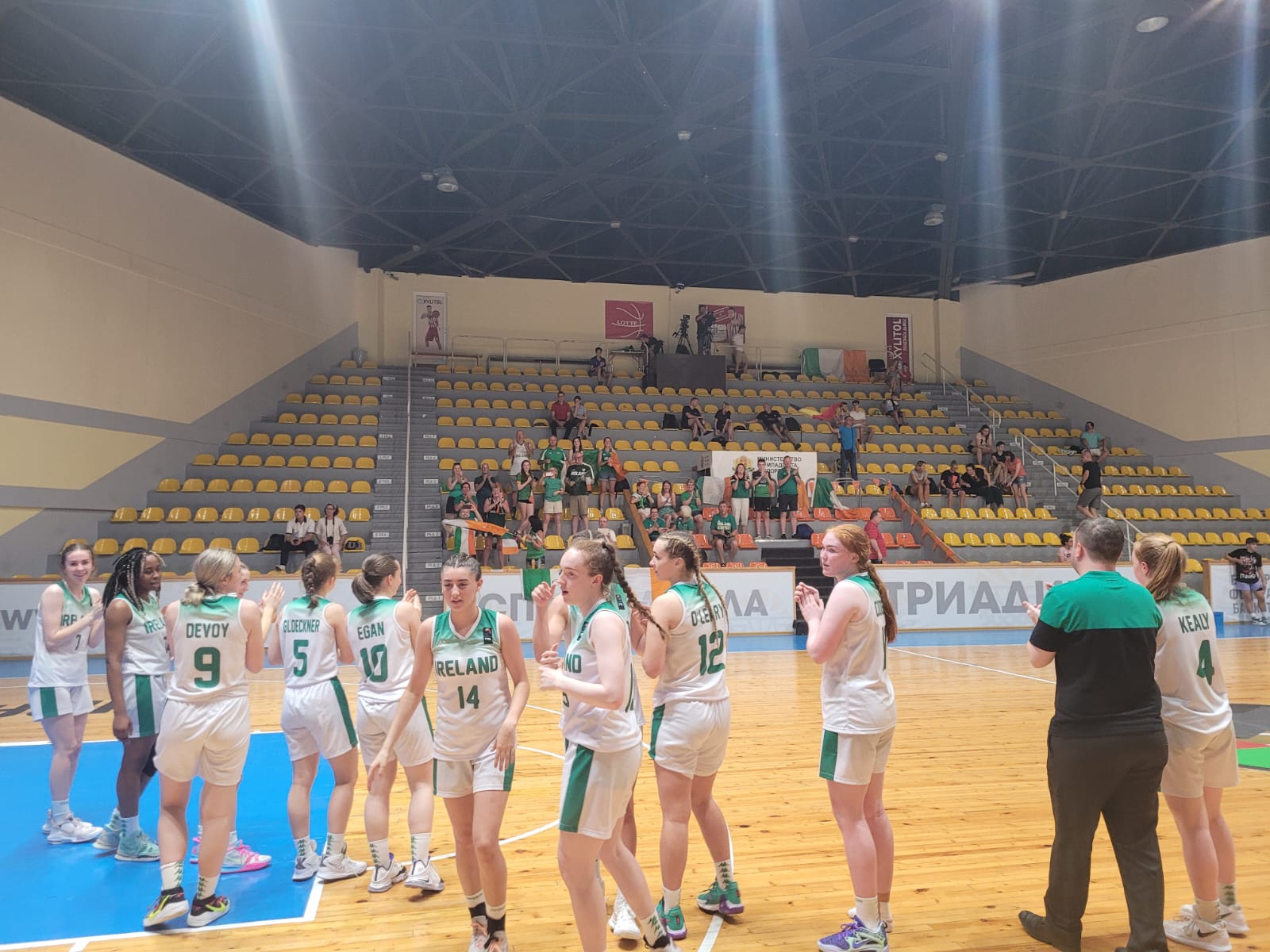 Ireland being cheered by supporters, following their FIBA U18 European Championship Group game victory against Denmark.
---
Quarter Scores:
Q1: IRL 15-21 DEN
Q2: 23-13 (38-34)
Q3: 10-16 (48-50)
Q4: 16-4 (64-54)
Ireland Top-Three Scorers:
Lucy Coogan 21 pts, Sarah Hickey 18pts, Maria Kealy 10pts
---
FIBA U18 Women's European Championship Result:
Ireland 64-54 Denmark
---
Upcoming FIBA U18 Women's European Championship Fixture:
Serbia v Ireland, Sunday, July 31st - 16:15
---
Ireland U18 Women's Squad:
Rachel Callery (Ulster University Tigers), Lucy Coogan (Kilkenny Stars), Lucy Devoy (Limerick Celtics), Amy Duggan (Cobh BC), Erica Egan (Malahide BC), Micaiah Fubara (DCU Mercy), Caitlin Gloeckner, Sarah Hickey (Waterford Wildcats), Maria Kealy (Letterkenny Blaze/LYIT Donegal), Niamh O'Leary (Liffey Celtics), Rebecca Sexton (Carrigaline), Niamh Tolan (East Cavan Eagles)