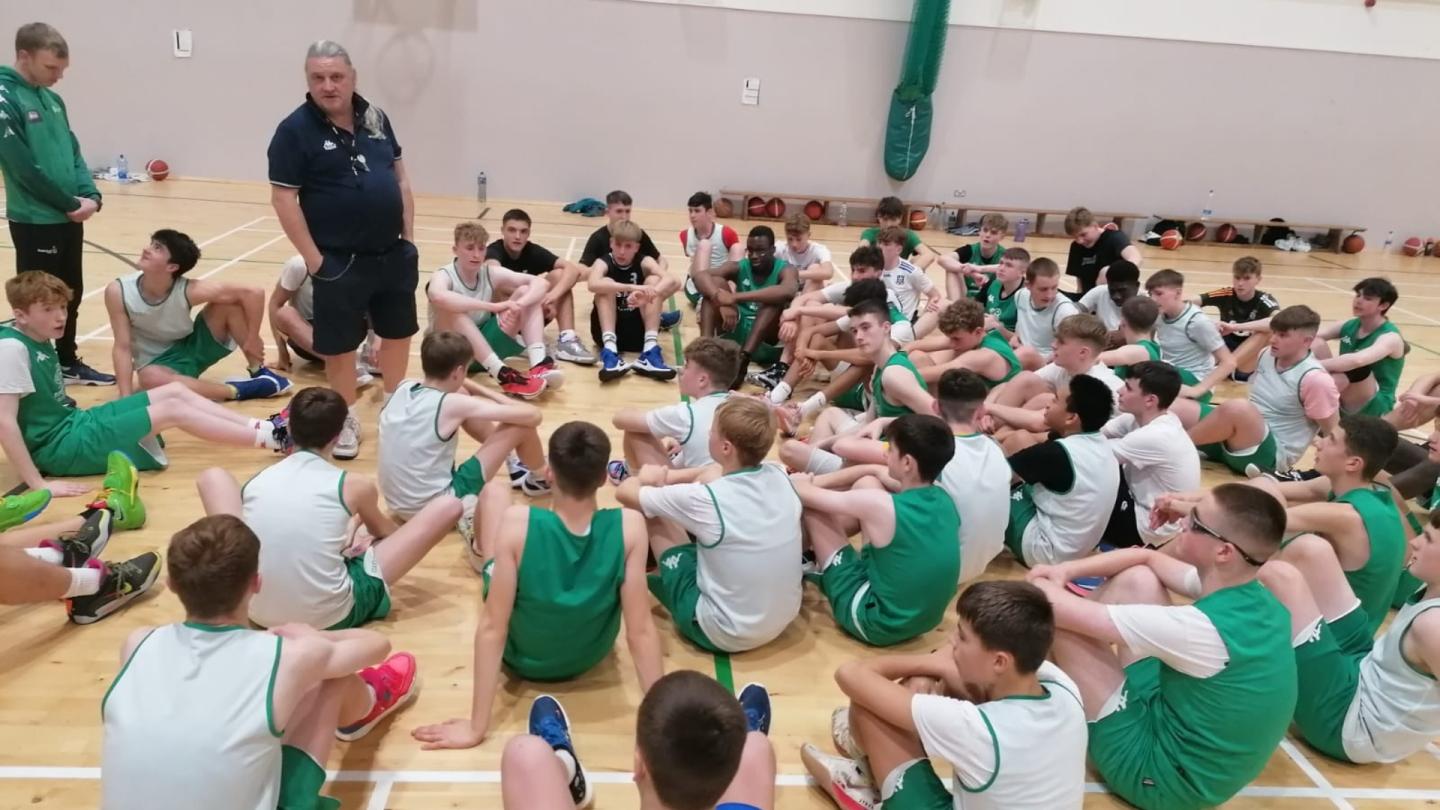 Nov 09 2022
Ireland U16 men's head coach Michael Lynch selects 32 person squad for international season
Ireland U16 men's head coach Michael Lynch is the latest to name a 32-person squad for the 2022/23 international season, culminating at the FIBA European Championships next summer.
Darragh Horkan from Limerick Lions is the sole player returning from the squad who played at the FIBA European Championships last summer, averaging 8.3 minutes per game. Horkan's experience with a tough group in Bulgaria could be a crucial tool as Michael Lynch and his coaching staff look to gel a young side together over the coming months.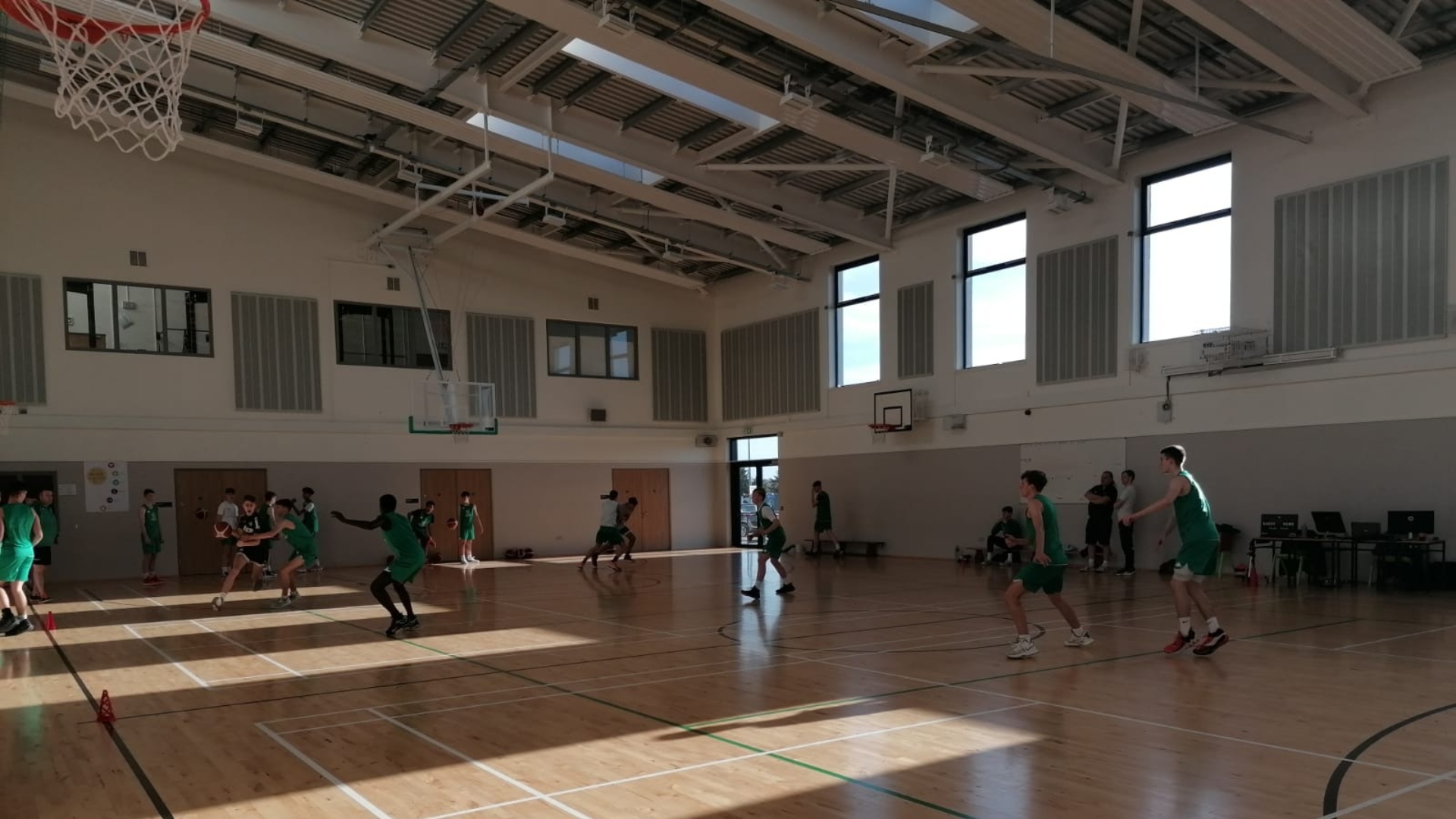 Ireland U16 players competeing for a spot in the squad for the 2022/23 season. 
There is another link to last year's squad. Nathan Gbinigie from Titans BC, brother of Declan Gbinigie who also lined out in Bulgaria, is included with the chance to following his sibling's footsteps. Gbinigie is one of three players who will be eligible once again for the 2023/24 international campaign at this level. Drogheda Wolves' Rojas Rivas and Denis Prusevics of Netpune the others.
Speaking about the selection process, head coach Michael Lynch said:
"We were delighted to see the level of effort and enthusiasm these players showed at the trials. We have a lot of work to do so we are looking forward to our first training session later this month. We are very aware that players who have not been selected to progress will be disappointed, but hope they will have benefited from the experience of attending the try outs and encourage them to work on their game and try out again in the future. We would also like to thank Clarin College Athenry and East Galway Celtics for their help and generosity in allowing the team to use their great facility."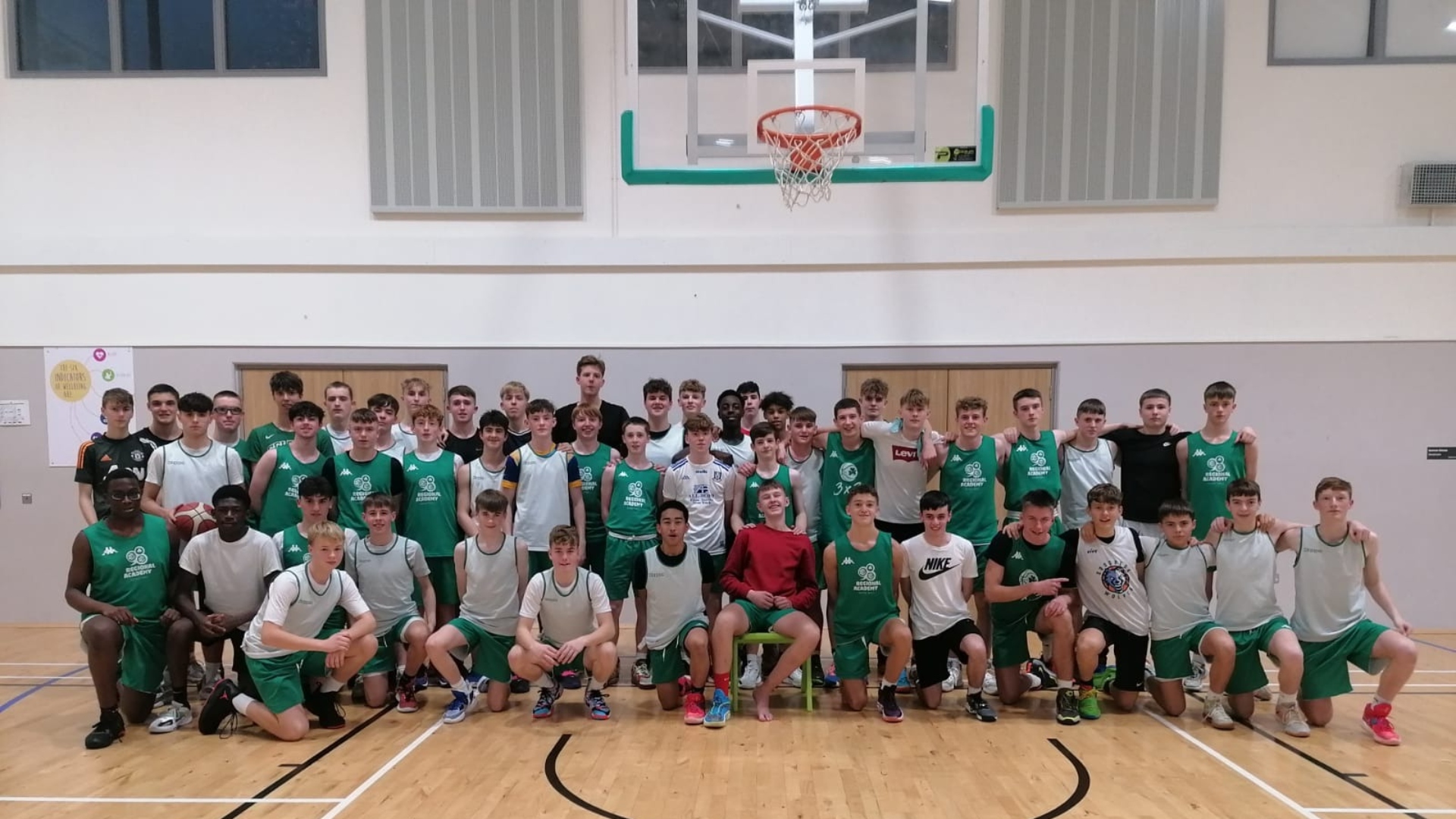 Ireland U16 players during talent identification training .
Ireland U16 Men's Squad 2022/23
| | | | | | | | |
| --- | --- | --- | --- | --- | --- | --- | --- |
| First Name | Surname | D.O.B. | Age | Ht | School | Club | Position |
| Nathan | Roddy | 2007-08-06 | 15 | 6ft | St. Muredach's College | Ballina Braves | Point Guard |
| Tadgh | Murphy | 2007-02-22 | 15 | 5ft 7" | Gael Cholaiste Choilm | Ballincollig | Point Guard |
| Dylan | O'Rourke | 2007-10-26 | 15 | 5ft 10" | Gael Cholaiste Choilm | Neptune | Point Guard |
| Justin | Raheem | 2007-01-16 | 15 | 6ft | St Aidan's Community College | Neptune | Point guard |
| Darragh | Horkan | 2007-01-08 | 15 | 6ft 1" | Ard Scoil Ris | Limerick lions | Point guard |
| Adam | Charles | 2007-09-26 | 15 | 6ft 2" | Colaiste Eanna | Eanna | Point Guard |
| Alan | Burke | 2007-06-26 | 15 | 6ft 2" | Calsanctus College | Maree | Point Guard |
| Theo | Quinn | 2007-12-05 | 15 | 6ft 1" | Belvedere College | Killester | Point Guard |
| Luke | Herrick | 2007-02-01 | 15 | 6ft | St Josephs | Titans | Point Guard |
| Eoin | Petito | 2007-09-04 | 15 | 6ft 1" | Colaiste Einde | Titans | Guard |
| Eoin | Cleary | 2007-03-13 | 15 | 6ft 1" | St Josephs | Moycullen | Guard |
| Noah | Winders | 2007-01-18 | 15 | 6ft 4" | Castleknock College | St Vincent's | Forward |
| Fionn | Stack | 2007-12-02 | 15 | 6ft 1" | Donnabate College | Portlaoise Panthers | Forward |
| Adomas | Vaitkaitis | 2007-12-27 | 15 | 6ft 3" | St MacCartans College | Blackwater Steelers | Forward |
| Jack | Heneghan | 2007-06-15 | 15 | 6ft | Nass CBS | Dublin Lions | Forward |
| Chinoso | Owede | 2007-08-30 | 15 | 6ft 2" | Merlin College | Titans | Forward |
| Billy | Bell | 2007-06-29 | 15 | 6ft 2" | Coachford College | Ballincollig | Forward |
| Denis | Prusevics | 2008-09-10 | 14 | 6ft | Midleton CBS | Neptune | Forward |
| Ryan | Bell | 2007-12-21 | 15 | 6ft 2" | St Finnians College | Street Warriors | Forward |
| Darragh | Russell | 2007-09-01 | 15 | 6ft 3" | St Declans | BC Tarus | Forward |
| Kareem | Matonmi | 2007-01-20 | 15 | 6ft 3" | Scoil Chonglais | Baltinglass Bulldogs | Forward |
| Piers | Postma | 2007-11-12 | 15 | 6ft 4" | St Andrews | UCD Marian | Forward |
| Krill | Yakovlev | 2007-10-26 | 15 | 6ft 4" | Thomand College | Limerick Lions | Forward |
| Molua | Mac Seain | 2007-09-13 | 15 | 6ft 5" | Mean scoil San Nioclas | Youghal BC | Centre |
| Nagalis | Vaivada | 2007-06-09 | 15 | 6ft 5" | Colaiste Treasa | Neptune | Centre |
| Luke | Kavanagh | 2007-08-09 | 15 | 6ft 5" | St Marys CBS | Portlaoise Panthers | Centre |
| Cillian | Cannon | 2007-12-04 | 15 | 6ft 5" | Calsanctus College | Maree | Center |
| Nathan | Gbinigie | 2008-02-03 | 14 | 6ft 4" | Colaiste Mhuire na Gaillimhe | Titans | Center |
| Gustas | Rakauskas | 2007-04-12 | 15 | 6ft 8" | Portlaoise College | Portlaoise Panthers | Centre |
| Jamie | O'Mahoney | 2007-04-18 | 15 | 6ft 2" | CBS Thurles | Tipperary Knights | Forward |
| Rojus | Rimas | 2008-01-14 | 14 | 6ft 2" | St Olivers Drogheda | Drogheda Wolves | Forward |
| Lukas | Saltmeris | 2007-02-14 | 15 | 5ft 10" | St Olivers Drogheda | Drogheda Wolves | Forward |