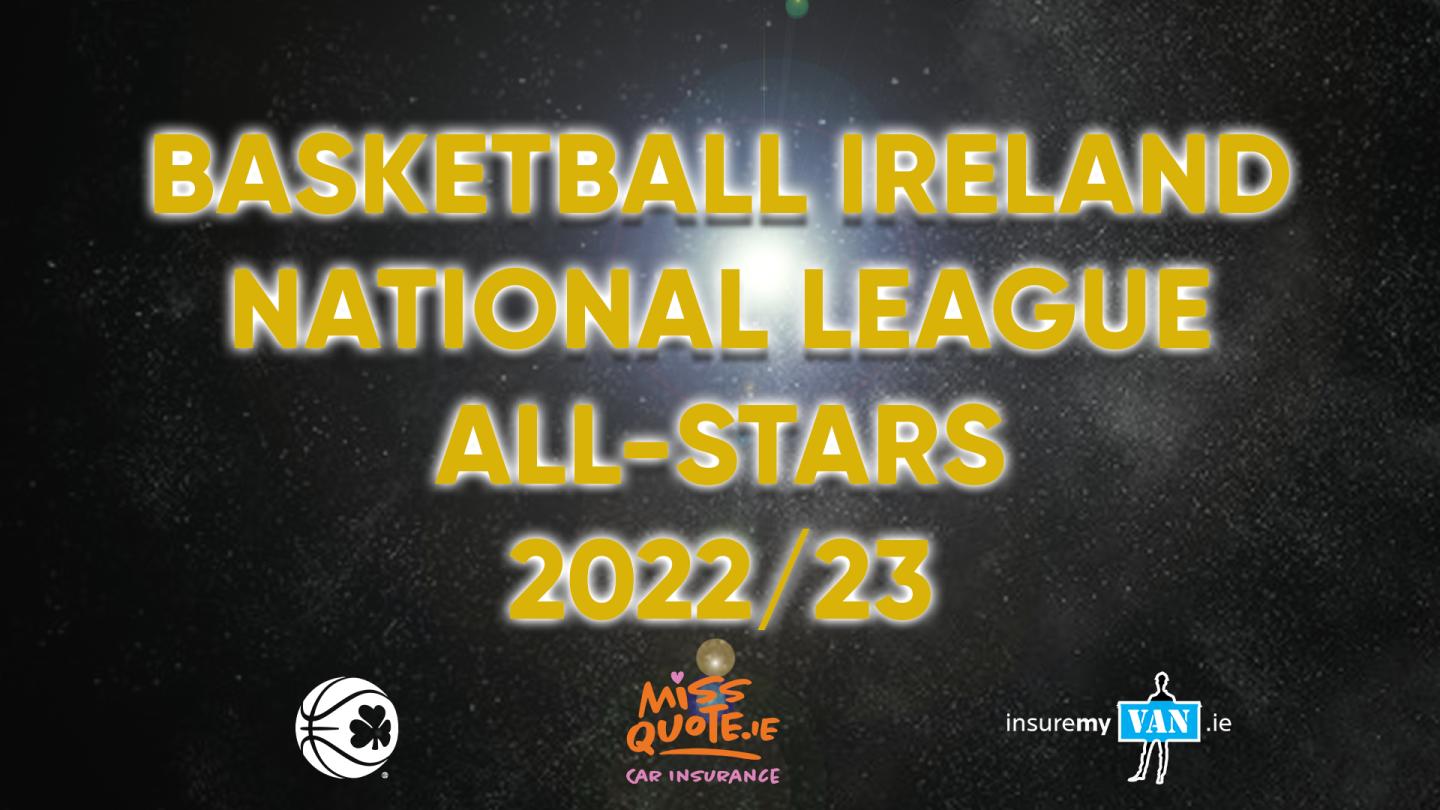 Mar 31 2023
National League All-Star teams revealed for 2022/23 season
Basketball Ireland is delighted to announce the winners of the 2022/23 National League All-Star teams ahead of the culmination of the season at the National Basketball Arena, which gets underway later today.
The 'All-Stars' were voted for by the coaches in each division of the InsureMyVan.ie Super League, MissQuote.ie Super League, InsureMyVan.ie Division 1 and MissQuote.ie Division 1.
Five players from each of the four leagues have been given 1st team honours, with 2nd and 3rd teams also selected.
The first team awards will be presented to recipients at the National League finals on Saturday.
InsureMyVan.ie Super League
1st Team:
Chrishon Briggs (Belfast Star)
Jarett Haines (University of Galway)
MJ Randolph (UCC Demons)
Paul Dick (Killester)
Rodrigo Gomez (University of Galway)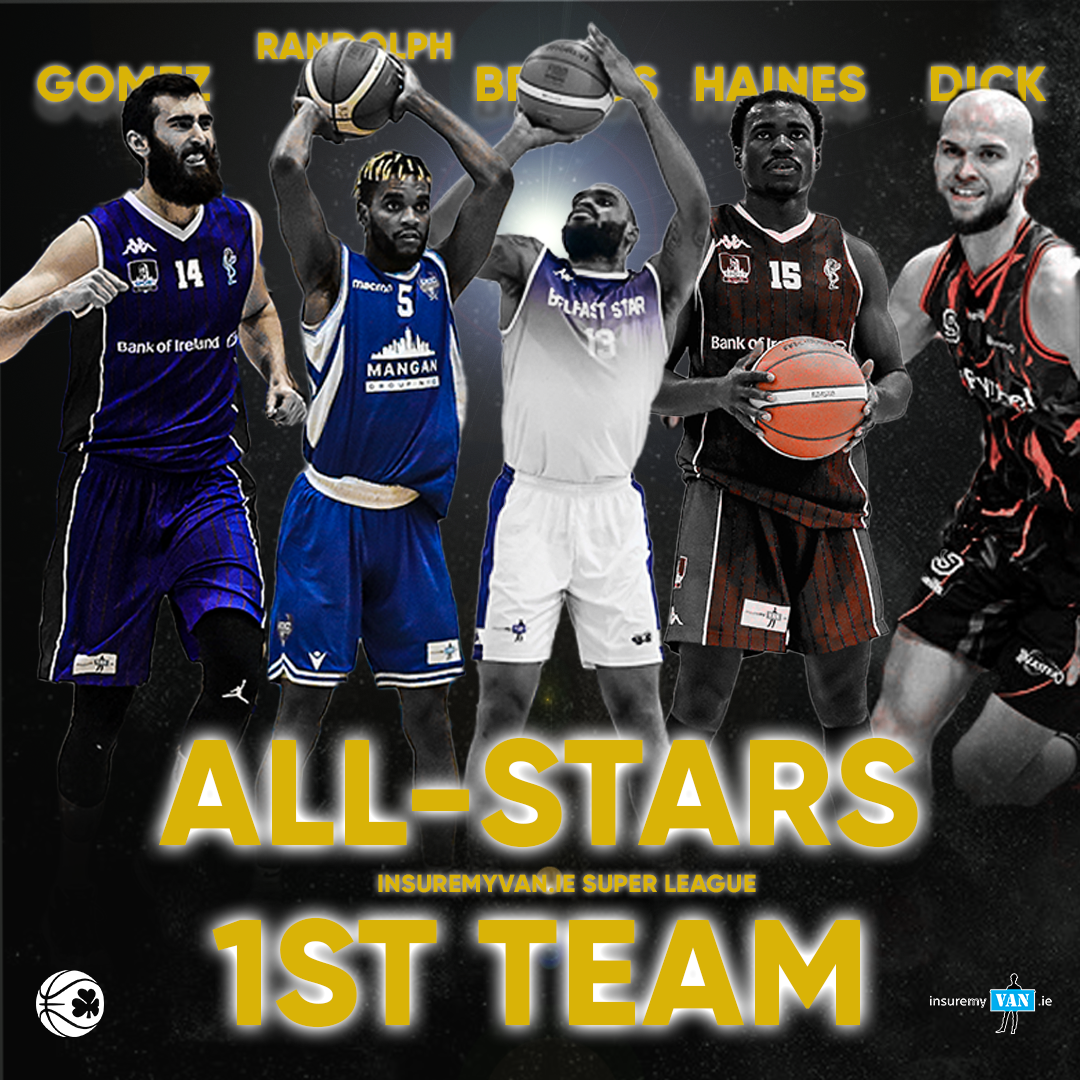 2nd Team:
De'ondre Jackson (Garvey's Tralee Warriors)
Jordan Blount (Energywise Ireland Neptune)
Jose Jimenez Gonzales (Emporium Cork Basketball)
Josh Wilson (DBS Éanna)
RJ Kelly (Flexachem KCYMS)
3rd Team:
Daniel Jokubaitis (Garvey's Tralee Warriors)
Donovan Fields (Bright St. Vincents)
John Dawson (Emporium Cork Basketball)
Jonathan Jean (UCD Marian)
Kyle Hosford (UCC Demons)
---
MissQuote.ie Super League
1st Team:
Brittany Byrd (The Address UCC Glanmire)
Chyna Latimer (Killester)
Edel Thornton (Singleton SuperValu Brunell)
Lindsey Abed (DCU Mercy)
Sarah Hickey (Waterford Wildcats)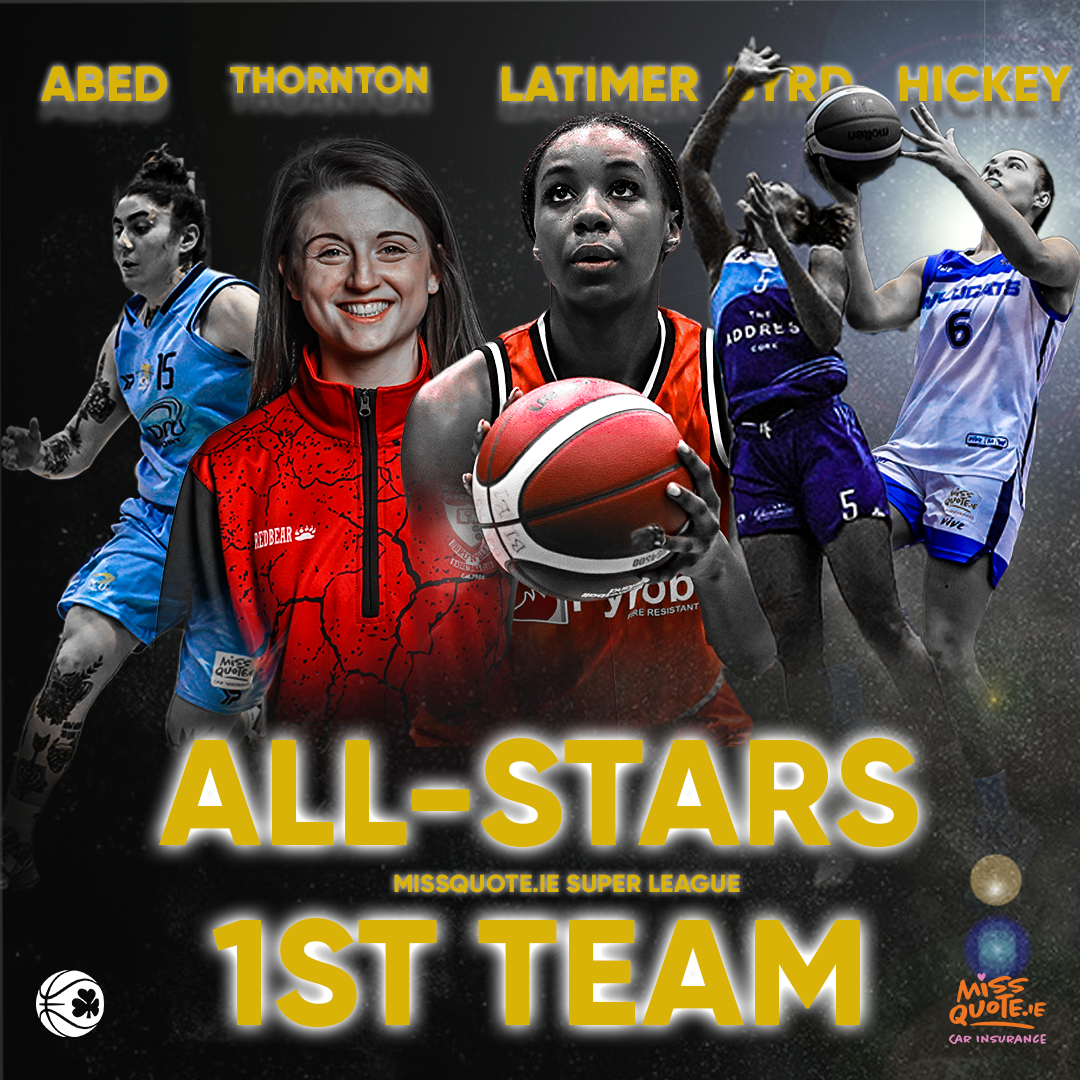 2nd Team:
Chanell Williams (Killester)
Claire Melia (Trinity Meteors)
Claire O'Sullivan (The Address UCC Glanmire)
Dayna Finn (Trinity Meteors)
Karli Seay (Waterford Wildcats)
3rd Team:
Aine McKenna (The Address UCC Glanmire)
Aine O'Connor (Leixlip Amenities Liffey Celtics)
Grainne Dwyer (i3PT Fr. Mathews)
Khiarica Rasheed (The Address UCC Glanmire)
Michelle Clarke (Killester)
---
InsureMyVan.ie Men's Division 1
1st Team:
Conor O'Sullivan (Ulster University)
Jack Ferguson (Scotts Lakers SPK)
Joshua Reynolds (Limerick Celtics)
Matt Treacy (Moy Tolka Rovers)
Trevor Recio (Malahide)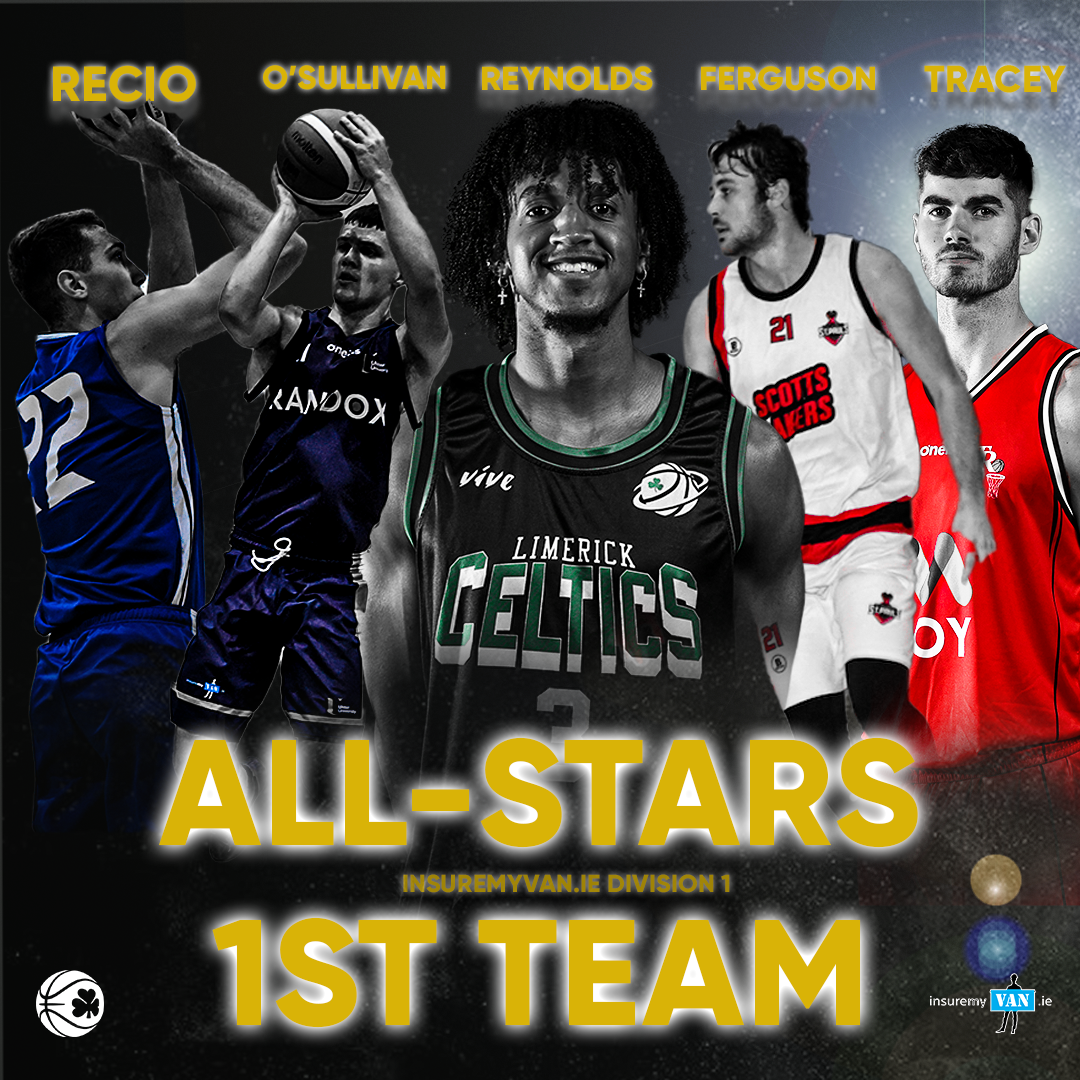 2nd Team:
Brendan Barry (Limerick Sport Eagles)
Conor Harkins (SETU Carlow)
Desean Hampton (Portlaoise Panthers)
Nate Shafer (Ulster University)
Scott Angus Hankin (Limerick Celtics)
3rd Team:
Diego O'Herlihy (Dwyer's of Cork Fr. Mathews)
Jason Killeen (Limerick Sport Eagles)
John Fierstein (Team Northwest)
Jonathan Garcia (Dwyer's of Cork Fr. Mathews)
Righ Lual Dau (Abbey Seals Dublin Lions)
---
MissQuote.ie Division 1
1st Team:
Alyssa Marie Velles (Portlaoise Panthers)
Jessica Fressle (Portlaoise Panthers)
Scout Frame (SETU Carlow)
Sofia Paska (St Paul's Killarney)
Yuleska Ramirez (St Paul's Killarney)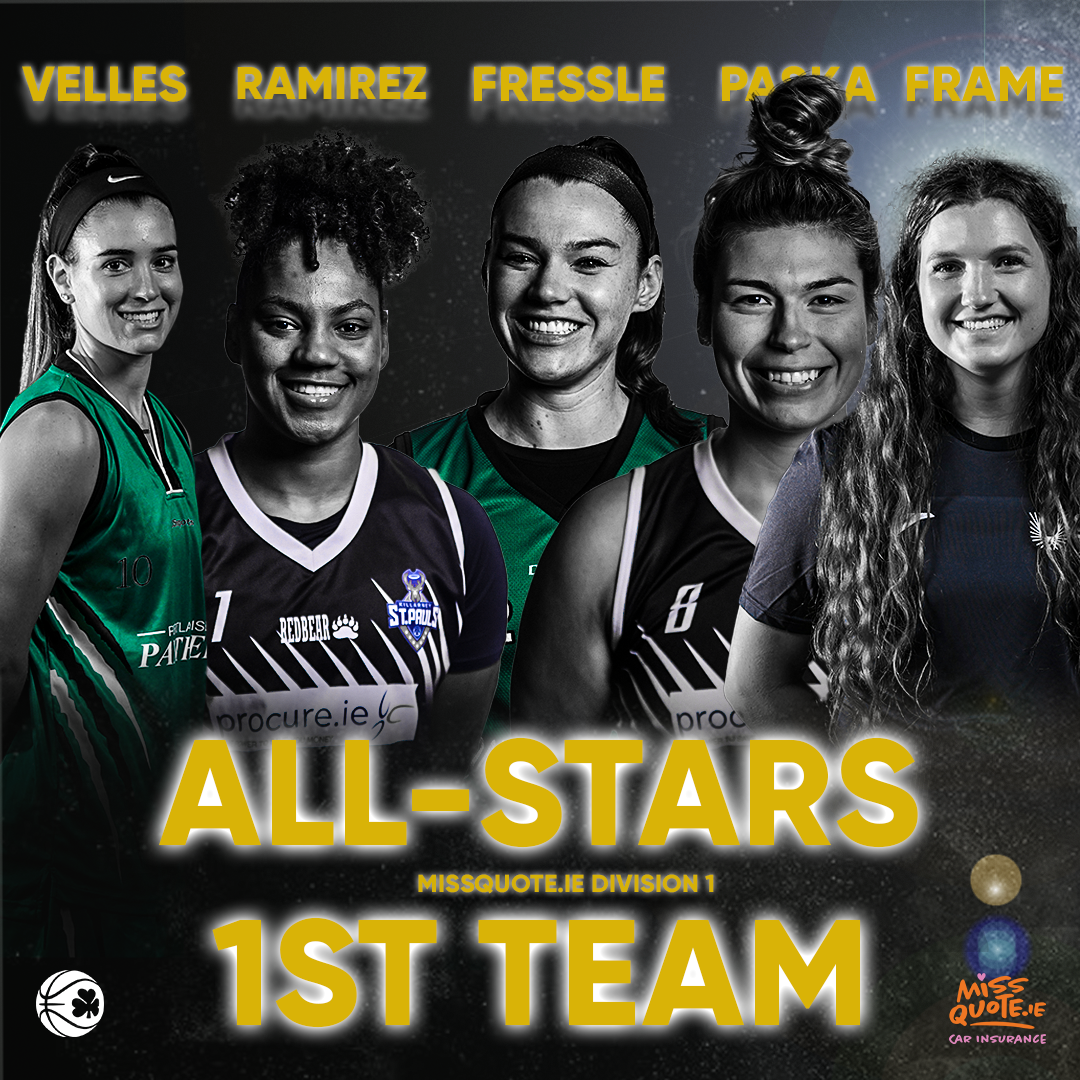 2nd Team:
Alarie Mayze (McEvoy's Cavan Eagles)
Calisha Clarke (Phoenix Rockets)
Georgie McGrath (Phoenix Rockets)
Shelby Cheslek (Moy Tolka Rovers)
Trudy Walker (Abbey Seals Dublin Lions)
3rd Team:
Elisabet Lopez Segrera (McEvoy's Cavan Eagles)
Gillian Wheeler (Abbey Seals Dublin Lions)
Katie Moloney (Oblate Dynamoes)
Lucy Devoy (Limerick Celtics)
Lynn Tunnah (Griffith College Templeogue)