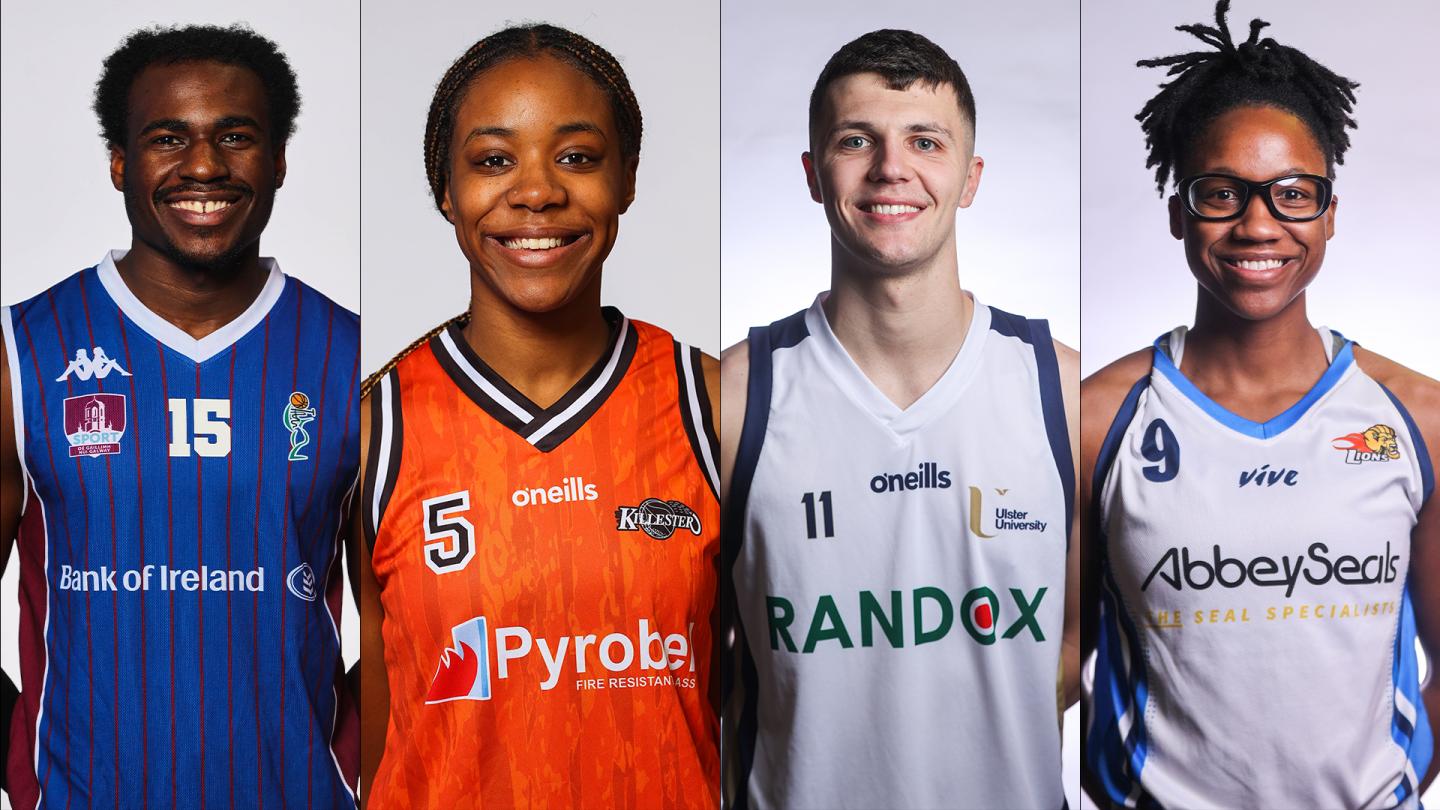 Feb 03 2023
National League Player and Coach Of The Month awards announced for January
The InsureMyVan.ie and MissQuote.ie Super League and Division 1 'Player' and 'Coach of The Month' awards have been decided for January, with four clubs dominating proceedings following a heavy dose of InsureMyHouse.ie National Cup play this month.
It's double delight for University of Galway Maree, as Jarett Haines and Charlie Crowley scoop the player and coaching honours for the second time this season. Haines had a spectacular shooting month, bulking his InsureMyVan.ie average to 20.4-points per game as well as picking up the title of MVP in the InsureMyHouse.ie National Cup final, where he dropped 35-points. MJ Randolph of UCC Demons finished second, with University of Galway Maree's Rodrigo Gomez in third. Crowley gets the nod from his coaching peers, as he did in November after he led the Galway team to their first ever National Cup title.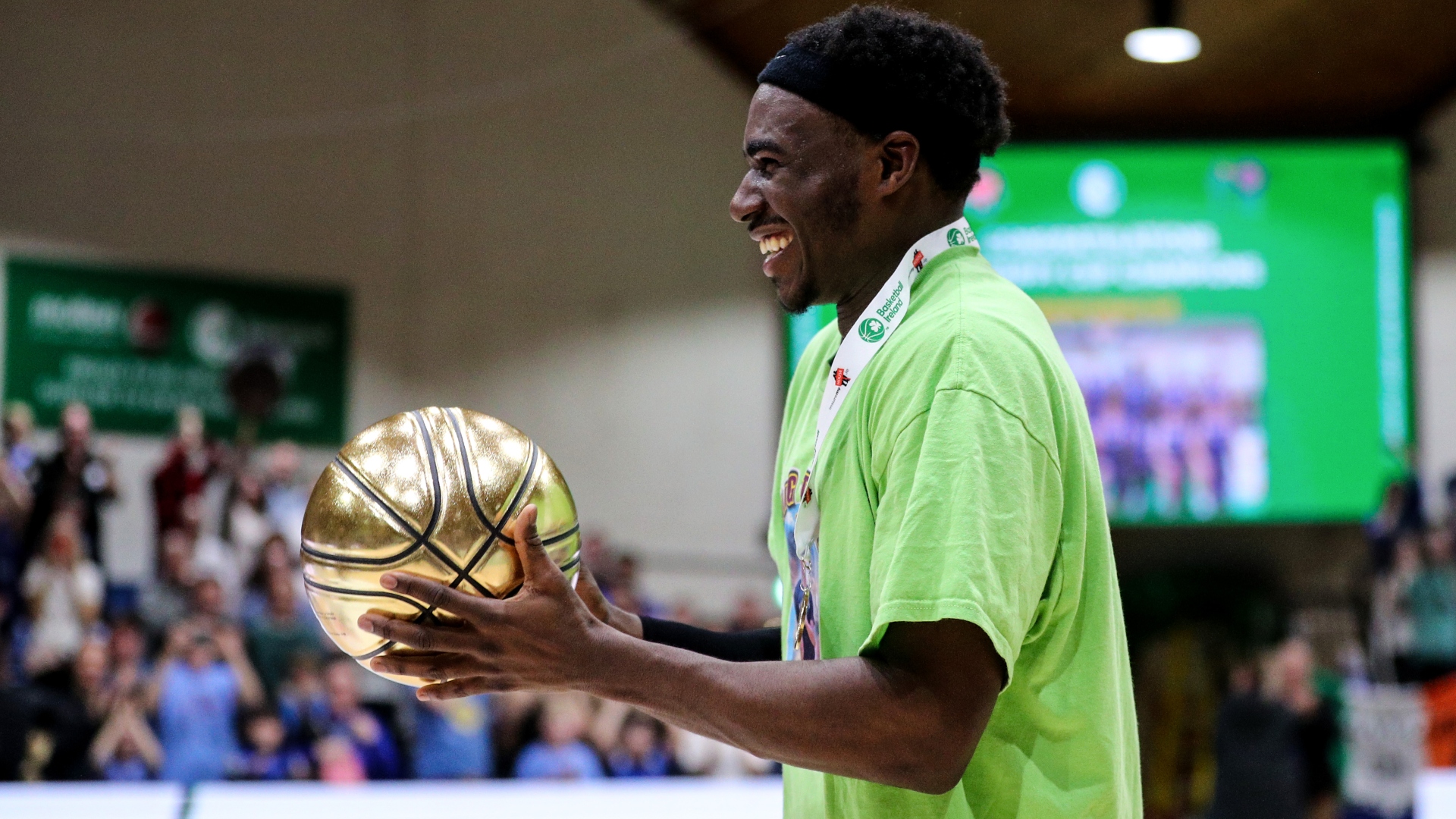 Jarret Haines celebrates after receiving his MVP award at the InsureMyHouse.ie Pat Duffy Cup final. 
Killester had a month to remember in January and that's been reflected in the individual honours. Chyna Latimer has played her way into form since arriving in Clontarf and is now a crucial part of the offense, averaging 21.1-points per game and bringing a lot of energy on the defensive end. Another Killester stand-out Chanell Williams was just pipped by her team-mate to the golden ball, with Celena Taborn of Trinity Meteors completing the line-up. Mark Grennell unanimously picks up his maiden 'Coach of The Month' award for bringing a 4th InsureMyHouse.ie National Cup trophy to North Dublin. Killester went 1-2 in league play this month, with both defeats coming against those at the top of the table.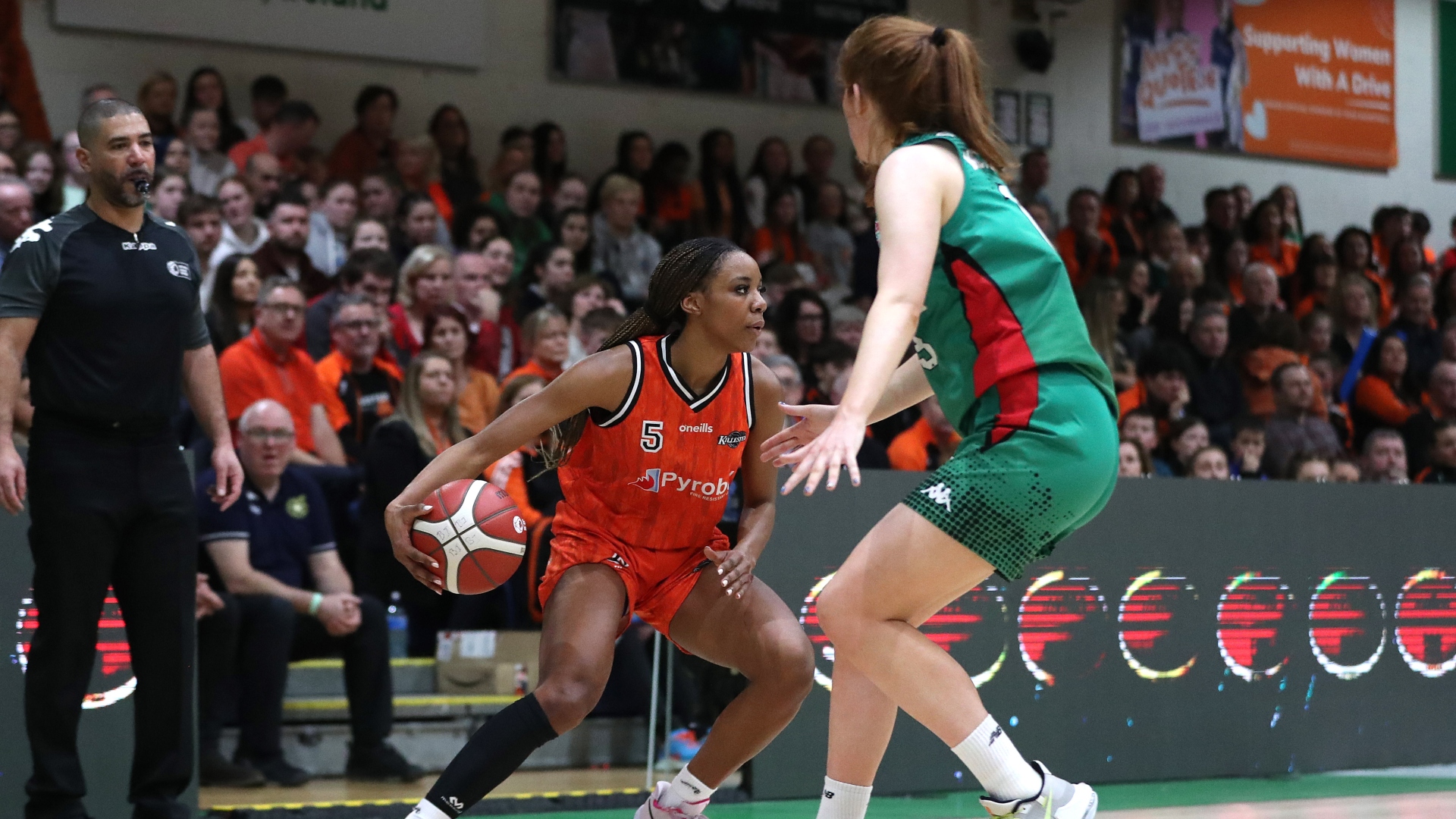 Chyna Latimer faces up Claire Melia during the InsureMyHouse.ie Paudie O'Connor Cup final.
Conor O'Sullivan has been instrumental in Ulster University's resurgence and subsequent Presidents' Cup win. They are unbeaten this month (3-0), lifting them to a 9-4 record in the InsureMyVan.ie Division 1, to pair with their National Cup success. O'Sullivan averaged 20.3ppg in that stretch, demonstrating great leadership in the process. Nathaniel Shafer and John Ferguson of Scotts Lakers SPK round off the top three. Ryan McCormick has quietly brought a definitive style and energy to Ulster University throughout the season and that has been reflected by their strong recent form. Bringing cup glory to the Jordanstown based team was the icing on the cake to a fantastic January.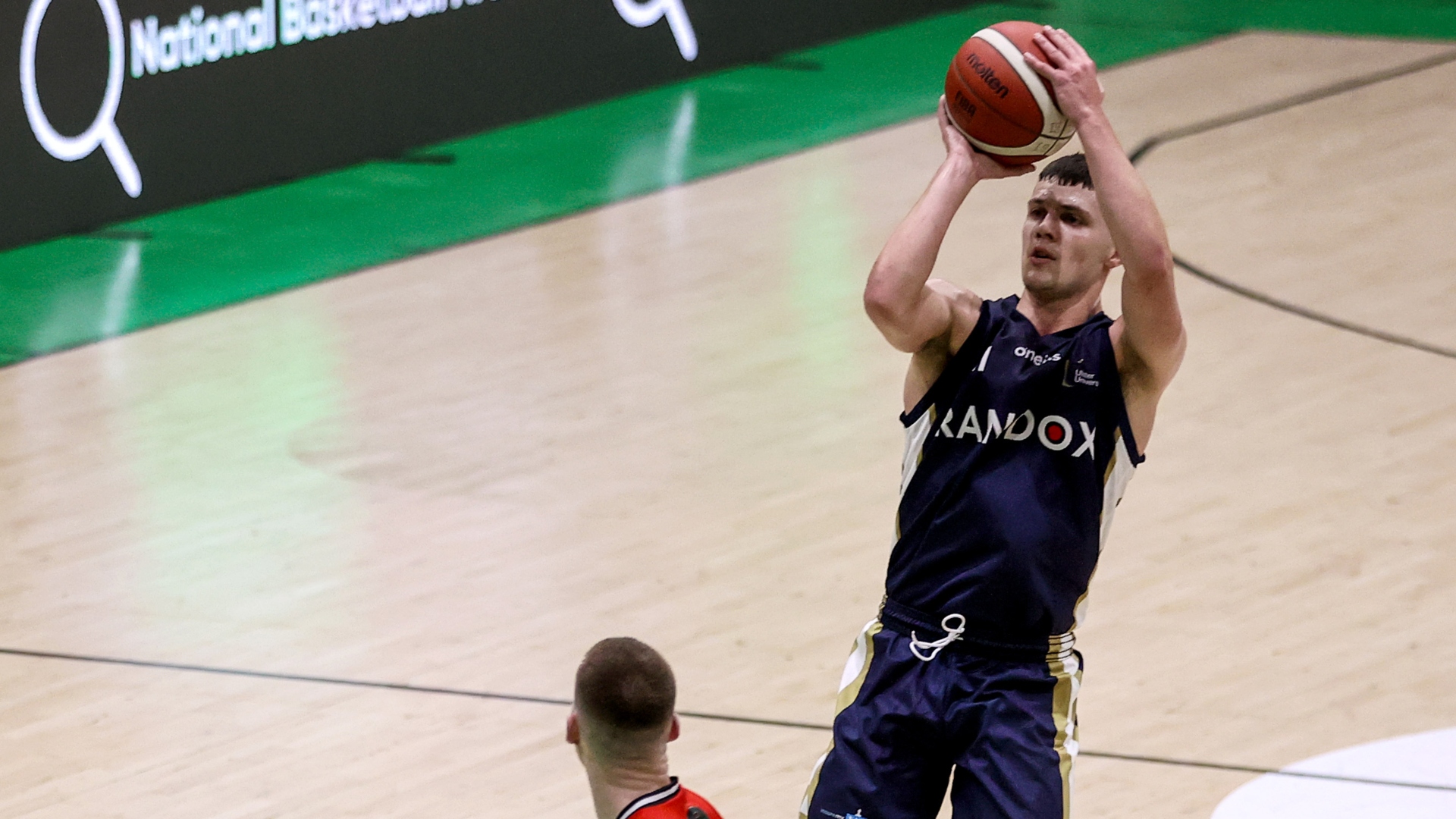 Conor O'Sullivan takes. a spectacular shot at the National Basketball Arena, Dublin. 
Abbey Seals Dublin Lions have had a dream start to life as a Women's National League club. The club are holding their own at 6-6 in the MissQuote.ie Women's Division 1 and took home National Cup honours in the month of January too. Trudy Walker joined the club mid-season and has had a huge impact. She's averaging 16.8ppg during her first five league games and was voted MVP in their victory over Phoenix Rockets in the cup final. It's a 'Lions' 1-2 as Gillian Wheeler finishes second in the voting, with Sofia Paska of St.Paul's Killarney in third. Rob White is the fourth National Cup winning coach to be award 'Coach of The Month'. White has Abbey Seals Dublin Lions sitting in 5th in the Northern Conference, and still in with a chance of climbing further as the season reaches a crescendo.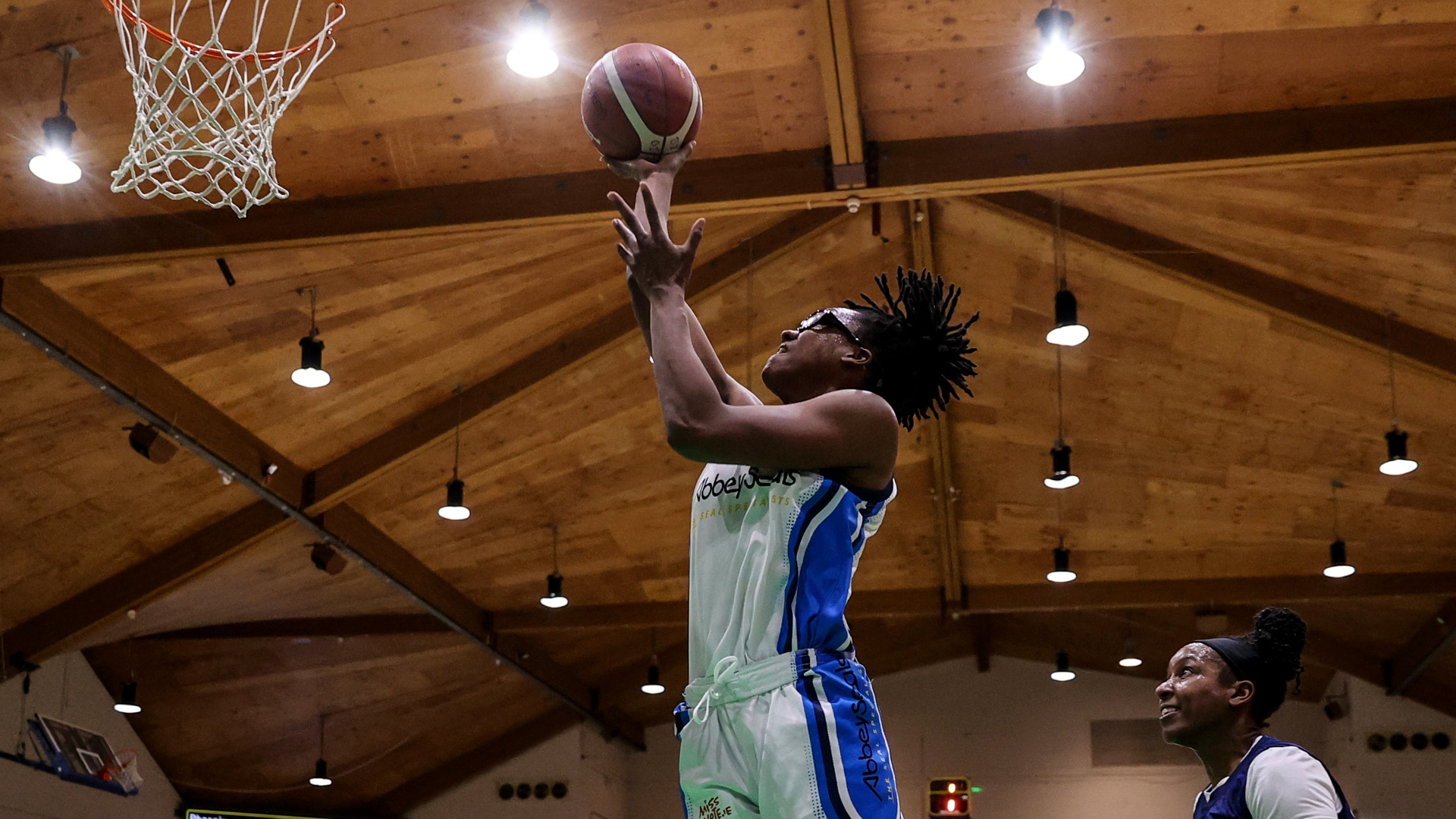 Trudy Walker from Abbey Seals Dublin Lions makes a basket. 
---
Results of January Player and Coach of the Month awards:
Men's Super League
1st Jarett Haines (UG Maree), 2nd MJ Randolph (UCC Demons), 3rd Rodrigo Gomez (UG Maree)
Coach: Charlie Crowley (UG Maree)
Women's Super League
1st Chyna Latimer (Killester), 2nd Channel Williams (Killester), 3rd Grainne Dwyer (i3PT Fr.Mathews)
Coach: Mark Grennell (Killester)
Men's Division 1
1st Conor O'Sullivan (Ulster University) 2nd Nathaniel Shafer (Ulster University), 3rd John Ferguson (Scotts Lakers SPK)
Coach: Ryan McCormick (Ulster University)
Women's Division 1
1st Trudy Walkser (Abbey Seals Dublin Lions), 2nd Gillian Wheeler(Abbey Seals Dublin Lions), 3rd Sofia Paska (St. Paul's Killarney)
Coach: Rob White (Abbey Seals Dublin Lions)