Sep 03 2022
NUIG Mystics head coach Paul O'Brien feels side are ready for the top table of Irish basketball
Sport in Galway is on the crest of a wave at the moment. Basketball is no different.
NUIG Mystics head coach Paul O'Brien is preparing his team for life in the top tier of Irish basketball following an impressive campaign last time out.
They will be relying on a plethora of young talent, many of whom are underage Irish internationals and with another strong start to life at the top table, could NUIG Mystics be the latest team to capture the imagination of the sporting public in Galway?
After a successful season last time out, narrowly missing out on the treble, what is the mood in the camp like heading into the 2022/23 season?
POB: We are all excited to be competing at the top level in the country this season. It is going to be a great challenge but one we feel we are up to.
You have a strong cohort of players who've come through the Irish underage system, such as Hazel Finn and Kara McCleane, how much are you looking forward to seeing them tested at a higher-level week to week?
POB: Yes, we are fortunate to have a number of players who have represented Ireland at underage level and hope that the experience that they have all gotten from that can help us this season. I feel that the players we have should be competing at the top level of Irish basketball and feel that we have the skill and mental toughness to compete with the best teams and players in the country.
Kara was part of the senior squad who faced Estonia last weekend and will get another chance to impress against Portugal, how pleasing is that to see from coach and club perspective?
POB: I am really happy for Kara that all the hard work she has put in has been recognised with a call up to the senior panel. She has had a long year with U18 European Challenger into a MissQuote.ie National League season then the FIBA U20 European Championship, so hopefully after the senior games she can have a rest and be ready for the season. All of us in NUIG Mystics look forward to her and hopefully other players in our squad going on to have long and successful senior careers with Ireland.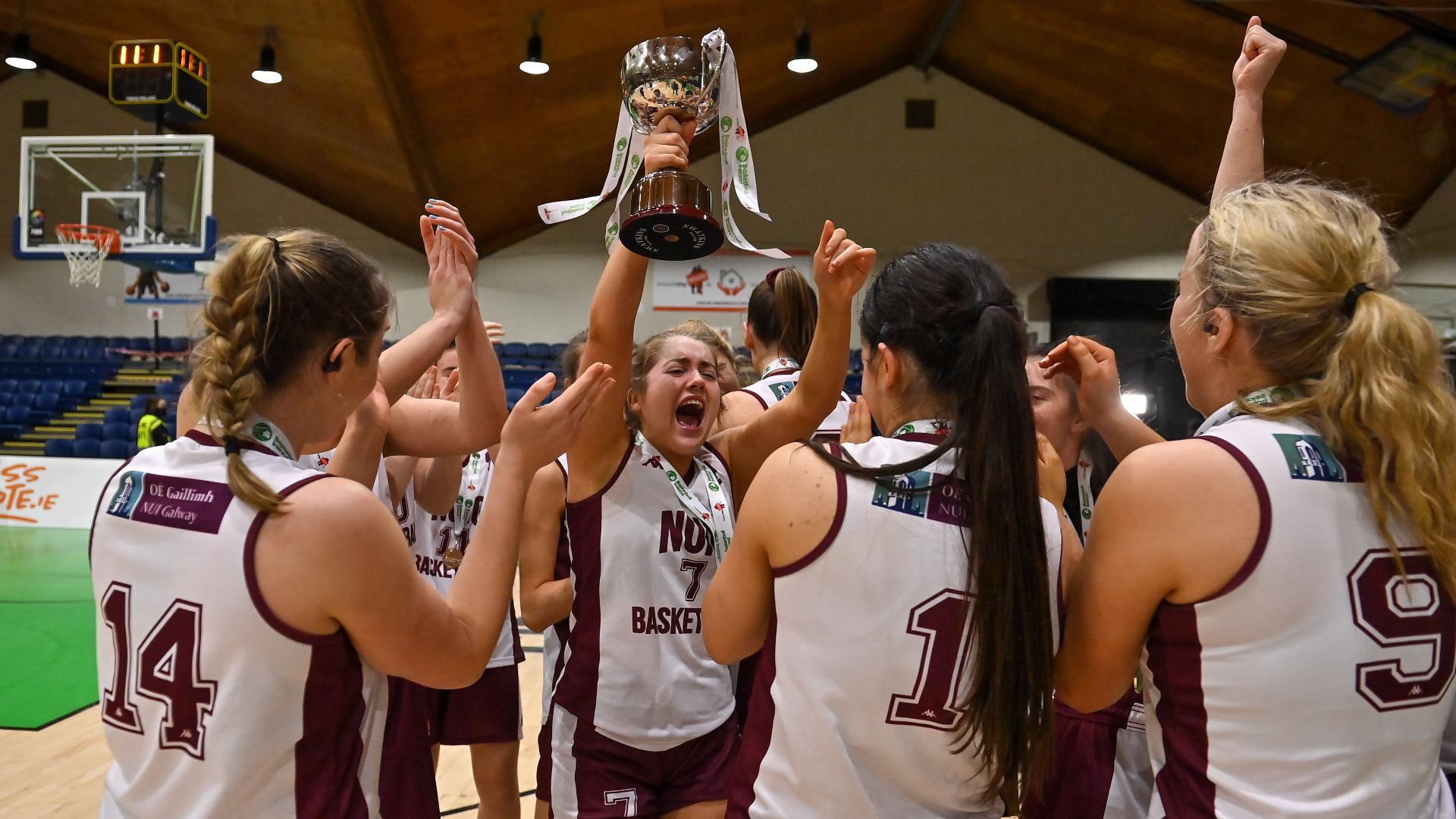 Meadhbh O'Brien of NUIG Mystics and her teammates celebrate with the cup after the InsureMyHouse.ie Women's Division One National Cup Final.
Aine McDonagh will be playing AFLW next season and will miss the first few months of the MissQuote.ie Super League season, no doubt you'd be keen to have her back, what's the latest on that?
POB: I think any coach in the country would love to have Aine playing for them, I am no different! However, on a personal note, I have known Aine for over 15 years and couldn't be happier that she has this opportunity to play professional sport in Australia. I will be keeping an eye on Hawthorn's progress through the season and am sure she will play a big role in their team. If Aine does come back, of course we would be delighted to have her play some role this season, but at the same time we are preparing for not having her.
What are the differences as a coach, in preparing a team to make a step up like this? Do you focus more on conditioning? Does extra video analysis come into play?
POB: I think the main difference for me as a coach will be in the adjustments in game and in preparing for each team. Video analysis will play a huge role this season and also in game changes will be important as mistakes are punished more at Super League than National League. On the conditioning front, we are very lucky to have a great S&C coach in the University who works with the girls so that is one less thing for myself and my assistant coach, Kyle Walsh to have to think about.
There's a real feel-good factor surrounding sport in Galway, given the performance of a number of local teams. Do you think a strong season from NUIG Mystics can help elevate the platform of basketball within the county?
POB: NUIG had a super year last year on a sporting front and we would love to carry that over to this season. Galway Area Basketball had over 100 teams and 2,435 players playing in our local leagues last season, so it is our goal to try and get as many of those into the Kingfisher for our home games and make it a loud place to play. As we are not directly linked to any one club, I feel that we can draw a crowd from all over the county and hopefully our girls can inspire some of the next generation to want to play at the top level as well.
Your players are used to winning games after last season's 17-4 record. Do you think it's hard for a young group such as this, to build-up the resilience required at the top tier when games might not always be going to plan?
POB: I feel with the amount of international experience within the team, there is already a resilience and a toughness about the squad. There are of course going to be moments this season that things might not go to plan, but I feel we have a great bond within the team that can help with that. It will be one of mine and Kyle's biggest roles this season though, helping our young players navigate the challenges and keep morale up at all times. As you mentioned, we have a very young squad, but they will learn and adapt to the higher standard pretty quickly.
What is a successful season for your team next year?
POB: Every season our goal is to firstly, be competitive no matter what level we are playing at. It is so hard to say where we feel we can place in the MissQuote.ie Super League as we haven't seen anyone play yet. As long as we work hard and try and enjoy every game, I feel we will be in a lot of games.
You picked up two coach of the month awards during the successful campaign in 2021/22 and also the coach of the year gong at the end of the campaign. How much do individual accolades motivate you?
POB: It's always nice to win those awards as they are voted on by other coaches, but they don't motivate me at all. Any coaching award is down to the players competing and playing well enough so any coaching award I see as a team award. The motivation is to try and help NUIG Mystics become an established and hopefully successful Miss Quote.ie Super League team for the foreseeable future.
CHECK OUT BASKETBALLIRELAND.TV