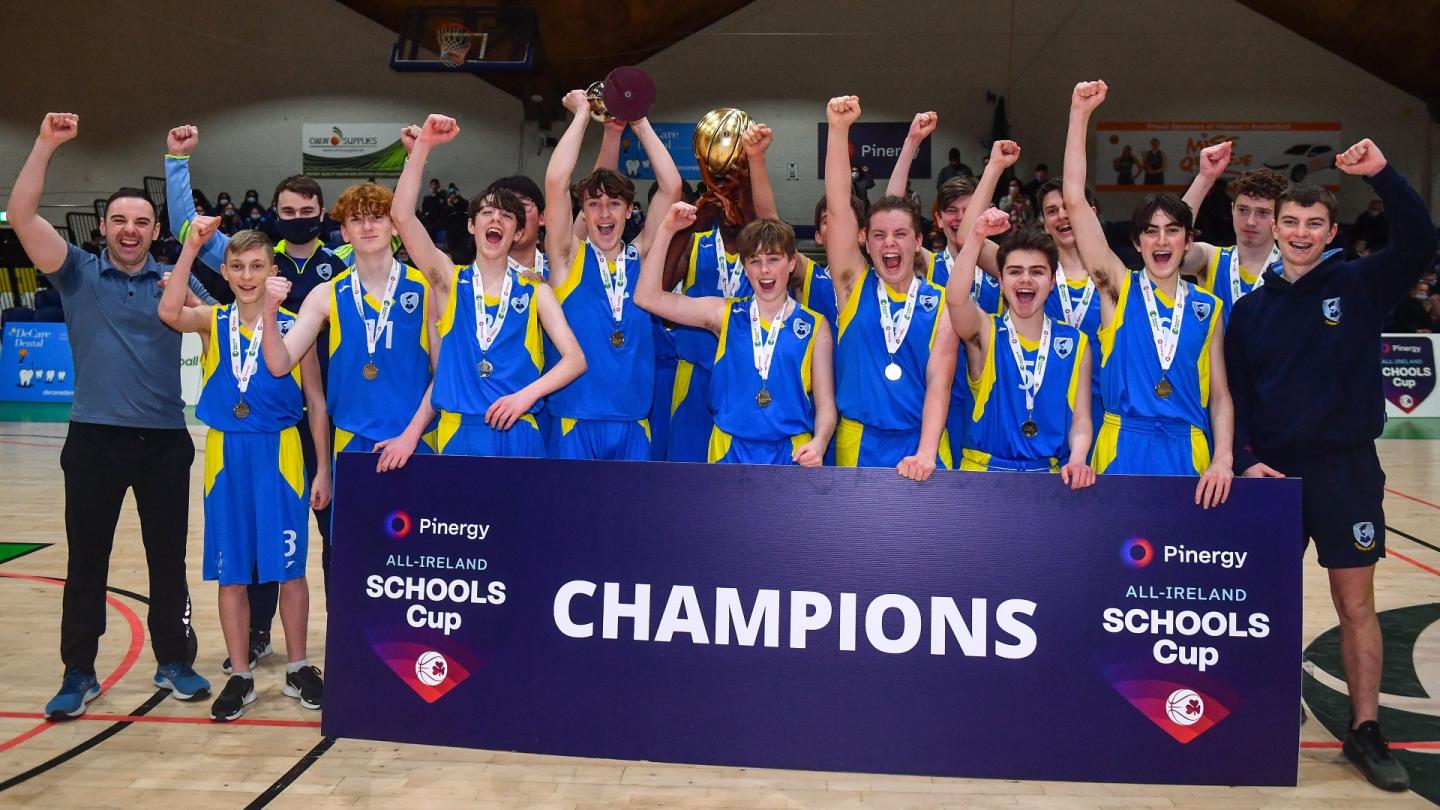 Aug 23 2022
Registration open for Pinergy All-Ireland Schools Cup 2022/23
Preparations are underway for the 2022-2023 post-primary schools' season, with the Pinergy U19/U16 All-Ireland Schools Cup competitions open for entry.
As per previous seasons 'B' & 'C' competitions will be divided North and South to minimise travel. For the same reason, the 'A' cups' will also be divided into North and South. This will be based on entries received, so may not always be a straight split.
Entry into the competition will still involve significant travel and it's likely to be outside your region.
Speaking about the opening of the Pinergy All-Ireland Schools Cup entry, Basketball Ireland Head of Commercial and Brand, Bruce Wood said:
"We are delighted to see the Pinergy All-Ireland Schools Cup returning with registration now open. With 850 teams competing across boys and girls categories on the island of Ireland, culminating in the final's weeks in January, March and May hosted at the National Basketball Arena, demonstrating Basketball Irelands commitment to the grassroots game, and the schools' commitments to continue growing the sport in Ireland."
David Slattery, Pinergy's Head of Marketing, added:
"We're delighted to announce that registration for the 2022-23 Pinergy All-Ireland Schools Cup competitions is now open. This year's competition promises to be even more exciting, competitive and most importantly fun for all the participating teams & coaches.

We're looking forward to seeing more and more schools from across the country to register this year"
Basketball Ireland's Schools Competitions Officer Paul Dempsey concluded:
There continues to be a fantastic and growing level of participation in our schools' competitions each year. They are always hotly, but fairly contested on the court and I am very excited to see how the 2022/23 Pinergy All-Ireland Schools Cup pans out. Best of luck to all those who register for the upcoming season.
Links to the online entry form can be found below. This is the only method of entry into this season's competition. The fee is €60 for boys and €60 for girls registration.
Please note the registration deadline has now passed.
Deadline for entry closed Friday 2nd September 2022.
The form will be closed after this time, and entries will not be accepted.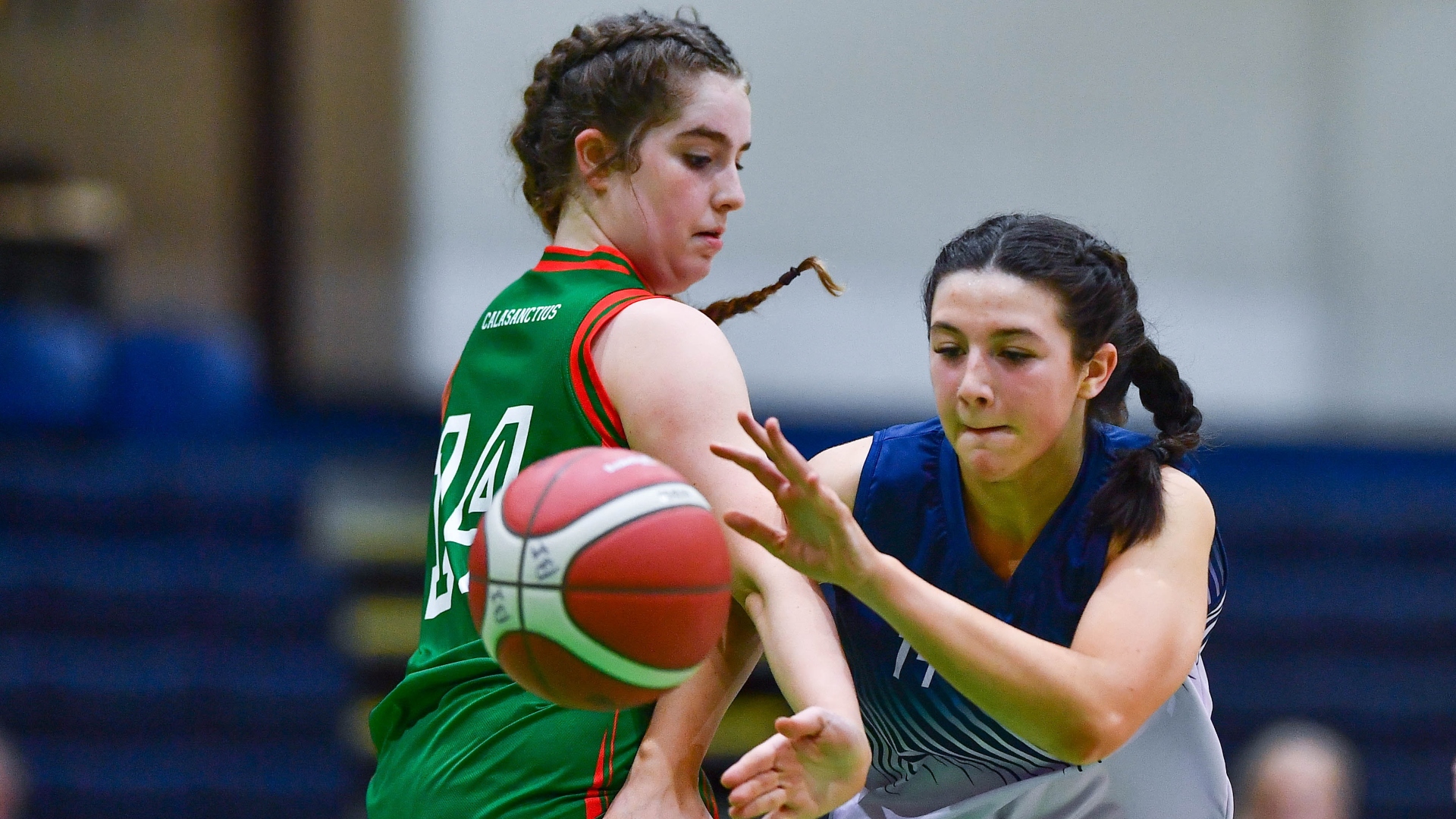 Calasanctius College v Regina Mundi - Basketball Ireland U16A Girls
---
Please note the competition dates below and consider other commitments before entering.
Please consider all the dates including the latter rounds. Deadlines are set and must be adhered to.
Deadline for all Preliminary Round – Friday 16th September 2022
Deadline for all Round 1 - Friday 23rd September 2022
Deadline for all Round 2 – Friday 14th October 2022
Deadline for all Quarter-finals - Friday 11th November 2022
Semi-final week – Monday 5th – Friday 9th Dec 2022 (venues tbc) -
Schools must speak to their principals at the time of application and highlight the semi-final week dates, so schools can consider in-house Christmas exams.
Finals week – Monday 16th – Friday 20th Jan 2023 (over 3 days tbc)
Where a team pulls out, or gives a walkover, a penalty of no entry to following year's competition will apply.
---
Further Important Information
You must fill the form in completely in one sitting.
The information you need to have to hand is as follows:
a) School Roll number and official school email address
b) Your Region
c) The grade you are playing at
d) The teams you intend to enter
e) Phone numbers and emails of the direct contact – all correspondence will go to this person. They must have a valid email and phone number, if they do not then another contact must be assigned.
f) Payment Method – online payment via Online Portal - Credit Card, Debit or Cash Card.
Once completed you will receive an email. This email contains the details you registered, entry is not complete until payment is made and PPSC have verified your league entry
If you receive this email and have left the school, please try to pass to a current member of staff to take on the communication until a new coach is appointed in September. The information you provide here is the only method we have of contacting schools.
If you have not paid you are not deemed as registered and therefore may lose a place.
If a schools is unable to pay online, they can register for the Pinergy All Ireland Schools Cup by contacting the Schools Competitions Officer, Paul Dempsey pdempsey@ireland.basketball with all of the above required information and payment details.
Registration Opens:

Tuesday, 23rd August 2022

Registration Closes:

Friday, 2nd September -12 noon
This is a strict deadline, and no late entries will be accepted, there will be NO exceptions made. Entry is not complete until payment has been made and completed form returned.
Please note: entry for the U14 & U15 Pinergy All-Ireland Schools Cup will open in Oct/Nov and an email will be sent with details once entry is open.