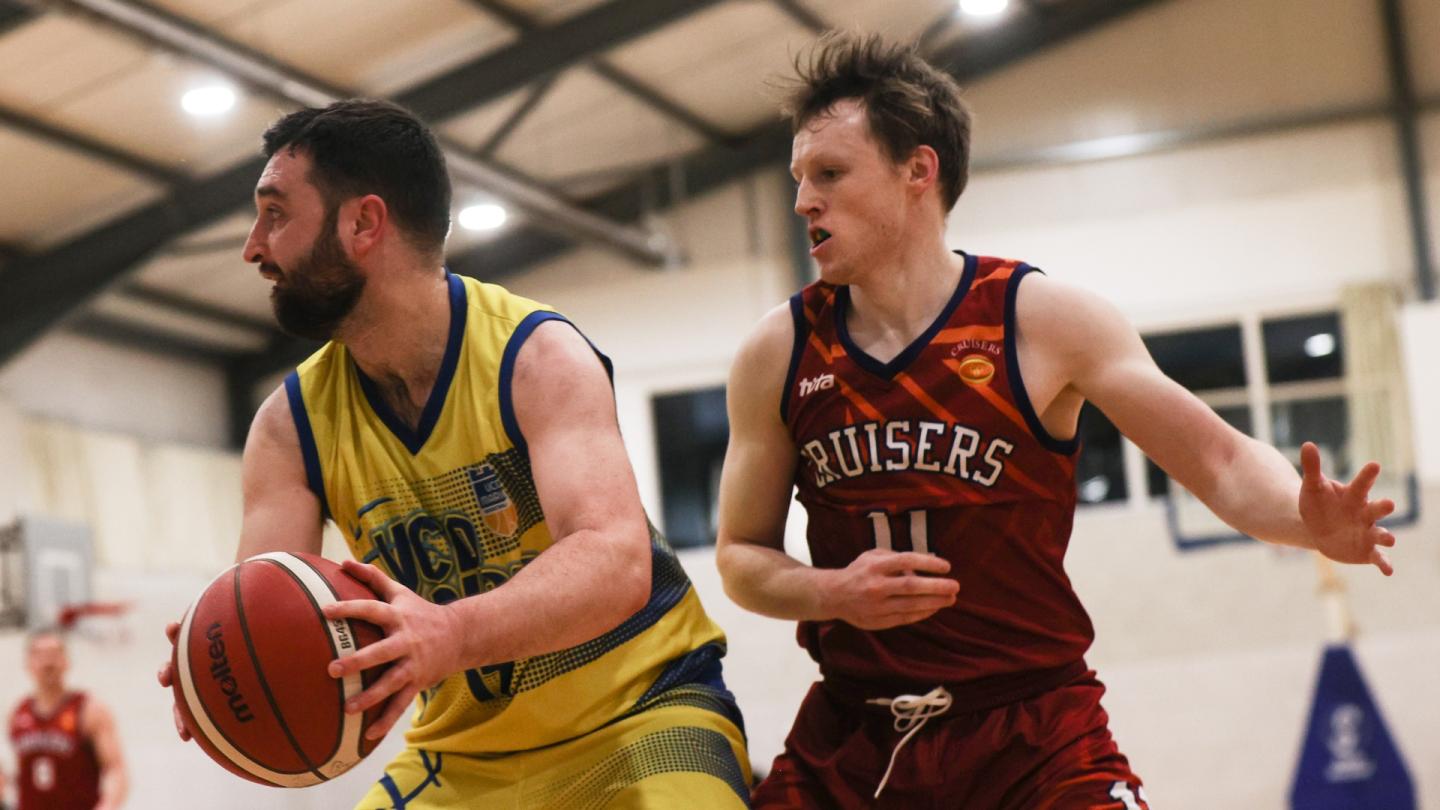 Jan 07 2023
UCD Marian book InsureMyHouse.ie Men's NICC final spot after entertaining clash with Carrick Cruisers
UCD Marian came out the right side of an 74-58 win against Carrick Cruisers in the InsureMyHouse.ie Men's National Intermediate Cup Competition, setting up a final against either Neptune BC or Leixlip Zalgiris, who contest the other last four tie tomorrow.
Donal Ring exploded out of the blocks for UCD Marian, laying down an early marker with consecutive three-point shots. Carrick Cruisers then settled into a more methodical offense led from the point by Kevin O'Hanlon and worked their way back into a 21-18 lead by the end of the first. Kestas Jonusas and Rimvydas Valantonis nailing important early looks from outside the arc.
The nip and tuck nature continued for the next two quarters. The Dubliners continuously working good three-point looks with some impressive ball movement, while the Leitrim outfit were content to make their way inside the paint to Audrius Urbanavicius and Jonusas. The free-flowing style seemed to pay off for Gareth O'Reilly's UCD Marian towards the end of the half. Paraic Moran brought his total to 11-points with a buzzer beating corner three, to make it 36-31 to UCD Marian at the interval.
Conor Meany's experience came to the fore during the second half, controlling the tempo in the face of some boisterous Carrick Cruisers support in Upper Glanmire. Antonio Castilla became prolific on the offensive glass and despite the continued efforts of O'Hanlon and his team mates to close out the three-point shot and Urbanavicius' pinpoint accuracy on jump shots from the key, Ring, Moran and Sean McGettigan were just too prolific from downtown and UCD Marian ran out 74-58 winners at the end of an entertaining final four tie.
Quarter Score:
Q1: 18-21
Q2: 36-31
Q3: 59-45
Q4: 74-58
UCD Marian: Leonardo Macron; Sean McGettigan; David Drumm; Conor Meany; Colm O'Reilly; Paraic Moran; Antonio Castilla; Liam Smyth; Donal Ring; Dmitri Chepyzhof; Saul Lysaught; Brian O'Hara Duggan; Tommy Coogan; Shane Morgan.
Coach: Gareth O'Reilly
Top Scorers: Paraic Moran (22), Antonio Castilla (18), Donal Ring (17).
Carrick Cruisers: Ignas Vaisvila; Kestas Jonusas; Turlough O'Hanlon; Rimvydas Valantonis; Laurynas Dabasinskas; Kevin O'Hanlon; Vitalijus Kaminskas; Audrius Urbanavicius; Cian Fitzgerald; Emmet Savage; Tadgh Dunne; Martins Provizors; Donnacha O'Hanlon; Michal Stemplewski; Danas Smigelskis.
Coach: Eugene O'Hanlon
Top Scorers: Audrius Urbanavicius (16), Kevin O'Hanlon (11), Kestas Jonusas (10).
PHOTO GALLERY