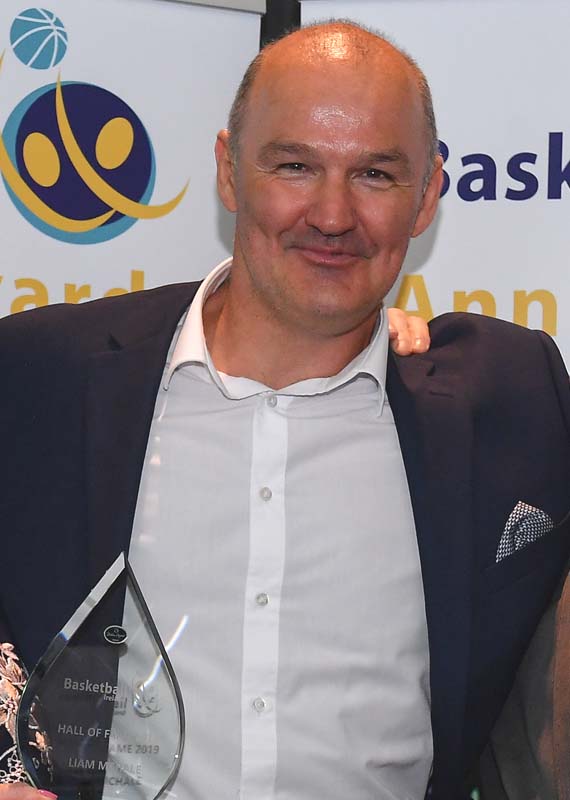 Liam McHale
A household name in both football and basketball
Hall of Fame induction

2019

---

National League

1992

---

National Cups

1991 (record score for Liam), 1996

---

Leading Scorer

1984-1988 (average of 21.6 points per game)

---

Coaching roles

Schools basketball

---

Clubs

Ballina

---
Liam McHale is a household name throughout the whole country for his contribution and prowess both on the football field and particularly the hardwood. Assisted by his brothers Sean and Anthony, brother-in-law Paul McStay and honorary Mayo man Deora Marsh, he would catapult his hometown Ballina to the forefront of Irish basketball and indeed Irish sport.
After winning promotion back to the top division in 1982-83, they would progressively consolidate their top-flight status before making their first National Championship Top Four final appearance in 1989 (in which Liam scored 30 points against Burgerland Neptune, a then record score for an Irish player in a national final – though he'd break it the following year with a 34-point haul against eventual winners St Vincent's), their first National Cup final appearance in 1990 (which he missed through injury), and then their first National Cup title in 1991 (in which he scored 24 points, again a then record score for an Irish player in a National Cup final). Not since Paudie O'Connor's heyday almost a full decade earlier with another provincial town – Killarney – had a men's team outside Cork or Dublin claimed top-flight national senior honours.
After that breakthrough they would follow it up by winning the 1992 league title (with Liam scoring 24 points in the final against St Vincent's) and then a second National Cup in 1996 (with Liam scoring a game-high 25 points in the semi-final against Notre Dame and 20 in the final against St Vincent's).
His basketball versatility, intelligence and all-round game were remarkable. He was, by a distance, the highest-scoring Irish player of the two-American era; from 1984-85 to 1985-88 he was leading Irish scorer every season, with an overall average of 21.6 points per game; his nearest challenger, Neptune's Tom O'Sullivan, was well back on 13.3. Then in the 1988-89 season when the number of Americans per team was reduced to one per team, he would open up by scoring a record 48 points, and go on to average an astonishing 32 points a game over the following two seasons, including a 58-point effort against North Mon.
Liam's longevity has also been exceptional. Twenty-four years after making his senior debut for the Irish national team in 1983, he was still playing and starting in a Super League final for Ballina, scoring 14 points in a narrow defeat to Killester.
In recent years Liam has continued to coach schools basketball with the likes of Gortnor Abbey Crossmolina and has been a leader in the growth of basketball principles being absorbed into modern Gaelic football through his fine work as a coach with teams such as Mayo, Roscommon and All-Ireland club winners St Brigid's.