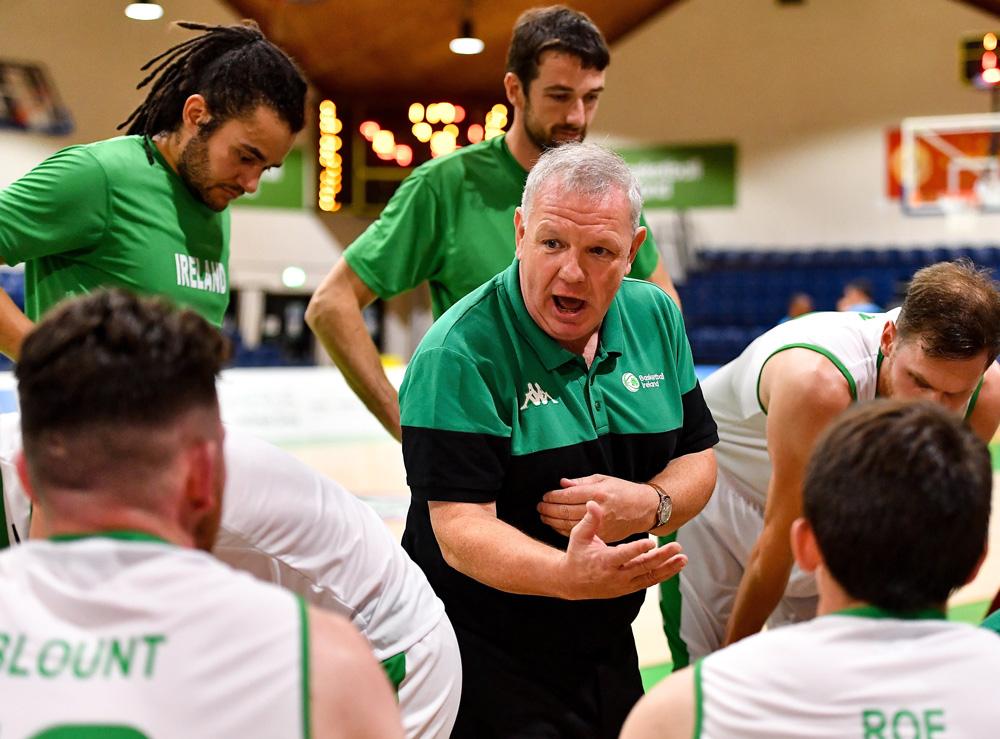 Sep 16 2021
Mark Keenan reappointed Ireland senior men's head coach
Mark Keenan has been reappointed as Ireland senior men's head coach. Keenan led the team to victory at the FIBA European Championship for Small Countries last month, their first senior men's international title since 1994. Keenan will take charge of the Irish team as they return to FIBA EuroBasket in November.
Speaking after confirmation that he would remain as head coach, Keenan said: "I'm delighted at being reappointed as head coach for the next phase of the development of our senior men's team.
"It's always a great honour and privilege to be able to represent your country. I'm also pleased to say that my assistant coaches Puff Summers and Adrian Fulton and team manager Mike Hickey will also be staying onboard."
Ireland's senior men are competing in the FIBA EuroBasket 2025 Pre-Qualifiers First Round and have been drawn in Group A with Cyprus, Austria and Switzerland. Their first contest is away in Cyprus on November 25th, followed by a home game against Austria four days later at the National Basketball Arena. The group winners and the best runner up from three groups will advance to the FIBA EuroBasket 2025 Pre-Qualifiers Second Round.
"It's a very exciting and new challenge now to be preparing so quickly for the first round of the EuroBasket qualifiers, which take place in November. The format of this competition is so different to the tournament style format of the FIBA European Championship for Small Countries.

"Dealing with the release of players from their clubs during their seasons for international breaks, flying players home from abroad, home and away fixtures over the space of a few days - these are all challenges we face now over the coming year. These are challenges we are really looking forward to tackling head on, in order to compete at this next level of European competition.

"I really hope the basketball and sporting public will get behind the team and will come to the National Basketball Arena in November for our first home game against Austria."
Tim Rice, chair of Basketball Ireland's Elite Performance Committee, added:
"The recent success that the senior men's team had in the FIBA European Championship for Small Countries is a testament to the leadership and commitment by Mark and his staff. He is a well-respected coach with a lot of experience and a proven track record. He has a great desire as a former Ireland senior captain to see the senior programme compete at the highest level. We appreciate his willingness to take on this challenge and look forward to the first game in Cyprus and the home game against Austria in November."
Keenan has been head coach of Ireland's senior men's team since 2019. He previously spent four years as an assistant coach with the senior team, under both Jay Larranga and Greg Gurr. He was also Ireland's U20 men's coach for four years. As a player he captained Ireland to victory in the 1994 Promotions Cup. He is the current coach of men's Super League side Griffith College Templeogue, who are the current National Cup holders.
Ireland senior men's FIBA EuroBasket 2025 Pre-Qualifiers First Round:
25th November 2021 Cyprus v Ireland
28th November 2021 Ireland v Austria
24th February 2022 Switzerland v Ireland
27th February 2022 Ireland v Cyprus
30th June 2022 Austria v Ireland
Sunday 3rd July 2022 Ireland v Switzerland