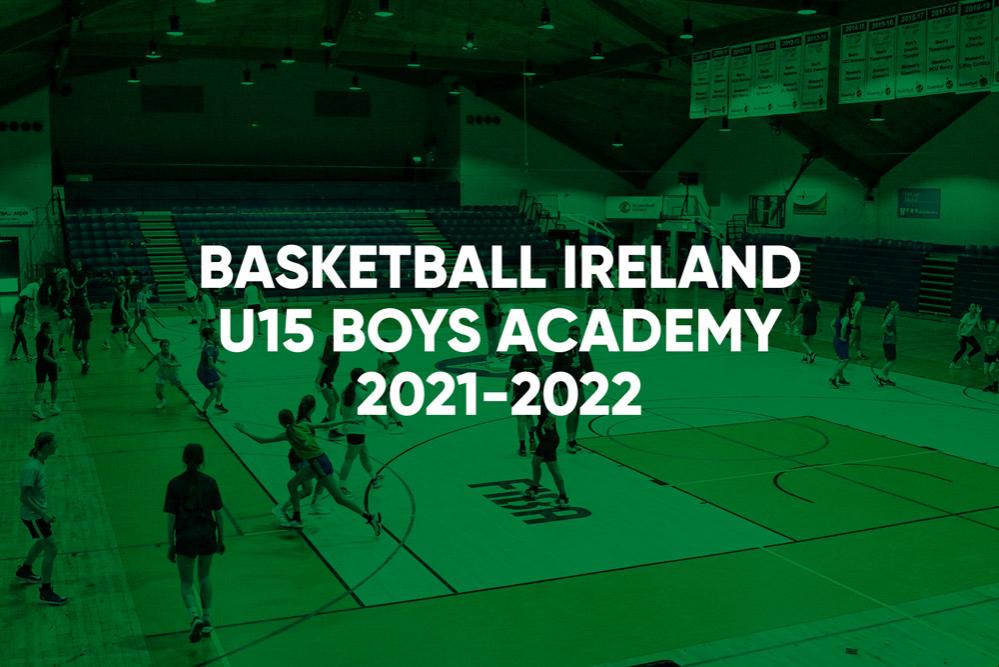 Nov 03 2021
U15 Boys Academy players announced: 2021-2022
The players for the 2021-2022 Basketball Ireland Academies have been selected, and can be viewed at the bottom of this page. Basketball Ireland wishes to thank all players that attended the Talent Identification Sessions, especially for the effort made by each and every player in the sessions.
What's next?
Please see the list of players (bottom of page) who have been selected for Basketball Ireland U15 Boys Academies.
If you / your child has been selected:
If you / your child has been selected for a Basketball Ireland Regional / Provincial Academy, please register & confirm acceptance of place HERE.
The Basketball Ireland Academies will make use of the MaxOne app to support the delivery of training in a blended approach - online and in-person. Players will need access to the device when this is implemented so they can avail of the online training material.
If you / your child has not been selected:
Please do not be disheartened. While this may not have been your time, there will be many more opportunities in the future for you to continue to grow and develop your skills. We saw a lot of talent at the trials, and encourage every player that attended to continue to work on their skills, and improve as a basketball player. You each did your best and that's all you can ever do.
What is the cost associated with being selected for the Basketball Ireland Academies?
The cost for the Academy season - including local sessions, Academy kit and a residential camp, which includes food and accommodation - is €340 for the U14 Academy and €375 for the U15 Academy. The first instalment will cover all the academy sessions and is €220 for the U14s and €240 for the U15s. The camp is held at Easter and is optional for Academy players. The camp can be paid for in the 2nd instalment. The balance for the camp is €120 for the U14 camp and €135 for the U15 camp. For the U15 Academy the fee covers to the end of the interprovincial tournament. The summer program is considered a separate programme for which details will be released during the season. This fee will be paid in two instalments at the start and middle of the season via Basketball Ireland's online system and details will appear on the website after the first sessions in mid-November.
Basketball Ireland U15 Boys Academies 2021-2022: Player Selection
See below drop-down menus for players selected in each regional Academy:
U15 Boys Connacht Academy 2021-2022
Head coach: Fabian Gagliano
Assistant coach: Shane O'Meara
| | | | |
| --- | --- | --- | --- |
| Forename | Surname | Club/School | Code |
| Nathan | Roddy | Ballina Braves | CM1 |
| Alan | Harris | Bearna BC | CM2 |
| Liam | Conneely | Claregalway BC | CM3 |
| Oisin | Roberts | Maree | CM4 |
| Cillian | Cannon | Maree | CM5 |
| Eoin | Cleary | Moycullen | CM6 |
| Colm | Davoren | Moycullen | CM7 |
| Cian | Walsh | Connacht | CM8 |
| John | O'Sullivan | Moycullen | CM9 |
| Daniel | O'Meara | Sligo All-Stars | CM10 |
| Zac | Henry | Sligo All-Stars | CM11 |
| Abel | Daniel | Titans | CM12 |
| Eoin | Potito | Titans | CM13 |
| Chinonso | Owede | Titans Bc | CM14 |
| Niall | de Paor | Maree | CM15 |
| Eric | Chege | Titans | CM16 |
| Luke | O'Sullivan | Cistercian College Roscrea | CM17 |
| Tom | O'Grady | Annaghdown | CM18 |
| Ashton | Glynn | Clare Panthers | CM19 |
| Benjamin | Keigher | Annaghdown BC | CM21 |
| Alan | Burke | Maree | CM22 |
| Conan | Fennell | Abbey Lakers BC | CM23 |
| Cian | Morrison | Ballina Braves | CM24 |
U15 Boys Munster Academy 2021-2022
Head coach: Paul Kelleher
Assistant coach: Keith Daly
| | | | |
| --- | --- | --- | --- |
| Forename | Surname | Club/School | Code |
| Aaron | Morrow | Limerick Celtics | MPM1 |
| Adam | O'Neill | St. Paul's Killarney | MPM2 |
| Billy | Bell | Ballincollig | MPM3 |
| Brayden | Pierce | St.Brendans, Tralee | MPM4 |
| Callum | O'Rourke | Castletroy College | MPM5 |
| Charlie | Curran | Bantry BC | MPM6 |
| Ciaran | Fitzsimons | Ballincollig BC | MPM7 |
| Conor | Moynihan | Rathmore Ravens | MPM8 |
| Darragh | Horkan | Limerick Lions | MPM9 |
| Dylan | O'Rourke | Neptune | MPM10 |
| Eanna | Murphy | | MPM11 |
| Edvardas | Laurynavicius | Neptune | MPM12 |
| Evan | Cox | Killarney Cougars | MPM13 |
| Finn | McCarthy | Carrigaline | MPM14 |
| Jack | Phillips | Bantry BC | MPM15 |
| John | Finn | Limerick Lions BC | MPM16 |
| Junior | Balladares | St. Annes | MPM17 |
| Justin | Raheem | Neptune | MPM18 |
| Leo | Morris | Cobh | MPM19 |
| Molua | Mac Seain | Youghal BC | MPM20 |
| Naglis | Vaivada | Kanturk BC | MPM21 |
| Oisin | O'Hanlon | Carrigaline BC | MPM22 |
| Orhi | Imbusch | Limerick Celtics | MPM23 |
| Ryan | Hand | St. Brendan's, Tralee | MPM24 |
| Sam | Ryan | Carrigaline | MPM25 |
| Sean | Garvin | Blue Demons | MPM26 |
| Tadhg | Murphy | Ballincollig/Coláiste Choilm | MPM27 |
| Wesley | Delany | Neptune | MPM28 |
| Charles | Nkoy | Fr. Mathews | MPM29 |
| James | Keane | Bantry BC | MPM30 |
| Jamie | O'Mahony | Tipperary Knights | MPM31 |
| Jose | Azzopardi | Limerick Celtics | MPM32 |
| Ryan | Briganti | Limerick Lions | MPM33 |
| Zach | O'Sullivan | Tramore | MPM34 |
U15 Boys Leinster Academy 2021-2022
Head coach: Scott Summersgill
Assistant coach: Jack Dooley
| | | | |
| --- | --- | --- | --- |
| Forename | Surname | Club/School | Code |
| Donal | Smyth | Drogheda Wolves | LM1 |
| Theo | Quinn | Killester BC / Belvedere College | LM2 |
| Luke | Kavanagh | Portlaoise Panthers | LM3 |
| Everett | Astudillo | Killester | LM4 |
| Fionn | Stack | Portlaoise Panthers | LM5 |
| Rían | Gaynor | Athlone BC | LM7 |
| Ryan | Bell | Street Warriors | LM8 |
| Jack | Dunphy | Malahide | LM9 |
| Darragh | Russell | St. Declans College / BC Tauras | LM10 |
| Ryan | Lin | Athlone BC | LM11 |
| Eoin | Connolly | St. Mel's College / Longford Phoenix BC | LM12 |
| Calvin | Medidas | Dublin Raiders | LM13 |
| Gabriel | Omotayo | Killester BC | LM14 |
| Patrick | Walsh | Éanna BC | LM15 |
| Ruairi | Flannery | Malahide BC | LM16 |
| Liam | Dwyer | Malahide BC | LM17 |
| Peter | Farrell | Longford Phoenix | LM18 |
| Gervie | Pasia | Dublin Raiders | LM19 |
| Jack | Heneghan | Dublin Lions | LM20 |
| Sean | Binnions | Malahide BC | LM21 |
| Finn | Moran | Baltinglass Bulldogs | LM22 |
| Rian | Keaveney | Streete Warriors | LM23 |
| Riley | Comerford | Portlaoise Panthers | LM25 |
| Daire | Farrell | Longford Phoenix | LM26 |
| Cillian | Leddy | Dublin Raiders | LM27 |
| Marco | Mendoza | Dublin Sonics | LM28 |
| Joshua Joseph | Mondejar | St. Vincent's BC | LM29 |
| Robert | Kenny | Ongar Chasers BC | LM30 |
| Charley | Phelan | Kilkenny Stars | LM31 |
| Ciaran | Sheridan | Navan Cougars | LM32 |
| Nikita | Kokorev | Dublin Lions | LM33 |
| Sebastiano | Joyce | UCD Marian / St. Andrews | LM34 |
| Aironas | Blazaitis | Drogheda Wolves | LM35 |
| Leeor | Weissblech | | LM36 |
| Karl | Venas | Dublin Lions | LM38 |
| Billy | Toohey | Liffey Celtics | LM39 |
| Noah | Winders | St. Vincent's BC | LM40 |
| Eoin | Murray | Templeogue BC | LM42 |
| David | Apopei | Portlaoise Panthers | LM43 |
| Ronan | Enright | Liffey Celtics | LM44 |
| Kareem | Matonmi | Baltinglass Bulldogs | LM45 |
| Adam | Charles | Éanna | LM46 |
| Andrej | Opala | | LM47 |
| Jack | Fennell | | LM48 |
| Padraig | Culleton | | LM49 |
U15 Boys Ulster Academy 2021-2022
Head coach: Alejandro Molinary
Assistant coach: Eduardo Macho
| | | | |
| --- | --- | --- | --- |
| Forename | Surname | Club/School | Code |
| Marcel | Holko | Cavan Lakers | UM1 |
| Emiliano | Vennettilli | Cavan Lakers | UM2 |
| Sebastian | Long | East Coast Cavaliers | UM3 |
| Luke | McGuinness | Letterkenny Blaze | UM4 |
| Daire | O'Gorman | Phoenix BC | UM5 |
| Cillian | Connolly | Belfast Star | UM6 |
| keith | calungsod | St. Mallachy | UM7 |
| Tadhg | Sheils | Cavan Lakers | UM8 |
| Conor | Doyle | Cavan Lakers | UM9 |
| Paddy | Mulligan | Blackwater Steelers | UM10 |
| Stephen | McSkeane | Blackwater Steelers | UM11 |
| Rejus | Mikulis | Blackwater Steelers | UM12 |
| Mikey | Mcloughlin | Letterkenny Blaze | UM13 |
| Aidenas | Paskauskas | Blackwater Steelers | UM14 |
| Fionn | Cregan | Ulster University Tigers | UM15 |
| Thomas | Ashe | | UM16 |
| Adomas | Vaitkaitis | St macartans college monaghan | UM17 |
| Thomas | Donnelly | UU Tigers | UM18 |
| Cian | Morgan | | UM19 |
| Lewis | McCotter | St. Malachy's/Belfast star | UM20 |
| Ruadhan | O'Dufaigh | Blackwater Steelers / Coláiste Oiriall | UM21 |
| Brian | Creen | UU Tigers | UM22 |
| Kai | Devlin-Atkinson | UU Tigers | UM23 |
| Dan | McGrattan | Belfast Star | UM24 |
| Fionntán | Deeds | UU Tigers | UM25 |
| Sean | Smyth | Blackwater steelers | UM26 |
| Donal | Smyth | Drogheda wolves | UM27 |
| Daniel | O'Sullivan | Coláiste Na Hinch | UM28 |
| Rossa | McNulty | Queen's BC | UM29 |
| Liam | Blaney | Queen's BC | UM30 |
| Turlough | Mc Hugh | St. Patrick's College Maghera | UM31 |
| Rory | McParland | Queen's BC | UM32 |
| Ben | Duffu | Blackwater Steelers | UM33 |
| Adam | Cartys | Drogheda Wolves | UM34 |
| Aironas | Blazaitis | Drogheda Wolves | UM35 |
| Alex | McVicar | Blackwater Steelers | UM37 |
| Charlie | McNeely | Donegal Town | UM38 |
| Oisín | Sweeney | Mulroy Hoops | UM39 |