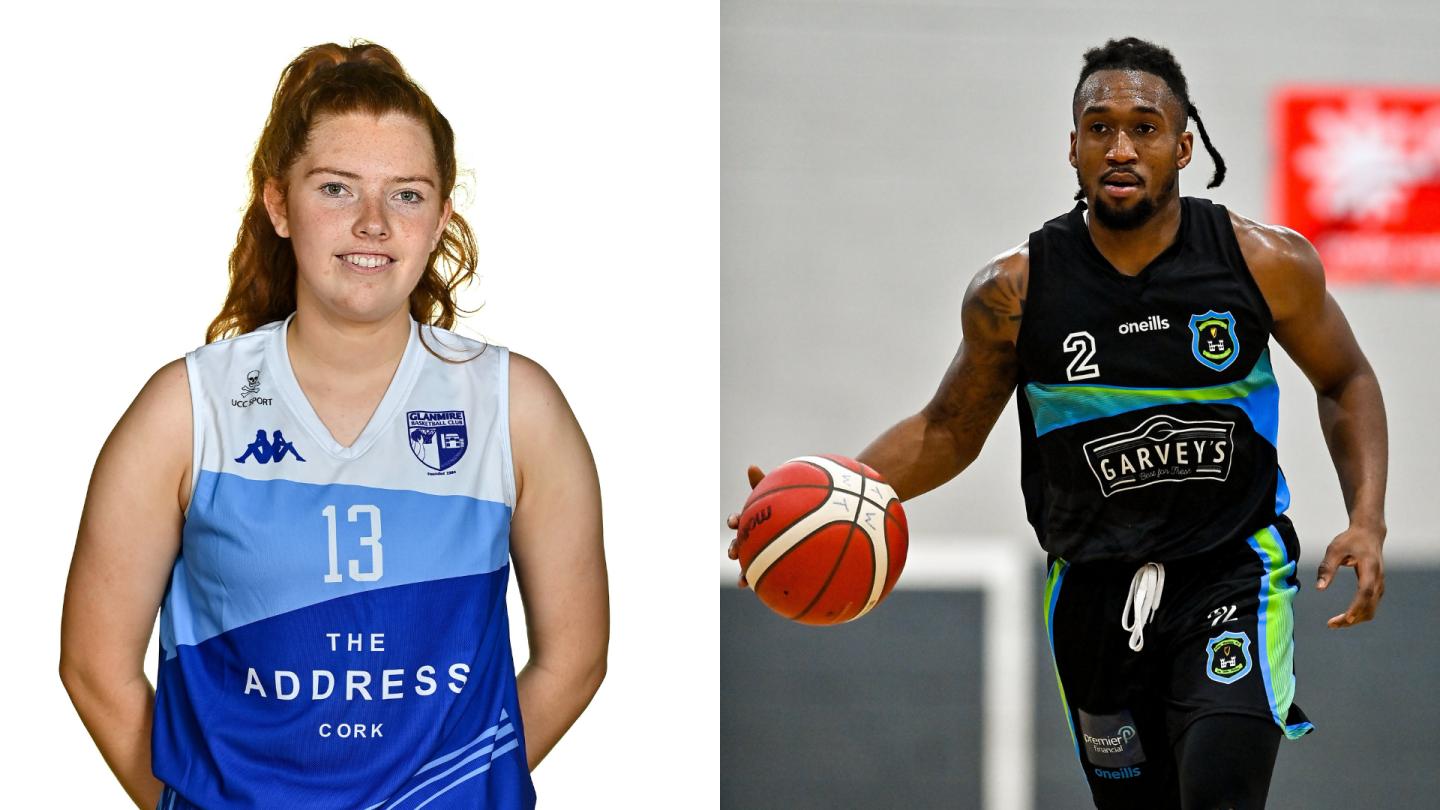 Nov 04 2021
October Player and Coach of the Month awards revealed
There was double joy for Garvey's Tralee Warriors in the October Player/Coach of the Month Awards, as Aaron Calixte (25.5 ppg average) picked up Molten Player of the Month and head coach John Dowling claimed the Coach of the Month award. Calixte has led scoring for the Kerry side, as they made an unbeaten start to the InsureMyVan.ie Super League season, with three wins from three, while also advancing to the quarter-finals of the InsureMyHouse.ie Pat Duffy National Cup. Griffith College Templeogue's Lorcan Murphy (20.25 ppg average) and Andre Nation (21 ppg average) of Tradehouse Central Ballincollig finished second and third in the player voting.
In the InsureMyVan.ie Division One, Limerick Sport Eagles picked up both awards too, for their unbeaten start in the league, as well as advancing to the quarter-finals of the of the InsureMyHouse President's National Cup. Manny Payton finished top of the standings in voting for the player gong, while Matt Hall won the coaches award. UCC Demons' Tala Fam Thiam and EJ Sligo All-Stars player Keith Jordan Jnr were second and third respectively in voting for the players award.
In the MissQuote.ie Super League, Claire Melia's impact (23 ppg average) with new club The Address UCC Glanmire has clearly been noticed. Her 24-point haul for the Cork club against Killester in the InsureMyHouse.ie Paudie O'Connor National Cup was among the most impressive performances so far this season. The former Portlaoise Panthers player finished ahead of fellow-Irish international Edel Thornton (14 ppg average) of Singleton SuperValu Brunell, who was second, with Ciara Bracken (17.25 ppg average) of Leixlip Amenties Liffey Celtics third in the standings to claim the Molten Player of the Month award.
Singleton SuperValu Brunell are one of five teams with a 3-1 record to start the MissQuote.ie season and their head coach Tim O'Halloran has been handed the coach award for October thanks to their performance so far.
In MissQuote.ie Division 1 Antigonie Sanabria of Portlaoise Panthers picked up the players award, with Limerick Sport Huskies player Yuleska Tejeda finishing runner-up and Alexandra Posset, of Ulster University, in third.
The coaches award went to Ulster University's Patrick O'Neill, after their three wins from three in the Division One North Conference.
Winners List:
InsureMyVan.ie Super League:
Player – 1st Aaron Calixte (Garvey's Tralee Warriors); 2nd Lorcan Murphy (Griffith College Templeogue); 3rd Andre Nation (Tradehouse Central Ballincollig)
Coach – John Dowling (Garveys Warriors)
InsureMyVan.ie Division 1:
Player – 1st Manny Payton (Limerick Sport Eagles); 2nd Tala Fam Thiam (UCC Demons); 3rd Keith Jordan Jnr (EJ Sligo All-Stars)
Coach – Matt Hall (Limerick Sport Eagles)
MissQuote.ie Super League:
Player – 1st Claire Melia (The Address UCC Glanmire); 2nd Edel Thornton (Singleton SuperValu Brunell); 3rd Ciara Bracken (Leixlip Amenities Liffey Celtics)
Coach – Tim O'Halloran (Singleton SuperValu Brunell)
MissQuote.ie Division 1:
Player – 1st Antigonie Sanabria (Portlaoise Panthers); 2nd Yuleska Tejeda (Limerick Sport Huskies); 3rd Alexandra Posset (Ulster University)
Coach – Patrick O'Neill (Ulster University)