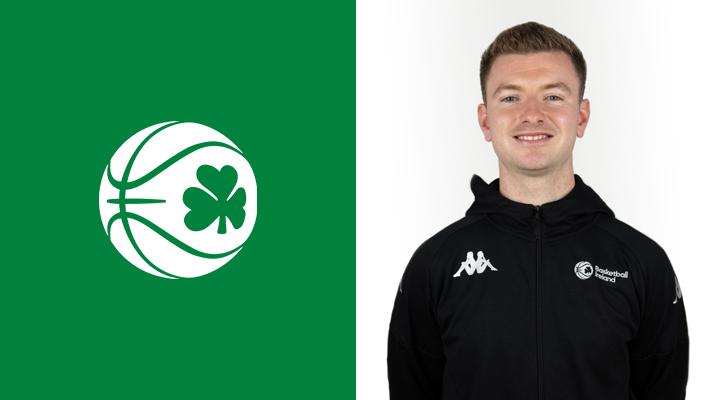 Nov 19 2021
New Development Officer appointed for Trinity College and Dublin Inner City
Shane Maughan has been appointed as Basketball Ireland's new Development Officer for Dublin's North East Inner City and Trinity College and begin his new role on Monday, 22nd November. Maughan started working with Basketball Ireland in April 2021, as part of Sport Ireland's Aspire Graduate programme and has been operating as a Development Officer in the Midlands region.
Speaking about his appointment, Maughan said: "I am absolutely delighted to be starting this new position in Trinity College Dublin and the North East Inner City. Working in the Midlands region this year has been very enjoyable and rewarding, I look forward to building on that great experience in my new role. This is an exciting and fantastic opportunity, where I hope to make a significant impact within the area and I look forward to continuing to work alongside our team of Development Officers to progress Irish basketball."
Maughan has been involved in basketball since secondary school. He captained Ard Scoil Rathangan to U19 'A' All-Ireland Cup success in 2015, the school progressed from the 'C' to the 'A' division during his time there.
He began his club career in the Midlands, with Kestrels and Portlaoise Panthers, before moving to IT Carlow, where he played National League for four years. During his time with the club, he won the National League Cup title in 2018, a side he co-captained.
Ciaran O'Sullivan, Basketball Ireland's Head of Development, said: "Shane is ingrained in basketball and made a real impact in the Midlands region since he joined Basketball Ireland as an Aspire Graduate. His passion for the sport, as well as his work ethic, will help us make further inroads in Dublin's North East Inner City, in partnership with Trinity College. This appointment further expands Basketball Ireland's pool of Development Officers across the country, as we continue the upward trajectory of the sport in Ireland."
Lisa Cafferky, Trinity Sport Student Sport Pathway Manager, stated: "We are delighted to welcome Shane as the new Development Officer for Dublin's North East Inner City and Trinity College. The introduction of the role will help to create a range of opportunities for our students to participate, coach and be visible role models within the local community."
Bruce McDevitt, from Dublin City Council, added: "It is great to start a new partnership in the North East Inner City with Basketball Ireland and Trinity College, Dublin. Basketball is a sport which has a huge potential to develop in the North East Inner City. The introduction of Shane as Basketball Development Officer in the area will add huge value to the development of Basketball opportunities within the area and will allow for a strategic approach to be adopted in developing the game locally."