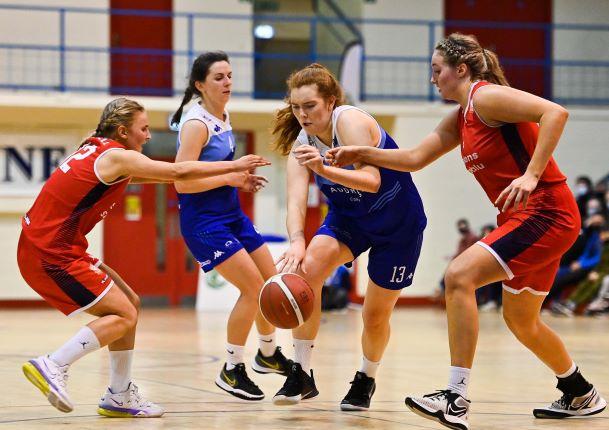 Jan 07 2022
The Address UCC Glanmire beat Singleton Supervalu Brunell 92-82 to reach Paudie O'Connor final of InsureMyHouse.ie National Cup
The Address UCC Glanmire are into the Paudie O'Connor Cup final of the InsureMyHouse.ie National Cup after beating local rivals Singleton Supervalu Brunell 92-82 in the opening game of Cup semi-finals weekend in Cork.
Carrie Shephard scored 22 points for the victors, while Aine McKenna had 18 points and Claire Melia impressed with 13 points, 13 rebounds and eight assists.
Singleton Supervalu Brunell raced to an early lead, a Simone O'Shea three point jump shot made it 12-2 with a little over two and a half minutes gone.
But The Address UCC Glanmire worked themselves back into the contest, led by the impressive Áine McKenna. The Irish international picked up 10 points in the opening quarter and there would be just a single point between the sides by the end of the quarter, 23-22 in favour of The Address UCC Glanmire.
Mark Scannell's side started the second quarter with back-to-back threes, from Mia Furlong and Carrie Shephard, to open up a 29-22 advantage. A Casey Grace 2-point jump made it a 10 point game, 36-26, with just under two two minutes gone in the quarter.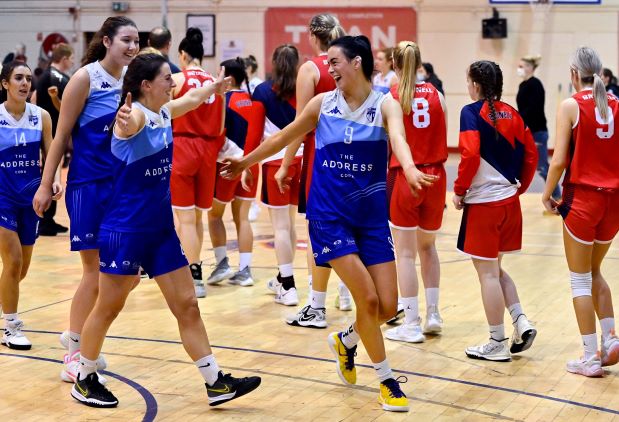 Kwanza Murray kept the scoreboard ticking over for Singleton Supervalu Brunell with eight points in the second quarter, including a brilliant long-range three, which made it 38-33 at the midway point.
But The Address UCC Glanmire would go into the half-time break 50-42 in front, helped by Miriam Loughrey's two point layup at the end.
Singleton Supervalu got themselves back in to the contest thanks to a nine point run in the third quarter, started by Simone O'Shea's big three pointer with a little over five and a half minutes gone.
Edel Thornton was her usual instrumental self, she drove to the basket and shipped a heavy fall, but dusted herself off to land one of her two free throws. It was followed shortly afterwards by a layup from the Ireland co-captain to make it 58-57 with four minutes to go. Singleton Supervalu would go level not long afterwards thanks to a Shannon Ryan free throw.
However The Address UCC Glanmire re-established control and led 64-60 by the end of the quarter. That advantage was nine points after a fine steal and layup by Carrie Shephard, to make it 69-60 early in the fourth. Katie Walsh responded almost immediately with a three from the top of the three point line.
Kwanza Murray attacked the basket and landed a brilliant layup as she fell to the floor, picking up a foul in the process and added the extras to make it 74-69 with three minutes gone.
But every time that Singleton Supervalu Brunell got within touching distance The Address UCC Glanmire pulled away, two three's from Claire Melia stretched their lead to 86-73 with two minutes to go. It was a deficit that Tim O'Halloran's side simply couldn't reel back in, with The Address UCC Glanmire winning 92-82.
"We have to give Glanmire and mark credit they came out with a game plan, they executed it very well and look the better team probably won in the end", O'Halloran said.
"We were emphasising that we needed a good start and we got a good start, but as a veteran team they didn't panic, they just kept knocking them in there and they came back at us and we probably panicked a bit at that stage and they took the lead and we just could never get it back then in the second half, they closed it out, they closed it out as Glanmire do."
Mark Scannell was pleased how his side responded to the bright start from their opponents.
"I'm very happy now it was a tough game, really tough game. Brunell came out all guns blazing and took an early lead, my team showed a lot of character when they needed. We weathered the early storm and then when we got going we had to make some early adjustments, Shannon (Ryan) was unbelievable for them and the post gave us loads of trouble, but in Cup semi-finals different things come at you, you have to try and figure it out on the run and I thought they did a great job of it."
Scannell acknowledged the contributions of Shephard, McKenna and Melia, but had praise for several others after their win.
"They've been doing it all year, the three of them in particular have been brilliant all year, but I must say now tonight Mia Furlong was unbelievable and Amy Dooley was brilliant, Miriam Loughrey was brilliant. I thought it was a real good team effort, everybody that was on the floor tonight contributed, but definitely Aine kept us scoring early, Claire kept the whole team going and then Carrie hit some big shots when we needed her to."
The Address UCC Glanmire:
Áine McKenna (18), Casey Grace (12), Annaliese Murphy (DNP), Mia Furlong (13), Abbey Furlong (0), Miriam Loughrey (5), Claire Melia (13), Erika O'Shea (0), Carrie Shepard (22), Amy Dooley (9)
Singleton Supervalu Brunell:
Mia Finnegan (DNP), Shannon Ryan (28), Emily Peyton Blake (DNP), Lauryn Homan (2), Avril Braham (0), Kelly Sexton (0), Edel Thornton (15), Simone O'Shea (9), Alex Machetta (0), Kwanza Murray (23), Katie Walsh (5), Sinead O'Reilly (0)