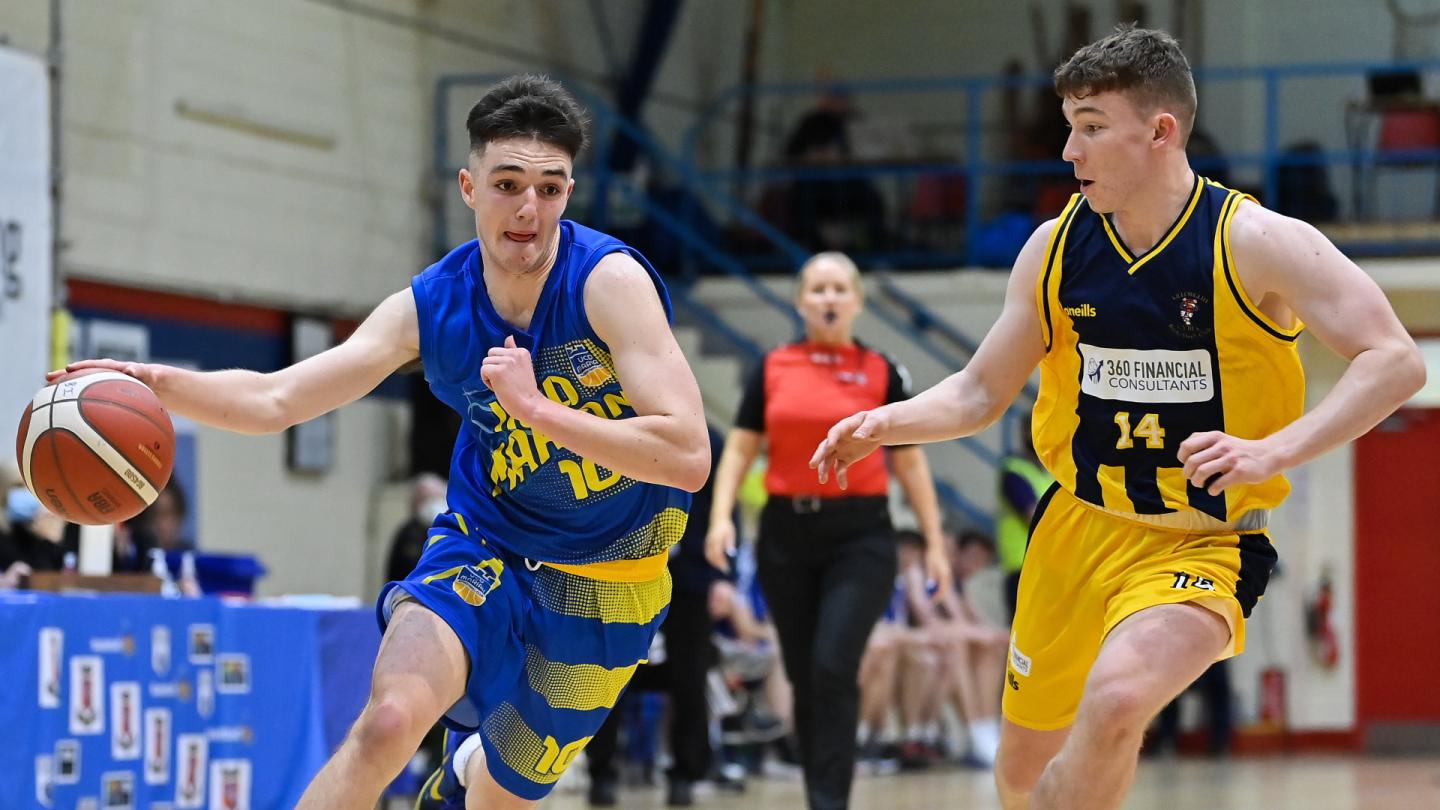 Jan 09 2022
UCD Marian beat Killorglin CYMS 81-67 in Men's U20 InsureMyHouse.ie National Cup semi-final
UCD Marian will face UCC Blue Demons in the U20 Men's InsureMyHouse.ie National Cup final after they defeated Killorglin 81-67 at Neptune Stadium in the second semi-final.
Ruairi Murphy was the main man for Killorglin, he had 8 points in the first quarter and would finish with 22 points, while UCD Marian's scoring was evenly spread. Ronan Byrne's second three pointer near the end of the quarter handed them a 24-14 lead.
UCD Marian opened up a 16 point advantage by half-time, 42-26, Byrne had 12 points by the break and Colm O'Reilly had 10. That lead was reduced slightly to 14 by the end of the third, with the Dublin club ahead 60-46.
UCD Marian signalled their intent early in the fourth with a big dunk by O'Reilly two minutes in. The imposing 6'6" forward would end the game with 22 points.
With five minutes to go a two point jump shot from Killorglin's talisman Ruairi Murphy saw the Kerry side trail 74-63, with their vocal support were roaring them on. But there was to be no dramatic comeback, O'Reilly's tip in and Paraic Moran's free throw in the final stages wrapping up the victory.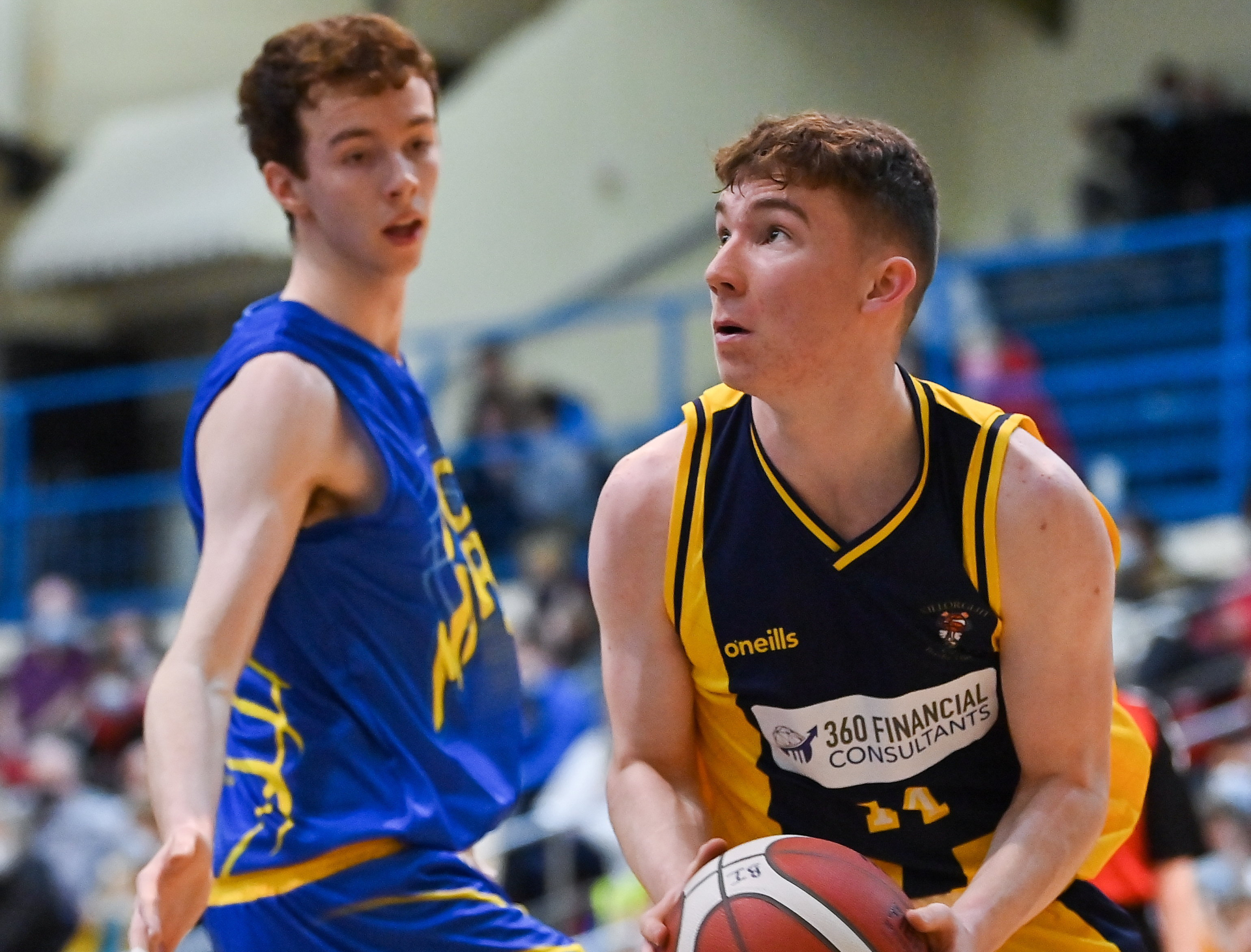 Ruairi Murphy of Killorglin CYMS, who finished with 22 points in the U20 Men's InsureMyHouse.ie National Cup semi-final 
UCD Marian U20 head coach Fran Ryan said: "Well first of all, really tough game, exactly what we expected. Scrappy, tough, very committed team in Killorglin. Good first half, reasonable third, not as good as we like in the fourth. We'll have learned a lot about ourselves after that.
Ryan also gave his assessment of their upcoming final opponents, UCC Blue Demons. "Really good basketball team, they've got a couple of good bigs, couple of really good shooting guards. We're going to have to go look at the tapes and work out what we're going to do with them. They're a very good basketball team."
"Disappointed we didn't perform as good as we could have, especially in the first half. 26 points gave us a mountain to climb. That would be the most disappointing thing.

"Ruairi (Murphy) is quick, he certainly got up and down the floor really well. That's our game really, it's a running game, and I just don't think we executed it enough today to what we usually do. Coming up this morning my initial thought would have been we wouldn't struggle scoring the ball, that we'd probably have to be keeping to 70/80 points and we'd be there or thereabouts for winning the game, but offfensively I just thought we weren't at the races today and it just didn't happen.

"At the start we tried to contain them inside because we knew they were big, but they shot the ball really well, so we kind of came out then a small bit, and they hurt us inside, so yeah they had a really good game in fairness to UCD, they're a strong side and they'll be tough to beat in the final. But I just think from our own point of view we'll go away disappointed that we didn't perform to the way we could have." - Declan Wall, Killorglin CYMS U20 men's head coach
UCD Marian: Ruaidhri Mac Donacha (0), Conor Walsh (6), Luke Gilleran (5) Brian O'Hara Duggan (0), Ronan Byrne (16), Tommy Coogan (0), Saul Lysaght (0), Colm O'Reilly (22), Shane Morgan (6), Paraic Moran (16), Sotiris Miltiadis (10), Fergal Keane (0), Oscar Givne (DNP).
Killorglin CYMS: Darragh O'Grady (0), Tom Cahillane (0), Sean O'Brien (14), Cillian Buckley (), Callum Russell (0), Oisin Flynn (10), Rory O'Connor (10), Hugh Fitzpatrick (0), Conor Murphy (3), Stephan O'Sullivan (), Ruairi Murphy (22)