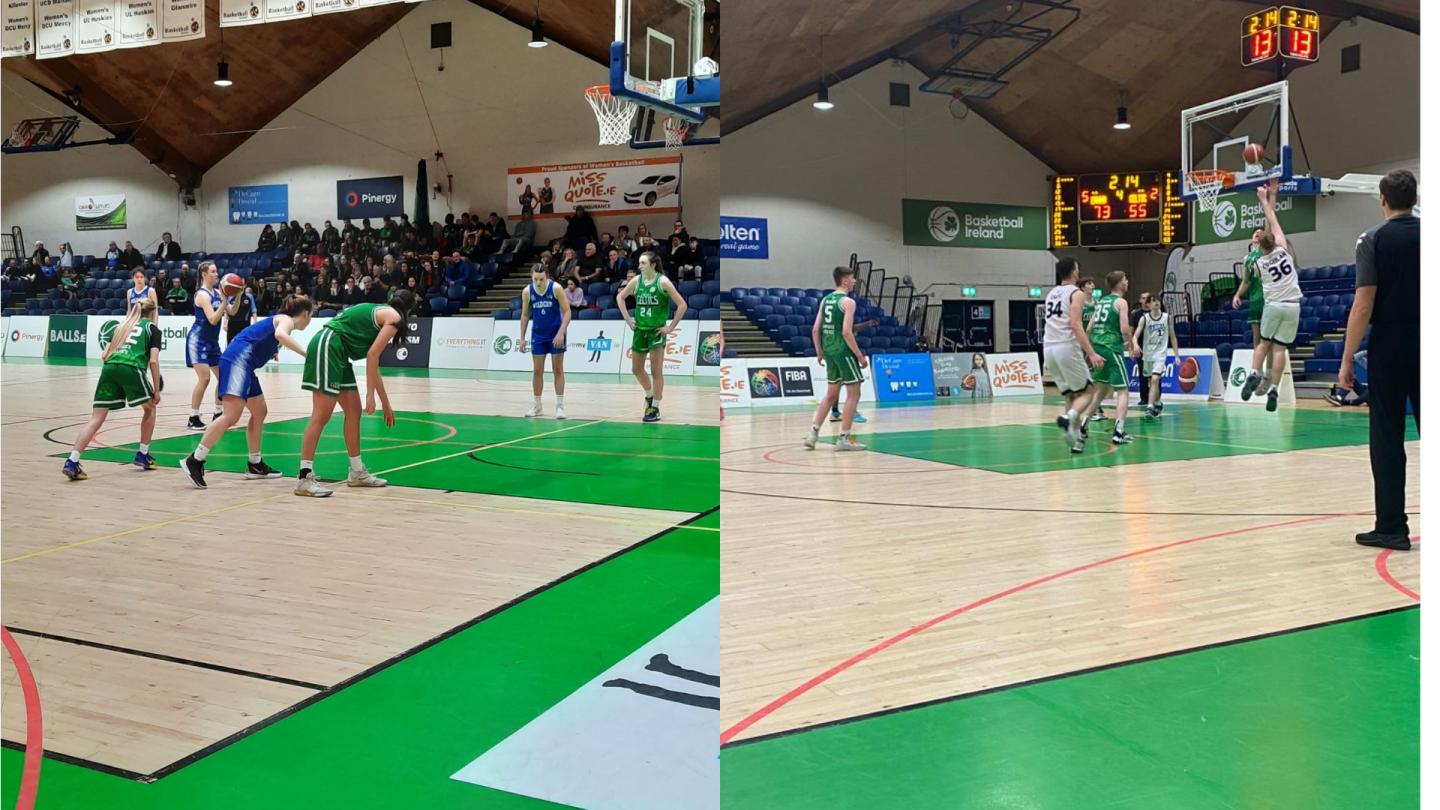 Mar 06 2022
Wins for Eanna, Phoenix BC, Liffey Celtics and Limerick Celtics in InsureMyHouse.ie U18 National Cup
Liffey Celtics and Limerick Celtics will meet in the InsureMyHouse.ie U18 Women's National Cup, after both sides advanced through their semi-finals at the National Basketball Arena on Sunday.
Liffey Celtics overcame Dublin Lions 67-51, having led narrowly at half-time, 30-28, before pulling away in the second half to win by 16 points. Ana Postarnakova (17), Niamh O'Leary (16) and Emily O'Dwyer (14) were central to their win, while for Dublin Lions Aoibhinn Dunne (14), Caoimhe Gilligan (12) and Tara Nevin (10) topped scoring.
Limerick Celtics defeated Waterford Wildcats in the other semi-final, emerging 89-41 victors. Lucy Devoy (24), Gandy Malou (13) and Ava Crean (10) top scored for the Limerick Celtics. Caitlin Gloeckner (12), Sarah Hickey (10) and Orla Dullaghan 9, who all won the U19 School League final with Mercy Waterford on Thursday, came up short on this occasion.
The InsureMyHouse.ie Billy Coffey U18 Men's National Cup final will be contested by Phoenix BC and Éanna.
Phoenix BC trailed 33-30 at half-time against Ballincollig in their semi-final, before coming out on top 75-70. Callum Keys top scored on 21 points, while Ryan Calo and Jake Calo contributed 18 and 16 points repectively. For the Calo's it's a successful return to the National Basketball Arena, having won the Pinergy U19A Boys Schools Cup final with St. Malachy's in January.
Shanay Shah, who was MVP for Coláiste Éanna in their U19A Boys Schools League final win on Thursday, picked up where he left off at the National Basketball Arena. Shah top scored once more, this time for his club side Éanna, on 21 points, as they beat Limerick Celtics 77-60. Viktor Lovic (18), and Cathal O'Sullivan (16) also played big parts in Éanna's win.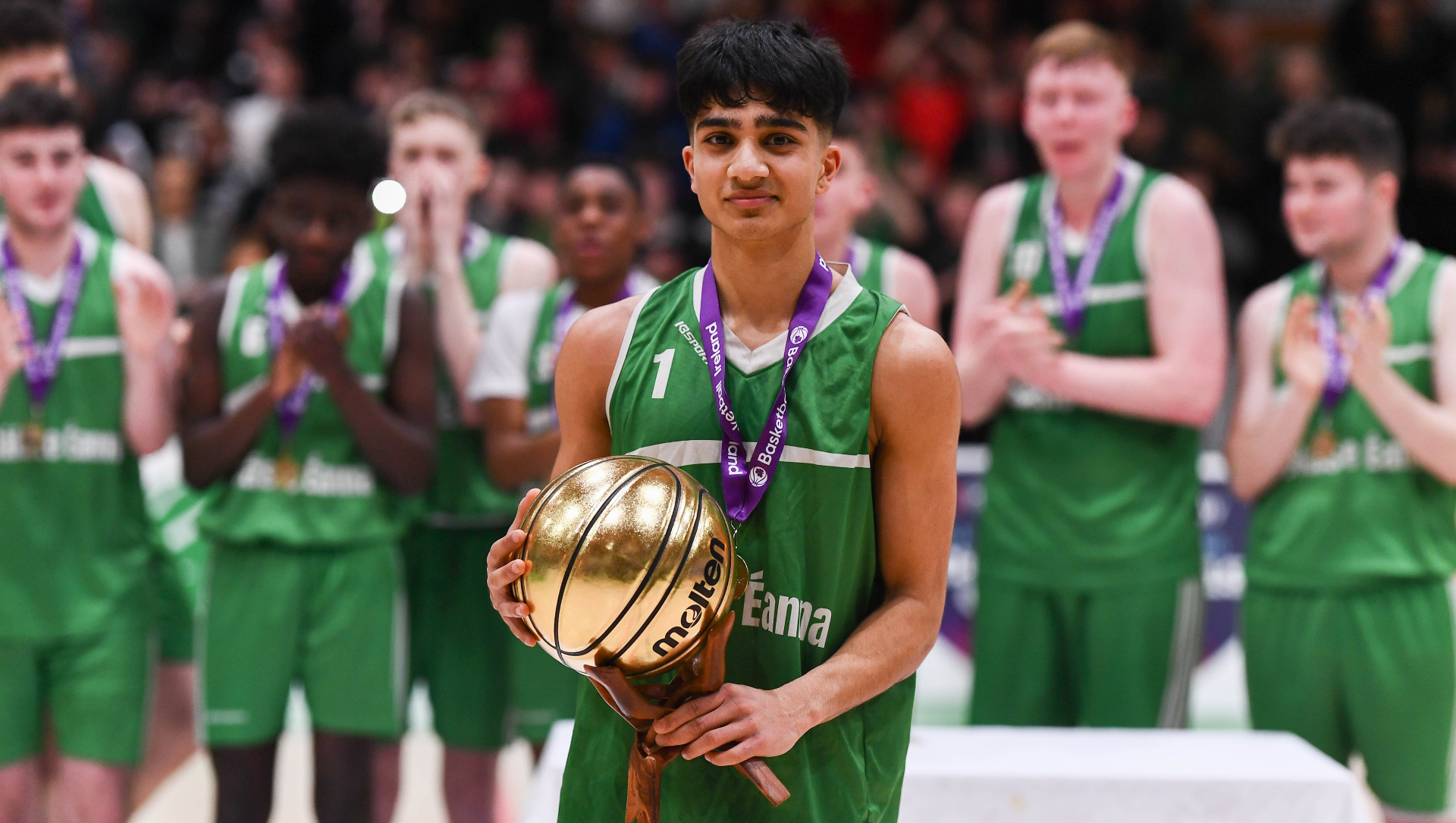 Shanay Shah with the MVP trophy he picked up on Thursday after leading Coláiste Éa nna to the U19A Boys Schools League title
Limerick Celtics trailed by just a point at half-time 37-36, but the game tilted in their opponents favour after that. Leading the Limerick Celtics offence was Sean McNamara (20), Cian Gleeson (12) and Joe Keane 11.
InsureMyHouse.ie U18 National Cup final schedule:

Neptune Stadium - Saturday, 19th March

15:30 InsureMyHouse.ie U18 Women's National Cup final

Liffey Celtics v Limerick Celtics

18:00 InsureMyHouse.ie Billy Coffey U18 Men's National Cup final

Phoenix BC v Éanna
InsureMyHouse.ie U18 Women's National Cup semi-final results:
Waterford Wildcats (15) 41
Limerick Celtics (39) 89
Top scorers:
Waterford Wildcats - Caitlin Gloeckner 12, Sarah Hickey 10, Orla Dullaghan 9
Limerick Celtics - Lucy Devoy 24, Gandy Malou 13, Ava Crean 10
Liffey Celtics (30) 67
Dublin Lions (28) 51
Top scorers:
Liffey Celtics - Ana Postarnakova 17, Niamh O'Leary 16, Emily O'Dwyer 14
Dublin Lions - Aoibhinn Dunne 14, Caoimhe Gilligan 12, Tara Nevin 10
InsureMyHouse.ie U18 Men's National Cup semi-final results:
Ballincollig (33) 70
Phoenix BC (30) 75
Top scorers:
Ballincollig - Isaac Eroutteh 16, Jack Scannell 14, Rory O Flynn 10
Phoenix BC - Callum Keys 21, Ryan Calo 18, Jake Calo 16
Éanna (37) 77
Limerick Celtics (36) 60
Top scorers:
Éanna - Shanay Shah 21, Viktor Lovic 18, Cathal O'Sullivan 16
Limerick Celtics - Sean McNamara 20, Cian Gleeson 12, Joe Keane 11