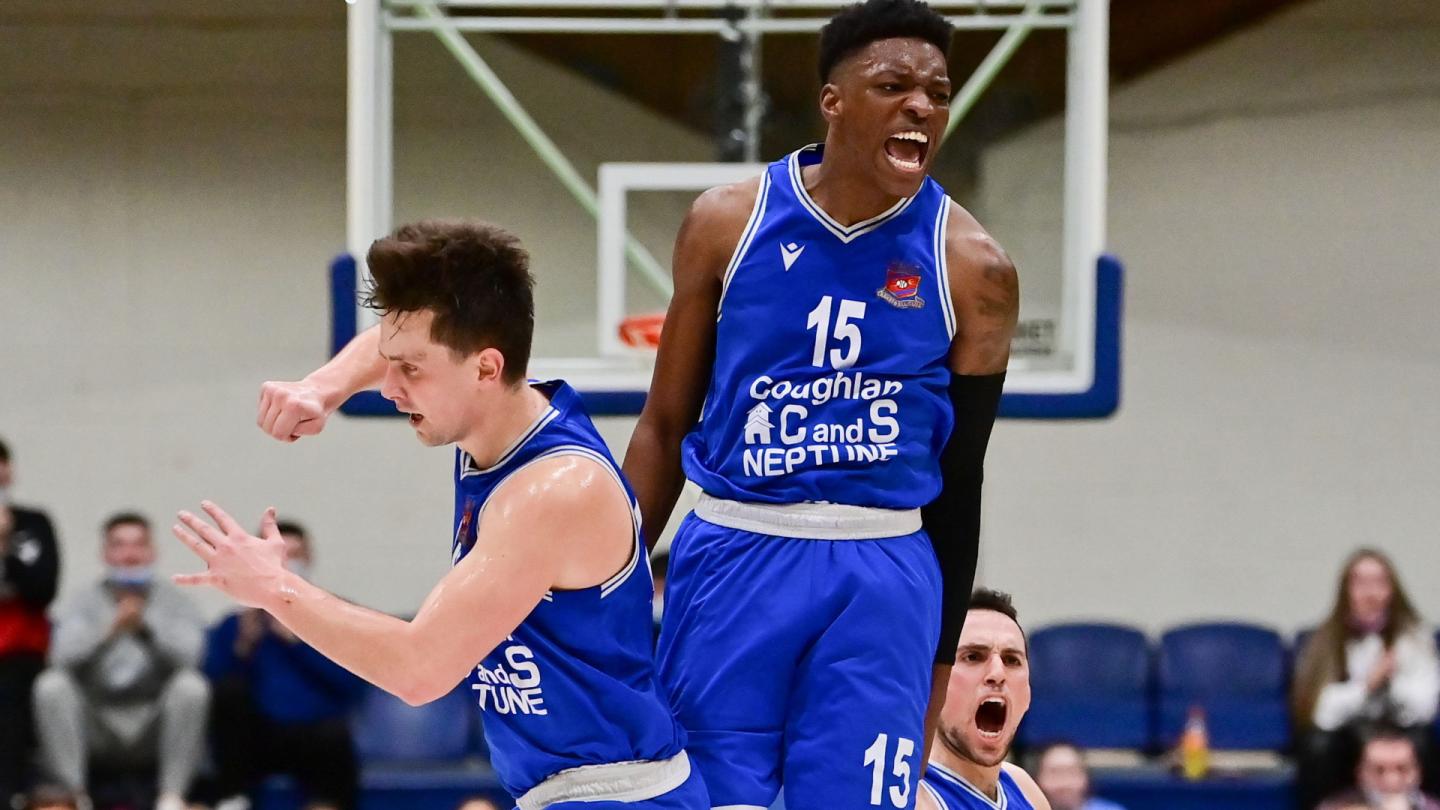 Mar 26 2022
C&S Neptune reach InsureMyVan.ie Super League final, EJ Sligo All-Stars promoted
&S Neptune inflicted a first home defeat of the season on Tradehouse Central Ballincollig to reach the InsureMyVan.ie Super League final, something which C&S Neptune player/coach Colin O'Reilly hailed as "a huge achievement".
Meanwhile, EJ Sligo All-Stars will be playing in the Super League next season, securing promotion after defeating after defeating IT Carlow 94-68 in their InsureMyVan.ie Division 1 semi-final.
Tradehouse Central Ballincollig got off to a great start in their InsureMyVan.ie Super League semi-final and led 25-13 at the end of the opening quarter, but C&S Neptune got themselves back into contention and trailed by six by half-time, 39-33.
Tradehouse Central Ballincollig's lead was whittled down to a single point, 58-57, by the end of the third, before a strong fourth quarter saw C&S Neptune pull clear and reach their second final of the season, having reached InsureMyHouse.ie Pat Duffy National Cup final in January.
"To beat the top seed on the road is a huge achievement for this group. They dominated the first 15 minutes of the game and had a huge 17 point lead, but there was no panic on our end. We had started to see a few things working and knew that if we could get back in contention that we had the experience to close out knockout games on the road. The game swung in the 4th, where we made consecutive 3's down the stretch, which gave us the lead and we held our composure to see it out from the free throw line." - Colin O'Reilly, C&S Neptune player/coach
Nil Sabata was C&S Neptune's leading scorer on 21, backed up by Miles Washington (14), Ireland international Roy Downey (14) and Richard Gittens (13).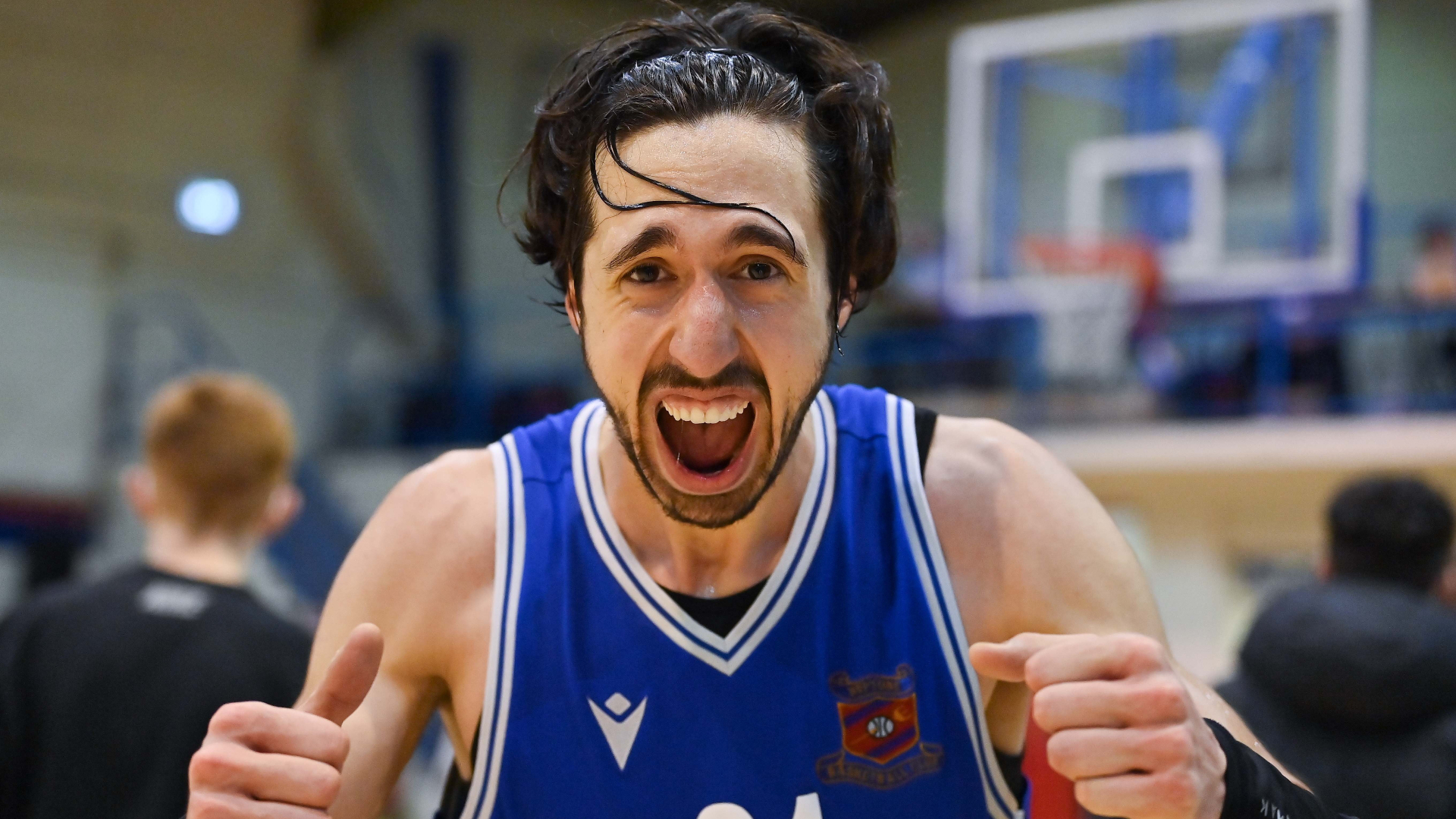 Nil Sabata top scored for C&S Neptune on 21 points 
Andre Nation was the game's top scorer, on 26 points, while Tradehouse Central Ballincollig also had notable contributions from Ireland international Adrian O'Sullivan (19) and Milorad Sedlarevic (13).
Although naturally disappointed, Tradehouse Central Ballincollig head coach Kieran O'Sullivan praised the efforts of his players, after topping the South Conference, with a 15-1 regular season record in their debut Super League seaosn.
"We have had a tremendous season and faulted at the last hurdle. Coming up from the first division going 15-1 shows the calibre of team we have. We are here to stay at the top table and will go again next year. The MNCC (Men's National Competitions Committee) need to review the rules and make the league best record the winners. Credit to Neptune today, they played a fine game and it was going to be tough to beat them three times in a row." - Kieran O'Sullivan, Tradehouse Central Ballincollig head coach
The second semi-final sees North Conference winners DBS Éanna at home against InsureMyHouse.ie Pat Duffy National Cup winners Garvey's Tralee Warriors on Sunday. The Dublin club lost out in the Cup semi-finals to Garvey's Tralee Warriors, 79-70, and head coach Darren McGovern is expecting a stern examination of his side.
"We've grafted all season to earn a home semi-final tie. It doesn't come much bigger in hosting Cup champions Tralee Warriors. We've had great games through the last few seasons, so we expect nothing less this time around. We got past NUIG Maree last round, so this will be an even tougher match up. I'm looking forward to good prep sessions this week to be ready. I'm sure Éanna will be packed out and loud!" Darren McGovern, DBS Éanna head coach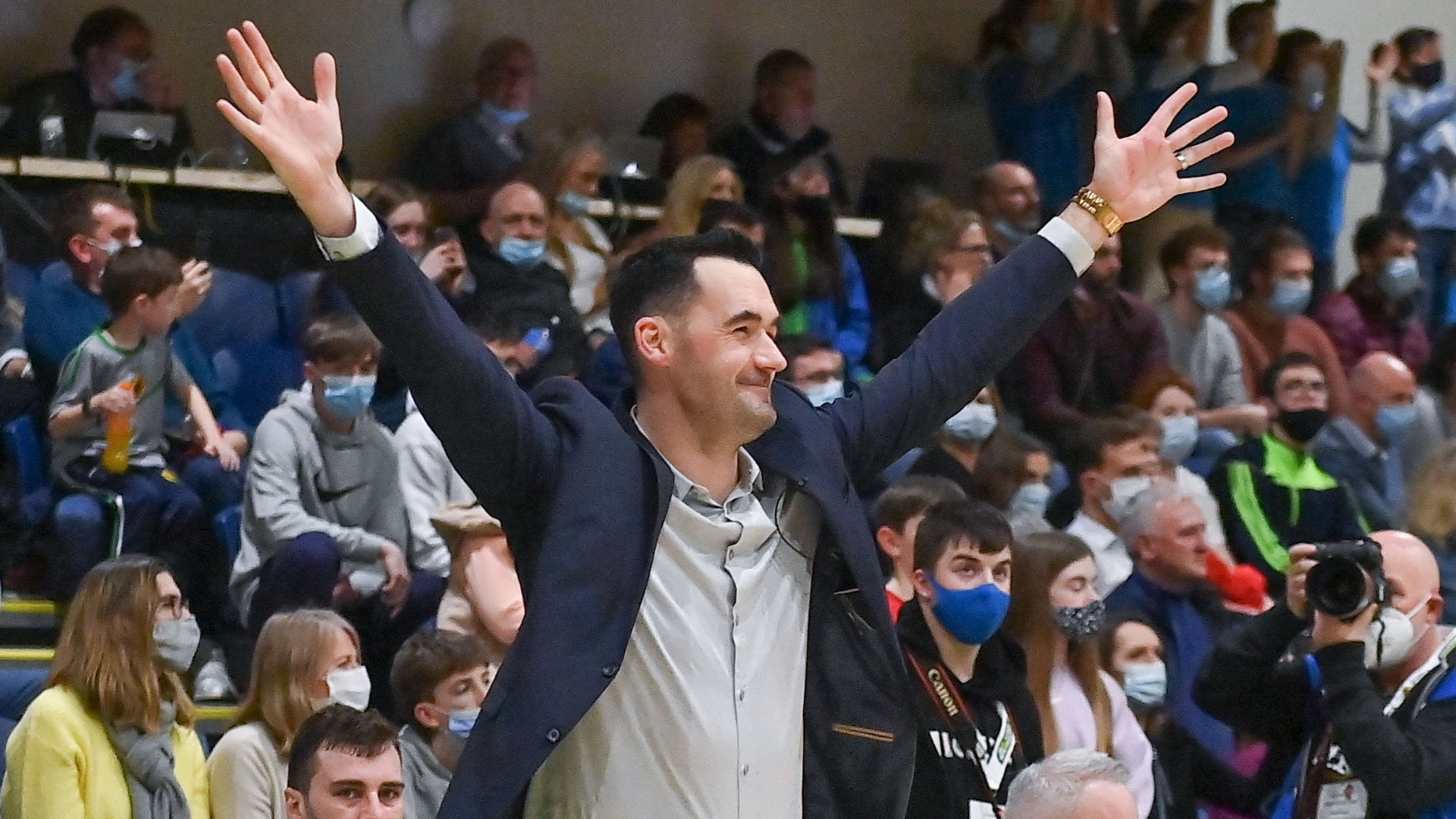 Garvey's Tralee Warriors head coach John Dowling celebrates after winning the InsureMyHouse.ie Pat Duffy National Cup in January
Garvey's Tralee Warriors supremo John Dowling believes knockout basketball is something that his club "thrives on".
"We restore our healthy rivalry with Éanna this weekend in one of the toughest places to play in Ireland. Our group thrives on winner takes all basketball, so I'm sure our guys can't wait for the contest and with our road Warrior support, it's sure to be a very special game" - John Dowling, Garvey's Tralee Warriors head coach
EJ Sligo All-Stars promoted to InsureMyVan.ie Super League
EJ Sligo All-Stars will play in the InsureMyVan.ie Super League next season following their 94-68 win over IT Carlow Basketball in their InsureMyVan.ie Division 1 semi-final, with promotion on offer to each club who reaches the Division 1 playoff final.
The Division 1 North Conference winners were 27-13 ahead at the end of the opening quarter, a lead stretched to 18 points by half-time, 47-29. There was to be no second half fightback from IT Carlow. Ej Sligo All-Stars offence was led by Zack Powell (26), Keith Jordan Jr. (25) and Oisin O'Reilly (18).
"I'm over the moon for the players, they've invested so much time and energy into our league campaign. They've grown as a team and as individuals and they're showing all our academy players what it means to be part of a team, part of a club.

"Our club executive and volunteer groups are second to none in ensuring that all the needs of our team are met and that the game is promoted in the right way.

"We knew Carlow were going to play a fast paced intense game and despite a rocky start, once we took the lead you could see our body language was that of a team that was hungry to win. Our effort on defence and our selfless execution on offense was hard to live with. Tonight was the perfect storm for us and Glen (Monaghan) and I couldn't be more proud of the lads." - Shane O'Meara, EJ Sligo All-Stars head coach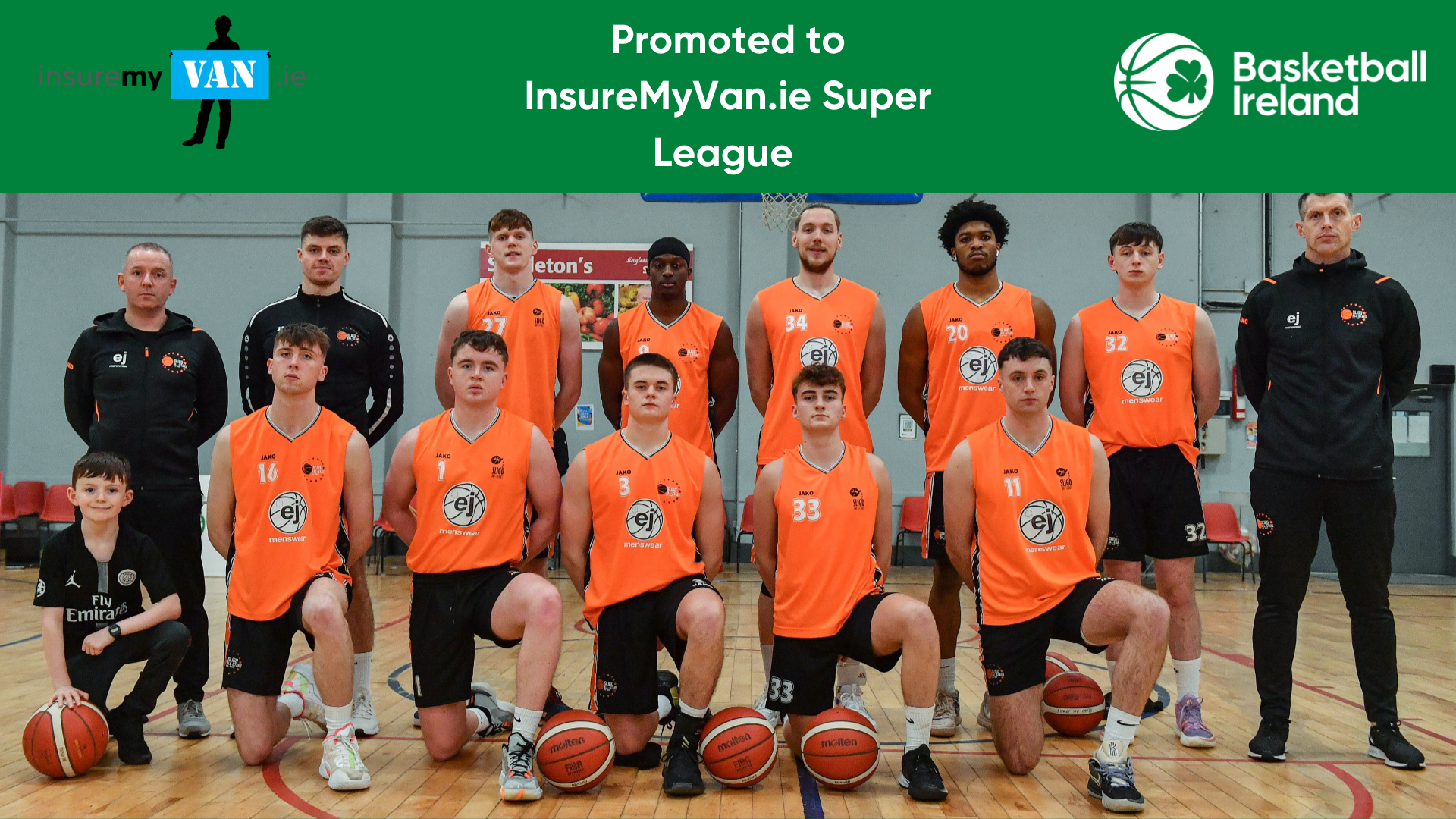 For IT Carlow, their scoring was headed by Kevin Donohoe (22), Jordan Fallon (14) and Nate Shafer (9). IT Carlow head coach Martin Conroy was magnanimous in defeat.
"All-Stars played like All-Stars tonight. They were aggressive, assured and composed and played at a pace we couldn't get to grips with. The shot the ball unbelievably well and forced us out of our comfort zone. Their three pro's Jordan, Powell and Hayes were outstanding and Oisín and Cian definitely chipped in and made it very difficult for us. Our guys kept going right to the last whistle though and I'm very proud of them for that. It's a tough one to take but we'll learn and move onto next season. It's been a decent year and hopefully we'll be right back in the thick of it next season also. Best of luck to Sligo in the final next weekend." - Martin Conroy, IT Carlow head coach
The second semi-final sees UCC Demons host Grand Hotel Malahide. The Cork club have already finished top of the South Conference and claimed the InsureMyHouse.ie Presidents' Cup, but it's a return to the Super League which is the biggest carrot for Daniel O'Mahony's team.
""This weekend brings our biggest game of the year to date, with an opportunity to win and get back into the Men's Super League for 2022/2023 campaign. We hold the number one record across both conferences, but unfortunately when it comes to the business end of the season that means nothing. Malahide are a very talented side, who during pre-season I would of have them marked as a side we will need to beat in order to win trophies. I'm familiar enough with some of the personnel, as during my time in Dublin with Kubs I would have coached Sean Daly, Cillian O'Driscoll, Stephen Ingle and coached alongside Gary Barron. I've seen them play and just like ourselves there a free-scoring team, who have hit 100 plus on numerous occasions, so I really do think it has the makings of a great game of basketball." Daniel O'Mahony, UCC Demons head coach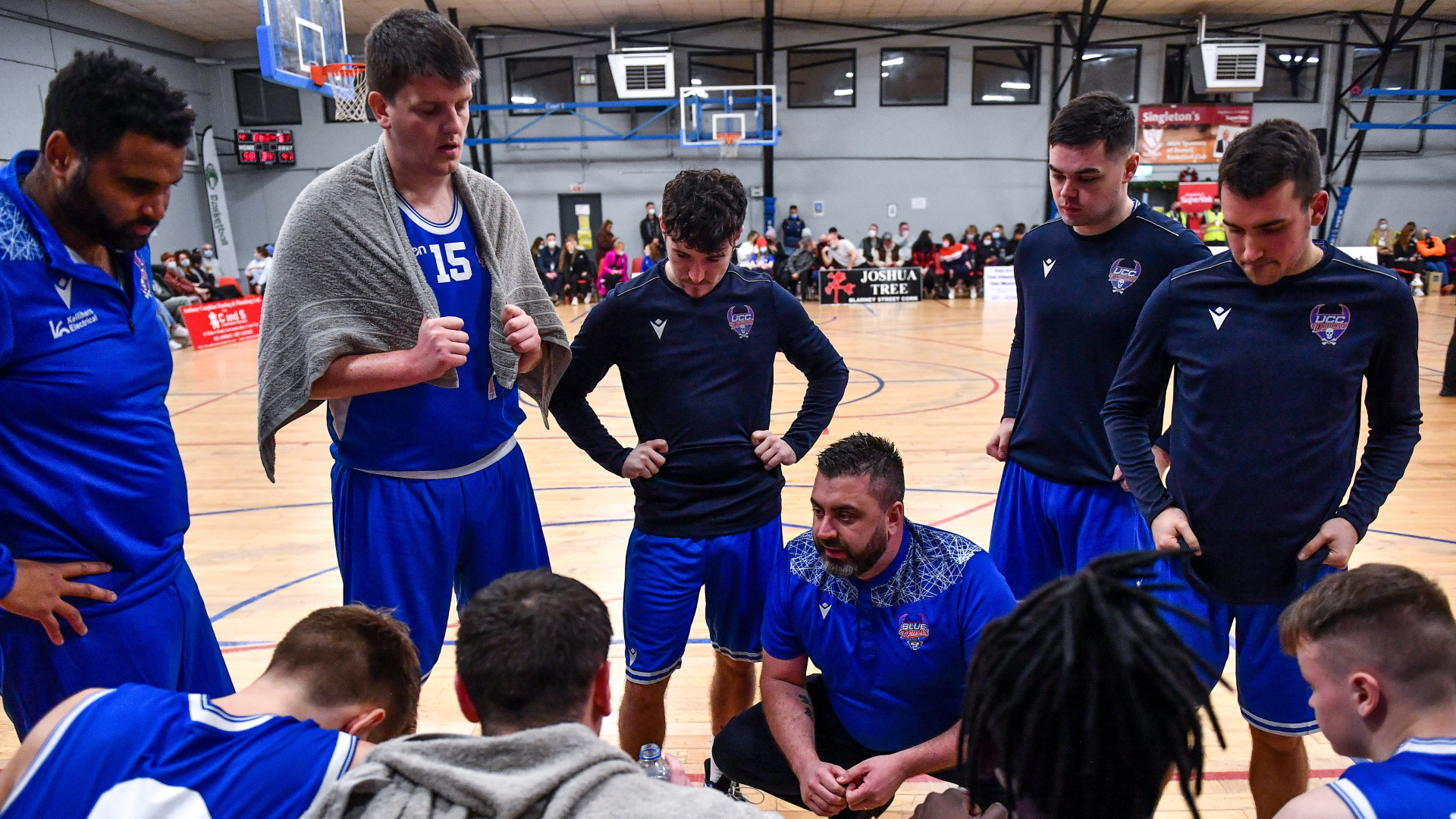 Daniel O'Mahony, UCC Demons head coach
His Grand Hotel Malahide counterpart Sean Ingle added: "We're very much looking forward to the game against UCC Demons in the league semi-finals. They've been the most consistent team in the National League this season and they're National Cup champions for a reason. So we know we're going to have to be at our best on both the offensive and defensive end, if we're going to get the result we want."