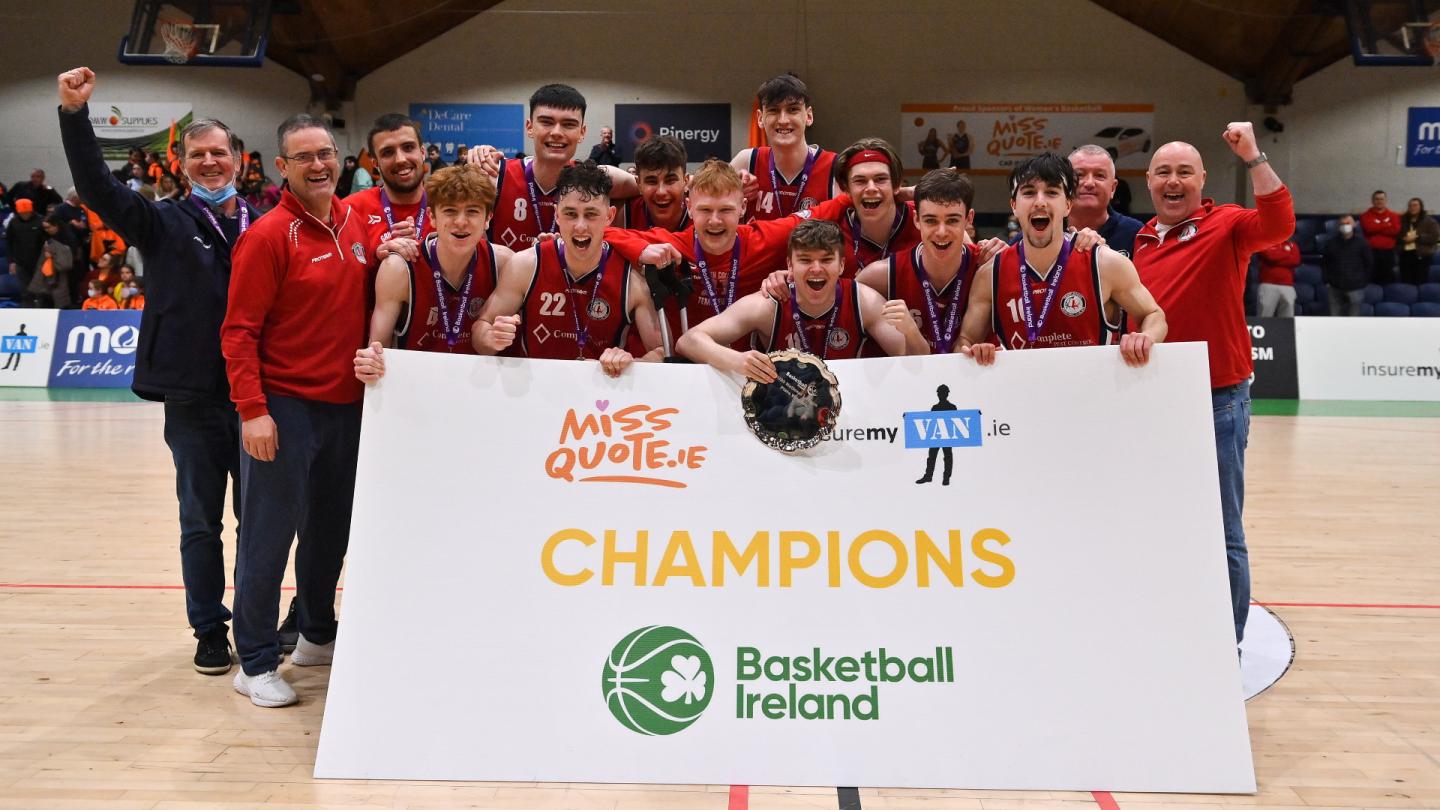 Apr 02 2022
Templeogue claim InsureMyVan.ie Men's U20 National League Plate with 82-67 win over Sligo All-Stars
Templeogue have won the InsureMyVan.ie Men's U20 National League Plate final, defeating Sligo All-Stars 82-67 at the National Basketball Arena.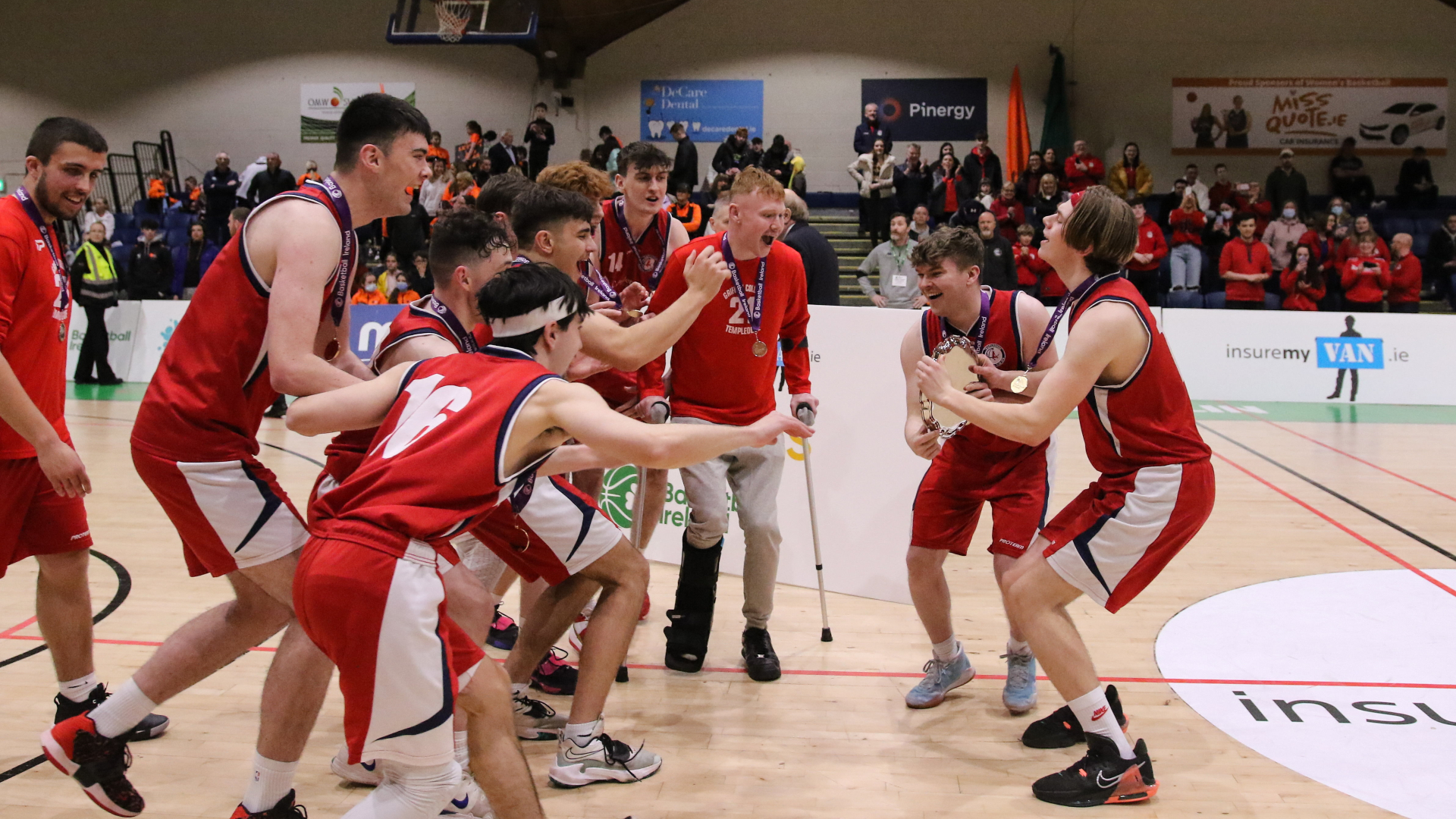 Templeogue players celebrate winning the InsureMyVan.ie Men's U20 National League Plate
There was nothing to separate the sides in the opening quarter, Daire Murray, who's featured for Griffith College Templeogue in the InsureMyVan.ie Super League this season, hit 11 points for Templeogue, as they held a 24-20 lead at the end of first.
Templeogue made a blistering start to the second quarter, Cian Finn's big three with 4'24" left saw them move 17 points clear, 43-26. But Sligo All-Stars responded with a 12-point run, finished off by Ryan Young's basket, to trail 43-38. Templeogue's Callum McGrail, another player who is part of Griffith College Templeogue's Super League squad, had the last say in the quarter, his two pointer brought his personal tally to 11 and the Dublin club had a 45-38 lead at half-time.
Sligo All-Stars made it a two point game with two minutes to go in the third, 55-53, following a layup from captain Eoghan Donaghy. But Templeogue picked up four points in the final minute, including a nice rebound by Daniel Cassidy, to make 59-53 going into the final quarter.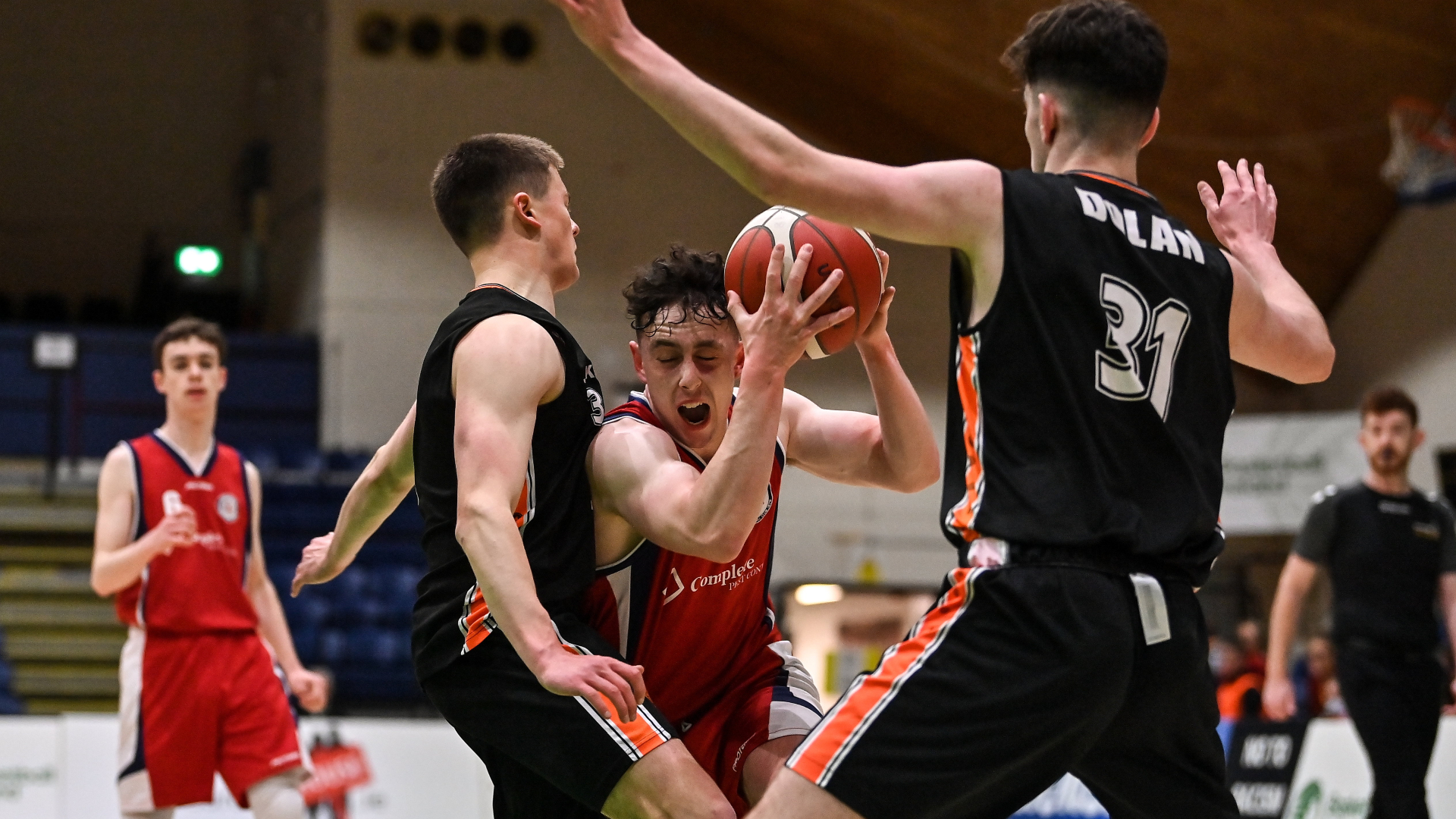 Cian Finn of Templeogue BC in action against Ryan Young, left, and Diarmuid Flood of Sligo All-Stars
A three point jump shot from Eoghan Donaghy saw Sligo All-Stars trail 61-58 in the third minute. The sides exchanged scores after that and cancelled each other out. Sligo All-Stars guard Mathew McHale landed a big three from the corner with four minutes to go and they were just a point behind, 65-64.
But Templeogue responded with six consecutive points, McGrail's rebound completing that run and they were ahead 71-64. But Sligo All-Stars refused to let up, the impressive Donaghy landed another three point jump shot – he had three in the game - and with two minutes to go it was 71-67 to Templeogue. Donaghy would finish as the game's top scorer, on 24.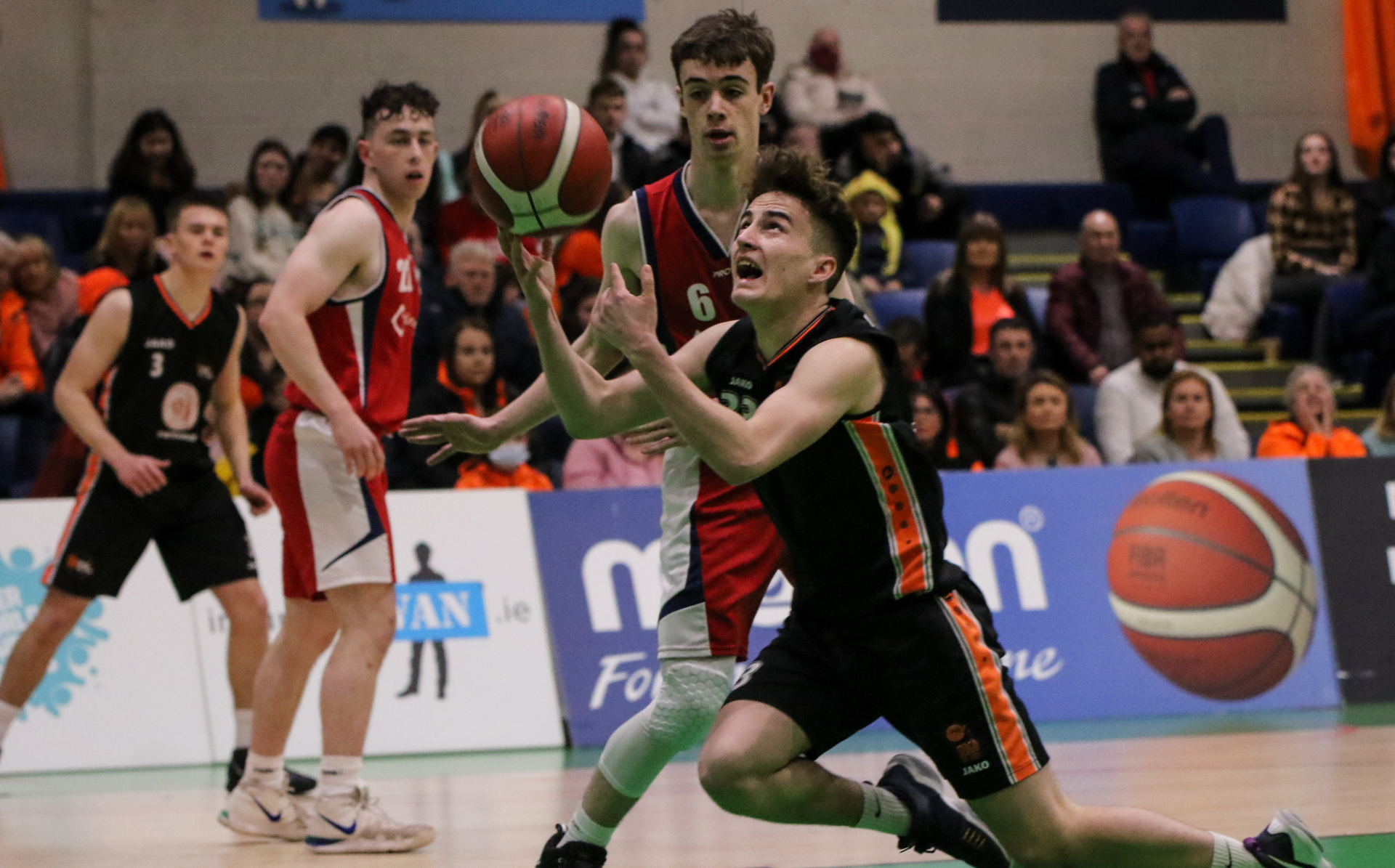 Eoghan Donaghy finished with a game-high 24 points for Sligo All-Stars
The influential Murray's driving layup on the shotclock buzzer stretched Templeogue's lead to five points with a minute and a half remaining. They continued to build a score from the free throw line and would win it 82-67. Templeogue's McGrail picked up the MVP, following his 20 point haul.
Top three scorers:
Sligo All-Stars - Eoghan Donaghy (24), Mathew McHale (13), Ryan Young (12)
Templeogue - Daire Murray (22), Callum McGrail (20), Cian Finn (12)
Sligo All-Stars: Eoghan Donaghy, Mathew McHale, Josh Henry, Ryan Young, Aidan Lockhart, Conor Donaghy, Ryan Cummins, Diarmuid Flood, Darragh Flood, .
Head coach: Glen Monaghan
Templeogue: Aaron Doherty, Evan O'Toole, Daire Murray, Zack Collins, Joshua Smith, Jack Murphy, Cian Finn, Callum McGrail, Stepan Letsko, Stephen Finn, Daniel Cassidy.
Head coach: Roy Harper