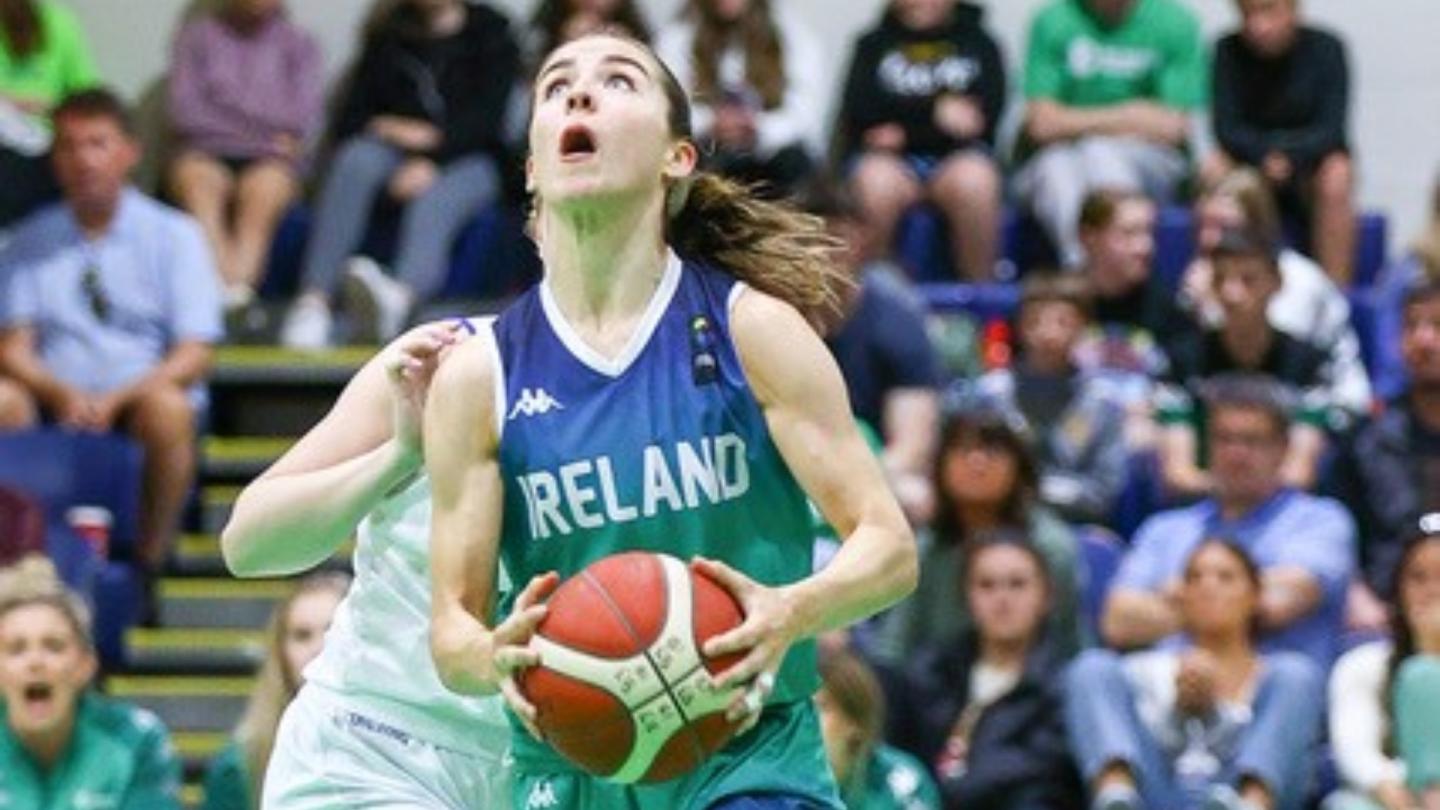 Aug 06 2022
Youthful Ireland Defeat Estonia In Gotham Drywall Series opener
A clinical young Ireland team featuring six debutantes showed experience beyond their years, as they dispatched a higher ranked Estonia team 70-56 in the first of the two-game 'Gotham Drywall Series' at the National Basketball Arena on Saturday evening.
Head coach James Weldon will be delighted with the poise and tenacity shown by his team, who were without one of their leading players Claire Melia for the contest played in front of a lively crowd in Tallaght. All eyes now turn to tomorrow evening's second game, which takes place at Oblate Hall in Inchicore at 4pm.
The opening quarter flew by as both teams settled into a frenetic pace of play. Estonia's extra experience showed in the opening exchanges as they amassed a 13-8 advantage midway through the first through some exceptional transition play and misplaced Irish shooting from range. Ireland's debutantes grew into the game though. The imposing figure of Bridget Herlihy showing exactly why head coach James Weldon identified her as a key performer in this window. The Malmo Basket player proved the hot hand for Ireland as they clawed their way back, scoring 9-points and crashing the boards superbly, leading Ireland on a 12-point run to end the period. 20-13 the score after ten-minutes.
Introduced from the bench, another new cap to catch the eye was Enya Maguire, the latest of a family steeped in Irish basketball to wear the green singlet. Deputising for captain Edel Thornton at point-guard, Maguire showed no signs of nerves as she pulled the strings. Estonian discipline became an issue as the second quarter wore on and Ireland were making their mark from the free-throw line. That combined with a stifling Irish defence visibly frustrated the visitors, as they were held to just 8-points in the second quarter. One of the most pleasing aspects of the performance will be the spread of scoring and responsibility in possession displayed by the new Irish octet. Recent Ireland U20 star Ella O'Donnell saw her first senior action midway through the quarter, with Weldon using an increasing lead to take a look at some new combinations. Another of those, Bronagh Power-Cassidy left an impression on the second period, notching six-points including a putback buzzer beater to leave the score 40-21 as the teams returned to the changing rooms.
Ireland kept the pressure on when play resumed. Dayna Finn continued to show her experience in key moments, taking pressure shots and drawing fouls late in the shot clock when it appeared she was running out of options. James Weldon continued to break new ground from the bench. The Address UCC Glanmire's Mia Furlong became the sixth new cap to hit the floor, wasting no time in adding her name to a growing list of Irish scorers. Estonia came into the game ranked six places ahead of Ireland in 60th place in the FIBA World Rankings and they weren't going to throw in the towel though. Captain Mailis Pokk and Helena Svilberg led the way for them on the night, contributing 8-points each, during their attempt to rally in the third. That comeback wasn't sustained.
Ireland displayed excellent situational knowledge throughout the final quarter, containing their opponent's faltering offense and using their speed and fitness late in the game in transition to keep the scoreboard ticking over throughout.
Head coach James Weldon said of the display:
We just talked a little bit beforehand about playing without fear and they all certainly stepped up to the mark tonight, the ones who made their debut. It gives us a huge selection headache now and that's a good thing.

We were dealing with a lot of injuries but with that comes opportunity for new faces, but this is where we want to be. We want to be building a squad that if we have one or two injuries we can cover it, so I'm delighted with the performance and the win.

There's obviously a couple of things to work on and improve before the second game, but this is a very good Estonia team. They beat Great Britain in their last series and we know they'll come out tomorrow in Oblate Hall looking to level the series and that's something we have to be ready for as a group.
The star of the game from an Irish perspective was undoubtedly Bridget Herlihy, who posted a double-double of 20-points and 10-rebounds, but there was also standout performances from Enya Maguire, Dayna Finn and the conductor Edel Thornton, who had four steals on the evening. It's a welcome display from an Ireland team who are continuing to prepare for a FIBA EuroBasket qualifier with The Netherlands this November. The cobwebs are well and truly blown off.
Scores (Ireland v Estonia):
Q1: 20-13 (20-13)
Q2: 20-8 (40-21)
Q3: 16-19 (56-40)
Q4: 14-16 (70-56)
Top 5 scorers:
Ireland – Bridget Herlihy (20), Dayna Finn (12), Enya Maguire (11), Bronagh Power-Cassidy (8), Rachel Huijdens (7), Mia Furlong (5).
Estonia – Janne Pulk (14), Mailis Pokk (11), Helena Svilberg (8), Sofia Kosareva (8), Greeta Uprus (5), Anastasia Ptitsona/Ellen Anett Poldmaa (3).
Ireland – Michelle Clarke, Dayna Finn (12), Rachel Huijsdens (7), Edel Thornton (7), Sarah Kenny, Mia Furlong (5), Aine O'Connor, Maeve Phelan, Ella O'Donnell, Bronagh Power-Cassidy (8), Enya Maguire (11), Bridget Herlihy (20).
Estonia – Maarja Grunmann (2), Victoria Ida Vahi, Sofia Kosareva (8), Anastasia Ptitsona (3), Helena Svilberg (8), Mailis Pokk (11), Maaja Bratka (2), Martha Liisa Oinits, Greeta Uprus (5), Anette Elisabeth Adler, Janne Pulk (14), Ellen Anett Poldmaa (3).