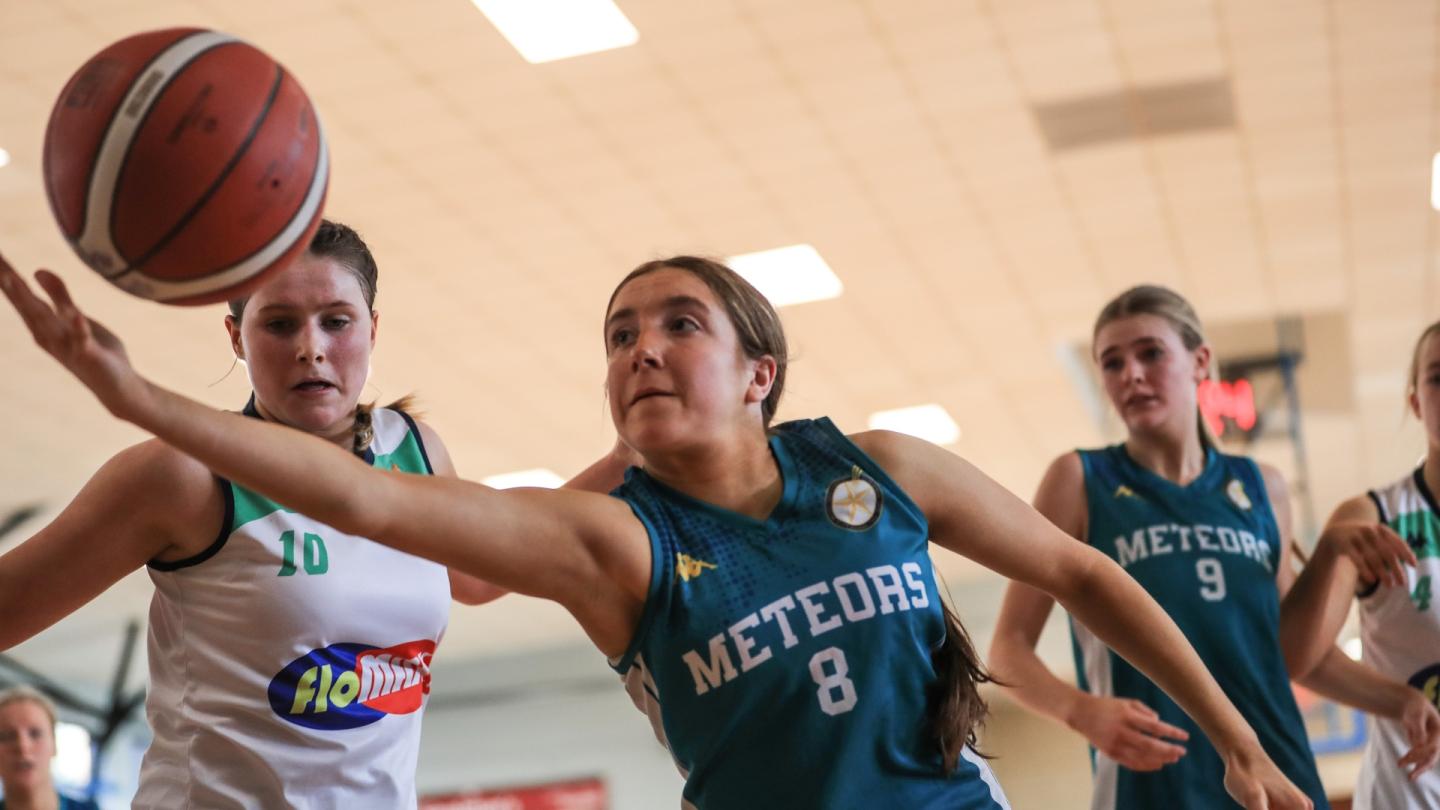 Jan 07 2023
Meteors defeat Liffey Celtics in exciting contest to reach InsureMyHouse.ie U18 Women's National Cup final
Meteors are the first team to advance to the InsureMyHouse.ie U18 Women's National Cup final, following a hard fought win over Liffey Celtics, 70-64.
Aishling Moran solidified her team's place in the decider with an impressive 28-points. Liffey Celtics had plenty of exciting moments, but in the end Meteors strong defence gave them the win.
Liffey Celtics opened the scoring with a centre drive from Kelly Bracken. Both team's exchanged points in the opening minutes of the quarter. As with any game, Meteors and Celtics gave away driving fouls leading to easy points on both ends from the line. Meteors kept their lead throughout with huge three-point plays by Moran, ending the 1st quarter with a 26-21 lead.
Caoimhe Gilligan and Kelly Bracken were influential for Liffey Celtics in the opening half, getting to the basket and making hard drives, but straight off the bench Moran sank two back-to-back 3-pointers to put Meteors ahead by 6-points. Meteors sharp shooting opened their lead with the half-time score 47-36 to Meteors.
Liffey Celtics came straight out of the half-time chat with a big 3 point play from Shauna Curran, which started the scoring off for Liffey bringing the deficit back to a four points. Once again Aishling Moran made a huge contribution to Meteors coming up with important steals giving her team a 10-point lead, but with three-minute's left Meteors run into team fouls leaving Liffey back into the game.
Liffey Celtic hang in there with two huge steals and a three-pointer to bring the gap down to three with a sixty seconds on the clock in the third. At the start of the final quarter, Liffey Celtics Shauna Curran made a huge 3, bringing the game back to 2-points. Kelly Bracken levelled the game with a lovely spin move to the basket, leaving it 58 points each with 7 minutes left. Meteors took control of the game towards the end finishing important rebounds.
The final score ends 70-64 to Meteors who book their place in the final.
Meteors coach Seamas Donnelly said, "Our defence in the second half was crucial, we were able to cut out their inside game and that stood to us in the end, I am looking forward to seeing who matchup with in the final".
Quarter Score:
Q1: 21-26
Q2: 36-47
Q3: 53-56
Q4: 64-70
Liffey Celtics: Katie Walsh,Kelly Bracken,Niamh Fallon, Shauna Curran, Clara Boyce, Kenzie Francis, Tiegan Mc Gonagle, Deirdre Venus, Caoimhe Gilligan, Mya Pardy, Georgia Munnelly.
Top Scorers: Kelly Bracken (13), Clara Boyce (12), Caoimhe Gilligan (12)
Meteors: Jenny Flood, Aine Marmion, Ebie Ni Lideadha, Anna O'Sullivan, Grace Prenter, Freya Blennerhassett, Jodi Geaney, Aishling Moran, Aibhe Ryan, Caoimhe Curran, Riona Grealy, Sophia Fearon, Ava Gilleran, Chloe Downey.
Top Scorers: Aishling Moran (28), Grace Prenter (20), Ebie Ni Lideadha (4).
PHOTO GALLERY