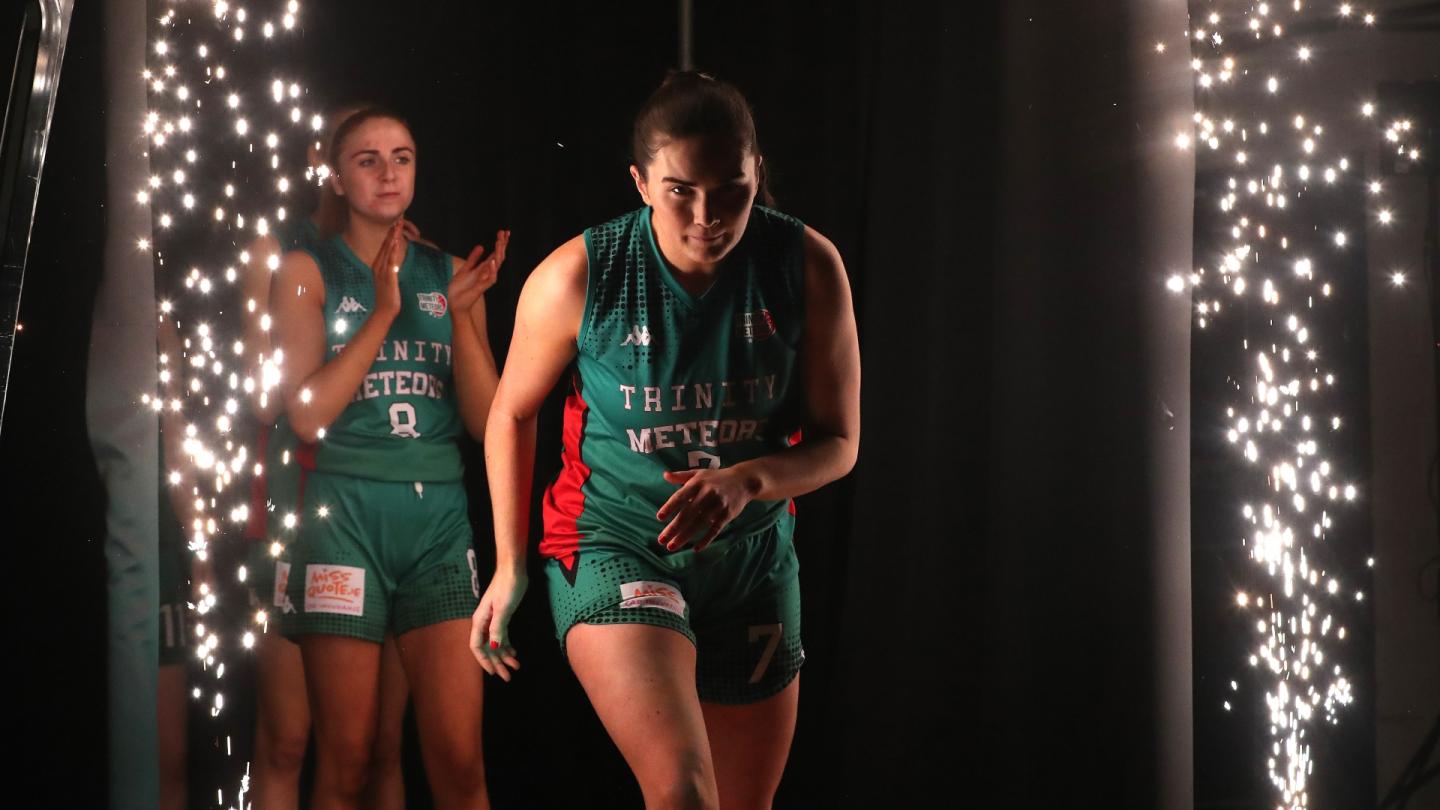 Feb 17 2023
The 'Ultimate' InsureMyVan.ie Super League test, Champions Trophy comes in to focus in MissQuote.ie Super League
'This is the ultimate test,' announces Emporium Cork Basketball (9-5) head coach Ciaran O'Sullivan when asked about their showdown with InsureMyVan.ie Super League Southern Conference leaders University of Galway Maree.
The Cork team remain locked in a dogfight with Energywise Ireland Neptune (9-6) and Garvey's Tralee Warriors (8-7) for the two remaining playoff spots in that division. DBS Éanna look solid for a second seeding at 11-4 at the moment. 'We have been playing better in recent weeks, so this game will tell a lot as to where we stand. Every game is a battle for places so it's exciting times at this stage of the season,' added O'Sullivan. His opposite number, InsureMyHouse.ie National Cup winning coach Charlie Crowley knows his side can't afford a let up in the closing weeks of the regular season: 'Really tough game this weekend. We know the firepower they bring and with Dan and Ciaran at the helm they've great coaches. We've spent the week getting ready physically and mentally.'
Garvey's Tralee Warriors have recovered from an indifferent start to the campaign to give themselves a fighting chance of making it to the post-season in defence of their crown, but must overcome a Moycullen side clawing for their survival, if they're to continue that resurgence. 'Moycullen are tough, play together and are well coached. A good win last week will have them coming in with great confidence. We have trained hard this week in preparation and are looking for another balanced team performance,' said head coach John Dowling. Moycullen supremo John Cunningham wants his players to hit a landmark for the Galway club, as they go in search of back-to-back wins: 'Tralee is always a game we look forward to, despite them being the only team (to the best of my knowledge, outside of Sligo who we haven't played yet) that Moycullen have never beaten in Super League. We've come close a couple of times so, hopefully Sat night will be the occasion everything goes right. Everything will have to go right though as they're a huge challenge at home.'
Enerygywise Ireland Neptune have assembled a very talented roster under Colin O'Reilly, as recent form shows. They've won three of four, putting up 100 points or more in each of those wins, but this weekend's cross conference matchup with Killester (9-5) poses a different kind of challenge. The Clontarf based club currently sit third in the Northern Conference, their head coach Brian O'Malley wants them to bounce back following defeat a week ago: 'Looking forward to the game, disappointing result last weekend and the challenge this weekend is big. With the line-up Neptune have assembled and Colin on the sidelines, they're formidable. They probably haven't clicked into gear yet but that makes them all the more dangerous.'
Staying in the Northern Conference, a battle has also developed for the fourth and final playoff spot between EJ Sligo All-Stars (6-9) and Griffith College Templeogue (5-10), although Bright St. Vincents (4-11) might also think they have a shot at sneaking it too.
The All-Stars have dropped their last three games and that schedule doesn't get any easier when Northern Conference leaders Belfast Star (12-3) come to the Mercy College. It was a one-point game in the reverse fixture in October but both sides look and feel very different now. The home team have lost key players such as Greg Poleon to injury. However, Belfast Star head coach Adrian Fulton knows a difficult tie lies ahead: 'Sligo are a really difficult proposition, particularly at home despite the loss of Greg Poleon and Andy McGeever. We were lucky to beat them in Belfast and know that it will be a very difficult game. The lads have continued to work hard all week. One of the best things about the league this year is how competitive games are every weekend. If you aren't ready to go, any team will be in trouble.'
A big performance by Griffith College Templeogue against DBS Éanna could see them end the weekend occupying that playoff position. Mark Keenan's team are aiming to bounce back from a two game losing run, but form rarely counts for much in a derby situation. Speaking ahead of the contest, Keenan alluded to just that: 'Our local derby games with DBS Éanna are always great occasions. Both sets of fans really come out and support their teams. We will have to be at our best this weekend to upset them. They have a great squad of players and are having a great season. We are really looking forward to this challenge.' DBS Éanna are themselves looking to regain some momentum having lost three of four. Head coach Darren McGovern wants to see a better all round performance from his roster: 'Templeogue have caused every team issues all season long and I expect no different on Saturday night. I'm expecting an answer from our guys and looking for a better offensive result.'
Flexachem KCYMS (4-11) picked up a much-needed win against Griffith College Templeogue last week in the fight to remain in the top tier. An upset of high-flying UCC Demons (11-4) this Saturday would be music to the ears of boss Declan Wall: 'We have been playing well last few weeks and coming off a big home win against Templeouge, we look forward to the challenge. They are unbeaten in 7 now so we will need to have the same appetite and maybe more to win this one. Hoping for a strong finish to the season.' That aforementioned winning streak by Daniel O'Mahony's UCC Demons stretches all the way back to a shock defeat to Moycullen in November. The addition of Michael Randolph Jr. seems to have unlocked a new dimension to their offence in 2023.
The remaining InsureMyVan.ie Super League fixture is another Dublin derby between Bright St. Vincents and UCD Marian (2-13) fraught with jeopardy for opposing reasons. Josko Srzic's north Dublin side can potentially move within one game of a playoff berth with victory, while Ioannis Liapakis may yet harbour hopes of escaping a relegation playoff, if his young team can get one over on their local rivals in Glasnevin.
A two-game lead with four rounds remaining has The Address UCC Glanmire in a strong position to retain their MissQuote.ie Super League crown. Victory in this weekend's Cork derby against i3PT Fr. Mathews would be another major hurdle cleared for head coach Mark Scannell's team.
'The manner in which we stayed in the game last week and found a way to win was very encouraging,' said Scannell. 'Saturday is another big game. There's a lot of experience in their team and with the Americans and their European girl, they are very tough on their home court. We'll be ready for tough examination,' he added. I3PT Fr.Mathews are right in the thick of a battle for a spot in the Champions Trophy, but have dropped their last three games including a midweek defeat to DCU Mercy. Their head coach Niamh Dwyer wants a big showing in their final home outing of the campaign: 'We know it's going to be tough, so we will be looking to push them all the way.'
Four will have to go into two in the coming weeks, as Killester (7-7), Leixlip Amenities Liffey Celtics, the aforementioned i3Pt Fr.Mathews and Singleton SuperValu Brunell (all 5-9) look to fill the remaining Champions Trophy spots.
Killester welcome Ulster University, who themselves could harbour outside hopes of playing their way into 6th spot, to Clontarf this weekend. The InsureMyHouse.ie National Cup champions are 1-2 since their triumph at the National Basketball Arena but did take home the spoils 72-60 in the reverse fixture earlier this season: 'We need a performance this week after last week's disappointment,' said Killester head coach Mark Grennell. Ulster have had some great wins in the past few weeks and are showing form having pushed DCU last week. Our girls, have been fantastic all season. They've worked hard and have answered every difficult moment positively and I expect more of the same this week.'
It's a huge game this weekend as we battle for playoff spots,' said Leixlip Amenities Liffey Celtics Karl Kilbride ahead of their showdown with Singleton SuperValu Brunell. 'Their record certainly doesn't reflect the talent in their squad. Obviously Edel (Thornton) is having an incredible season and is getting to the free throw line at an alarming rate. They were unlucky not to come away with a win against Glanmire last weekend. They've added a really talented American in Akilah Bethel who will instantly make them better.' At the other end of the court, Singleton SuperValu Brunell head coach Liam Culloty knows his team will have to up their energy levels on both ends: 'A tough away trip for us this weekend. Liffey had an excellent result last weekend against Trinity so we know we will have to match their energy to get a result. All teams are fighting hard to finish as high as possible in the table so I am sure it will be a great game.' The Cork side come into the game on the back of close defeats to The Address UCC Glanmire and Killester.
Waterford Wildcats can make it three successive wins for the first time this season by outgunning Trinity Meteors on Saturday. Doing just that would cement fourth position in the standings as the regular season draws to a conclusion: 'Meteors have multiple threats all over the court ,' said head coach Tommy O'Mahony. 'Defensively we were much better last week and we will try to maintain that. They are a formidable outfit and it's no accident they are towards the top of the league. We are eager to pit ourselves against the best, especially at home. The league is at the latter stages and we know that every game is vital.' Conversely, Trinity Meteors are searching for a spark following back-to-back MissQuote.ie Super League defeats for the first time. Sarah Kenny's 27 point haul wasn't enough to see off Leixlip Amenities Liffey Celtics a week ago.
DCU Mercy were convincing 79-49 winners over University of Galway Mystics back in December, but the contest figures to be much closer this time around. Paul O'Brien's inexperienced outfit have played to a new level in 2023 and will be buoyed by a triple overtime success last time out: 'DCU away is probably one of the toughest fixtures of the year,' said O'Brien. 'They are the best defensive team in the league and can hurt you a number of ways on offense. The addition of Amelia Motz and Sarah Woods coming back make them even more potent on offence. We know we have to match their physicality on Sunday, or it will be a long day. That being said, we have been playing really well since Christmas and been competitive in every game since then. If we can continue to play the way we have been, we can give any team a run for their money,' His opposite number, DCU Mercy's Mark Ingle is staying cautious of the upset: 'University of Galway Mystics gave us a very tough game in Galway last time and Sunday will be no different especially as they will be at full strength. We are looking forward to it.' It all plays out at 2:30pm on Sunday afternoon at the DCU Arena.
The most intruiging clash of the weekend may take place in the InsureMyVan.ie Division 1, where Moy Tolka Rovers travel to face Limerick Celtics in a top of the table clash. A win would lift Joshua Reynolds and co ahead of their Dublin rivals, while victory for the Presidents' Cup finalists could go a long way to determining top spot come the end of the campaign. Limerick Sport Eagles and Ulster University are all just a game back from Celtics ahead of their meeting, while another 10-4 team Drogheda Wolves are on the road against Dwyers of Cork Fr.Mathews.
McEvoy's Cavan Eagles continue to set the pace in the MissQuote.ie Division 1, albeit having played a couple of games more than their rivals. Dave Baker's team can add to their 14-1 record against Marble City Hawks. The chasing pack is led by St. Pauls Killarney, who could close the gap at the double if they can overcome Phoenix Rockets and Oblate Dynamos in less than 24 hours. Third-placed Portlaoise Panthers entertain a Griffith College Templeogue side off the back of a big Thursday night win over Swords Thunder.
---
Fixtures
InsureMyVan.ie Super League
Saturday, February 18th
1830|Energywise Ireland Neptune v Killester, Neptune Stadium.
1900|Bright St. Vincents v UCD Marian, St. Vincents CBS
1900|University of Galway Maree v Emporium Cork Basketball, Kingfisher Gym
1915|Felxachem KCYMS v UCC Demons, Killorglin Sports Complex
1930|EJ Sligo All-Stars v Belfast Star, Mercy College Sligo
1930|Garvey's Tralee Warriors v Moycullen, Tralee Sports Complex
1930|Griffith College Templeogue v DBS Éanna, National Basketball Arena
InsureMyVan.ie Division 1
Saturday, February 18th
1700|Team North West v Killarney Cougars, ATU Donegal
1900|Limerick Sport Eagles v Ulster University, UL Arena
1900|Malahide v Scotts Lakers SPK, Malahide Community School
1900|Limerick Celtics v Moy Tolka Rovers, Crescent College Dooradoyle
1915|Abbey Seals Dublin Lions v SETU Waterford Vikings, Colaiste Bride
1930|Dwyers of Cork Fr. Mathews v Drogheda Wolves, Fr. Mathews Arena
2000|Portlaoise Panthers v SETU Carlow, St. Mary's Hall, Portlaoise
Sunday, February 19th
1800|Team North West v Malahide, ATU Donegal
MissQuote.ie Super League
Saturday, February 18th
1700|i3PT Fr.Mathews v The Address UCC Glanmire, Fr.Mathews Arena
1730|Killester v Ulster University, IWA Clontarf
1800|Waterford Wildcats v Trinity Meteors, Mercy Secondary School
1900|Leixlip Amenities Liffey Celtics v Singleton SuperValu Brunell, Leixlip Amenities Centre
Sunday, February 19th
1430|DCU Mercy v University of Galway Mystics, DCU Arena
MissQuote.ie Division 1
Saturday, February 18th
1230|SETU Carlow v Abbey Seals Dublin Lions, Barrow Centre
1400|Phoenix Rockets v St. Pauls Killarney, Lisburn Racquets
1600|Portlaoise Panthers v Griffith College Templeogue, St. Mary's Hall Portlaoise
1645|Limerick Celtics v Swords Thunder, Crescent College Dooradoyle
1800|Moy Tolka Rovers v Limerick Sport Huskies, Tolka Rovers SC
1900|Marble City Hawks v McEvoy's Cavan Eagles, O'Loughlin Gaels
Sunday, February 19th
1400|St. Pauls Killarney v Oblate Dynamos, Aura