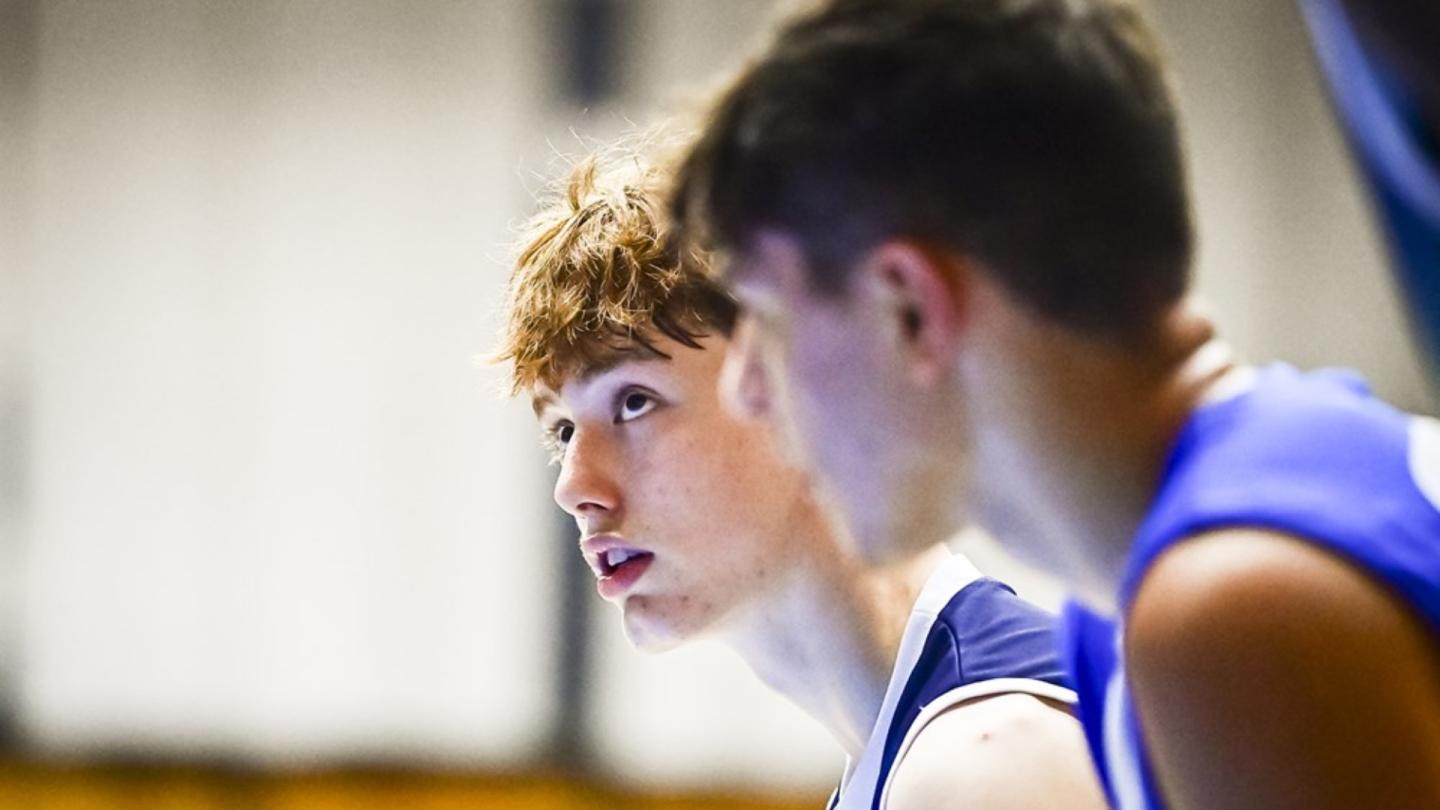 Feb 28 2023
Ireland U16 head coach Michael Lynch names 16-strong squad for Four Nations tournament in Dublin
Ireland U16 men's head coach Dr. Michael Lynch has named a 16 strong squad for the upcoming Four Nations tournament which takes place at the National Basketball Arena on April 5th and 6th.
Darragh Horkan is the sole returning player from the 2022 FIBA Youth European Championship squad who competed at this level. He averaged 8 minutes per game on a strong Irish roster. Recent MVP in the U16 'B' All-Ireland Schools League final Justin Raheem is included, as well as another strong performer in that competition, Adam Charles of Éanna BC, who will bring a strong defensive element to the squad.
Eleven clubs from seven counties are represented, Cork, Dublin, Galway, Laois, Louth, Limerick and Wicklow.
Head Coach Dr. Michael Lynch said: "The squad will meet up again early April for another session in preparation for the Four Nations. All players have shown great effort and determination up to this point and it's a difficult time for all involved when selecting the players to progress on the programme. We have really admired the work rate, dedication and positive attitude the players brought to the programme. We move forward now with our preparations and are excited as we look to developing this young group of Irish players."
The Four Nations tournament is a competition between Ireland, England, Scotland and Wales that will take place at the National Basketball Arena on the 5th and 6th of April.
Four Nations Fixtures
Ireland v Wales - Wednesday 5th April, Time: 3pm, Venue: National Basketball Arena
Ireland v Scotland - Thursday 6th April, Time: 11am, Venue: National Basketball Arena
Ireland v England - Thursday 6th April, Time: 7pm, Venue: National Basketball Arena
Full Ireland Squad
Ireland U16 Men's Squad For Four Nations Tournament
| | | | | | | |
| --- | --- | --- | --- | --- | --- | --- |
| FIRST NAME | SURNAME | AGE | HEIGHT | SCHOOL | CLUB | POSITION |
| ADAM | CHARLES | 15 | 6ft 2" | Colaiste Éanna | Éanna BC | PG |
| CILLIAN | CANNON | 15 | 6ft 5" | Calsanctus College | Maree BC | Center |
| DARRAGH | HORKAN | 16 | 6ft 1" | Ard Scoil Ris | Limerick Lions | PG |
| DARRAGH | RUSSELL | 15 | 6ft 3" | St. Declan's | BC Tauras | Forward |
| DENIS | BRUSEVICS | 15 | 6ft | Midleton CBS | Neptune BC | Forward |
| DYLAN | O'ROURKE | 15 | 5ft 10" | Gaelcholáiste Mhuire A.G. | Neptune BC | PG |
| EOIN | POTITO | 15 | 6ft 1" | Colaiste Einde | Titans BC | Guard |
| JAMES | POWER | 16 | 6ft 7" | St. Conleth's College | UCD Marian | Center |
| JUSTIN | RAHEEM | 15 | 6ft | St. Aidan's Community College | Neptune BC | Guard |
| KAREEM | MATONMI | 16 | 6ft 3" | Scoil Chonglais | Baltinglass Bulldogs | Forward |
| LUKE | HERRICK | 16 | 6ft | St. Joseph's | Titans BC | PG |
| LUKE | KAVANAGH | 15 | 6ft 5" | St. Mary's CBS | Portlaoise Panthers | Center |
| NATHAN | GBINIGIE | 14 | 6ft 4" | Colaiste Mhuire na Gaillimhe | Titans BC | Center |
| NOAH | WINDERS | 16 | 6ft 4" | Castleknock College | St. Vincent's | Forward |
| PIERS | POSTMA | 15 | 6ft 4" | St. Andrews | UCD Marian | Forward |
| ROJUS | RIMAS | 15 | 6ft 2" | St. Oliver's Drogheda | Drogheda Wolves | Forward |