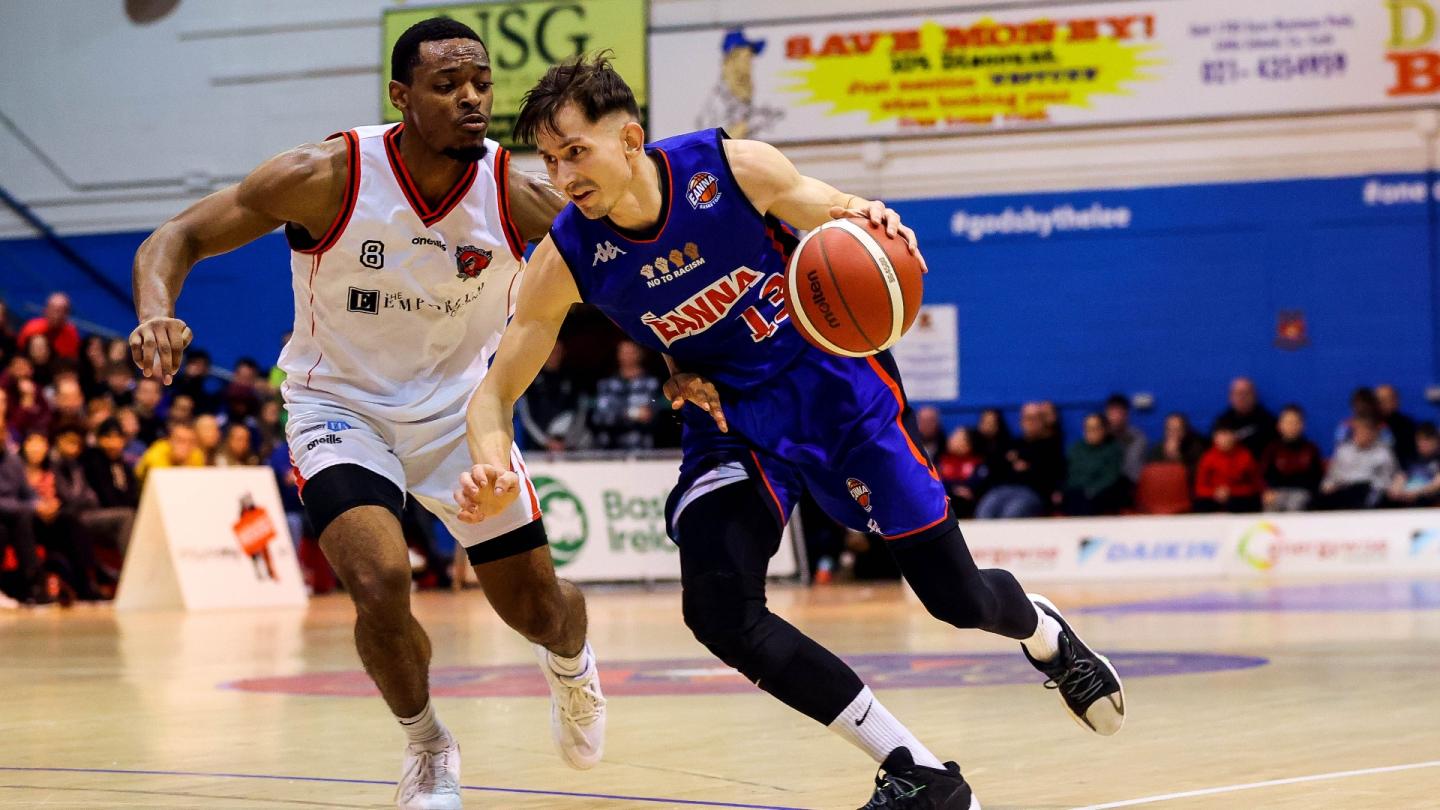 Mar 17 2023
Race for InsureMyVan.ie Super League title hots up as playoffs begin
Belfast Star head coach Adrian Fulton has hailed Energywise Ireland Neptune "as talented as any team in the country", ahead of their InsureMyVan.ie Super League playoff quarter-final at De La Salle. The remaining sides in both InsureMyVan.ie Super League playoffs and MissQuote.ie Champions Trophy playoffs are boosted by this week's news that the finals will be broadcast live on TG4 on April 1st as part of 'Super Saturday'. (Buy your 'Super Saturday' tickets here)
2020 Super League winners Belfast Star host Enerywise Ireland Neptune, who eliminated defending champions Garvey's Tralee Warriors last weekend in their winner-takes-all contest. "Neptune had an impressive road win in Tralee and are as talented as any team in the country", Fulton said, adding: "They have multiple threats across all positions including three Irish senior internationals in Cian (Heaphy), Roy (Downey) and Jordan (Blount). Throw in the wily veteran Nil Sabata alongside two very talented Americans that's a recipe for a very good side. We will try to focus on being the best version of ourselves. Every team left in the playoffs will feel they have a shot at winning it all and we are no different."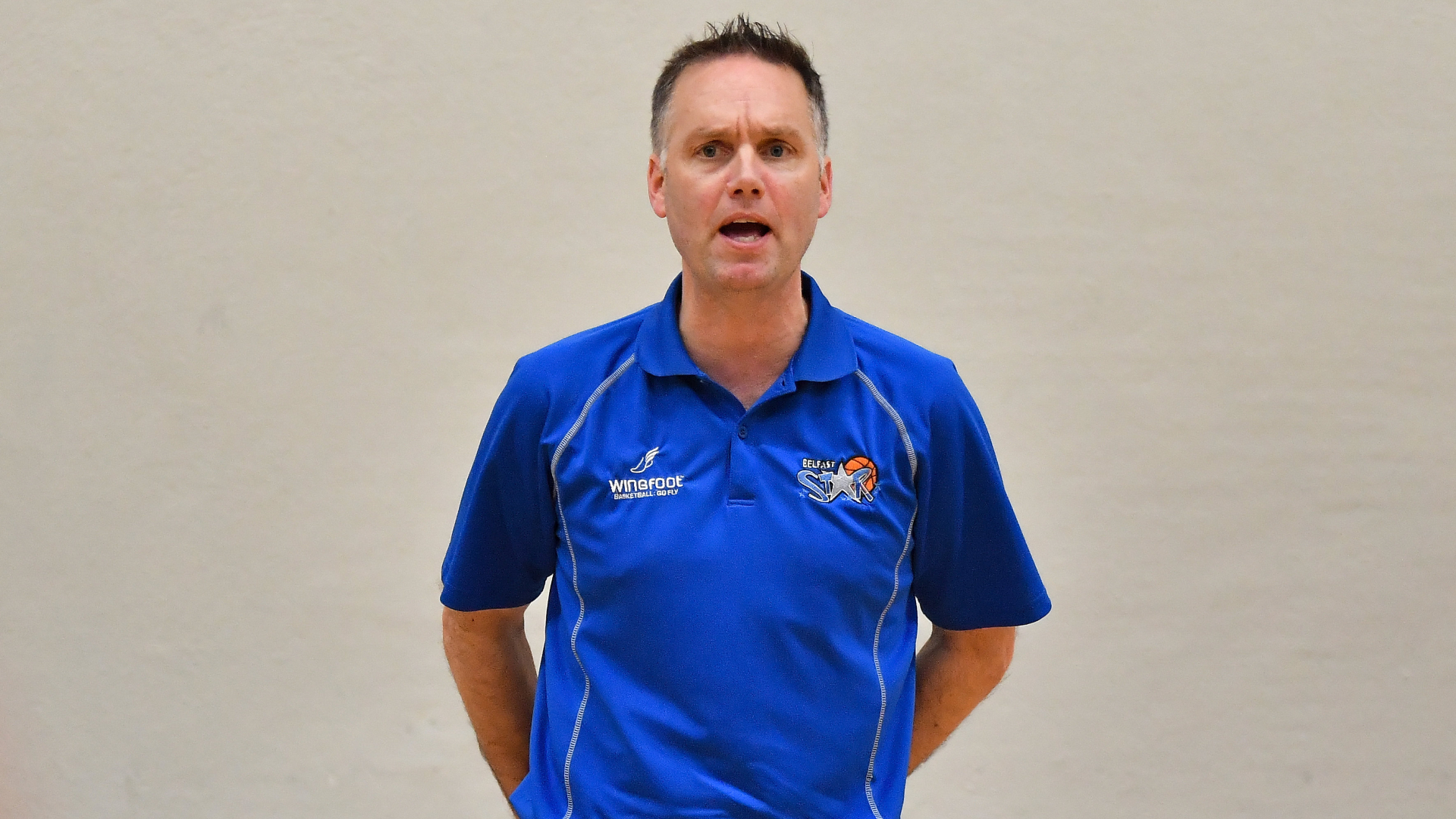 Belfast Star head coach Adrian Fulton
Energywise Ireland Neptune player/coach, Colin O'Reilly, added: "We have played each other recently, so both teams have a good idea of strengths and weaknesses. There's a good energy about the team after last weekend's win, so we are looking to bring that into the weekend."
Emporium Cork Basketball player/coach Ciarán O'Sullivan believes his side's game at North Conference winners DBS Éanna will go "right down to the wire". DBS Éanna defeated the Cork side 86-83 at the start of the month, their head coach Darren McGovern added "With us only playing each other two weeks ago, it will be a very familiar match up. We have set ourselves some goals over the last number of months and we have slowly been achieving these. This match up will be intense and will be one not to miss!"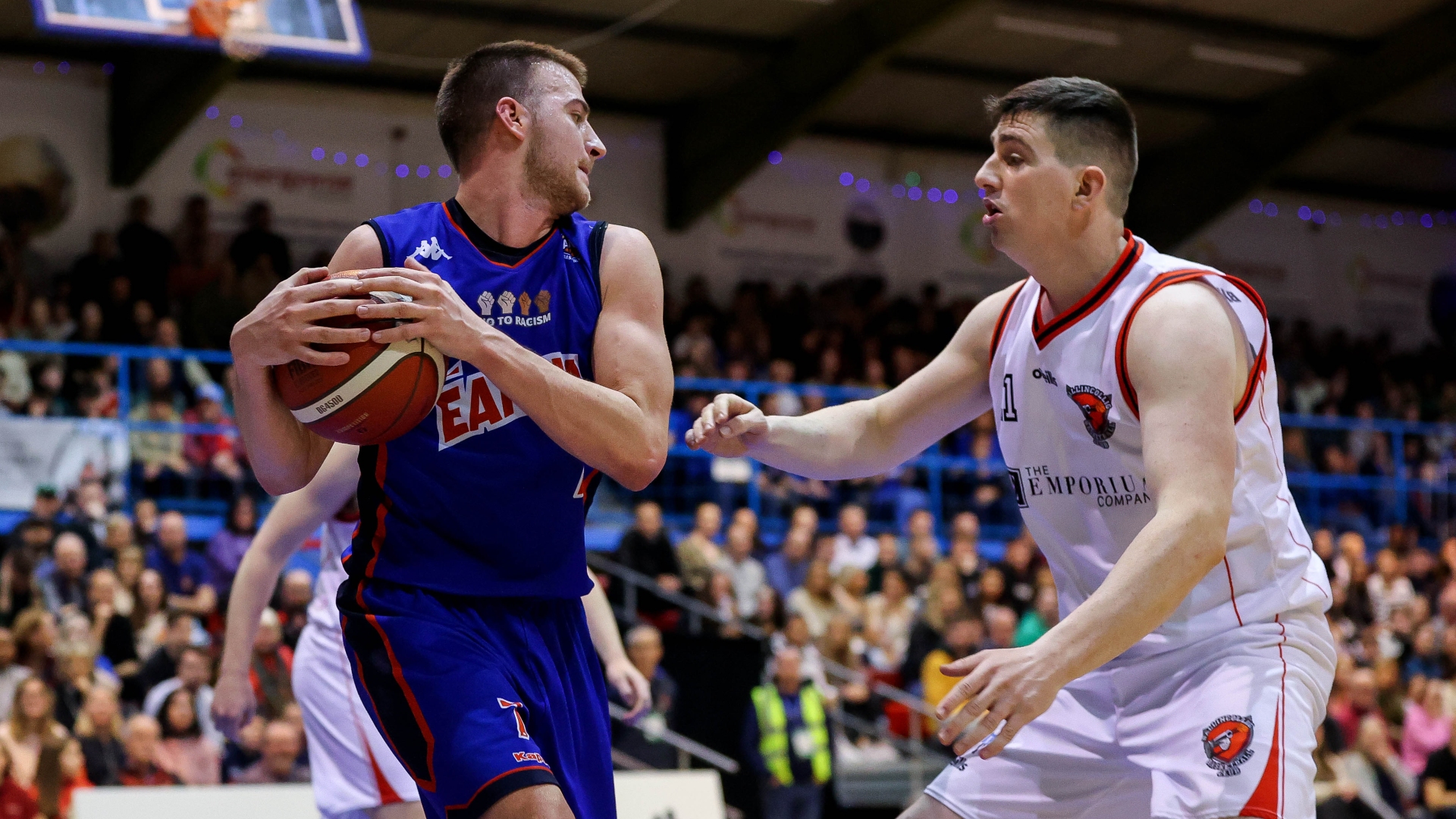 DBS Éanna's 

Kristijan Andabaka and Emporium Cork Basketball's Ciaran O'Sullivan during the InsureMyHouse.ie National Cup semi-final at Neptune Stadium in January
O'Sullivan praised their upcoming opponents. "It's no accident that Éanna are North Conference winners once again. They have been consistent performers all year so for us it's about matching their intensity for 40 minutes and see where that takes us. We have played them twice now over the last two months, so if it's anything like the last two games it's going right down to the wire."
Ej Sligo All-Stars head coach Shane O'Meara believes their playoff opponents University of Galway Maree are "probably favourites to win everything this year", adding "it's a really tough challenge for us given our injuries et cetera, but I know the lads will give their all on Saturday regardless". The InsureMyVan.ie National Cup winners may be hotly tipped to progress, but University of Galway Maree head coach Charlie Crowley isn't underestimating the challenge at hand. "Tough game this weekend. We have to improve on last weekend if we want to have a shot at progressing into the next round of the playoffs", Crowley stated.
On Sunday UCC Demons host Killester, Daniel O'Mahony's side had a 10-game winning run snapped by University of Galway Maree last weekend, but O'Mahony feels the regular season run matters little at this stage. "I think playoff basketball is different, our record or anyone else is irrelevant and it's who can be the best version of themselves over the next three games will win it out. Killester will be coming with confidence, they played a lot of games without key players, but as of late they seem to be getting everyone back healthy."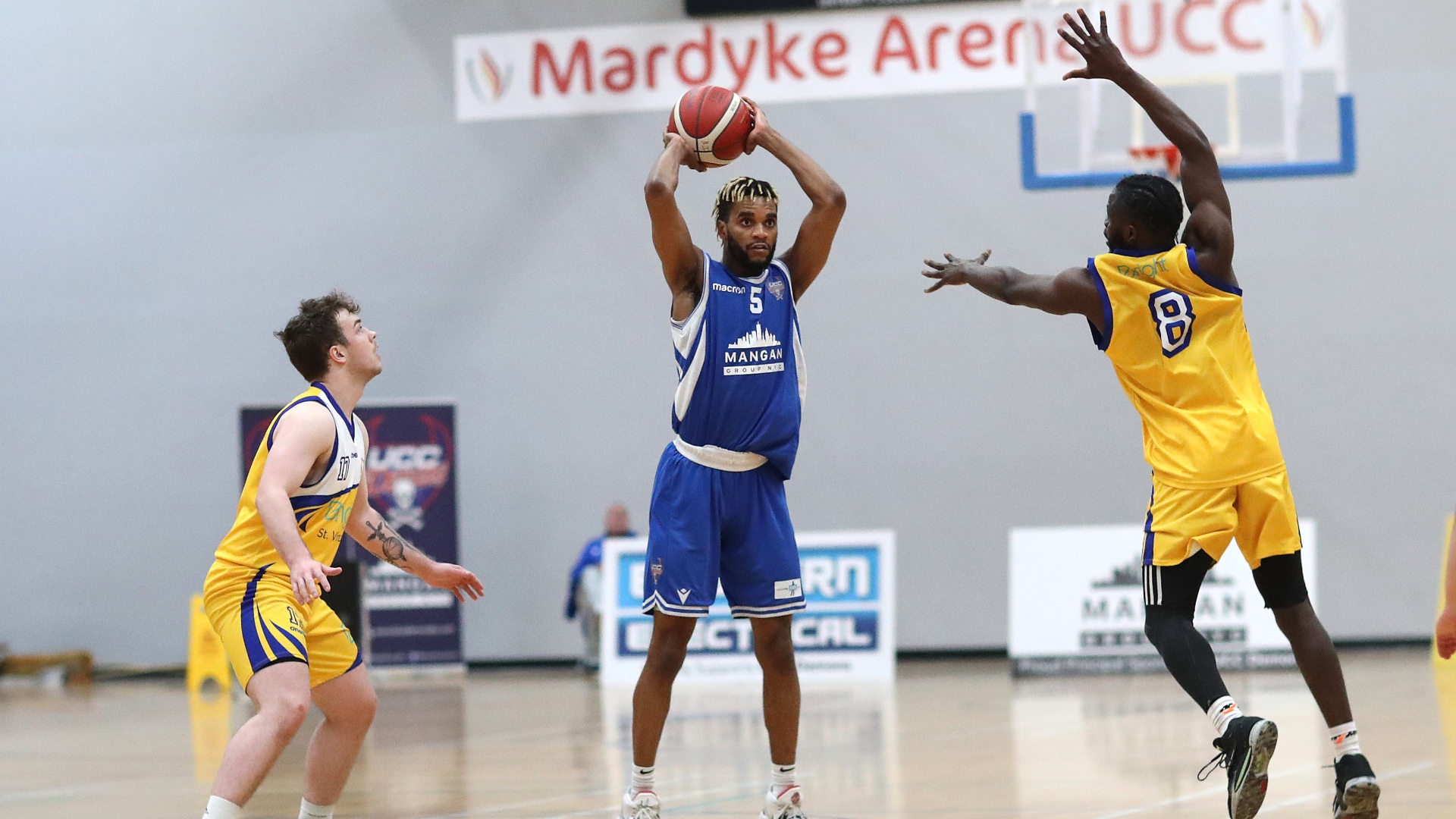 MJ Randolph has been one of the form players in the InsureMyVan.ie Super League for UCC Demons
His counterpart Brian O'Malley said: "It is going to be a huge challenge, Demons have been absolutely flying. MJ Randolph has really taken the league by storm and all their guys fit really well together. We have to be firing on all cylinders, it's the time of year for big players and big performances and our guys will be ready."
Moycullen and UCD Marian contest the InsureMyVan.ie Super League relegation playoff at the National Basketball Arena. Moycullen boss John Cunningham "It's a bit ironic that our last competitive trip to the Arena was an U20 Cup win against UCD Marian in 2020 and the same two two teams are now in a relegation playoff. Like ourselves, UCD Marian have had a challenging season with injuries and adjustment."
UCD Marian head coach Ioannis Liapakis added: "We will be looking to continue on our current form and bring a big performance into the game. Moycullen are a very experienced team and we will have to be ready for the challenge that they bring."
In the MissQuote.ie Champions Trophy playoff quarter-finals Waterford Wildcats host Killester and head coach Tommy O'Mahony pointed out they're familiar opponents. "This will be our fourth time playing Killester this year, with both teams knowing each other very well at this stage we will have to make certain adjustments in order to limit their massive scoring power, but we know that if we can hit the performance levels with hit last week we will be in with a great shout."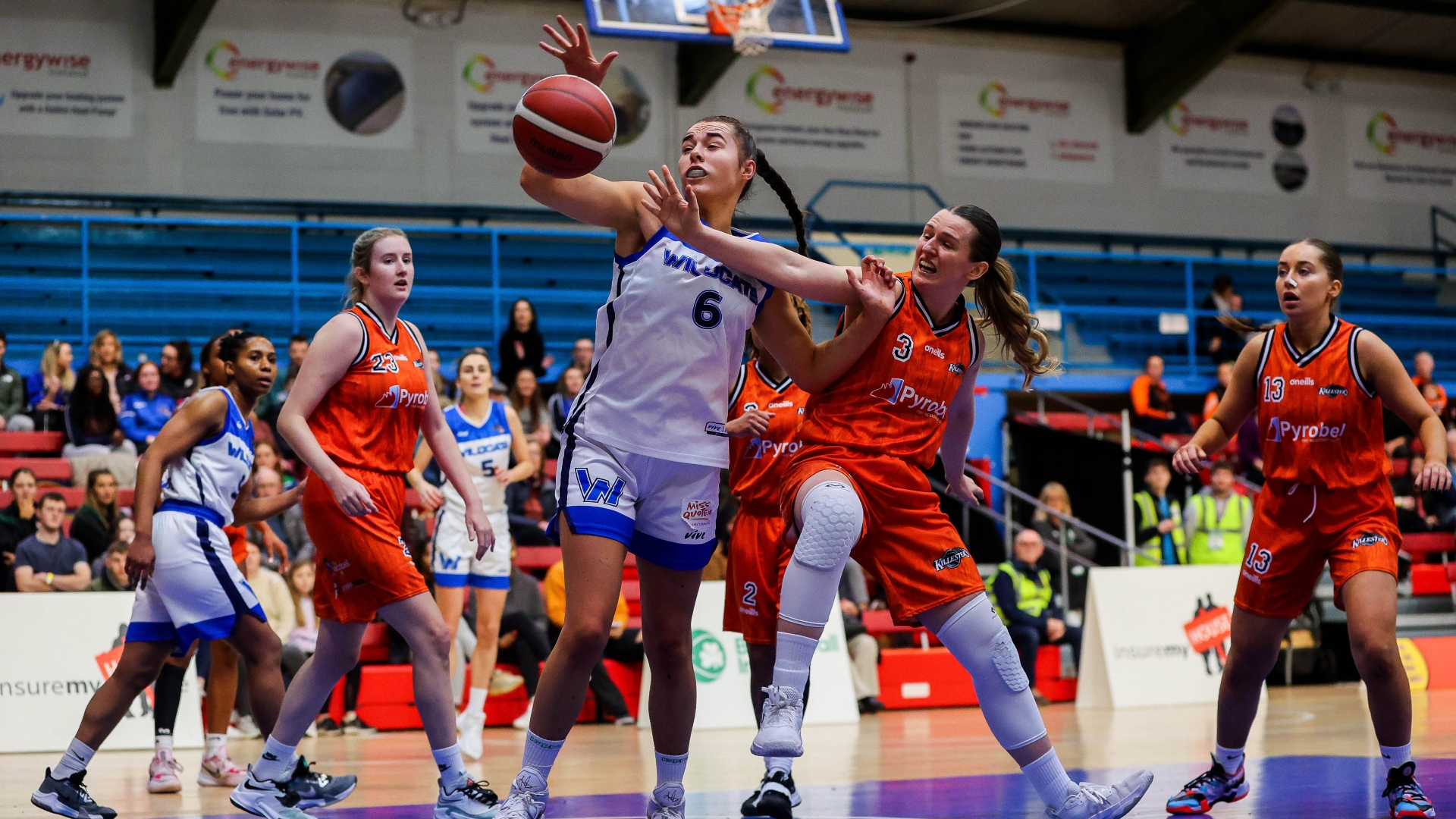 Waterford Wildcats' Sarah Hickey and Killester's Michelle Clarke in action during the InsureMyHouse.ie National Cup semi-final last January.
Waterford Wildcats defeated Killester twice in the league, but it was the Dublin club who came out on top in the InsureMyHouse.ie Paudie O'Connor National Cup semi-finals. Killester head coach Mark Grennell said: "Interesting game ahead of us. They've beaten us twice in the league by the closest of margins. It should be a classic battle."
Whoever progresses will face defending MissQuote.ie Champions Trophy winners The Address UCC Glanmire in the semi-finals.
Trinity Meteors and Leixlip Amenities Liffey Celtics are vying for the other semi-final spot, against DCU Mercy. Leixlip Amenities Liffey Celtics head coach Karl Kilbride said: "Really tough game ahead of us this week. While results haven't gone their way recently, in a knockout competition, it doesn't matter how you played last week. All that matters is how you play on the day. We had a really dreadful performance last weekend and will need to make huge improvements for this week."
Trinity Meteors head coach Niall Berry added: "We've had two fantastic games against them this year and the last game we played was a very high scoring game, so it should be a very entertaining encounter."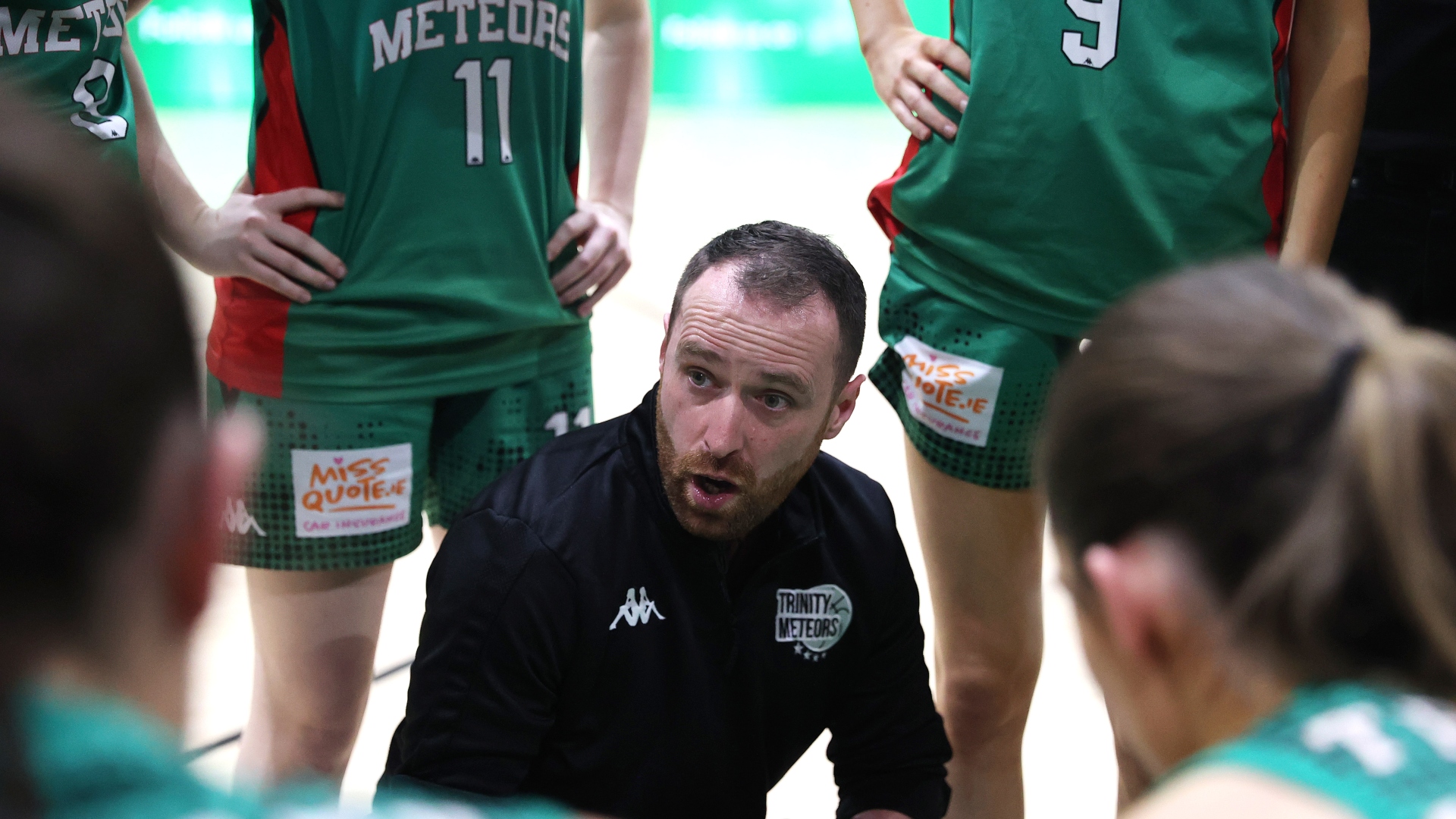 Niall Berry, Trinity Meteors head coach
In MissQuote.ie Division 1 League playoffs there's promotion on the line, with four teams in the running. In Saturday's semi's at the National Basketball Arena McEvoy's Cavan Eagles face Portlaoise Panthers and St. Paul's Killarney play Phoenix Rockets, with the winners of those two games advancing to Sunday's final at the same venue. The WNLC Cup see's seven teams battle it out for the title, with the competition hosted at the Barrow Centre in Carlow.
In the InsureMyVan.ie Division 1 Playoff quarter-finals Moy Tolka Rovers host SETU Carlow, Limerick Sport Eagles take on Drogheda Wolves, Limerick Celtics entertain Ulster University and Malahide play O'Dwyers of Cork Fr. Mathews, with all four games tipping off at 7pm.
Weekend Fixtures
InsureMyVan.ie Super League Quarter-Final playoffs:
Saturday, March 18th
Belfast Star v Energywise Ireland Neptune, De La Salle, 1830
University of Galway Maree v Ej Sligo All-Stars, NUIG Kingfisher, 1900
DBS Éanna v Emporium Cork Basketball, Coláiste Éanna, 1930
Sunday, March 19th
UCC Demons v Killester, Mardyke Arena, 1600
InsureMyVan.ie Super League Relegation playoff:
Sunday, March 19th
Moycullen v UCD Marian, National Basketball Arena, 1615
MissQuote.ie Champions Trophy Playoff Quarter-Finals:
Saturday, March 18th
Waterford Wildcats v Killester, Mercy Secondary School, 1445
Sunday, March 19th
Trinity Meteors v Leixlip Amenities Liffey Celtics, Marian College, 1600
InsureMyVan.ie Division 1 Playoff Quarter-Finals:
Saturday, March 18th
Moy Tolka Rovers v SETU Carlow, Tolka Rovers SC, 7pm
Limerick Sport Eagles v Drogheda Wolves, UL Arena, 7pm
Limerick Celtics v Ulster University, Cresent College, 7pm
Malahide v O'Dwyers of Cork Fr. Mathews, Malahide Community School, 7pm
MissQuote.ie Division 1 League Playoffs Semi-Finals:
Saturday, March 18th
McEvoy's Cavan Eagles v Portlaoise Panthers, National Basketball Arena, 1200
St. Paul's Killarney v Phoenix Rockets, National Basketball Arena, 1415
MissQuote.ie Division 1 League Playoffs Final:
Sunday, March 19th
McEvoy's Cavan Eagles/Portlaoise Panthers v St. Paul's Killarney/Phoenix Rockets, National Basketball Arena, 1400
MissQuote.ie WNLC Cup:
Saturday, March 18th
Limerick Sport Huskies v Oblate Dynamos, Barrow Centre, 1100 (Game 1)
Marble City Hawks v Swords Thunder, Barrow Centre, 1300 (Game 2)
Griffith College Templeogue v Winner Game 1, 1500 (Game 3)
Sunday, March 19th
SETU Carlow v Winner of Game 3, Barrow Centre, 1000
Abbey Seals Dublin Lions v Winner of Game 2, Barrow Centre, 1200
Winner of Game 4 v Winner of Game 5, Barrow Centre 1500 (WNLC Cup Final)