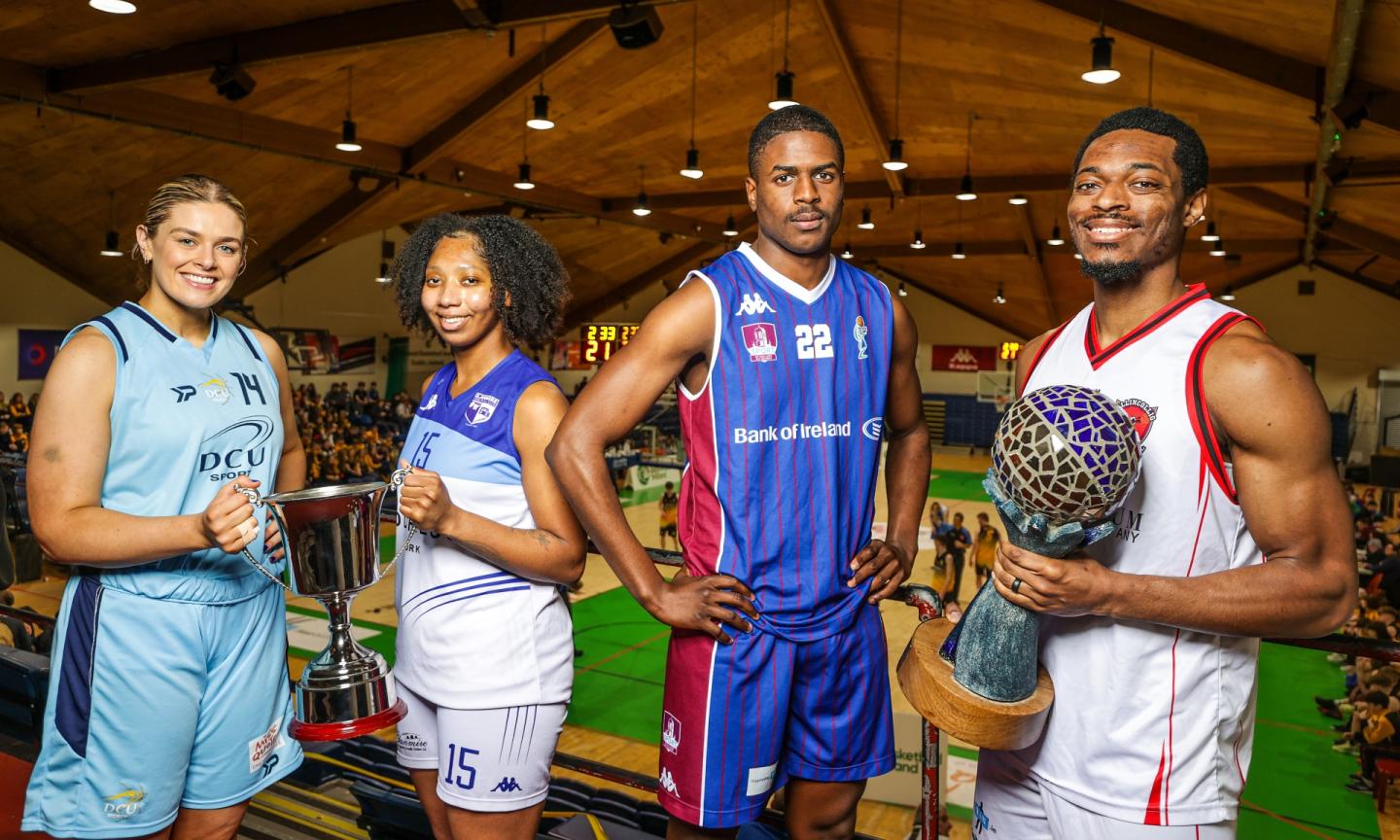 Mar 31 2023
Preview: Players and coaches look ahead to a huge weekend of National League basketball
Either University of Galway Maree or Emporium Cork Basketball will see their name engraved on the InsureMyVan.ie Super League trophy for the first time on 'Super Saturday' at the National Basketball Arena.
The pair clash live on TG4 at 14:15 a week on from narrow wins over Belfast Star and UCC Demons in the semi-finals. They've met twice during the regular season. University of Galway Maree coming out victors on both occasions, 100-90 in Ballincollig and 74-59 on home court in February.
For Emporium Cork Basketball it was a case of semi-final experience coming to the fore, having suffered defeat in the InsureMyHouse.ie National Cup at the same stage in January. Their leading scorer John Dawson believes memories of that moment drove them on: "It was tough, we lost to a great ball club in DBS Éanna. A lot of missed opportunities and a lot of positives to take away from that game, but we used that as a building block to get to the position we are in now," said Dawson.
The American was full of praise for their league and cup double seeking opponents: "They (University of Galway Maree) are very balanced, very talented. Their coaching staff is great, smart. I mean there's a reason they've been number one in the country for most of the season. It's going to be a tall task (to get the win), but I do firmly believe that we have a chance," he added.
University of Galway Maree finished the season with a InsureMyVan.ie Super League best 16-3 record to pair with their InsureMyHouse.ie National Cup success, in what has been a very fruitful season for Charlie Crowley's side.
Their guard Matthew Sweeney credits some vocal support for giving them the edge in close games, such as their semi-final win over Belfast Star: "That was an incredible game. The gym was sold out and the atmosphere from the fans was amazing. We're hoping for the same this weekend, we can't wait to get out there on the floor."
Head Coach Charlie Crowley is known around the league for his energetic coaching style during games, something that forward Malik Thiam is a fan of: "We got a lot of energy from him every day in practice. He keeps us grounded, makes sure everyone stays disciplined, but that's Charlie for you. A few times we've had to hold him back from going onto the court in the game. He's a great coach, works hard and knows his stuff as well.
View this post on Instagram
DCU Mercy will be the final challengers to The Address UCC Glanmire's quest for a MissQuote.ie Super League and Champions Trophy double when they meet at the National Basketball Arena on Saturday.
The third meeting between the top two finishers in the regular season is set to tip-off Super Saturday live on TG4 from 11:50am. The Address UCC Glanmire were victorious in both contests, 73-55 at the DCU Arena in December and 66-62 in the most recent game in the Mardyke Arena last month.
Contrasting styles is the theme, with DCU Mercy ranked the best defensive team in the league and The Address UCC Glanmire the most potent offence. DCU Mercy are no strangers to success either, having picked up the 2020 Super League title.
Irish international Hannah Thornton, one of the mainstays of the group, is delighted to be back in a decider: "The win (in the semi-final) against Trinity Meteors was a real team win. That's the most important thing for us. If one of us isn't having the best game, there is some else there who are ready to step up. The calibre of players coming off the bench, Irish underage internationals getting on the scoresheet or getting important rebounds which we were really happy with."
"They (The Address UCC Glanmire) have been going really well and we always try and ensure we're prepared as best we can whenever we meet. It's not long since our previous game against them and that was very tight. That's always nice because we know that we can tighten up on a few little things and go over a few plays that are still very fresh in our head from a couple of weeks ago," said Thornton.
Khiarica Rasheed is one of the premiere scoring threats in Irish women's basketball this season. Her partnership with fellow American Brittany Byrd has fired The Address UCC Glanmire to this point of the season. Rasheed thinks things are clicking at the right time for the Cork side: "Coming off last weekend's game, I think we played one of our best games defensively and offensively. We put together four quarters of good basketball and now we're just looking forward to continuing that on Saturday."
Rasheed knows her team are in for a huge battle if they're going to take home their second trophy of the campaign: "They (DCU Mercy) are a lot more physical. They like to keep the scoring in the 60s, whereas we're a team who really likes to score. So we're just going to have to work through that and step up our defence as well."
The InsureMyVan.ie Division 1 final pits Limerick Sport Eagles and InsureMyHouse.ie National Cup champions Ulster University against one another, with promotion to the InsureMyVan.ie Super League on the line.
Both have been forced to take care of business on the road in the playoffs. Ulster University surprised Limerick Celtics in UL, before accounting for Malahide 88-72 in the last four. Limerick Sport Eagles had home comforts in the last eight against Drogheda Wolves and edged Moy Tolka Rovers 81-72 in Dublin to reach this stage.
"Our form has been good of late and promotion to the Super League has been the main goal all year," said Limerick Sport Eagles head coach Matt Hall. "Everything comes down to this game. The entire team is looking forward to it and we know we are up against a very good team in Ulster University, so will need to be at our best to win," he added.
It's already been a successful season for Ryan McCormick's Ulster University. They captured the InsureMyHouse.ie Presidents Cup at the National Basketball Arena in January after a fairytale cup run and that win propelled their league form to another level.
Speaking ahead of the game, head coach Ryan McCormick said: "We're delighted to be competing in the Division 1 Play off final this weekend against an incredible opponent in Limerick Sport Eagles. They have been the standard bearer for the majority of the season, and we know exactly how good they can be after a tough over time loss against them towards the end of the season. Jason Killeen is a legend of Irish basketball, while Brendan Barry is one of the most electric scorers in the country. Credit to Matt Hall for the impressive season his team have put together.
This season has been a testament to the work ethic, ability and attitude of our lads. When their backs are against the wall they come out swinging. It's what got us over the line in the cup, and to this stage of the competition after upsetting Limerick Celtics and Malahide. Its bred a belief within the team, and that's something we will need if we are going to pull off another upset in the Arena on Saturday night."
Conor O'Sullivan, Nathaniel Shafer and Gerts Clems have proved to be their main scoring threats and the duel between them and Brendan Barry and former Irish international Jason Killeen is sure to be one to keep an eye on.
Previous meetings would give the edge to the Limerick outfit. They won their only regular season clash 98-87 in the UL Arena in February.
Portlaoise Panthers will be keen to aid to their trophy cabinet once more this season when they face Phoenix Rockets in the MissQuote.ie Division 1 League Cup final.
The Laois team took home the MissQuote.ie Division 1 last month, beating a well oiled St. Pauls Killarney 70-62, so won't feel in awe of the big stage. Neither will InsureMyHouse.ie Division 1 National Cup finalists Phoenix Rockets. Breda Dick's team fell short against Abbey Seals Dublin Lions in January, but find themselves with a shot at redemption.
The Panthers came through Moy Tolka Rovers and McEvoy's Cavan Eagles over 24 hours last weekend to reach the decider, while Rockets got over the line against Limerick Celtics and St. Pauls Killarney, requiring overtime against the latter.
"We're very excited for the challenge ahead and another trip to the National Basketball Arena is nothing short of what our girls deserve," said Portlaoise Panthers head coach Jack Dooley. "Rockets are the only team to beat us twice this season so while they look to be favourites, we are in a great run of form and it will be a great match up again that will come down to single digits either way," he added.
His opposite number Breda Dick said: "After two great games of basketball last weekend that went into overtime in both matches, Rockets are determined to give it their all this weekend as we reach this final point of the season. In our two games this season we have beaten them on both occasions by a narrow margin so we expect Sunday to be a very close exciting final."
Both games between the sides have been incredibly tight. Phoenix Rockets pulled off a comeback for the ages in their 65-63 victory in the semi-finals of the InsureMyHouse.ie National Cup, with their most recent league meeting ending 67-63 in St. Mary's Hall in Portlaoise.
Calisha Calrke, Jessica Fairweather and Georgie McGrath have struck up a great partnership on the offensive end for Phoenix Rockets, but they are evenly matched by two time MissQuote.ie Division 1 player of the month Alyssa Marie Velles and her partner in crime Jessica Fressle for Portlaoise Panthers.
It forms all the ingredients for a very entertaining, high scoring game at the National Basketball Arena on Saturday evening.
---
National League finals fixtures (National Basketball Arena):
Friday 31st March
InsureMyVan.ie U20 Men's National League plate
Belfast Star v Éanna, 1800
InsureMyVan.ie U20 Men's National League final
Garvey's Tralee Warriors v Titans, 2015
Saturday 1st April
MissQuote.ie Champions Trophy final
The Address UCC Glanmire v DCU Mercy, 1200 (LIVE on TG4)
InsureMyVan.ie Super League final
Emporium Cork Basketball v University of Galway Maree, 1415 (LIVE on TG4)
MissQuote.ie Division 1 League Cup final
Phoenix Rockets v Portlaoise Panthers, 1800
InsureMyVan.ie Division 1 League final
Limerick Sport Eagles v Ulster University, 2015
Sunday 2nd April
Women's National Intermediate League Plate final
Portlaoise Panthers v Cobh, 1100
Women's National Intermediate League final
Liffey Celtics v Claregalway, 1300
InsureMyHouse.ie Over 40 Men's Masters National Cup final
BNAF v Neptune, 1500
InsureMyHouse.ie Over 40 Women's Masters National Cup final
Midlands Masters v Rebel Ramblers, 1700