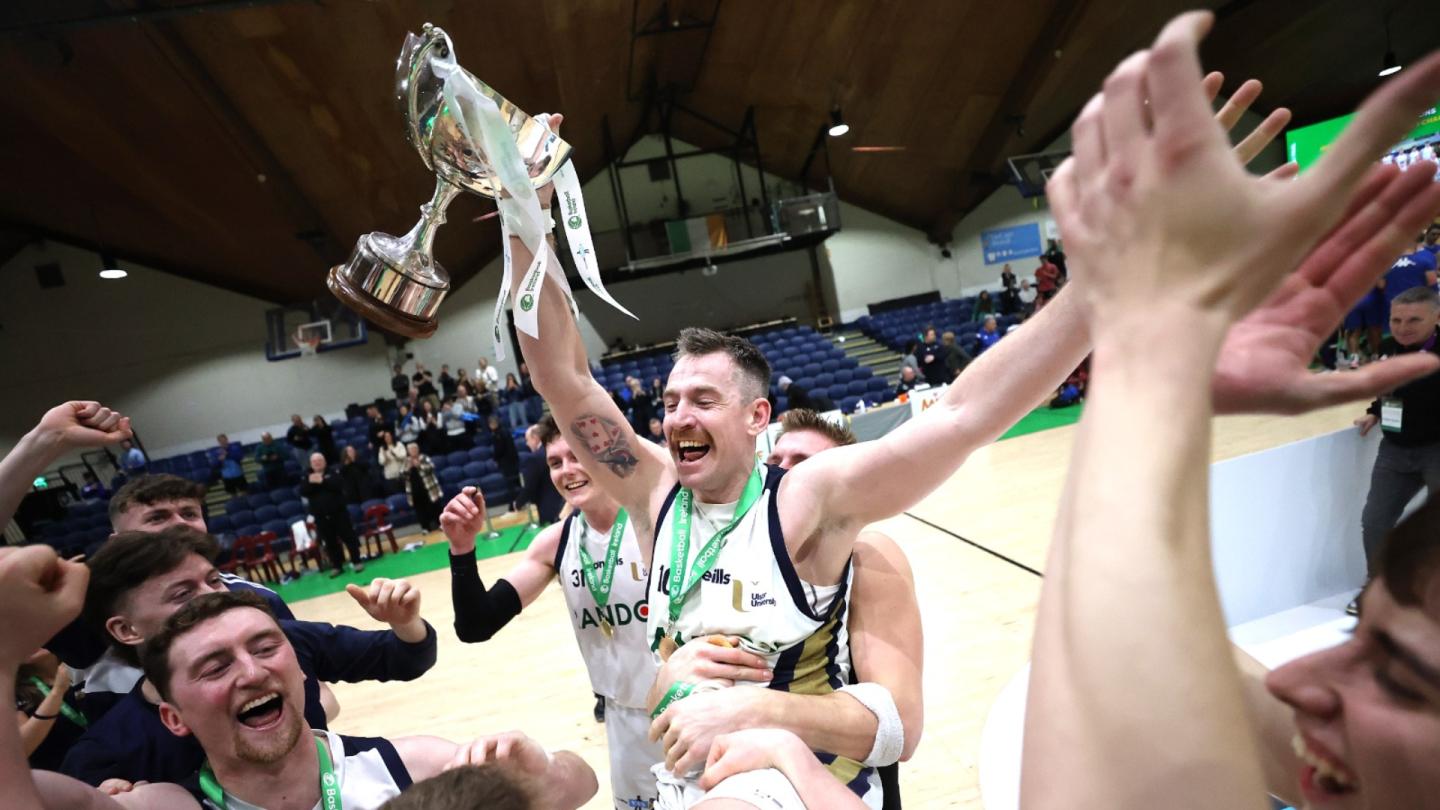 Apr 01 2023
Ulster University seal promotion to the InsureMyVan.ie Super League with 95-86 overtime win over Limerick Sport Eagles
Ulster University will play in the InsureMyVan.ie Super League next season, their promotion sealed after a 95-86 overtime win over Limerick Sport Eagles in a thrilling InsureMyVan.ie Division 1 League Playoff Final at the National Basketball Arena on Saturday. It completed the double for Ulster University, having claimed the InsureMyVan.ie Presidents' National Cup in January.
There was little to separate the sides in the first quarter, Nathaniel Shafer's two pointer saw Ulster University trail by two, 23-21, coming towards the final minute of the quarter. Limerick Sport Eagles then hit a hot streak from the three point line either side of the first quarter-break, landing five in a row to put them 38-21 up, with less than 30 seconds on the clock in the second quarter. It prompted an early timeout call by Ulster University head coach Ryan McCormack.
Brendan Barry's executed a beauty from the three point line three and a half minutes into the quarter - it was nothing but net as it sailed in and everything appeared to be landing for Limerick Sport Eagles, as they led 45-24. Barry had 15 points by half-time, including three from the three point line.
Ulster University battled their way back into the contest, a massive three by Girts Celms cut the deficit to 13 points, 49-36, with a minute to go. A trio of free throws by Conor O'Sullivan followed after Jason Killeen was penalised and it would be a 10 point game, Limerick Sport Eagles ahead 49-39 at half-time.
It was a fast-paced start to the third quarter, a nice steal and layup by Celms in the opening few seconds saw Ulster University trail 49-42. Nikola Ivkovic settled Limerick Sport Eagles somewhat with a three pointer moments later. The sides exchanged scores, Killeen's floater was followed by a long-range three by O'Sullivan. The sides then picked up a three each – Ivkovic's second of the quarter was reciprocated by Celms, to make it 57-50 with three minutes gone in the quarter.
Having been 0/6 from the three point line in the first half, O'Sullivan was finding his range, his second of the third quarter with 4'13 left, was followed not long after by a pair of free throws by Shafer and Ulster University were just two points down, 60-58. Killeen's layup put Limerick Sport Eagles 62-58 up, but shortly afterwards he picked up his fourth foul and the former Ireland captain returned to the bench.
O'Sullivan made it three from three from the three point line to put Ulster University ahead for the first time in the game, 63-62, with two and a half minutes to go in the third, punching the air in celebration. It would be Limerick Sport Eagles marginally in front by the end of the quarter, 69-66, after Brendan Barry's three in the final seconds.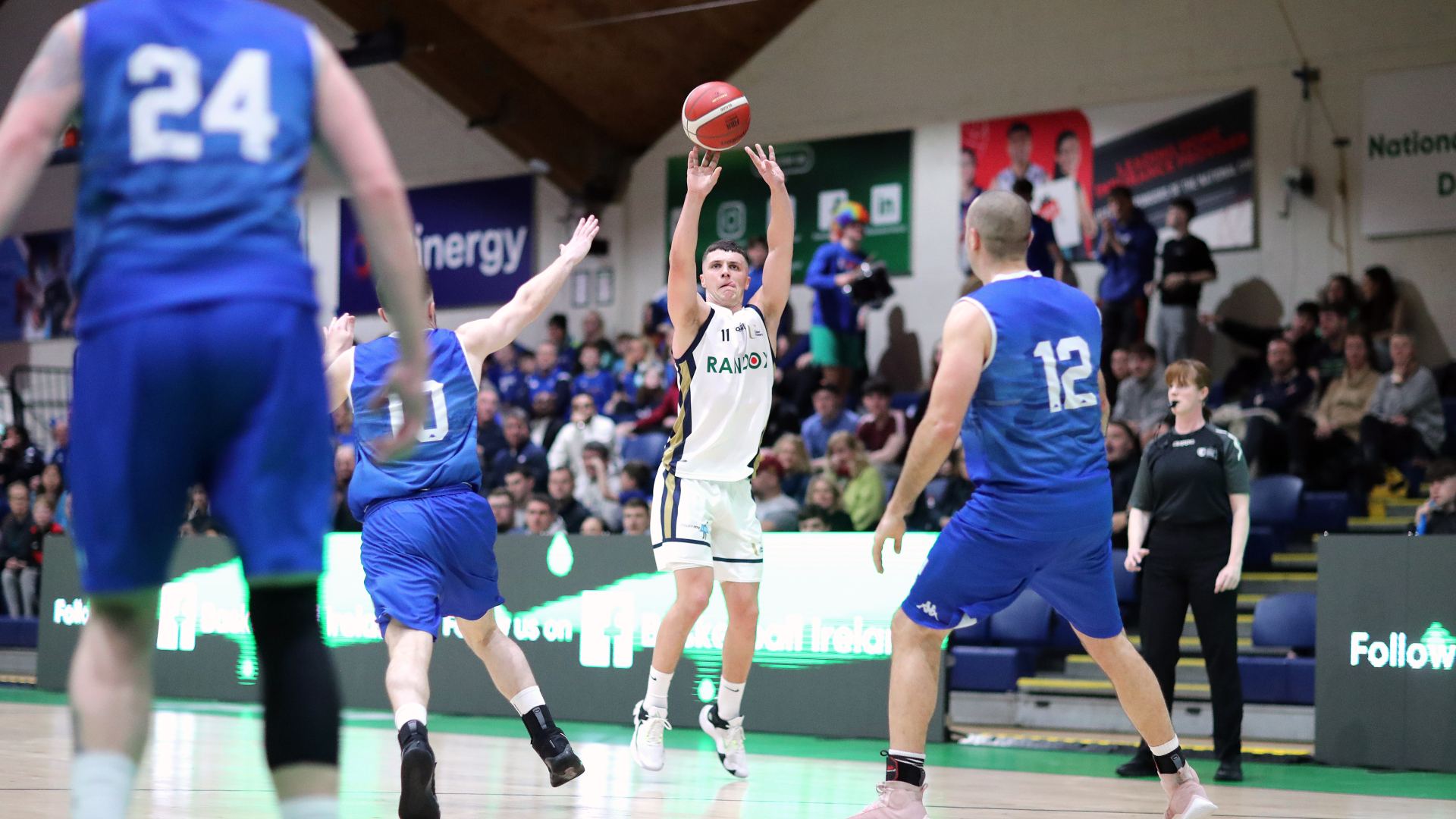 Conor O'Sullivan scored 28 points for Ulster University in their InsureMyVan.ie Division 1 League Playoff Final win
Adam Ryan's three from the corner for Ulster University in the fourth minute of the final quarter made it a one point game once more, trailing 73-72. With 5'41 to go Killeen, who was in foul trouble, checked back in. Not long after a driving layup by Jack Coyne saw Limerick Sport Eagles go 77-72 up. A big three from Reece Barry followed and Limerick Sport Eagles led 80-72 with four and a half minutes to go.
As they'd proven throughout this game Ulster University again came back to draw level, at 80 apiece, after Celms hit a three pointer and two free throws to leave it poised with two minutes to go.
Ulster University hit the front with 45 seconds left through Igor Markiewitz' two point jump shot and then another by Ryan with 13.6 seconds remaining to put them 84-81 up. A nerveless three from the corner by Limerick Sport Eagles' David O'Connell with 5.8 seconds to go brought the game level once more at 84-84 and it would go to overtime.
Shane O'Connor hit three in the second minute of overtime which nudged Ulster University in front. A Shafer free throw and a Markiewicz two point jump shot followed and had them up by six, 90-84 with 1'56 remaining. Limerick Sport Eagles left some points behind from the free throw line as they tried to get themselves back into it. It would be Ulster University's day winning 95-86. Shafer claimed the MVP after 17 points, 13 rebounds and three assists, but he would certainly have been run close for the award by O'Sullivan, who had 28 points, eight rebounds and six assists.
Speaking afterwards a relieved Shafer said: "We've gotten in a few dogfights before, that wasn't even the first time in the last month we went down 20 points, we went down early against Limerick Celtics and we came back. There's a bunch of dogs on this team and we win these types of games, simply put. Winning the double is a nice way to validate the group of guys we had this year but nothing will beat the experience we've had on the journey to get here. Amazing."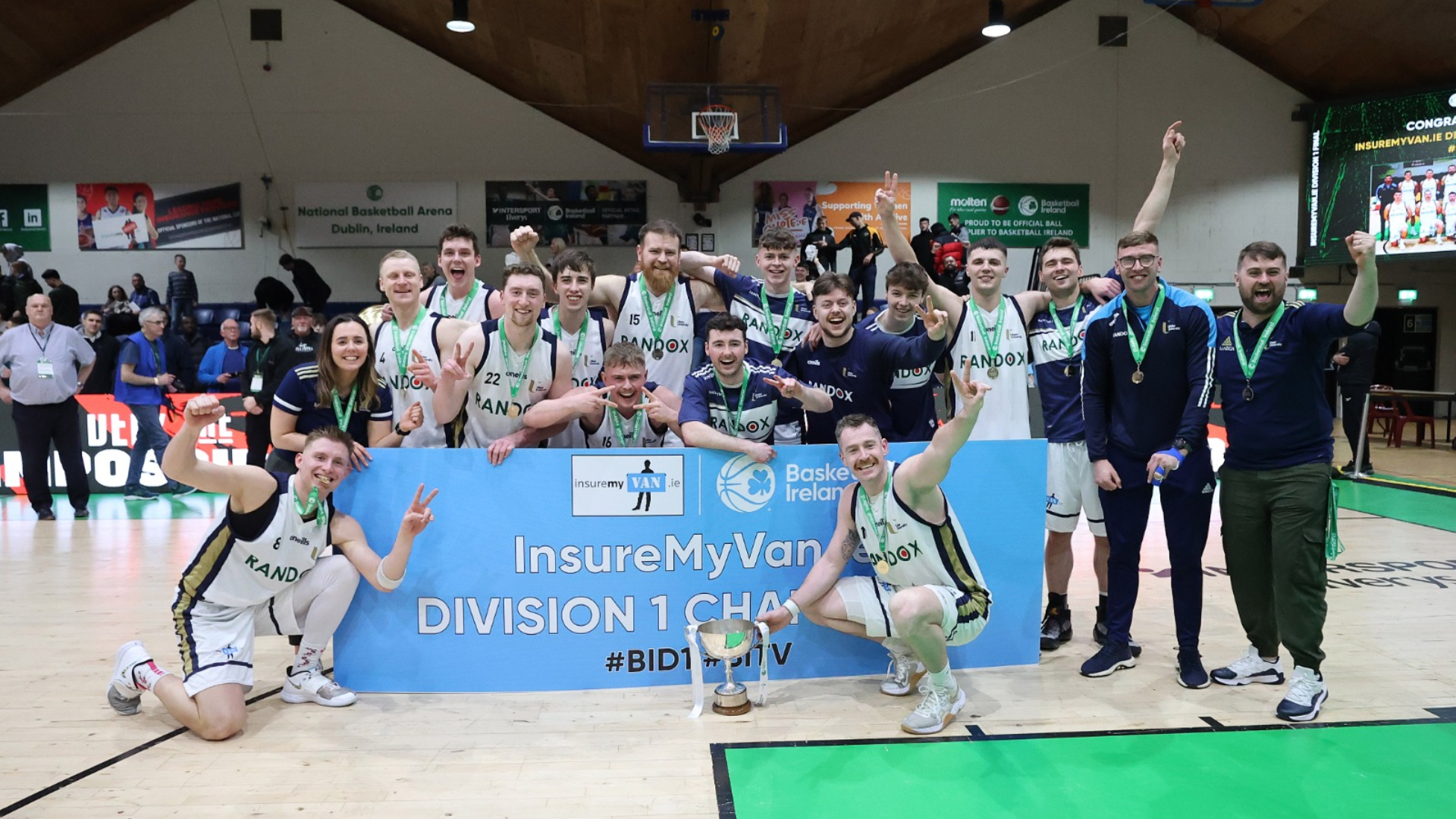 Ulster University players and staff celebrate with trophy
Q1: 29-21, Q2:49-39, Q3: 69-66, Q4: 84-84, OT: 95-86
Limerick Sport Eagles: Ajay Ryan Walsh (0), Reece Barry (6), Brendan Barry (22), Obinna Josephs (0), Jack Coyne (10), Nikola Ivkovic (16), David O'Connell (9), Sammy Bah (5), Stephen King (4), Ronan Cregan (DNP), Jason Killeen (12), Neil Campbell (2)
Ulster University: Girts Celms (23), Ben Hesnan (0), Matthew Rooney (0), Conall Goan (DNP), Igor Markiewicz (9), Shane O'Connor (8), Conor O'Sullivan (28), Conall McQuaid (DNP), Ruaidhri Milligan (0), Odhran Hegarty (DNP), Adam Ryan (10), Nathaniel Shafer (17)