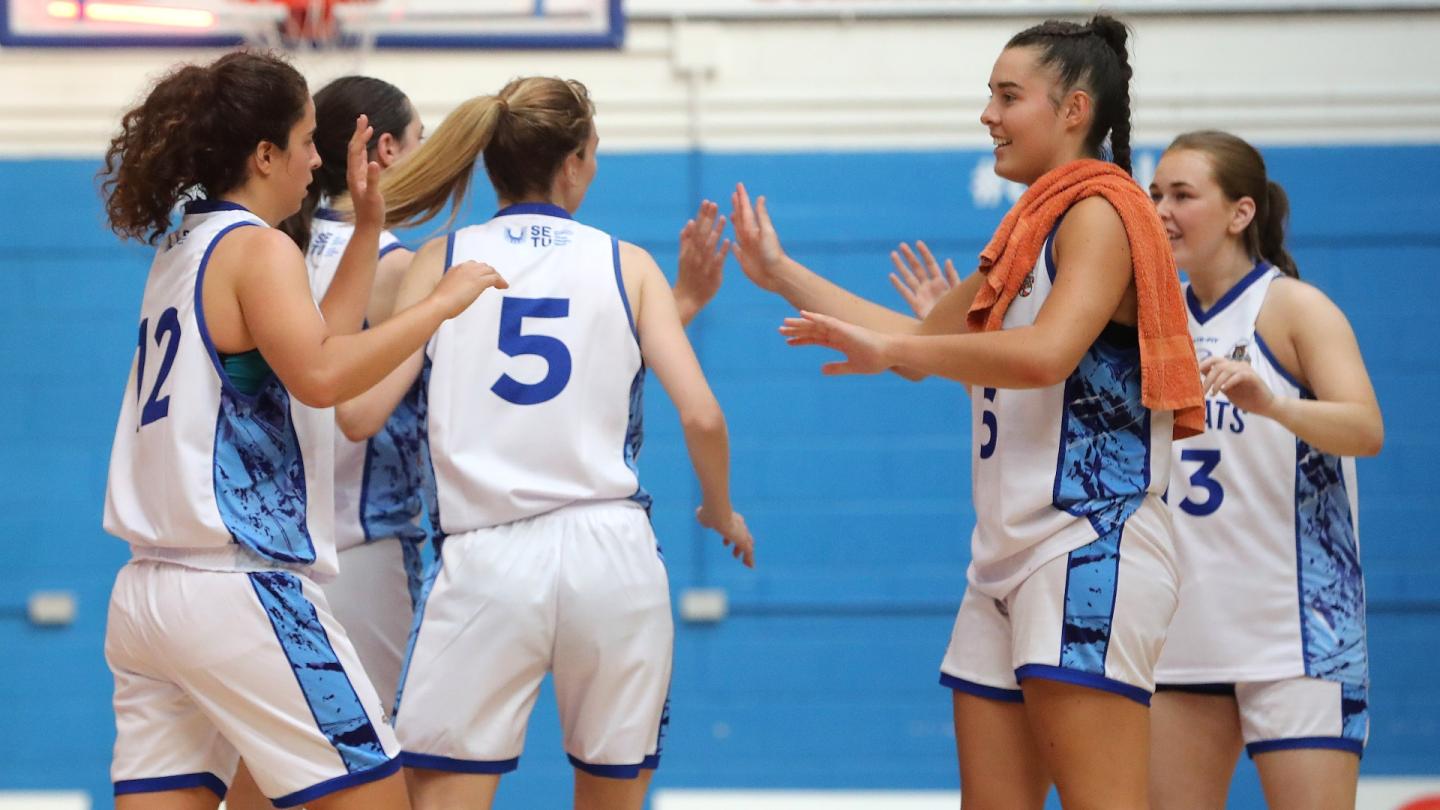 Sep 28 2023
Four teams look to remain undefeated in MissQuote.ie Super League
SETU Waterford Wildcats threw down the gauntlet on the opening weekend of the MissQuote.ie Super League season, but now it's time to back it up.
"The message is play our game," said Sarah Hickey to basketballireland.tv when asked about the approach of SETU Waterford Wildcats head coach Tommy O'Mahony. "In previous seasons we've been focusing on other teams and how to stop them and we get into our own heads a little bit, whereas this year we're focusing on our goals and our game." added the 19-year-old Irish international.
Trinity Meteors travel to the South East after a chastening home defeat to Gurranabraher Credit Union Brunell in week one, with the aim of causing an upset of their own in the Mercy Gym. Head coach Hillary Netsiyanwa will be forced to find his rotations on the fly in the opening couple of weeks with an extremely young team finding their feet in the top tier of Irish basketball.
It was a dominant display by DCU Mercy against University of Galway Mystics and they'll have home comforts against another Ulster University on Sunday afternoon. Hannah Thornton proved the catalyst for Mark Ingle's side on opening day, notching a 31-point double-double along with debutant Brynley Fitzgerald. Patrick O'Neill will take his group full of confidence to the capital after they dispatched newly promoted Portlaoise Panthers to move to 1-0.
The Panthers raise the MissQuote.ie Super League curtain in Portlaoise against undefeated FloMAX Liffey Celtics in week two. Jessica Fressle and Alyssa Velles picked up where they left off for the Laois outfit in the MissQuote.ie Division One to start the new campaign, but their credentials are set for another stiff examination when Karl Kilbride brings his plethora of Irish internationals to town. FloMAX Liffey Celtics survived a second-half where they managed just 13-points to take the win against Pyrobel Killester. One feels they'll need to improve upon that to remain on the winning trail.
Catalyst Fr.Mathews will pile the pressure on Pyrobel Killester if they can leave Clontarf with the spoils in Pat Price's first game in charge. Niamh Dwyer's focus returns solely to playing this season after assuming coaching duties and she will need to find her rhythm quickly to repel a Pyrobel Killester side who had five players reach double digits in scoring on opening weekend.
Gurranabraher Credit Union Brunell matched DCU Mercy for the widest margin of victory in a very promising start for the Kyaja Williams, Edel Thornton, Jayla Johnson axis. The trio combined for 72-points in an offensive display that will have given University of Galway Mystics head coach Paul O'Brien a midweek headache. Mystics will have to address their rebounding (-22) and outside shooting (25%) if they want to gain their first win of the season on the road in Cork.
Six games are down for decision on the first weekend of MissQuote.ie Division One action.
St. Paul's Killarney resume their quest for promotion on the road against SETU Carlow, while beaten semi-finalists McEvoy's Cavan Eagles welcome Oblate Dynamos to the Virginia Show Centre. iSecure Swords Thunder have made notable additions from FloMAX Liffey Celtics and DCU Mercy that will have a lot of eyes on first year head coach Paul Carr. They host another beaten semi-finalist from April, Phoenix Rockets.
Elsewhere on Saturday it's Abbey Seals Dublin Lions against Templeogue and Limerick Sport Huskies at home to Moy Tolka Rovers and on Sunday, the final game of the weekend takes place in the Treaty county where Limerick Celtics entertain Marble City Hawks.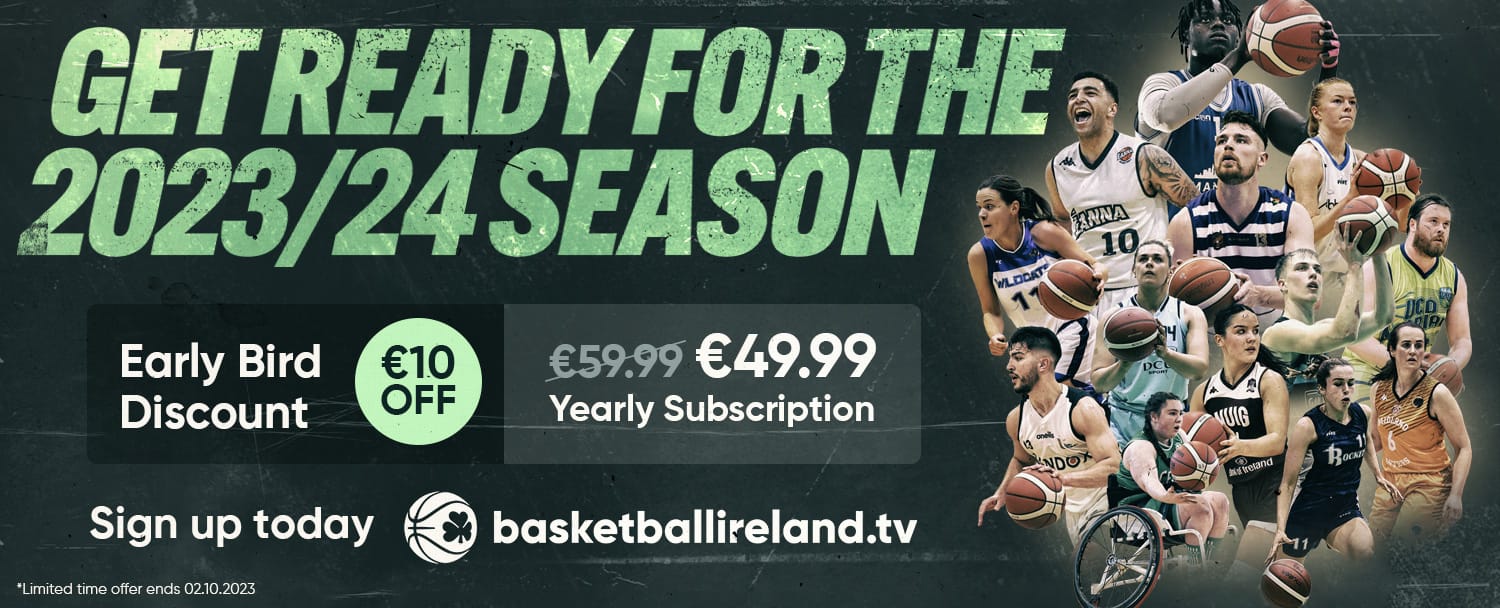 Fixtures | MissQuote.ie Super League
Saturday, September 30th
1700|SETU Waterford Wildcats v Trinity Meteors, Mercy Gym
1800|Portlaoise Panthers v FloMAX Liffey Celtics, St. Mary's Hall
1800|Pyrobel Killester v Catalyst Fr.Mathews, IWA Clontarf
Sunday, October 1st
1430|Gurranabraher Credit Union Brunell v University of Galway Mystics, Gurranabraher Credit Union Arena
1445|DCU Mercy v Ulster University, DCU Arena
Fixtures | MissQuote.ie Division One
Saturday, September 30th
1730|Abbey Seals Dublin Lions v Templeogue, Coláiste Bríd
1730|iSecure Swords Thunder v Phoenix Rockets, ALSAA
1800|Limerick Sport Huskies v Moy Tolka Rovers, UL Arena
Sunday, October 1st
1230|SETU Carlow v St. Pauls Killarney, Barrow Centre
1500|McEvoy's Cavan Eagles v Oblate Dynamos, Virginia Show Centre
1515|Limerick Celtics v Marble City Hawks, Crescent College