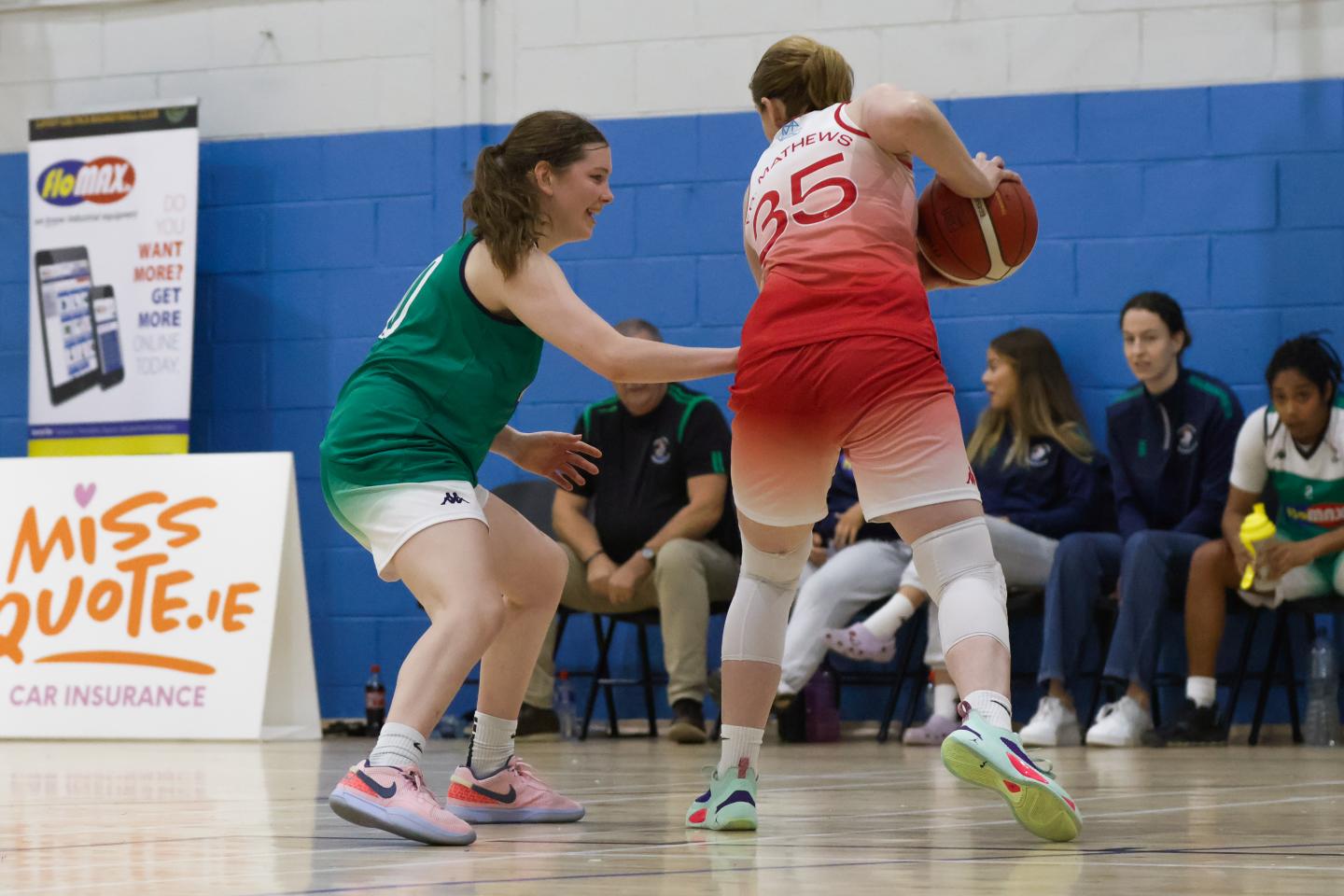 Nov 19 2023
FloMAX Liffey Celtics and Belfast Star stay unbeaten in MissQuote.ie Super League and InsureMyVan.ie Super League
FloMAX Liffey Celtics weathered a fierce challenge from Catalyst Fr. Mathews, winning 84-75, to preserve their unbeaten start to this season's MissQuote.ie Super League. In the InsureMyVan.ie Super League, North Conference leaders Belfast Star also remain unbeaten, following a 95-66 win over Templeogue, while Maree prevailed 83-69 against Irish Guide Dogs Ballincollig @MTU, to move top of the South Conference.
Karl Kilbride's FloMAX Liffey Celtics were made scrap tooth and nail for Saturday's 84-75 point triumph over Catalyst Fr. Mathews in Leixlip, as they coughed up an 18-point advantage to trail by three at the break.
Yet some superb inside work by Alexandra Navarette, who emerged the game's top scorer on 26 points, together with timely three-pointers from Kate O'Flaherty (23) and Sorcha Tiernan (18), saw the hosts steady the ship to secure victory.
"That was tough" admitted Kilbride. "We went down eight in the second half and that's probably the first time we've been down like that all season, so I was delighted that we had the character and resilience to come back, because last year, we would probably have folded in that game" he said.
View this post on Instagram
At the other end of the MissQuote.ie Super League table, Shannon Cunningham hit 13 points down the stretch, as University of Galway Mystics turned an eight-point deficit into a 75-61 victory over Portlaoise Panthers to register their first league win of the season.
A huge first-quarter performance, in which they outscored Ulster University by 22, laid the foundation for Pyrobel Killester's 94-71 victory on Saturday.
Sunday's two MissQuote.ie Super League fixtures saw SETU Waterford Wildcats record a 80-48 victory at DCU Mercy. Defending champions, The Address UCC Glanmire carded a 74-68 win at home to Trinity Meteors.
In the InsureMyVan.ie Super League, Damaria Franklin hit 26 points and Tom Dumont weighed in with 19, as Maree surmounted the challenge of defending champions, Irish Guide Dogs Ballincollig @MTU in Kingfisher Sports Arena on Saturday night.
"The games have been so tight and this one was no different" said Maree Head Coach, Charlie Crowley. "We look forward to playing Moycullen next Sunday", he added.
Belfast Star had five players in double figures, including top scorer Conor Quinn (16), as they ran out 29-point winners against Templeogue, 95-66, to extend their lead in the North Conference to nine points following Pyrobel Killester's 93-76 reversal at the hands of EJ Sligo All-Stars in Mercy College.
Garvey's Tralee Warriors battled their way back from six points down at the half to record a 93-83 point victory away to Energywise Ireland Neptune.
A second-quarter run proved crucial in seeing Bright St. Vincent's record thier first win of the season, a 79-75 victory over Ulster University, while Griffith College Éanna managed to see off Flexachem KCYMS in overtime, 98-92.
In the only InsureMyVan.ie Super League fixture played on Sunday, Maigh Cuilinn recorded an 87-78 home victory at home to UCC Demons at the Kingfisher Sports Arena.
MissQuote.ie Division One
After suffering a dismal first-half in which they managed just 19 points, St Paul's found themselves 11 adrift of a Phoenix Rockets team that was inspired by Aaliyah Rice who amassed 30 points by the close of proceedings.
But the table toppers, who were missing the influential Lorraine Scanlon, regrouped at the break and, with Khiarica Rasheed (19 points), Rheanne O'Shea (17), Sofia Paska (16) and Leah McMahon (10) all making an impact, they manage to force overtime and prevail by two to extend their winning start to six games.
"It was a game that could have gone either way" admitted St. Paul's Head Coach, James Fleming.
"We've played Phoenix four times and three of those games have gone to overtime, and the other time we beat them by a point, so it stands at two-all.
"They're just two teams that match up well against each other, so it was always going to be close. and it was great, because we needed a game like that to get back after our cup defeat" he said.
St. Paul's next opponents, Templeogue saw their unbeaten start in the league draw to an end at the hands of second-place, Limerick Sport Huskies who carded an 88-74 win.
The visitors to the UL Arena were caught cold in the second quarter as Huskies, who were inspired by Scout Frame's huge 32-point haul on the night, outscored them by 21 to take a 14-point lead into the second half and that ultimately proved the difference in this encounter.
McEvoy's Cavan Eagles had 20 points to spare in their encounter with Moy Tolka Rovers as they ran out 52-72 winners.
Emillia Sexton Pinon, Emma Tolan and Destiny Robinson combined for 41 points for the visitors that helped counter the effect of Tolka's heavy hitters, Bria Dent (16) and Tazsa Xynique (15).
Abbey Seals Dublin Lions hit the century in a 100-81 win over Marble City Hawks with Sydney Kin lighting the way for the Clondalkin side with her huge 33-point haul and 19 rebounds.
Team mate, Sophia Widmeyer also made her presence felt with an impressive 25 points and 12 rebounds while Caoimhe Gilligan netted 15.
Oblate Dynamos finally got off the mark in Division One as they earned a 91-80 point victory in overtime against fellow strugglers, SETU Carlow.
Sophie Staunton and Alarie Mayze did much of the heavy lifting in offence for the Drimnagh team as they chalked up 28 and 23 points respectively.
Wrapping up this week's set of MissQuote.ie Division One fixtures, iSecure Swords Thunder produced a big third-quarter display to surmount the challenge of Limerick Celtics on a scoreline of 76-63, with Jasmine Walker and Jensen Caretti each chalking up 19 points.
InsureMyVan.ie Division One
In the InsureMyVan.ie Division One, Kavanagh's Portlaoise Panthers suffered their first reversal in league action this season after they went down 106-101 in an epic encounter with Moy Tolka Rovers.
Jack Scully's side saw the 16-point advantage they had carved out by the halftime recess wiped out two minutes into the final quarter as the hosts drew level.
And further scoring over the closing five minutes from Elijah Faapito, Jala Davis and Daniel Ayoade propelled Tolka to a dramatic win.
Michael Wallace top scored on 27 points as SETU Carlow beat Joels Dublin Lions 104-66.
"We're playing really good basketball the last few weeks" said SETU Carlow Head Coach, Martin Conroy.
"We were expecting a stern test from Lions, they're a good team, but, with the way we're playing at the moment, it's going to be very difficult for a team to beat us.
"We're working hard to play that standard of basketball. We've some great players and there's a great team ethic there. The guys are working well together" he said.
Mater Private Malahide are among the chasing pack as they made a bright start count in their clash with Team NorthWest to emerge 83-77 victors, with Matthew Harper and BB Chuks-Mady combining for 44 points.
Drogheda Wolves returned home from Belfield celebrating a 70-79 victory over UCD Marian.
The Louth side mounted a fourth-quarter surge that saw them outscore the Dubliners by 12 with Adam Mulally emerging their top scorer on 26 points.
Titans kept Killarney Cougars rooted to the foot of the table after they weathered a severe challenge to edge a narrow 80-82 point victory at Presentation Gym.
Darius Hopkins was on fire for Killarney, hitting 41 points, while Ryan Sanders contributed 25, but even their efforts were not enough to see them surmount Titans who relied heavily on Jackson Soper and Samuel Mensah, both players bagging 25 apiece.
Limerick Sport Eagles saw off SETU Waterford Vikings 97-80 as Kealan Coats and Dakquan Davis combined for 52 points, while Braden Bell's haul of 30 went a long way to seeing Scotts Lakers Killarney record a 90-77 triumph over Limerick Celtics.
Results
MissQuote.ie Super League
Saturday November 18th
University of Galway Mystics 75 - 61 Portlaoise Panthers
Pyrobel Killester 94 - 71 Ulster University
FloMAX Liffey Celtics 84 - 75 Catalyst Fr. Mathews
Sunday November 19th
DCU Mercy 48 - 80 SETU Waterford Wildcats
The Address UCC Glanmire 74 - 68 Trinity Meteors
InsureMyVan.ie Super League
Saturday November 18th
Belfast Star 95 - 66 Templeogue
Energywise Ireland Neptune 83 - 93 Garvey's Tralee Warriors
Bright St. Vincents 79 - 75 Ulster University
Maree BC 83 - 69 Irish Guide Dogs Ballincollig @MTU
Flexachem KCYMS 92 - 98 Griffith College Éanna
EJ Sligo All-Stars 93 - 76 Pyrobel Killester
Sunday November 19th
Maigh Cuilinn 87 - 78 UCC Demons
MissQuote.ie Division One
Saturday November 18th
St. Pauls Killarney 73 - 71 Phoenix Rockets
Limerick Sport Huskies 88 - 74 Templeogue
Moy Tolka Rovers 52 - 72 McEvoy's Cavan Eagles
Abbey Seals Dublin Lions 100 - 81 Marble City Hawks
Oblate Dynamos 91 - 80 SETU Carlow
Sunday November 19th
iSecure Swords Thunder v Limerick Celtics
InsureMyVan.ie Division One
Saturday November 18th
SETU Carlow 104 - 66 Joels Dublin Lions
UCD Marian 70 - 79 Drogheda Wolves
Mater Private Malahide 83 - 77 Team NorthWest
Killarney Cougars 80 - 82 Titans BC
Limerick Sport Eagles 97 - 80 SETU Waterford Vikings
Moy Tolka Rovers 106 - 101 Kavanagh's Portlaoise Panthers
Scotts Lakers Killarney 90 - 77 Limerick Celtics
Fixtures
MissQuote.ie Super League
Saturday November 25th
University of Galway Mystics vs Catalyst Fr. Mathews, Kingfisher Sports Arena, 1600
SETU Waterford Wildcats vs Portlaoise Panthers, Mercy Gym, 1700
Ulster University vs The Address UCC Glanmire, Jordanstown Sports Village, 1715
Trinity Meteors vs DCU Mercy, Trinity College, 1730
Sunday November 26th
Gurranabraher Credit Union Brunell vs FloMAX Liffey Celtics, Gurranabraher Credit Union Arena, 1445
InsureMyVan.ie Super League
Friday November 24th
UCC Demons vs Garvey's Tralee Warriors, Mardyke Arena, 1930
Saturday November 25th
Irish Guide Dogs Ballincollig @MTU vs Flexachem KCYMS, MTU Arena, 1600
Pyrobel Killester vs Ulster University, IWA, 1800
Belfast Star vs Energywise Ireland Neptune, De la Salle College, 1830
Griffith College Éanna vs Bright St. Vincent's, Coláiste Éanna, 1900
Templeogue vs EJ Sligo All Stars, Nord Anglia International School, 1930
Sunday November 26th
Maigh Cuilinn vs Maree, Kingfisher Sports Arena, 1500
MissQuote.ie Division One
Saturday November 25th
McEvoy's Cavan Eagles vs Limerick Celtics, Virginia Show Centre, 1700
Templeogue vs St. Paul's Killarney, Nord Anglia International School, 1700
iSecure Swords Thunder vs Moy Tolka Rovers, ALSAA, 1730
Marble City Hawks vs Oblate Dynamoes, O'Loughlin Gaels GAA Club, 1900
Sunday November 26th
Abbey Seals Dublin Lions vs SETU Carlow, Coláiste Bríde, 1600
InsureMyVan.ie Division One
Saturday November 25th
Team Northwest vs SETU Carlow, ATU, 1700
Moy Tolka Rovers vs SETU Waterford Vikings, Tolka Rovers Sports Complex, 1800
Killarney Cougars vs UCD Marian, Presentation Gym, 1900
Kavanagh's Portlaoise Panthers vs Limerick Sport Eagles, St. Mary's Hall, 1900
Drogheda Wolves vs Titans BC, Ballymakenny College, 1930
Sunday November 26th
Limerick Celtics vs Mater Private Malahide, Crescent College, 1515