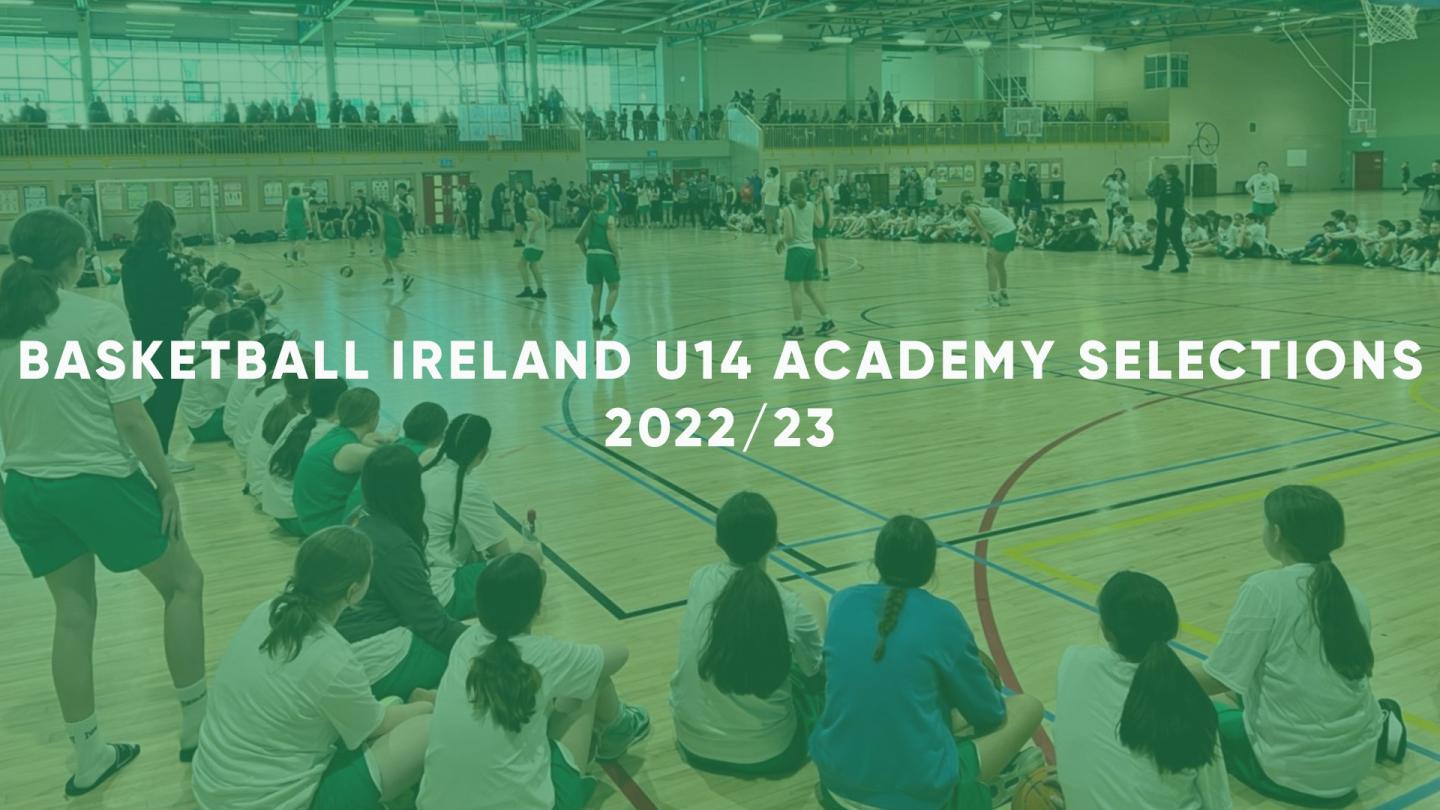 Oct 12 2022
Basketball Ireland U14 boys academy programme selections confirmed following trial days
The players for the 2022-2023 Basketball Ireland U14 Boys Academies have been selected, and can be viewed at the bottom of this page. Basketball Ireland wishes to thank all players that attended the Talent Identification Sessions, especially for the effort made by each and every player in the sessions.
Academy place confirmation and registration
If you wish to accept the place on the academy, please follow this link to fully register. It is very important that you complete all required fields and check information is correct.
With 400 players at this age group across the country we rely on information being correct on the database
---
If you do not wish to take up this place in the academy, please let us know by completing this quick form so we can give the place to someone else.
To confirm your child does not wish to attend the academy:
---
To focus fully on running the academy, we need to cut down on email traffic so for this coming season all information will be published on the Basketball Ireland website via the Academy page which can be found here:
Basketball Ireland Academy Page
---
All information on the coaching staff, session calendar, gyms and times will be available here as well as a section with parent's updates. Any information for parents will appear here as it is updated. Any email sent out will be viewable there as well so you can refer to them for answers before asking questions.
We expect to have all session times and venues up on the website well in advance of the weekends but for anything not on the website the head coach will be the first point of contact.
Email addresses for head coaches are on the website in the coaches' section on the academy page of the website.
If there are last minute changes coaches will contact parents by email, but we hope this is not be required.
Please make it a habit to always check the session details on the website before travel.
Once again we have an excellent group of coaches with a lot of experience, enthusiasm and knowledge in order to raise the standard of coaching and playing.
Under the academy head coaches Martin McGettrick and Ciaran O'Sullivan, the regional head coaches and their staff will be coaching from a syllabus put together to improve the standard of the players and give them the knowledge they will need to play basketball at an elite level. Included in the U14 staff there are a number of current or former international coaches along with many coaches with assistant coach experience at this level so the players are learning from the very best.
Below you will see the confirmed players selected to each Academy along with a code next to each player.
Please use this code along with the players' names for communication especially when it comes to online payments.
The payment system will be sent out by email and put on the website in the coming weeks once we get registrations completed.
The cost of Academy is €220 for the year up until the end of May which includes the players academy vest.
As already communicated, we do intend to hold a two day, one night camp which will be optional but will carry an extra charge, we are trying to secure a new venue and once that is finalised we will communicate this.
Communications
To make sure all issues are covered, and we are able to answer any questions quickly please check the academy pages on the website for all information first before sending emails.
If the answer is not there and it is about a training session or confirming you cannot make something please communicate to the head coach of your regional academy.
List of Head Coach emails is on the coaches' section of the academy website page.
If you have a payment question once we send out details them please contact BI accounts through Michelle Dermody mdermody@basketballireland.ie
For general questions that are not answered on the website and don't relate to any of the above please contact Matthew Hall mhall@ireland.basketball for Regional Academy questions.
Basketball Ireland U14 Boys Academies 2022-2023: Player Selection
Basketball Ireland Academy Scholarship Application Process
Deadline for applications 21st of October 2022.
For the first time, Basketball Ireland are able to offer scholarships for the academy.
There are 26 Elite scholarships that will be awarded at the end of the year based on coaches feedback on players from the under 14 and under 15 age groups.
We also have 22 full scholarships for economically disadvantaged families to be shared across the under 14 age group with a further 14 being available to the under 15 age group. These may be split into some half scholarships depending on circumstances and the number of worthy applications we receive.
The idea behind these scholarships is to ensure that no talented basketball players miss out on joining the academy due to the financial requirements involved. Our aim is to help financially those most in need of assistance, so we hope parents will apply in confidence if help is required.
The deadline for applications is 21st of October and we will reply to all applications to confirm if you are successful or not no later that Wednesday 26th of October.
We will be sending out payment details to all those that have registered on the academy as soon as possible after this date.
Applications are by way of form only.
U14 Boys | North West
Players Name
Region
Club/School
Code
Conor
Murray
Northwest
Carrick Cruisers
NWB1
Sean
Keaney
Northwest
Carrick Cruisers
NWB2
Jack
Kelly
Northwest
Carrick Cruisers
NWB3
Euan
Smith
Northwest
Letterkenny Blaze
NWB4
Ryan
Cranwell
Northwest
Letterkenny Blaze
NWB5
John
Mcloughlin
Northwest
Letterkenny Blaze
NWB6
Isaac
Murphy
Northwest
Letterkenny Blaze
NWB7
Jack
Mc Laughlin
Northwest
Letterkenny Blaze
NWB8
Thady
Barrett
Northwest
Letterkenny Blaze
NWB9
Erik
Nwankwo
Northwest
Letterkenny Blaze
NWB10
Noah
Beales
Northwest
Northstar BC
NWB11
Alfie
Lavelle
Northwest
Sligo All Stars
NWB12
Manus
Mcmanus
Northwest
Sligo All Stars
NWB13
James
Lineen
Northwest
Sligo All Stars
NWB14
Diarmuid
Whelan
Northwest
Sligo All Stars
NWB15
Diarmuid
Clarke
Northwest
Sligo All Stars
NWB16
Evan
Barrett O'Neill
Northwest
Sligo All Stars
NWB17
Oliver
Ettery
Northwest
Sligo All Stars
NWB18
Jack
Glenister
Northwest
Sligo All Stars
NWB19
Toby
van Someren
Northwest
Sligo All Stars
NWB20
Thomas
Battle
Northwest
Sligo All Stars
NWB21
Caomhán
Ward
Northwest
Sligo All Stars
NWB22
U14 Boys | South-West
Players Name
Region
Club/School
Code
Timmy
Kennelly
Southwest
Ballybunion Wildcats
SWB1
Luke
Clancy
Southwest
Killarney Cougars
SWB3
Fryderyk
Klimas
Southwest
Limerick Celtics
SWB4
Cian
Cronin
Southwest
Limerick Celtics
SWB5
Cillian
Murphy
Southwest
Limerick Celtics
SWB6
Luke
Moran
Southwest
Limerick Celtics
SWB7
Miguel
Azzopardi
Southwest
Limerick Celtics
SWB8
Dovydas
Venckunas
Southwest
Limerick Celtics
SWB9
Alex
Toth
Southwest
Limerick Lions Basketball Club
SWB10
Jake
Moore
Southwest
Limerick Lions Basketball Club
SWB11
Charlie
Clifford
Southwest
Limerick Lions Basketball Club
SWB12
Yahya
Eltigani
Southwest
Limerick Lions Basketball Club
SWB13
Donnacha
Prendiville
Southwest
St Colmans
SWB14
Jakub
Surzyn
Southwest
St Mary's Castleisland
SWB15
Cian
Cahill
Southwest
St Mary's Castleisland
SWB16
Ronan
O'Connor
Southwest
St Mary's Castleisland
SWB17
Morgan
O'Brien
Southwest
St Paul's Killarney
SWB18
Kieran
Moloney
Southwest
St Paul's Killarney
SWB19
Cillian
O'Leary
Southwest
St Paul's Killarney
SWB21
Rohan
Kirby
Southwest
St.Brendans BC
SWB22
Liam
O Rahilly
Southwest
St.Brendans BC
SWB23
RORY
Bowler
Southwest
St.Brendans BC
SWB24
Daniel
Spring
Southwest
St.Brendans BC
SWB25
Conor
Lynch
Southwest
St.Brendans BC
SWB26
Darragh
O Callaghan
Southwest
St.Brendans BC
SWB27
Fionn
Enright
Southwest
TK Bobcats
SWB28
Ryan
Burke
Southwest
TK Bobcats
SWB29
Adam
O Brien
Southwest
Tralee Magic
SWB31
Odhran
Buckley
Southwest
Wildcats BC
SWB32
Daniel
Tomac
Southwest
Limerick Lions Basketball Club
SWB33
Daniel
Roche
Southwest
Ballybunion Wildcats
SWB34
Charlie
Shire
Southwest
Limerick Celtics
SWB35
Seán Óg
O Connor
Southwest
SWB36
Brian
Horgan
Southwest
Mallow
SWB37
Hubert
Gocek
Southwest
Limerick Celtics
SW38
Gearoid
Buckley
Southwest
St. Joseph's
SW39
Luke
Bambury
Southwest
St. Joseph's
SW40
David
Watson
Southwest
St. Joseph's
SW41
Daryl
Dalton
Southwest
St. Joseph's
SW42
Callum
Cox
Southwest
Killarney Cougars
U14 Boys | South
Players Name
Region
Club/School
Code
Tomàs
Donegan
South
Ballincollig BC
SB1
Issac
Dumitru
South
Ballincollig BC
SB2
Ellis
James
South
Ballincollig BC
SB3
Daithi
Murphy
South
Ballincollig BC
SB4
Éanna
Ó hUrnaí
South
Ballincollig BC
SB5
Darragh
O'Gorman
South
Ballincollig BC
SB6
Zaman
Cole
South
Ballincollig BC
SB7
Evan
O Byrne
South
Ballincollig BC
SB8
Oscar
McMahon
South
Ballincollig BC
SB9
Tom
Conlon
South
Bantry BC
SB10
Sean
Collins
South
Bantry Bc
SB11
James
Cronin
South
Bantry BC
SB12
Emmanuel
Okusanya
South
Blue Demons BC
SB13
Ciaran
Lipiski
South
Blue Demons BC
SB14
Matias
Jezzini
South
Blue Demons BC
SB15
Isaac
O'Neill
South
Blue Demons BC
SB16
David
Owens
South
Cobh Basketball Club
SB17
Aidan
Carney
South
Cobh Basketball Club
SB18
Eoin
Leahy
South
Cobh Basketball Club
SB19
Royce
Lin
South
Fr. Mathews
SB20
Jack
Connlly
South
La Banga
SB21
Charlie
Casey
South
Mallow Basketball Club
SB22
Conor
Carroll
South
Mallow Basketball Club
SB23
Dara
O Donoghue
South
Mallow Basketball Club
SB24
Davin
McKweon
South
Neptune
SB26
Conor
Bree
South
Youghal All Stars BC
SB26
Dara
Brosnan
South
Youghal All Stars BC
SB27
Sam
Lynch
South
Kanturk/demons
SB28
Ryan
Crean
South
Demons
SB29
Alex
Jacewicz
South
Fr. Mathews
SB30
Conor
O'Leary
South
Fr. Mathews
SB31
U14 Boys | West
Players Name
Region
Club/School
Code
Rory
Fahey
West
Annaghdown Vikings BC
WB1
Jamie
McDonnell
West
Annaghdown Vikings BC
WB2
Ethan
Downey
West
Annaghdown Vikings BC
WB3
Conan
Burke
West
Cascaders
WB4
Daniel
Murphy
West
Clare Comets
WB5
Armandas
Pucinskas
West
Clare Comets
WB6
Joshua
Okafor
West
Clarin College
WB7
Sean
Griffin
West
East Galway Celtic
WB8
Conor
Hickey
West
East Galway Celtics
WB9
Noah
Wilbur
West
East Galway Celtics
WB10
Mark
Greally
West
East Galway Celtics
WB11
Nicholas
Ahearne
West
Maree BC
WB12
Daniel
O Shea
West
Maree BC
WB13
Kevin
Freeman
West
Maree BC
WB14
Keelan
Griffin
West
Maree BC
WB15
Leo
Molloy
West
Maree BC
WB16
Jamie
Flaherty
West
Moycullen Basketball Club
WB17
Frank
MC Donagh
West
Moycullen Basketball Club
WB18
Darragh
Kelly
West
Moycullen Basketball Club
WB19
Maciej
Matuszewski
West
Shannon Jest
WB20
Daniel
Janotta
West
Shannon Jets
WB21
Alex
O Sullivan
West
St Josephs The Bish
WB22
Samuel
Hresko
West
Titans
WB23
Daniel
Loughlin
West
Titans
WB24
Conor
Potito
West
Titans
WB25
Liam
Potito
West
Titans
WB26
Miguel
Mercado-Sullivan
West
Titans
WB27
Ciaran
Staunton
West
Titans BC
WB28
Tadas
Bendorius
West
Titans BC
WB29
Sean
Morrison
West
Moycullen Basketball Club
WB30
Dylan
Glancy
West
WB31
James
Durkin
West
Annaghdown Vikings BC
WB32
Tom
Naughton
West
Annaghdown Vikings BC
WB33
U14 Boys | East
Players Name
Region
Club/School
Code
Conor
Doyle
East
Malahide BC
EB1
Harry
Tighe
East
Templeogue BC
EB2
Namanja
Prodanic
East
Dublin Lions
EB3
Joe
Garvey
East
Templeogue BC
EB4
Ghirome
Paat
East
Ongar Chasers BC
EB5
Kevin
Nyan
East
St. Vincent's
EB6
Conor
Murray
East
Templeogue BC
EB7
Karl
Walsh
East
Eanna BC
EB8
Rian
Olwill
East
UCD Marian
EB9
Majas
Razianas
East
EB10
Spyres
Theocharis
East
Dunshaughlin Rockets
EB11
David
Dron
East
Ongar Chasers BC
EB12
Daniel
Brown
East
St. Vincent's
EB13
Deimhne
Murphy
East
UCD Marian
EB14
Leo
Ciobanu
East
BC Tauras
EB15
Peter
Lee
East
Dublin Raiders
EB16
Connor
Naughton
East
Eanna BC
EB17
Daniel
Stewart
East
Dublin Raiders
EB18
Aidan
Bau
East
Oblates BC
EB19
James
Dillon
East
St. Vincent's
EB20
Kevin
Asuncion
East
Ongar Chasers BC
EB21
Rafael
Madeloso
East
Dublin Lions
EB22
Micheal
Kenny
East
Oblates BC
EB23
Bentoy
Monshengwo
East
Ongar Chasers BC
EB24
Sean
Olokun
East
Dublin Lions
EB25
James
Waterhouse
East
UCD Marian
EB26
Finn
Reville
East
Killester BC
EB27
Marc
Villepreux
East
Killester BC
EB28
Ethen
Donaghy
East
EB29
Adam
McCormick
East
Dublin Raiders
EB30
Yude
He
East
John Scotus Secondary School
EB31
Jack
Kelliher
East
Dublin Raiders
EB32
Scott
Egan
East
Malahide BC
EB33
Patryk
Pucek
East
Killester BC
EB34
Lewis
Adjinakou
East
Oblates BC
EB35
Sebastian
Hartas
East
Eanna BC
EB36
Daniel
Lawlor
East
Templeogue BC
EB37
U14 Boys | North
Players Name
Region
Club/School
Code
Kamal
Nour
North
Belfast Phoenix Basketball Club
NB1
Adam
Savage
North
Belfast Star
NB2
Fionn
Marley
North
Belfast Star
NB3
Joe
Devlin
North
Belfast Star
NB4
Jude
O'Carroll
North
Belfast Star
NB5
Layden
O'Neill
North
Belfast Star
NB6
Tom
Ronaghan
North
Blackwater Steelers
NB7
Ignas
Pudenas
North
Blackwater Steelers
NB8
Sean
Phelan
North
Drogheda Wolves
NB9
Senan
Hennessy
North
Drogheda Wolves
NB10
Cormac
Smyth
North
Drogheda Wolves
NB11
Declan
Ehigie
North
Drogheda Wolves
NB12
Ryan
Dowling
North
Drogheda Wolves
NB13
Tomàs
O'Donoghue
North
East Cavan Eagles
NB14
Gabriel
Gormley
North
Magherafelt Titans
NB15
Matthew
Lennon
North
Muckno Lakers
NB16
Josh
Cunningham
North
Newry Fliers
NB17
Kyran
Houlahan
North
Newry Fliers
NB18
Ryan
McKeown
North
Newry Fliers
NB19
Matthew
Allen
North
OLSP, Knock
NB20
Oisin
Holman
North
Phoenix Basketball
NB21
Dallan
Holman
North
Phoenix Basketball
NB22
Rory
Sherry
North
Queens
NB23
Oscar
McNulty
North
Queens
NB24
Finn
Dolliver
North
Queens
NB25
Shane
Kelly
North
Clonaslee
NB26
U14 Boys | South East
Players Name
Region
Club/School
Code
Patrick
McDonnell
Southeast
Kilkenny Stars
SEB1
Samuel
Albertin
Southeast
Kilkenny Stars
SEB2
Marcus
Whittle
Southeast
Baltinglass Bulldogs BC
SEB3
David
Murphy
Southeast
Kilkenny Stars
SEB4
Matthew
Tuohy
Southeast
Kilkenny Stars
SEB5
Odhrán
Prendergast
Southeast
Paulstown BC
SEB6
Adam
Miegoc
Southeast
Clonkeen College
SEB7
Ben
Nolan
Southeast
Carlow BC
SEB8
Fionn
Ryan
Southeast
Berkeley BC
SEB9
Jack
Murray
Southeast
Kilkenny Stars
SEB10
JayJay
Deasy
Southeast
Kilkenny Stars
SEB11
Kuzey
Emem
Southeast
Wexford BC
SEB12
Lucas
Duggan
Southeast
Kilkenny Stars
SEB13
Owen
Killen
Southeast
Kilkenny Stars
SEB14
Kajus
Cerikas
Southeast
Kilkenny Stars
SEB15
Karl
Mullen
Southeast
Kilkenny Stars
SEB16
Liam
O'Gorman
Southeast
Old Leighlin BC
SEB17
Ajay
Nolan
Southeast
Berkeley BC
SEB18
Sean
Kelly
Southeast
South Tipp Titans
SEB19
Noah
Coughlan
Southeast
Carlow Basketball
SEB20
Shay
Houlihan
Southeast
Tipperary Titans
SEB21
Adam
Prout
Southeast
Tipperary Titans
SEB22
Viktor
Stosic
Southeast
Waterford Vikings
SEB23
Lovro
Ciglar
Southeast
Waterford Vikings
SEB24
Ruadhan
Ball
Southeast
Waterford Vikings
SEB25
Daniel
Kinsella
Southeast
Waterford Vikings
SEB26
Daniel
Brennan
Southeast
Waterford Vikings
SEB27
Justin
Durojaiye
Southeast
Waterford Vikings
SEB28
Seán
Sweeney
Southeast
Baltinglass Bulldogs BC
SEB29
U14 Boys | Midlands
Players Name
Region
Club/School
Code
Einaras
Miltinis
Midlands
Athlone Basketball Club
MB1
Jack
Doran
Midlands
Athlone Basketball Club
MB2
Jayden
Phirei
Midlands
Athlone Basketball Club
MB3
Keelan
Martin
Midlands
Athlone Basketball Club
MB4
Lucas
Zhang
Midlands
Athlone Basketball Club
MB5
Flynn
McEvoy
Midlands
Ballyroan Bluestars
MB6
Caelan
Prendergast
Midlands
Ballyroan Bluestars
MB7
Diarmuid
Fennell
Midlands
Ballyroan Bluestars
MB8
Fionn
O Brien
Midlands
Larrie Birds BC
MB9
Tom
Ryan
Midlands
Larrie Birds BC
MB10
Evan
Mc Wey
Midlands
Ballyroan Bluestars
MB11
Sean
O'Boyle
Midlands
Longford Phoenix
MB12
Seosamh
Mulvihill
Midlands
Longford Phoenix
MB13
Tadhg
Reilly
Midlands
Longford Phoenix
MB14
Christian
McGerr
Midlands
Longford Phoenix
MB15
Cian
Smith
Midlands
North Kildare Eagles
MB16
Senan
O'Brien
Midlands
Portlaoise Panthers
MB17
Ben
Quigley
Midlands
Portlaoise Panthers
MB18
Jim
Hanamy
Midlands
Portlaoise Panthers
MB19
Mark
Fennell
Midlands
Portlaoise Panthers
MB20
Senan
O'Connell
Midlands
Portlaoise Panthers
MB21
Jamie
Connor
Midlands
Tipp Talons BC
MB22
Ciaran
Bonner
Midlands
MB25