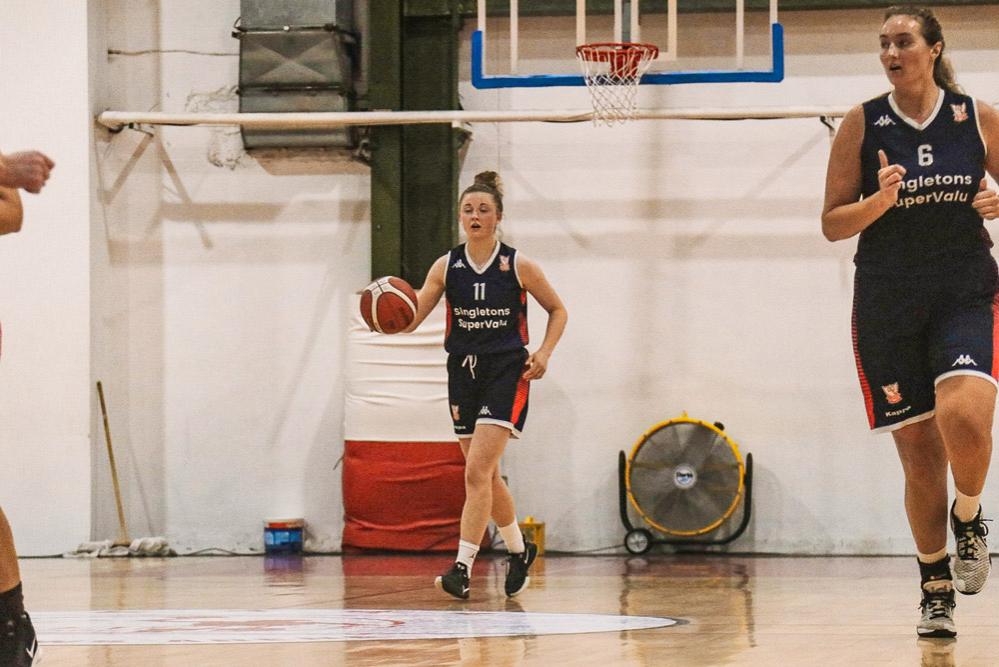 Oct 25 2021
Singleton SuperValu Brunell move to top of MissQuote.ie Super League table - Round 4 Wrap
Singleton Supervalu Brunell have moved top of the MissQuote.ie Super League after defeating defending champions DCU Mercy 71-67 on Monday. Scoring was shared well between Singleton Supervalu Brunell's players, with Kwanza Murray (16 points), Edel Thornton (15), and Kelly Sexton (14) leading the scoring. Bailey Greenburg picked up 25 points for DCU Mercy, followed by Hannah Thornton with 16 points.
Despite the win, Singleton Supervalu head coach Tim O'Halloran was critical of his team's performance. "Look, a great gritty win from the girls, we were not at our best today and cannot keep having single digit quarters, but on the other side it's good to have stuff to improve on."
It completed a fine bank holiday for Singleton Supervalu Brunell, who also registered a 80-67 derby win at Fr. Mathews on Saturday.
Another team who secured two wins this weekend was Killester, who followed up Saturday's overtime 84-80 victory over The Address UCC Glanmire, with a 99-93 home success over Fr. Mathews on Bank Holiday Monday. Fr. Mathews are yet to pick up a win so far this season, but fought to the death in this contest, with notable performances from Gráinne Dwyer (38 points) and Shannon Brady (25). However Killester's offensive trio of Mimi Clarke (29 points), Shannon Powell (28), and Myah Taylor (22) proved too strong for Fr. Mathews.
"That was a really tough win. Like a lot of teams around the league at the moment, we had to battle through injuries and illnesses today. Fr. Mathews are so much better than their record reflects. Gráinne Dwyer was incredible, she showed exactly why she is one of the best to ever do it in this league. We knew they'd come out playing like their lives depended on it today. They went up 11 in the 2nd quarter but we caught fire from 3 to end the quarter and start the 3rd. That gave us a lead we never gave up. It really felt like a proper team effort and one I'm very proud of the girls for. We're now focusing on rest, recovery and a few really important training sessions before the National Cup game next weekend" said Killester head coach Karl Kilbride after the game.
The pair of victories will give Killester major confidence ahead of this weekend's InsureMyHouse.ie Paudie O'Connor National Cup round 1 contest against The Address UCC Glanmire.
Leixlip Amenities Liffey Celtics had just one fixture this weekend, following the postponement of their Saturday fixture against IT Carlow Basketball, but they made sure their presence was known once again in the league on Monday, when they clinched a 77-74 home win over The Address UCC Glanmire.
Leixlip Amenities Liffey Celtics head coach Yiannis Liapakis was particularly proud of his team's efforts. "First of all, it wasn't a pretty game, but it was a very exciting game to watch! The first five minutes we started very aggressively and executed our game plan very well, then in the next 15, The Address UCC Glanmire came back and balanced the game. Unfortunately we didn't start the same on the 3rd quarter and we ended up 16 points behind. At that point we changed our defence to zone and The Address UCC Glanmire didn't have an answer. Especially in the 4th quarter we did amazing job on defence and we allowed them to score only three baskets, of which one of them was at the last second of the game. Offensively Ciara Bracken had an amazing game today, but the most important thing was our defence in the last 15 minutes of the game. We showed character and mentally refused to lose and give up, even when we were down by 16 points. I'm very proud of my players and if we continue fighting and playing that kind of defence, and refuse to lose, then the future will be bright." he said.
Ciara Bracken did indeed have an exemplary offensive performance, scoring a third of her team's total, with 26 points. Adrienne Jackson had 21 points for Leixlip Amenities Liffey Celtics, while Áine O'Connor and Alexis Dillard scored 11 each. Gianna Smith again put in a bright performance for The Address UCC Glanmire with 21 points, while Áine McKenna (19), and Carrie Shepherd (14) also made their presence felt, but it was not to be for the Cork side on the day.
Rounding out this set of fixtures was Team Garvey's St. Mary's and Trinity Meteors. The Dublin-based Trinity Meteors were seeking to bounce back from their 72-43 defeat at WIT Waterford Wildcats on Saturday, and manged to snatch the victory from home side Team Garvey's St. Mary's on Monday. Trailing by 12 points after the first quarter, Trinity Meteors closed the gap to just four points at half-time. They pushed on in the latter quarters to finish out four ahead, winning 73-69. It was the combined attacking efforts of A'Lexxus Davis (18 points), Rebecca O'Keeffe (16), Dayna Finn (14) that paved the way for Trinity Meteors win in Kerry. Not even the impressive shooting of Le'Jzae Davidson (25 points) and Lorraine Scanlon (19) was enough to turn the tide back in favour of
Team Garvey's St. Mary's. Vinny O'Keeffe, head coach for Trinity Meteors, was proud to see his team bounce back from Saturday's loss. "It was a real character win by the team after our poor performance against Wildcats. Team Garvey's St. Mary's are always a real tough proposition at home, but to have a good team performance and score our highest total of the season so far is very pleasing".
The fixture between WIT Waterford Wildcats and IT Carlow was postponed due a Covid-19 outbreak.
It will be a quick turn-around for some of the teams, as they now must gear up for round one of the InsureMyHouse.ie Paudie O'Connor Cup next weekend. Killester will face The Address UCC Glanmire at home in round one, while Team Garvey's St. Mary's host DCU Mercy. All other Super League teams have received a bye to the quarter-finals.


MissQuote.ie Super League - Round 4 Results
Monday 25th October
Leixlip Amenities Liffey Celtics 77-74 The Address UCC Glanmire
Killester 99-93 Fr. Mathews
Singleton SuperValu Brunell 71-67 DCU Mercy
Team Garvey's St. Mary's 69-73 Trinity Meteors
WIT Waterford Wildcats v IT Carlow (POSTPONED)


InsureMyHouse.ie Paudie O'Connor National Cup - Round 1 Fixtures
Saturday 30th October
Killester BC v The Address UCC Glanmire 1800 (IWA Clontarf)
Team Garvey's St Mary's Castleisland v DCU Mercy 1830 (Castleisland CC)