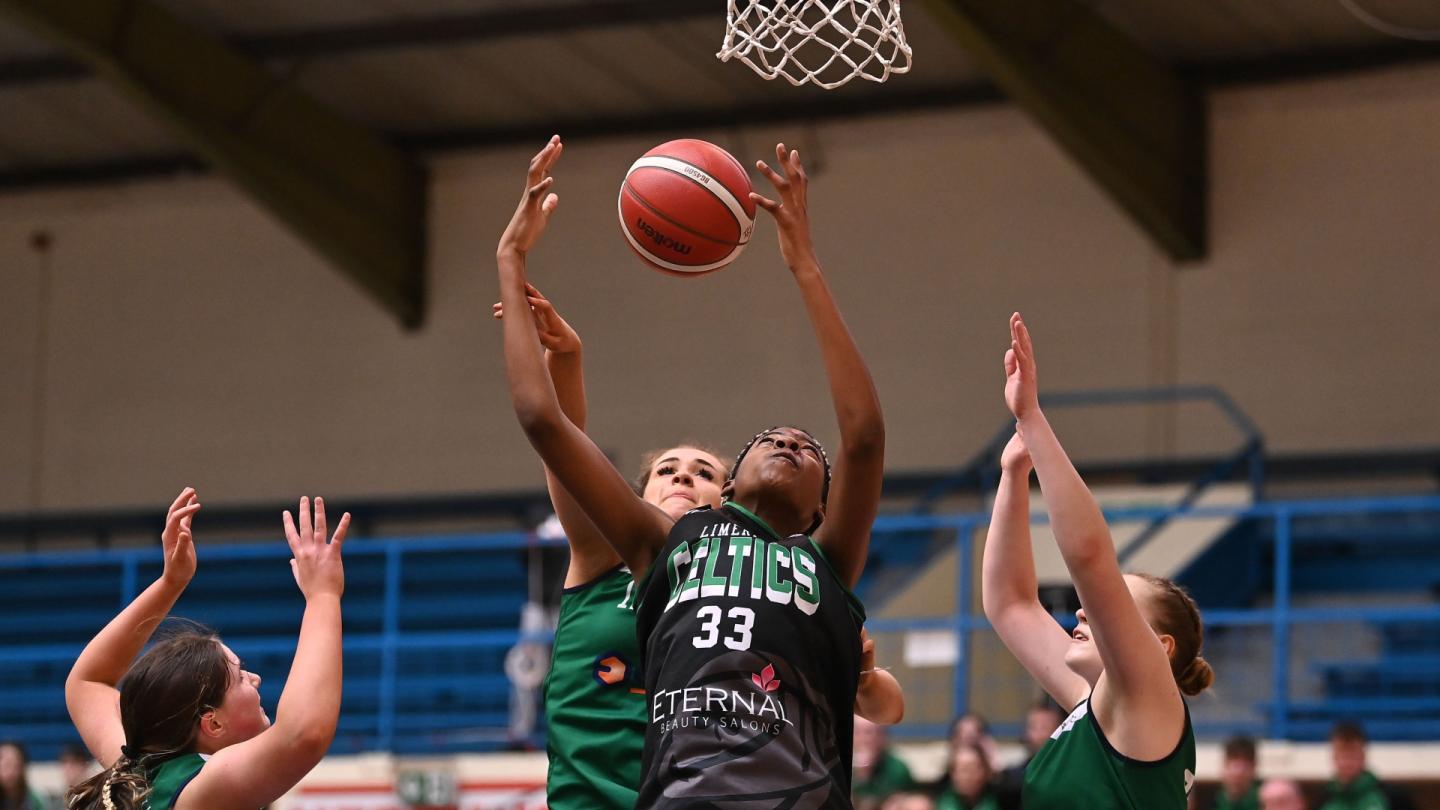 Nov 08 2022
Latest results and all you need to know about qualifying for the InsureMyHouse.ie U18 Women's National Cup
It's another busy weekend of basketball at U18 level, as four qualifying tournaments take place for the InsureMyHouse.ie U18 Women's National Cup.
FORMAT
31 teams competing will play in four tournaments, with two pools in each region. Each team will play one another once as well as a cross pool game in some cases, to determine the top two teams in each group, who will advance to the semi-final stages. The semi-final winners of each qualifying tournament will qualify for the knockout stage of the U18 Women's National Cup, with the tournament finals used to decide seeding.
POOLS
1A - Singleton SuperValu Brunell, Glenbeigh Falcons, Liffey Celtics, Waterford Wildcats.
1B - Kilkenny Stars, Kubs, Cobh, Fr.Mathews.
2A - Belfast Star, Team Kerry Bobcats, Malahide, St. Mary's.
2B - Maree, Glanmire, East Cavan Eagles, Moycullen.
3A - Portlaoise Panthers, DCU Mercy, Templeogue, Drogheda Wolves.
3B - Carrigaline Tigers, Ongar Chasers, Tralee Magic, Killester.
4A - Meteors, Titans, Ballyroan Bluestars, Tullamore.
4B - St. Paul's, Limerick Celtics, Carrick Crusiers.
Pool 1 - Singleton Supervalu Brunell (Parochial Hall)
Saturday, November 12th
Women's Pool 1 - Singleton Supervalu Brunell (Parochial Hall)
10:00
Ct1
Singleton SuperValu Brunell

55-32

(34-14)

Glenbeigh Falcons
Ct2
Liffey Celtics

91-41

(48-25)

Waterford Wildcats
11:30
Ct1
Cobh

35-39

(20-19)

Fr Mathews
Ct2
Kilkenny Stars

48-36

(27-14)

Kubs
13:00
Ct1
Singleton SuperValu Brunell

40-69

(25-33)

Liffey Celtics
Ct2
Glenbeigh Falcons

51-49

(22-25)

Waterford Wildcats
14:30
Ct1
Kilkenny Stars

51-46

(20-30)

Cobh
Ct2
Kubs

41-51

(18-23

Fr Mathews
16:00
Ct1
Singleton SuperValu Brunell

63-46

(44-22)

Waterford Wildcats
Ct2
Glenbeigh Falcons

40-59

(20-29)

Liffey Celtics
17:30
Ct1
Kilkenny Stars

52-48

(26-33)

Fr Mathews
Ct2
Kubs
32-60
(13-24)
Cobh
Sunday, November 13th
Women's Pool 1 - Singleton Supervalu Brunell (Parochial Hall)
Semi Finals
10:00
Kilkenny Stars

52-89

(31-38)

Singleton SuperValu Brunell
Liffey Celtics

73-52

(38-25)

Fr. Mathews
Final
12:00
Centre
Liffey Celtics
67-69
Singleton SuperValu Brunell
Pool 2 - Belfast Star (Methody College & St Malachy's College)
Saturday, November 12th
Women's Pool 2 - Belfast Star (Methody College & St Malachy's College)
09:30
Methody College
Belfast Star

60-37

(30-21)

Malahide
11:00
Methody College
Team Kerry Bobcats

47-44

(19-30)

St Marys
12:30
Methody College
Maree

49-37

(27-26)

Glanmire
14:00
Methody College
East Cavan

53-33

(35-15)

Moycullen
14:15
St Malachy's College
Belfast Star

65-53

(30-28)

Team Kerry Bobcats
15:30
St Malachy's College
Malahide

40-54

(17-36)

St Marys
15:45
Methody College
Maree

60-29

(29-18)

East Cavan
17:00
St Malachy's College
Belfast Star
70-51
(29-34)
St Marys
17:00
Methody College
Glanmire

42-37

(21-15)

Moycullen
18:30
St Malachy's College
Malahide

31-54

(12-28)

Team Kerry Bobcats
Sunday, November 13th
Women's Pool 2 - Belfast Star (St Malachy's College)
09:30
St Malachy's College
Maree
V
Moycullen
11:00
St Malachy's College
Glamire

32-51

(15-21)

East Cavan
Semi Finals
13:00
St Malachy's College
Belfast Star

78-75

(35-41)

East Cavan
14:30
St Malachy's College
Maree
56-63
(25-33)
Team Kerry Bobcats
Final
16:30
St Malachy's College
Belfast Star
75-43
(43-19)
Team Kerry Bobcats
Pool 3 - Portlaoise Panthers (St. Mary's Hall & Portlaoise College)
Saturday, November 12th
Women's Pool 3 - Portlaoise Panthers (St. Mary's Hall & Portlaoise College)
10:00
St. Marys
Portlaoise Panthers
50-30
DCU Mercy
College
Templeogue

81-20

Drogheda Wolves
11:30
St. Marys
Carrigaline Tigers

38-55

(18-26)

Ongar Chasers
College
Tralee Magic

45-54

(24-30)

Killester
13:00
St. Marys
Portlaoise Panthers
55-49
Templeogue
College
DCU Mercy

55-41

(16-22)

Drogheda Wolves
14:30
St. Marys
Carrigaline Tigers
30-63
Tralee Magic
College
Ongar Chasers
V
Killester
16:00
St. Marys
Portlaoise Panthers
43-21
Drogheda Wolves
College
DCU Mercy
64-34
Templeogue
17:30
St. Marys
Carrigaline Tigers
V
Killester
College
Ongar Chasers
V
Tralee Magic
Sunday, November 13th
Women's Pool 3 - Portlaoise Panthers (St. Mary's Hall)
Semi Finals
10:00
St. Marys
Portlaoise Panthers

47-53

(24-22)

Killester
11:30
St. Marys
Ongar Chasers

58-50

(30-19)

Templeogue
Final
13:30
St. Marys
Killester

46-60

(26-31)

Ongar Chasers
Pool 4 - Meteors (Colaiste Iosagain, Stillorgan Road)
Saturday, November 12th
Women's Pool 4 - Meteors (Colaiste Iosagain, Stillorgan Road)
10:00
Meteors

84-31

(45-17)

Tullamore
11:30
St. Paul's

39-109

(15-52)

Limerick Celtics
13:00
Tullamore

37-62

(18-30)

Ballyroan Bluestars
14:30
Limerick Celtics
74-42
(40-21)
Carrick Cruisers
16:00
Meteors

81-42

(45-21)

Ballyroan Bluestars
17:30
St Paul's

36-83

(19-40)

Carrick Cruisers
Sunday, November 13th
Women's Pool 4 - Meteors (Colaiste Iosagain, Stillorgan Road)
Semi Finals
10:00
Meteors

63-38

(31-23)

Carrick Cruisers
11:30
Limerick Celtics

93-45

(50-25)

Ballyroan Bluestars

Final
13:30
Meteors

75-71

(34-38)

Limerick Celtics