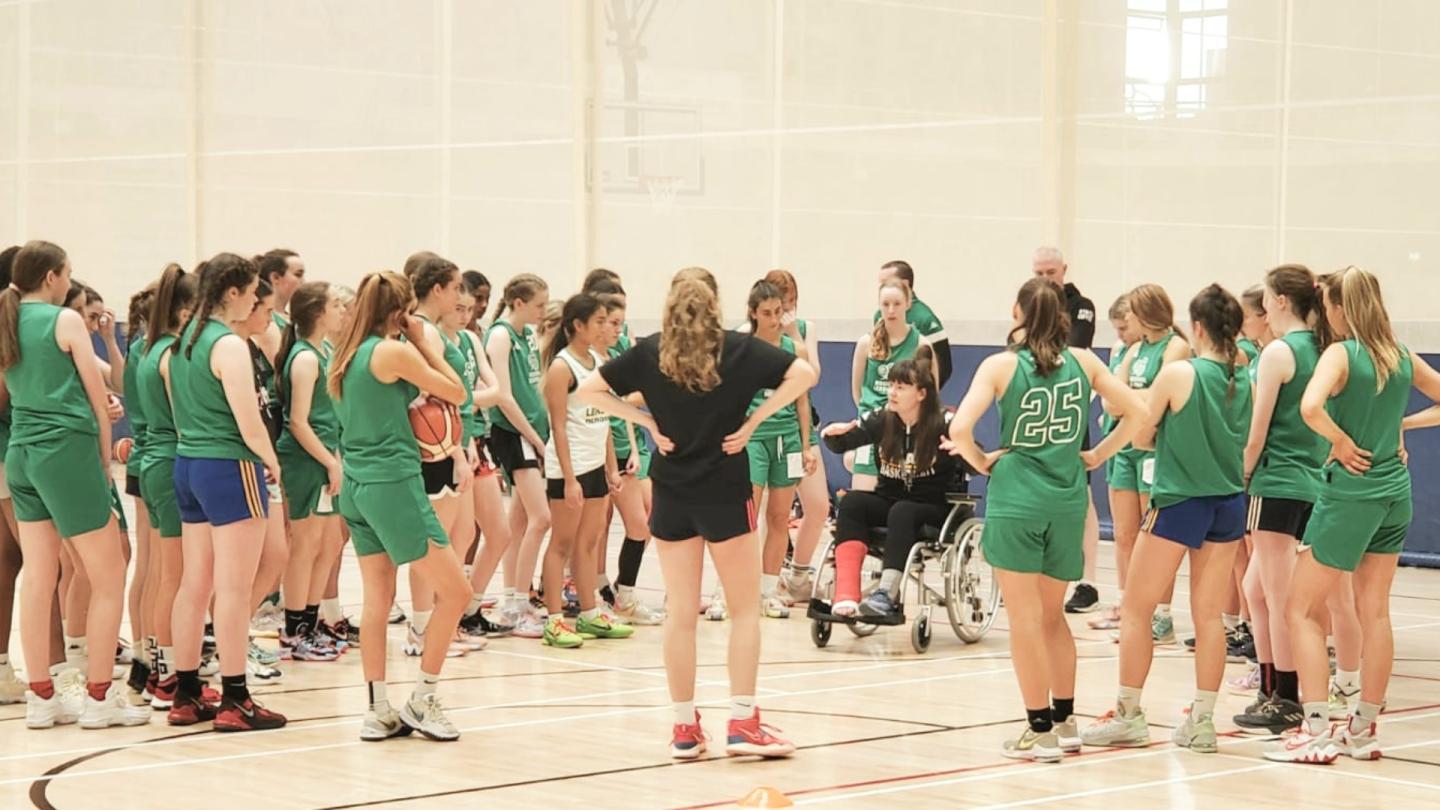 Jan 13 2023
Ireland U16 head coach Laura Mullaly names 19-person squad for upcoming Four Nations Tournament
Ireland U16 women's head coach Laura Mullaly has named a 19-strong squad, as preparations intensify for the Four Nations tournament against England, Scotland and Wales which takes place in Dublin on April 5th and 6th.
Liffey Celtics' Ciara Brogan is the sole remaining player from Andy Gill's roster who competed at this year's FIBA European Championships at this level and will look to put that big game experience to good use in a very young squad. Brogan averaged 3-points, 3-rebounds and 1-steal on 9.9-minutes per game at that event.
Meteors are the best represented club with four selections, Andrea Chrislyn Jude, Helena Keane, Kira Lynch and Ríodhna McGrath. Three players are chosen from Cobh Basketball Club - Clodagh Downey, Francesca Kyamagero and Lucy Walsh, while Kilkenny Stars are double handed in the form of Faye McDonnell and Kaitlyn Summers. Players from 12 clubs have been chosen in the panel, with represetatives from Donegal, Dublin, Louth, Kilkenny, Offaly, Cork, Kerry and Antrim.
Coach Mullaly has selected one American based player for the squad, Sidney Quinn, who hails from Gill St. Bernard's in New Jersey. A 6'3'' forward who will add some size to quite a formidable looking roster.
Speaking about the group, Ireland U16 women's head coach Laura Mullaly said:
"We are very excited about the team selection. We feel we have found the right combination of young ladies who possess a versatile skill set, strong basketball IQ and athleticism to be successful at the international level and importantly, a group who embody team first attitude. We have much work to do, but these women are eager to learn and dedicated to individually and collectively getting better in all ways, so we can prepare for a successful show at the Four Nations Tournament in Tallaght in April"
Ireland U16 Women's Squad For Four Nations Tournament
| | | | | |
| --- | --- | --- | --- | --- |
| First | Last | Club | Position | Height |
| Andrea Chrislyn | Jude | Meteors | Shooting Guard | 5'9 |
| Aoibheann | Donnelly | Belfast Star | Point Guard | 5'6 |
| Ciara | Brogan | Liffey Celtics | Shooting Guard | 5'11 |
| Clodagh | Downey | Cobh | Shooting Guard | 5'9 |
| Farrah | Clack | Dublin Raiders | Forward | 6'0 |
| Faye | McDonnell | Kilkenny Stars | Forward | 5'11 |
| Francesca | Kyamagero | Cobh | Forward | 5'10 |
| Helena | Keane | Meteors | Forward | 5'10 |
| Kaitlyn | Summers | Kilkenny Stars | Point Guard | 5'5 |
| Kira | Lynch | Meteors | Point Guard | 5'7 |
| Lauren | Foy | Ballyshannon 88ers | Forward | 5'9 |
| Layla | Ryan | Drogheda wolves | Point Guard | 5'5 |
| Lucy | O Connor | Tralee Magic | Point Guard | 5'6 |
| Lucy | Walsh | Cobh | Forward | 5'11" |
| Ríodhna | McGrath | Meteors | Shooting Guard | 5'7 |
| Sidney | Quinn | Gill St Bernard's, New Jersey | Forward | 6'3 |
| Sophie | Staunton | Oblate | Forward | 5'11 |
| Úna | O'Brien | Tullamore BC | Shooting Guard | 5'9 |
| Zoe | Egan | Malahide BC | Point Guard | 5'5 |