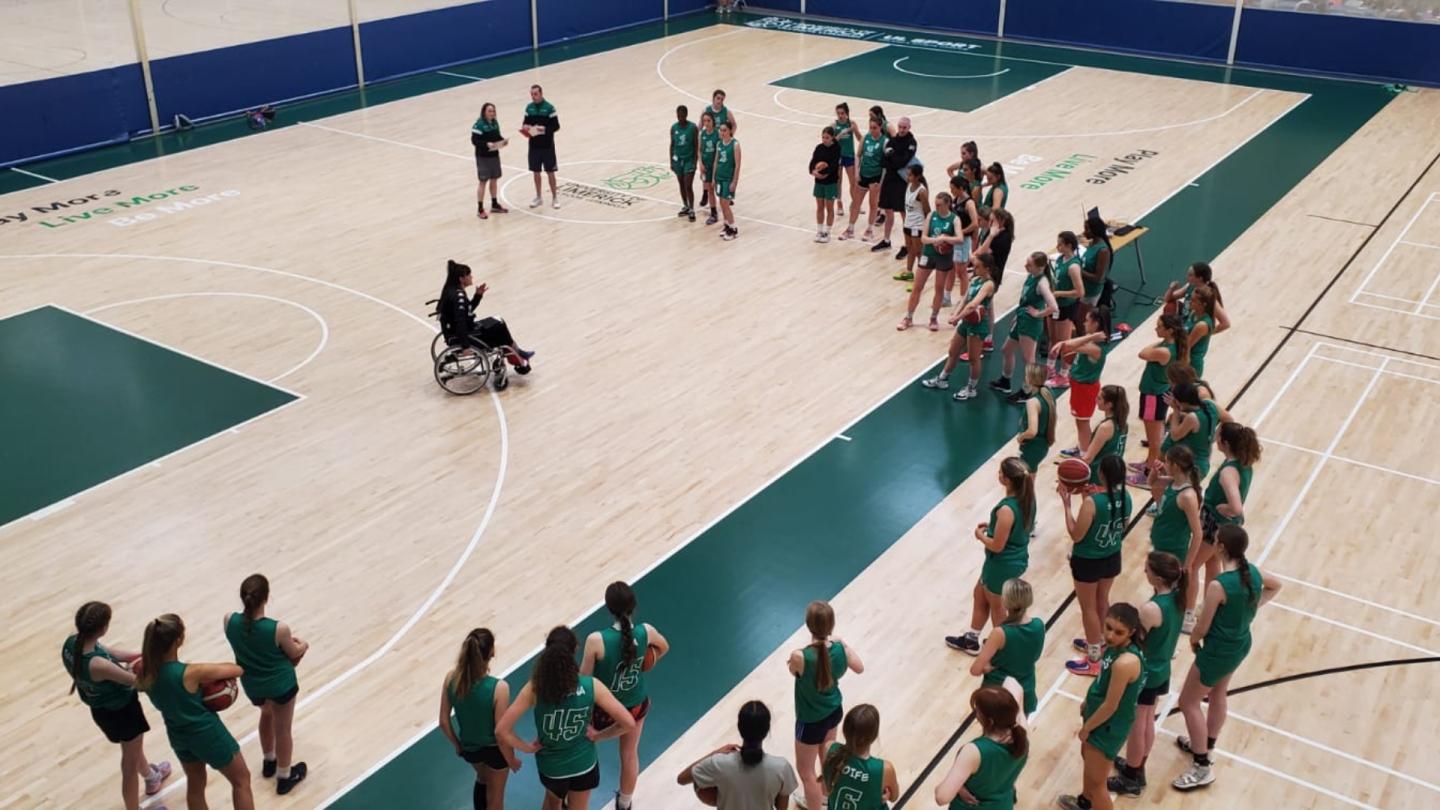 Nov 07 2022
Ireland U16 Women's head coach Laura Mullally selects 32 player squad for 2022/23 season
Ireland U16 women's head coach Laura Mullally is hailing the strong intangibles of the players who attended talent identification sessions, as she names a 32-person squad ahead of the 2022/23 season.
Just one player, Leixlip Amenities Liffey Celtics' Ciara Brogan returns from the Ireland U16 team who competed at this summer's FIBA U16 Women's European Championship in Montenegro, where Ireland finished in 15th place.
The squad features five players who will also be eligible at this level in the 2023/24 season, giving Brunell's Abbie Lyons, Kilkenny Star's Kaitlyn Summers, Francesca Kyamagero and Lucy Walsh of Cobh BC and Lena Zydek from Athlone BC a chance to gather experience and progress to lead the following cycle.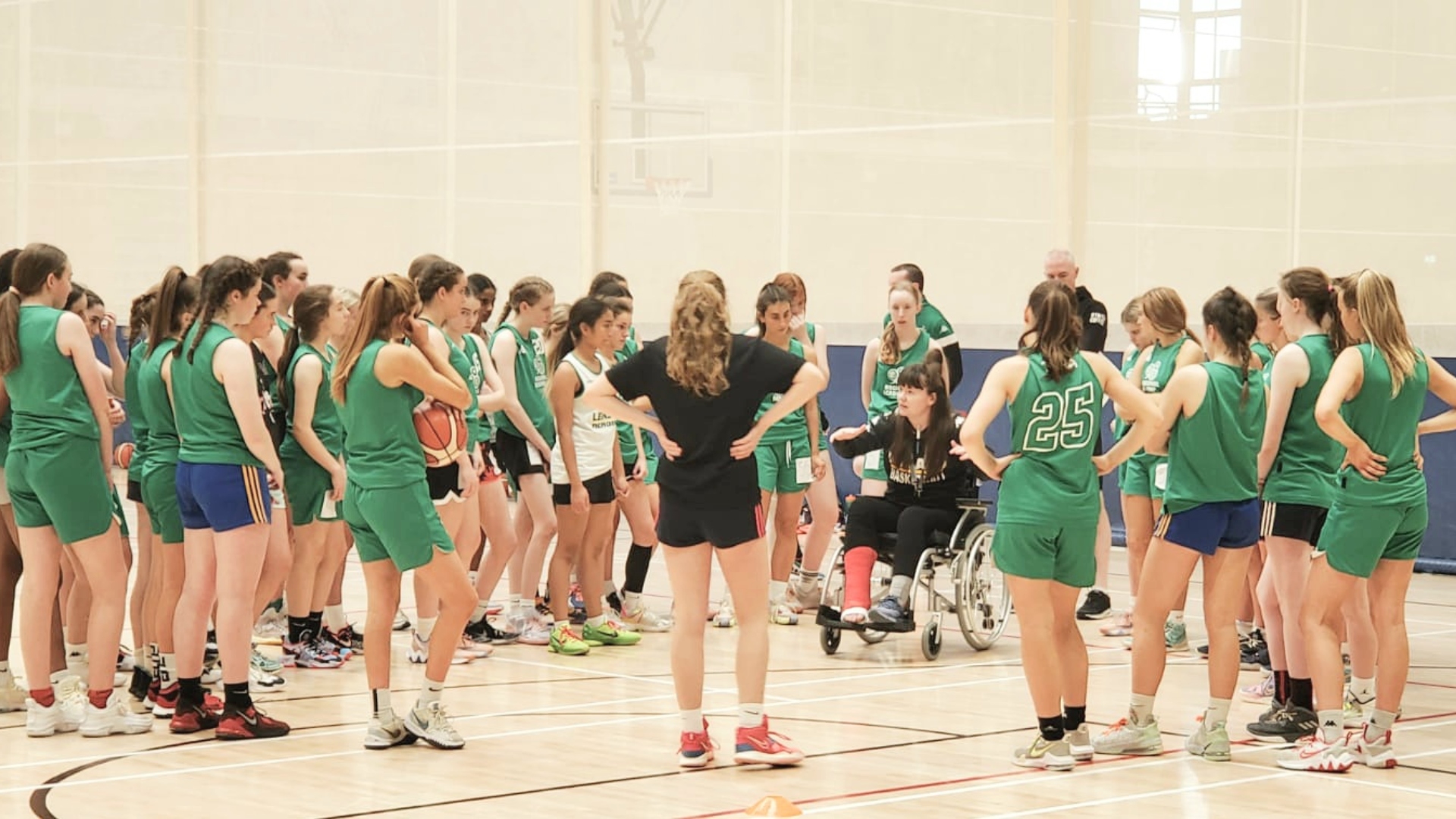 Players pause to take guidence from head coach Laura Mullally. 
Head coach Laura Mullally says the size of the squad, which is larger than originally anticipated, is an example of the fantastic talent which was on show during the talent identification phase:
"The talent, enthusiasm and effort that was on display went above and beyond our expectations - women's basketball in Ireland is truly on the rise. We chose a group of women who are obviously skilled but that we also feel bring important intangibles - versatility, athleticism, competitiveness and excellent basketball IQ. We selected more players than originally planned, this is a testament to all the young ladies who attended our trials, it was a highly competitive environment. We are very excited for the potential growth of this group both as basketball players and women," Mullally added.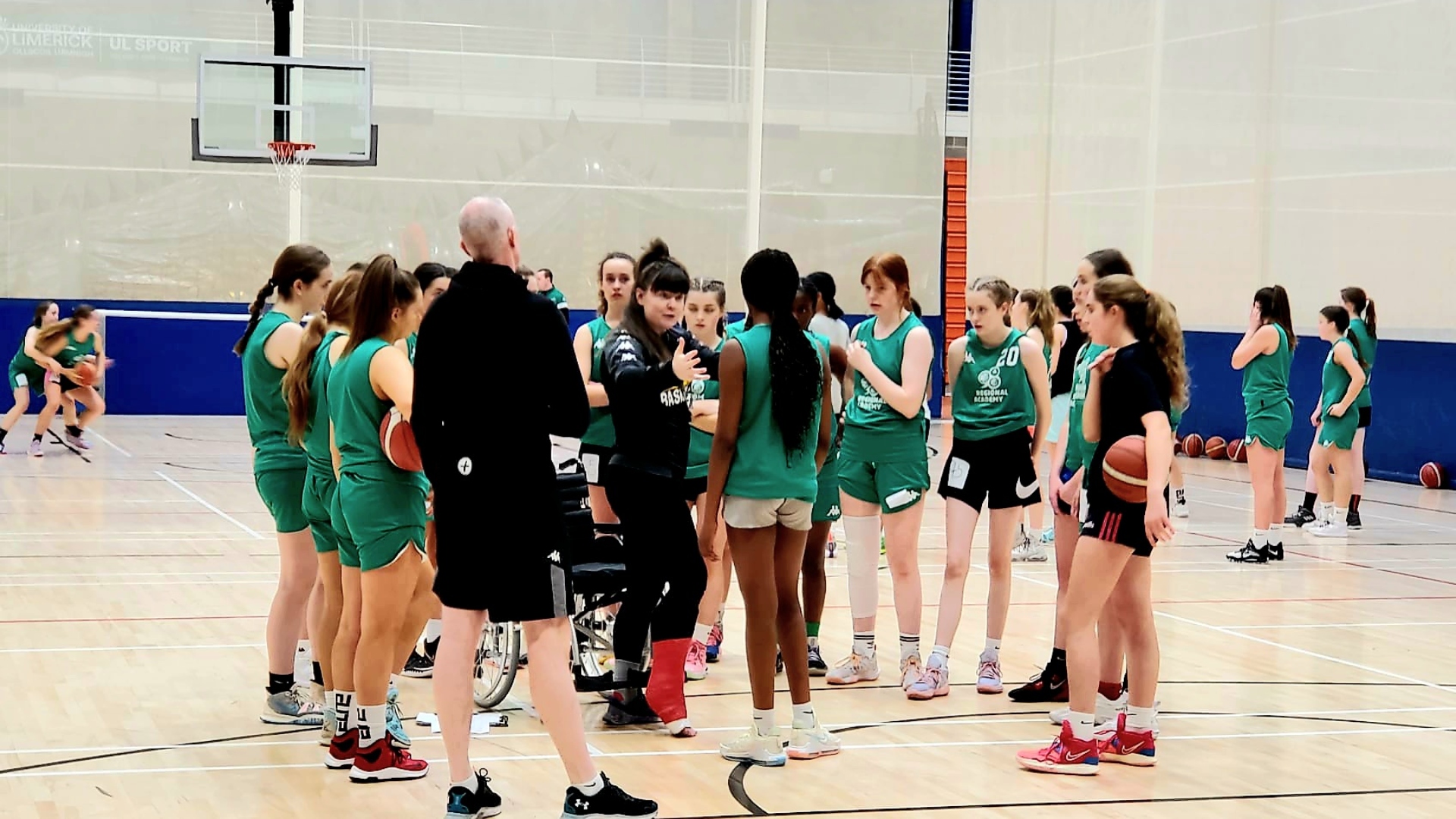 Ireland players being put through their paces at the recent Talent Identification session. 
Ireland U16 Women's Squad 2022/23
| | | | | | |
| --- | --- | --- | --- | --- | --- |
| FIRST | LAST | DOB | CLUB | POSITION | HEIGHT |
| Abbie | Lyons | 2008-10-23 | Brunell | Point Guard | 5'6" |
| Aine | Maguire | 2007-01-03 | Blackwater Steelers | Forward | 5'8" |
| Andrea Chrislyn | Jude | 2007-02-19 | Meteors | Shooting Guard | 5'9" |
| Aoibhín | Connolly | 2007-08-05 | Moycullen | Shooting Guard | 5'7" |
| Chloe | Crean | 2007-07-31 | Malahide Basketball Club | Shooting Guard | 5'4" |
| Chloe | O Driscoll | 2007-11-27 | Glanmire | Shooting Guard | 5'4" |
| Ciara | Brogan | 2007-10-16 | Liffey Celtics | Shooting Guard | 5'11" |
| Clodagh | Downey | 2007-03-05 | Colaiste Pobail Bantry | Shooting Guard | 5'8" |
| Erin | Yumul | 2007-11-01 | Oblates | Point Guard | 5'5" |
| Eunice | David | 2007-01-27 | Athlone | Forward | 5'5" |
| Eva | Iurascu | 2007-06-12 | Ongar Chasers | Point Guard | 5'7" |
| Farrah | Clack | 2007-09-27 | Dublin Raiders | Forward | 6'0" |
| Faye | McDonnell | 2007-08-05 | Kilkenny Stars | Forward | 5'11" |
| Francesca | Kyamagero | 2008-08-16 | Cobh | Forward | 5'9" |
| Helena | Keane | 2007-12-18 | Meteors | Shooting Guard | 6'0" |
| Kaitlyn | Summers | 2008-10-18 | Kilkenny Stars | Point Guard | 5'5" |
| Kate | Burke | 2007-09-06 | Maree | Forward | 5'8" |
| Katie | Tarrant | 2007-03-27 | Cobh | Shooting Guard | 5'7" |
| Kira | Lynch | 2007-09-21 | Meteors | Point Guard | 5'7" |
| Lauren | Foy | 2007-12-03 | Ballyshannon 88ers | Forward | 5'10" |
| Layla | Ryan | 2007-12-27 | Drogheda Wolves | Point Guard | 5'5" |
| Lena | Zydek | 2008-03-08 | Athlone | Guard | 5'10" |
| Lily | Hynes | 2007-12-31 | Moycullen | Point Guard | 5'6" |
| Lucy | Barry | 2007-12-10 | Limerick Celtics | Shooting Guard | 5'6" |
| Lucy | Walsh | 2008-12-19 | Cobh | Forward | 5'11" |
| Mia | McEntee | 2007-09-19 | Dublin Raiders | Shooting Guard | 5'8" |
| Ríodhna | McGrath | 2007-03-11 | Meteors BC | Shooting Guard | 5'7" |
| Roisin | Quin | 2007-11-21 | Belfast Star | Forward | 5'11" |
| Sarah | Power | 2007-03-12 | Killester | Shooting Guard | 5'9" |
| Sophie | Staunton | 2007-03-02 | Oblates | Forward | 5'11" |
| Úna | O'Brien | 2007-05-12 | Tullamore | Shooting Guard | 5'9" |
| Zoe | Egan | 2007-01-21 | Malahide | Point Guard | 5'5" |