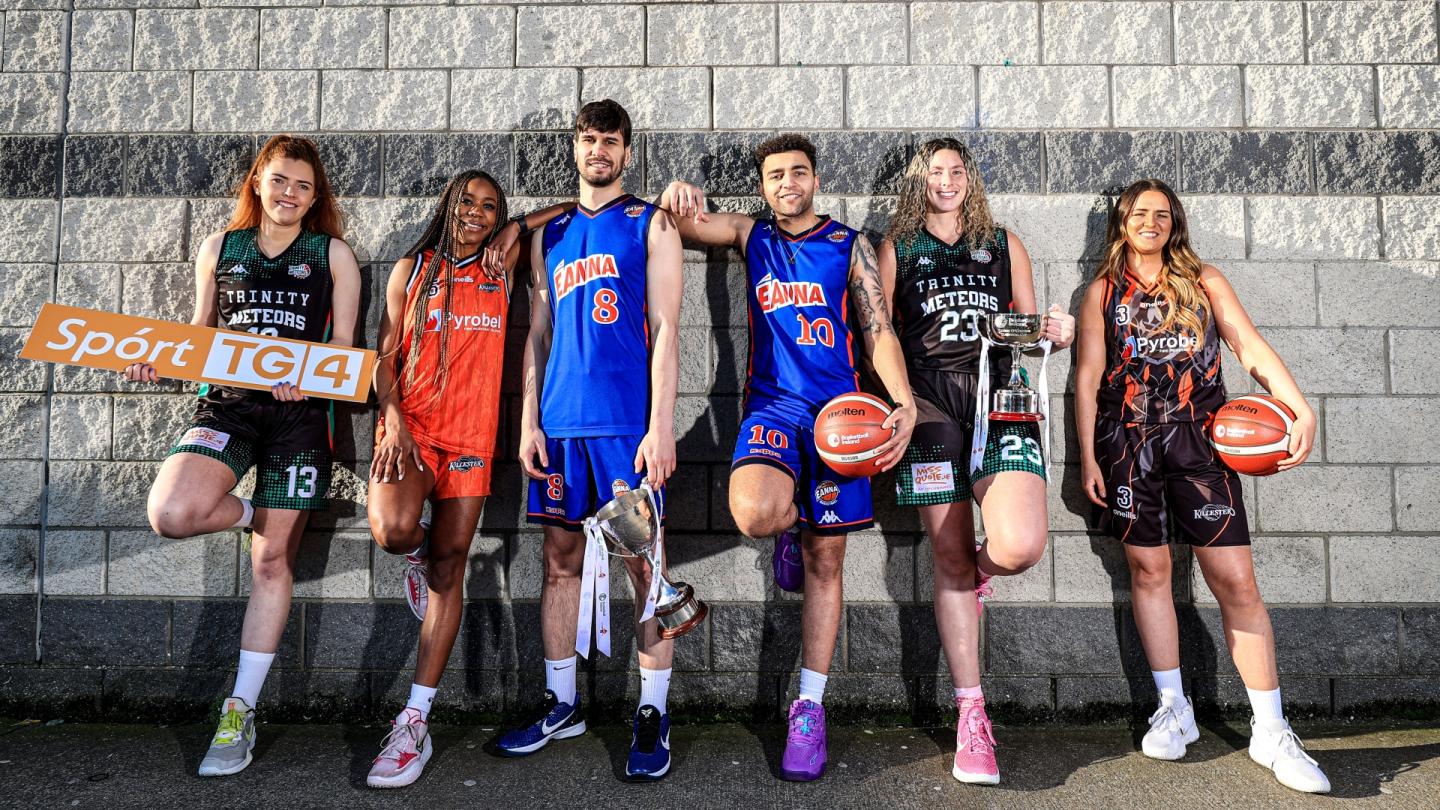 Jan 20 2023
Preview: Teams look ahead to InsureMyHouse.ie National Cup finals weekend
DBS Éanna's Stefan Desnica believes a difficult run to the InsureMyHouse.ie Pat Duffy Cup Final proves their presence in the decider at the National Basketball Arena on Saturday evening is no accident.
Darren McGovern's team knocked off the defending champions Garvey's Tralee Warriors 85-79 in round one, before downing high-flying Cork duo Energywise Ireland Neptune 97-93 and Emporium Cork Basketball 77-71, to set up a meeting with University of Galway Maree. Asked about the importance of that initial win in Kerry, Desnica said: "It helped us realise how good we can be if we stick together and implement the plan our coaches have for us each game. We're excited to be in this spot, I think it'll be a great game and usually in cup finals, it is the best team who comes out on top so I really hope that'll be us on Saturday night."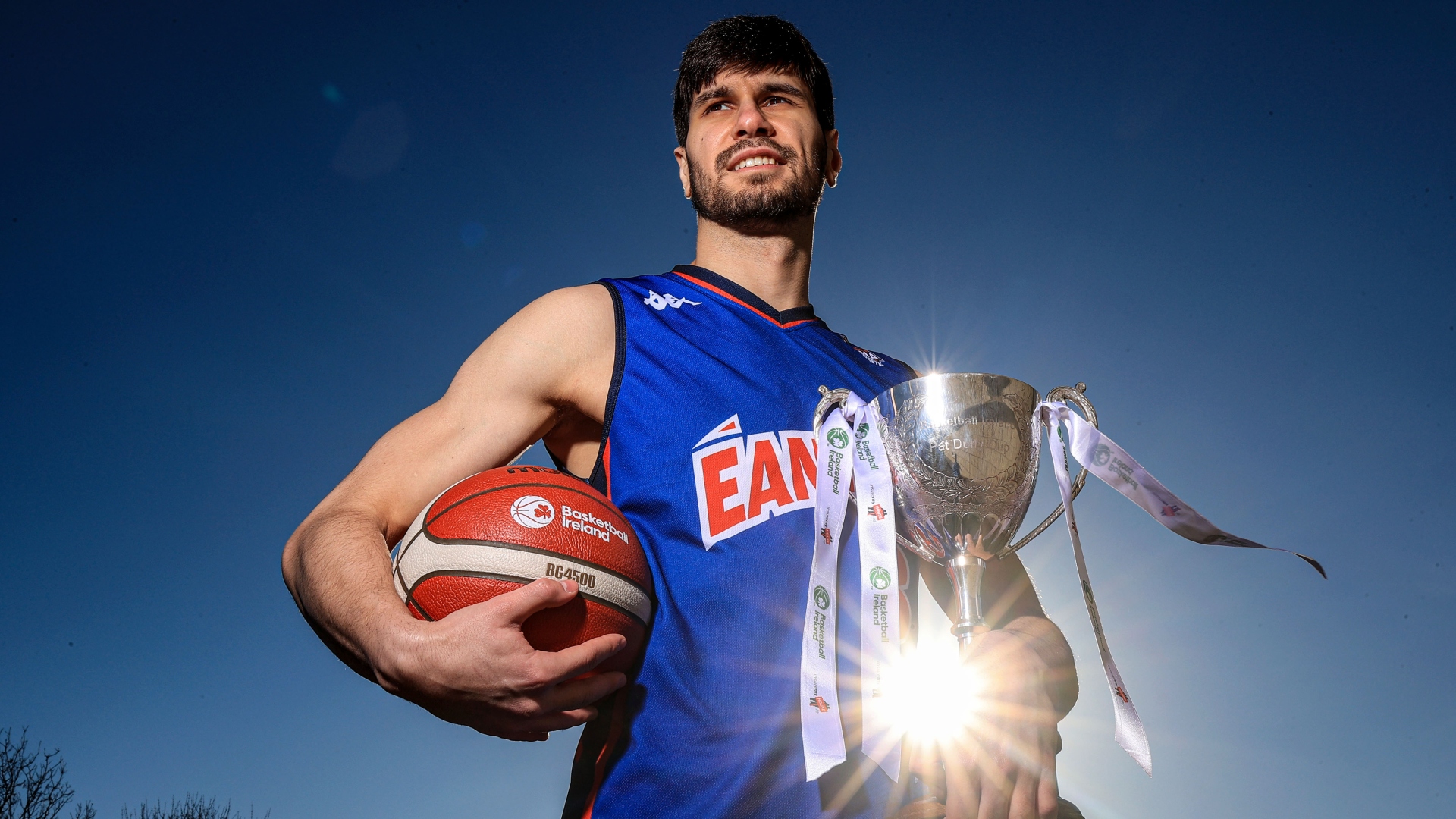 Stefan Desnica of DBS Éanna holds the InsureMyHouse.ie Pat Duffy trophy ahead of Saturday's final. 
University of Galway Maree are contesting their first ever Pat Duffy Cup final, boasting an impressive average winning margin of 14-points in victories over Flexachem KCYMS, Belfast Star and Bright St.Vincent's in the tournament thus far. Not one to get ahead of himself, head coach Charlie Crowley wants to keep things as routine as possible in the build-up: "We're trying our best to treat this as a regular game, even though we all know its not. We've a great group here that have put in the work and it's rewarding for them to be in this position. It's just about channelling that in the right way. We're under no illusions that we will be going into the game as underdogs, but there's 100% confidence in the team that we can get the result that we want," Crowley said.
The InsureMyHouse.ie Paudie O'Connor Cup final pits two teams of varying National Cup pedigrees against one another.
Trinity Meteors haven't lifted the trophy since 1996, but on the back of some very strong off-season recruitment in the form of Irish international Claire Melia and American centre Celena Taborn, head coach Niall Berry appears to have found the perfect formula. The Dublin side have defeated both of last season's finalists, The Address UCC Glanmire and DCU Mercy to reach this stage, giving fans confidence that a 27-year drought might come to an end. Melia is playing in her second final in succession, having taken home MVP honours with The Address UCC Glanmire a year ago. Averaging 15-points per game in the competition to date, she is very wary of the threat posed by opponents Killester: "They've great shooters, Mimi (Michelle Clarke) and Jenna Howe, they've very good post players and their Americans are brilliant and bring a lot of energy. It'll be a very tough game, we played them the third game of the season and we've just gotten close as a team since then, so really looking forward to seeing how we can put it all together on Sunday."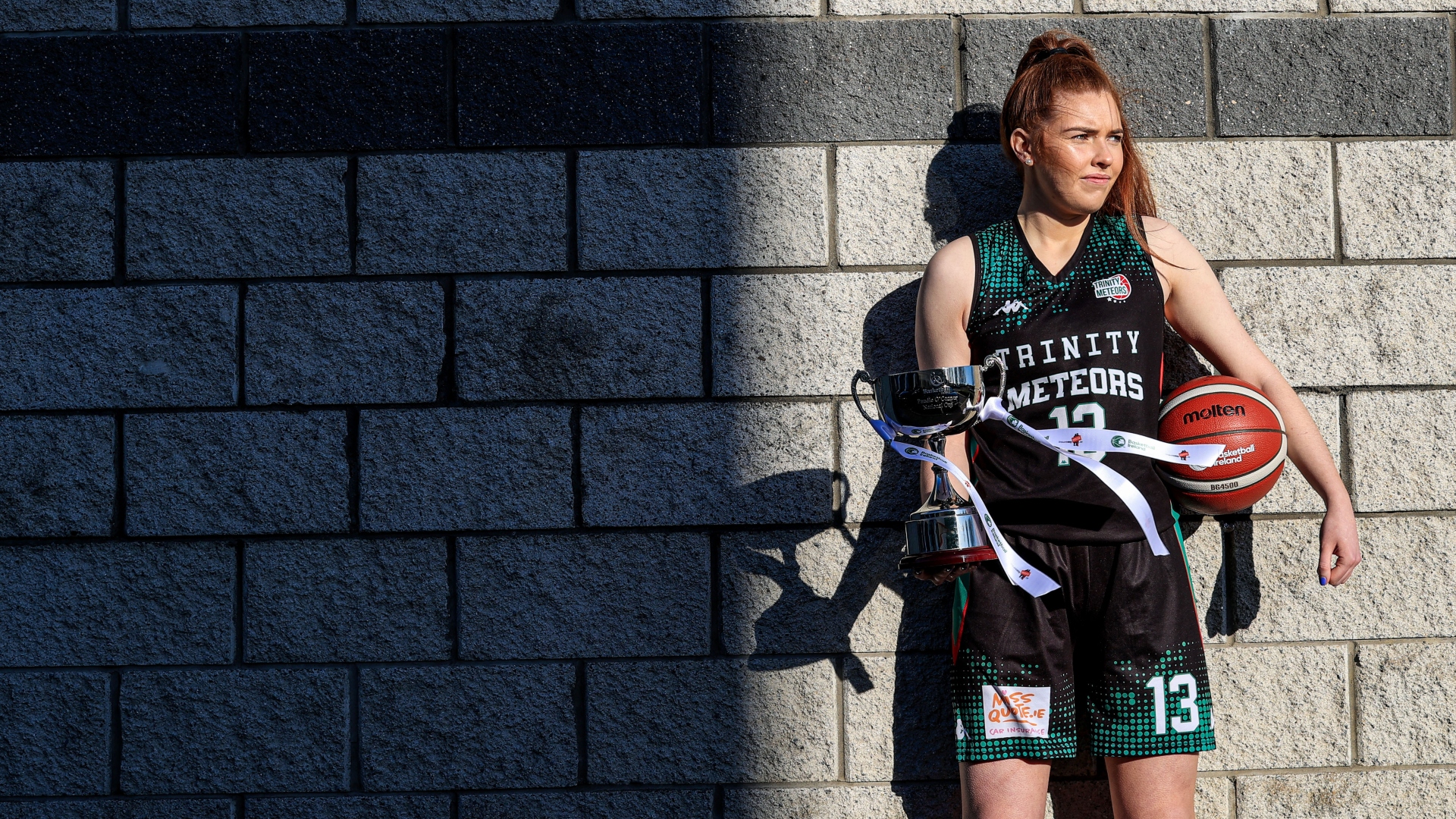 Claire Melia is aiming to claim back to back titles with two different teams. 
Conversely, Killester are no strangers to National Cup glory. Mark Grennell's side returned to Clontarf with silverware as recently as the 2019/20 season, but have dealt with a high turnover of players in the aftermath. They've made an experienced roster count during their run to the final, accounting for a youthful University of Galway Mystics and Waterford Wildcats in earlier rounds. Irish international Michelle Clarke can draw from positive memories of their last trip to the National Cup decider, but she isn't drawing too many comparisons between the 2019/20 side and the current Killester team: "They're very different teams. We've lost so many key players from that year, but the girls have really stepped up so far this season and this is just another challenge we're looking forward to. It should be a really good battle. Two good teams and each one presents a very difficult matchup for the other, so it should lend itself to a really enjoyable game on the court," said Clarke.
Ulster University head coach Ryan McCormick is hailing the 'incredible achievement' by the club in reaching the InsureMyHouse.ie Presidents' Cup Final. UU defeated Killarney Cougars, Portlaoise Panthers and Malahide to reach decider on the back of 'excellent buy-in from the lads and coaching team,' according to McCormick. It could be double delight for the head coach, who had another big celebration in the build up: "This week has already been incredible for me, with the birth of my son on Sunday, so I haven't been with the team for much of the preparation in the lead up. Thankfully I have an amazing wife that is letting me get to the game on Saturday, and an amazing assistant coach in Ciara O'Neill that has prepped the lads and kept the ship sailing smoothly in my absence," he added.
They face Moy Tolka Rovers, who could be dealing with the absence of talisman Matt Treacy, who continues to battle injury. The Dublin side have also endured a testing run to this stage, overcoming Limerick Sport Eagles, Abbey Seals Dublin Lions and last season's beaten Presidents' Cup finalists Drogheda Wolves to reach the showpiece event. Moy Tolka Rovers have a very balanced offensive game, but will be leaning on the experience on veteran Michael Bonaparte to help get them over the line down the stretch.
The InsureMyHouse.ie Women's Division 1 National Cup final features Phoenix Rockets and Miss Quote.ie National League debutantes Abbey Seals Dublin Lions, after both came through incredibly tight matchups at the semi-final stage in Cork.
The Dubliners outlasted St. Pauls Killarney 69-64, following another magnificant shooting display by Amelia Motz. They'd previously beaten Limerick Celtics and Griffith College Templeogue to reach the last four. "Our club is continuing to grow every year and set new standards,' said Lions head coach Rob White. "As a club we are so proud of what the girls have accomplished so far this season and we know they are not done just yet. They put in a lot of work into the training and are a joy to coach. As a team, we are playing the best basketball we could imagine right now and we are really enjoying ourselves. We are playing with absolutely no pressure and will aim have fun and enjoy the big day. Rockets have really set the bar for us all with their recent form. We know they are going to be a very tough opponent. We have prepared very well since the semi final and we will give everything we have to get the result we want,' he added.
Phoenix Rockets fans endured no shortage of drama in their 65-63 comeback win over high-flying Portlaoise Panthers in the semi-finals. Down by double digits for long stretches, Rockets put together one of the all-time great comebacks to make it to the final. "After a slow start in the semi final against Portlaoise the girls dug deep to produce the best comeback of the weekend," said head coach Breda Dick. "Everyone wants to make it to the cup final, it is a great event and the atmosphere is unrivalled. Our motto of 'One Team One dream' has stood to the girls on our current 11-game winning streak. Abbey Seals Dublin Lions are a formidable opponent and we look forward to another great game of basketball in the National Basketball Arena this Saturday," Dick said.
InsureMyHouse.ie National Cup Final Fixtures
Friday, January 20th
Session 1
InsureMyHouse.ie IWA National Cup Final
1800| Rebel Wheelers v Limerick Celtics
InsureMyHouse.ie U18 Men's Billy Coffey National Cup
2015| Limerick Celtics v Templeogue
Saturday, January 21st
Session 2
InsureMyHouse.ie National Intermediate Cup Competition Women's Final
1000| Glanmire BC v Liffey Celtics
InsureMyHouse.ie U20 Women's National Cup Final
1215| University of Galway Mystics v Limerick Sport Huskies
InsureMyHouse.ie Presidents' Cup Final
1430| Moy Tolka Rovers v Ulster University
InsureMyHouse.ie Women's Division 1 National Cup Final
1645| Phoenix Rockets v Abbey Seals Dublin Lions
Session 3
InsureMyHouse.ie Pat Duffy Cup Final
2000| DBS Éanna v University of Galway Maree (LIVE ON TG4 – Coverage starts at 1945)
Sunday, January 22nd
Session 4
InsureMyHouse.ie National Intermediate Cup Competition Men's Final
1000| UCD Marian v Leixlip Zalgiris
InsureMyHouse.ie U20 Men's National Cup Final
1215| Blue Demons v Tolka Rovers
InsureMyHouse.ie U18 Women's National Cup Final
1430| Singleton SuperValu Brunell v Meteors
Session 5
InsureMyHouse.ie Paudie O'Connor Cup Final
1730| Trinity Meteors v Killester (LIVE ON TG4 – Coverage starts at 1725)