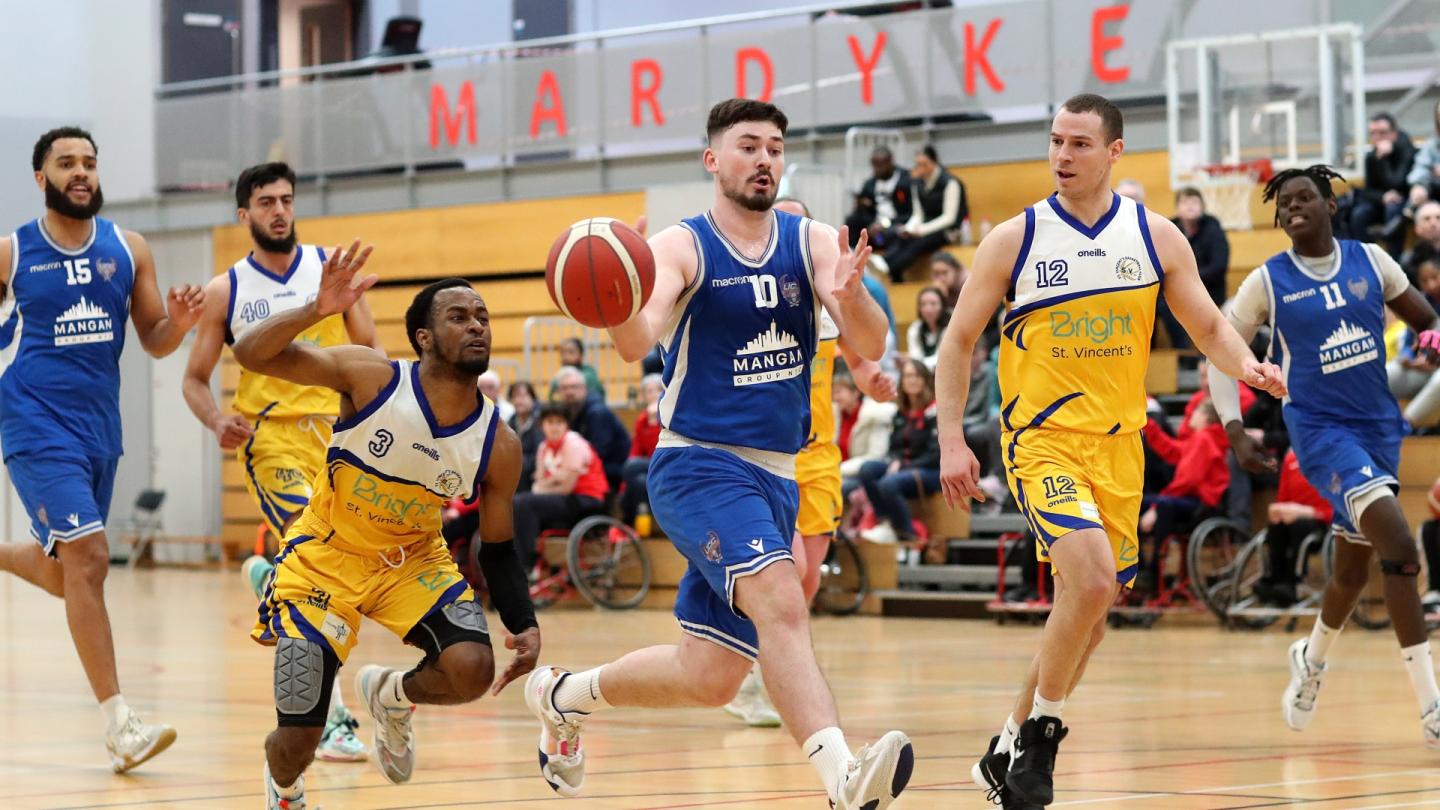 Mar 02 2023
Preview: Tense nature of InsureMyVan.ie Super League playoff picture 'a big positive' to the format
The finely poised nature of the InsureMyVan.ie Super League Southern Conference standings entering the penultimate weekend of the regular season is 'a big positive' of the format, according to the head coach of the defending champions.
Garvey's Tralee Warriors' John Dowling knows that a win on the road against UCD Marian is a must if they're to keep their post-season fate in their own hands. 'Two games to go and a lot of teams with everything on the line,' quipped Dowling. 'It's sure to be a very exciting weekend of basketball.' Just three points separate the fifth-placed Kerry side from Energywise Ireland Neptune in third. Emporium Cork Basketball are sandwiched in between the two, but with a game in hand.
Ciaran O'Sullivan's team face back-to-back road games against Dublin opposition on Saturday and Sunday. O'Sullivan knows that even victory over DBS Éanna and Killester might not be enough to cement their post season place just yet: 'We travel to Dublin with some momentum after beating Sligo last week. We are growing in confidence now that we are back to full strength, but we are fully aware of the challenge that Éanna pose in a packed home floor.'
Enerywise Ireland Neptune are in red hot form ahead of their meeting with Griffith College Templeogue. Head coach Colin O'Reilly believes there is a 'knock out feeling' to their game with Griffith College Templeogue: 'Coming off a win against the top seeded team in Northern Conference gives us good confidence going into the game with Templogue. They have high-level talent across the roster, so we know we will have to be close to our best to achieve what we want,' said O'Reilly.
The drama has also reached fever pitched in the race to avoid a relegation playoff in the Southern Conference. Moycullen and Flexachem KCYMS are both 4-13 ahead of their final two games, but it might be the Galway outfit who carry the most momentum owing to two wins in their last three games. Flexachem KCYMS have played well in defeat in the last two weeks, but need to recapture the form which saw them overcome Griffith College Templeogue in their last win on February 11th.
Both sides are on the road this weekend. Moycullen are in Sligo to face an All-Stars side looking to confirm a playoff place, while at the same time Declan Wall's team make the trip from Killorglin to face Killester.
The Northern Conference has a much more settled feel. Belfast Star, DBS Éanna and Killester all know they'll be playing in the post season, while UCD Marian have been condemned to the relegation playoff for some time.
Bright St. Vincent's and Griffith College Templeogue will still harbour outside hopes of snatching the fourth and final playoff spot from under the noses of Shane O'Meara's EJ Sligo All-Stars. Josko Srzic and Mark Keenan know two wins are a must if they're to achieve that.
Bright St. Vincent's have the toughest possible assignment on paper. They welcome the team with the best record in Irish men's basketball, University of Galway Maree to North Dublin. Donovan Fields will need to be at his potent best, buoyed by what is sure to be a vocal home support in St. Vincent's CBS if they're to overcome the odds.
The tastiest looking cross conference matchup is a UCC Demons side chasing a ten wins-in-a-row, coming up against Northern Conference leaders Belfast Star. Adrian Fulton's side have suffered consecutive defeats in recent weeks. There can't be too many better ways to regain some momentum heading into the post season than by ending the run of the most in-form team in the country. Daniel O'Mahony's Demons have been excellent since returning to the top flight, they'll need another huge performance to continue that vaunted run on Sunday afternoon.
The fight for a spot in the Champions Trophy will take centre stage in the MissQuote.ie Super League this weekend.
Leixlip Amenities Liffey Celtics hold a one game advantage over Singleton SuperValu Brunell for the sixth and final spot in the post-season. It's a road assignment in Waterford for the Kildare team this weekend, as they look to extend their winning run to four. Head coach Karl Kilbride wants his team to focus on rebounding and transition in the face of an 'incredibly difficult test': 'We've played them twice already, winning and losing one apiece. Both games were very physical and were decided by rebounding and each team's ability to score in transition. I'd imagine this Saturday will be more of the same.'
Wildcats have plenty to play for themselves, with Tommy O'Mahony's charges aiming to secure home advantage for their opening Champions Trophy contest.
Singleton SuperValu Brunell held on for a brilliant win over Waterford a week ago. They'll lean on home court support of Parochial Hall once more in a Cork derby with i3PT Fr.Mathews, who can draw level with Brunell on six wins should they come out on top. Akilah Bethel has helped take some of the scoring burden off Ireland captain Edel Thornton recently, how Niamh Dwyer decides to defend the duo will go a long way to determining the outcome of this key contest.
There's no respite for newly crowned MissQuote.ie Super League champions The Address UCC Glanmire, as they travel to Dublin to take on DCU Mercy.
The Address UCC Glanmire confirmed consecutive titles on home court a week ago, adding to the brimming trophy cabinet of head coach Mark Scannell in the process. This could be a pre-curser to a stretch Champions Trophy tie, with DCU Mercy set to secure either the second or third seed for that competition. Mark Ingle's team have stepped into overdrive since the end of January, winning six in a row as a result. The Cork side had their number their previous meeting this season though, five players hit double digits in a 73-55 Glanmire win on that day.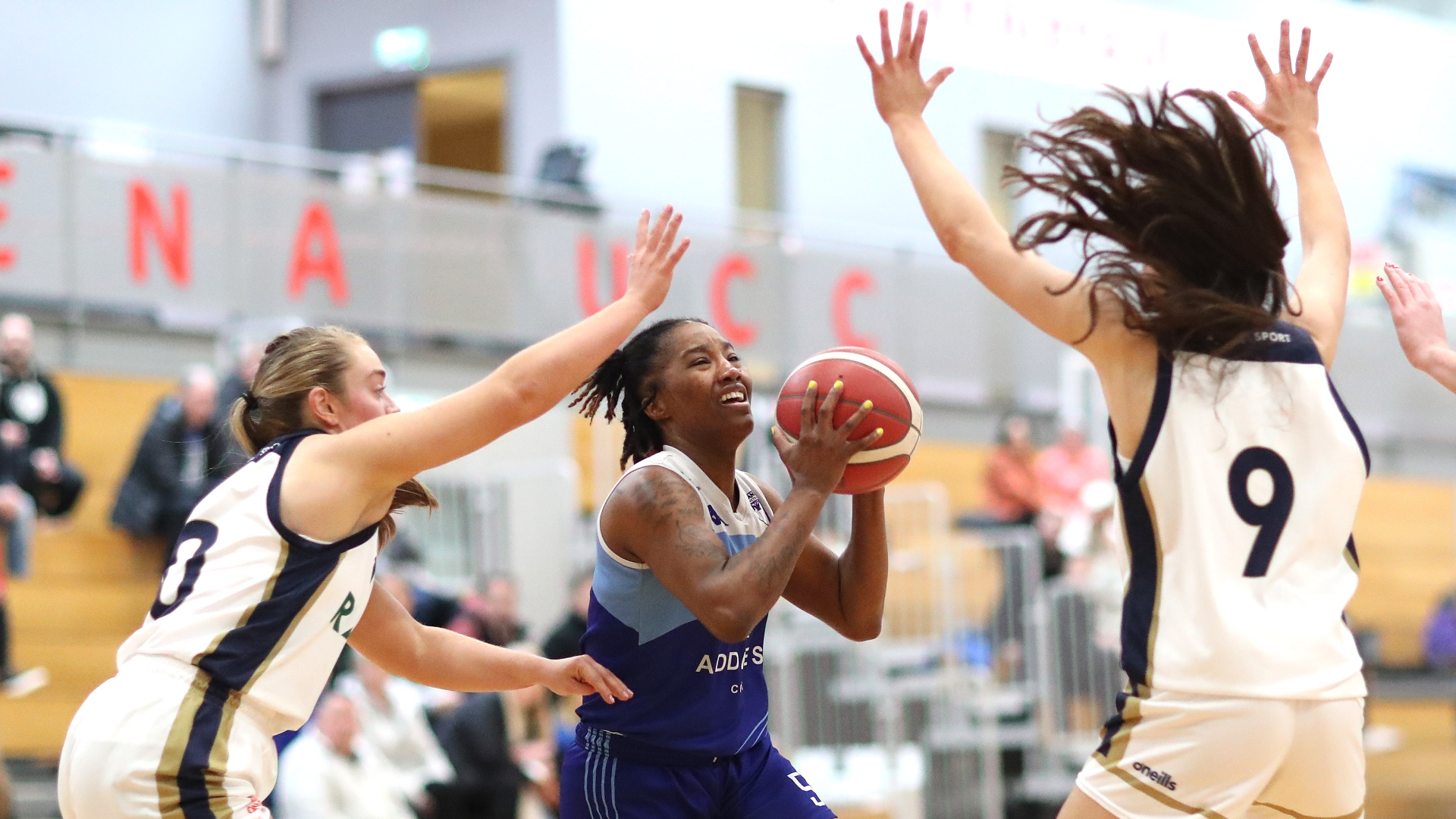 Brittany Byrd of The Address UCC Glanmire drives against Aoife Callaghan of Ulster University. 
Trinity Meteors need at least one win to wrestle back the second seed from DCU Mercy. They make the trip to Jordanstown to face Ulster University, who will be looking to finish the season on a high now they've been eliminated from contention for the Champions Trophy.
Another side aiming for a strong finish will be University of Galway Mystics. Paul O'Brien's young guns have given a fantastic account of themselves during the season, an InsureMyHouse.ie U20 National Cup success with the majority of this roster highlighting their best years are still to come at this level. It's all to play for too for Mark Grennell's Killester, they can still overhaul Waterford Wildcats for fourth spot in the table win two wins to close the campaign.
In the MissQuote.ie Division 1, McEvoy's Cavan Eagles have the distinction of winning the Northern Conference in their debut National League season. They can add to an impressive 16-1 record on the road against Limerick Celtics on Sunday afternoon. Portlaoise Panthers lead the way in the Southern Conference, but are contending with a sustained push from a talented St. Paul's Killarney side. Both are on the road in the penultimate weekend of the regular season against Abbey Seals Dublin Lions and Griffith College Templeogue respectively.
The InsureMyVan.ie Division 1 is jam packed full of permutations in the Southern Conference. Limerick Sport Eagles, Limerick Celtics and Dwyer's of Cork Fr. Mathews could all still top the standings, with the top two meeting in a Limerick derby on Friday night. The winner of that will be in pole position to take the conference title. Dwyer's of Cork Fr.Mathews are just one game back though. They can leapfrog the loser of the meeting of the top two by beating Drogheda Wolves on home court on Saturday. Moy Tolka Rovers and Malahide are in a shootout fot Northern Conference, the latter moving to within one game of the top by virture of a midweek win against Drogheda Wolves.
---
Fixtures
InsureMyVan.ie Super League
Saturday, March 4th
1900|Bright St. Vincent's v University of Galway Maree, St. Vincent's CBS
1900|UCD Marian v Garvey's Tralee Warriors, UCD Sports Centre
1900|DBS Éanna v Emporium Cork Basketball, Colaiste Eanna
1930|Griffith College Templeogue v Enerygywise Ireland Neptune, National Basketball Arena
1930|Killester v Flexachem KCYMS, IWA Clontarf
1930|EJ Sligo All-Stars v Moycullen, Mercy College Sligo
Sunday, March 5th
1500|UCC Demons v Belfast Star, Mardyke Arena
1500|Killester v Emporium Cork Basketball, Leixlip Amenities Centre
---
InsureMyVan.ie Division 1
Friday, March 3rd
1900|Limerick Sport Eagles v Limerick Celtics, UL Arena
2015|Scotts Lakers SPK v Portlaoise Panthers, Killarney Sports & Leisure
Saturday, March 4th
1700|Dwyers of Cork Fr.Mathews v Drogheda Wolves, Fr. Mathews Arena
1900|SETU Waterford Vikings v Team North West, Carrickpherish Hall
1900|Limerick Sport Eagles v Abbey Seals Dublin Lions, UL Arena
1900|Drogheda Wolves v Limerick Celtics, DIFE
1915|Killarney Cougars v Portlaoise Panthers, Presentation Gym
1930|Moy Tolka Rovers v SETU Carlow, Tolka Rovers SC
1930|Scotts Lakers SPK v Ulster University, Killarney Sports & Leisure
Sunday, March 5th
1230|SETU Carlow v Team North West, Barrow Centre
---
MissQuote.ie Super League
Saturday, March 4th
1600|University of Galway Mystics v Killester, Ballinfoile Community Centre
1700|Ulster University v Trinity Meteors, Jordanstown Sports Village
1800|Waterford Wildcats v Leixlip Amenities Liffey Celtics, Mercy Secondary School
Sunday, March 5th
1430|DCU Mercy v The Address UCC Glanmire, DCU Arena
1445| Singleton SuperValu Brunell v i3PT Fr. Mathews, Parochial Hall
---
MissQuote.ie Division 1
Thursday, March 2nd
1930|Oblate Dynamos v Moy Tolka Rovers, Oblate Hall Inchicore
Saturday, March 4th
1700|Limerick Sport Huskies v Phoenix Rockets, St. Munchins
1700|Moy Tolka Rovers v Marble City Hawks, Tolka Rovers SC
1700|Griffith College Templeogue v St. Pauls Killarney, National Basketball Arena
1730|Swords Thunder v SETU Carlow, ALSAA
1915|Abbey Seals Dublin Lions v Portlaoise Panthers, Colaiste Bride
Sunday, March 5th
1515|Limerick Celtics v McEvoy's Cavan Eagles, Crescent College Dooradoyle