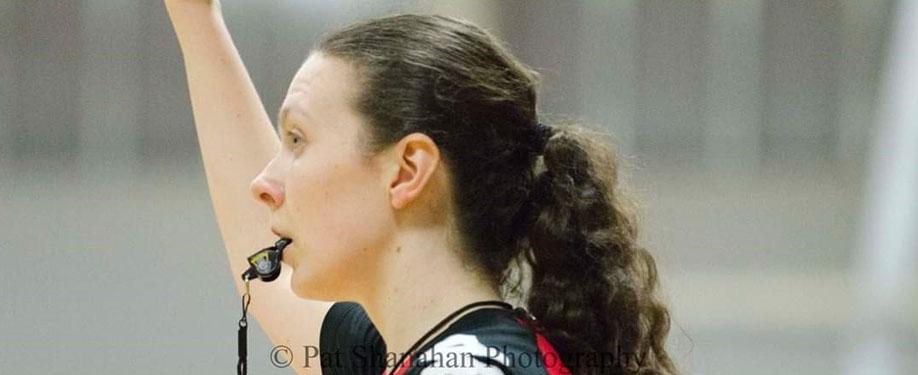 Referee Level: Local, national
Interview
"I think you will always get some type of pre-game nerves, but you can harness them into focusing on the game. Additionally, good pre-game chat with your co-official is beneficial as it helps put you in an active mind-set for the game."
---
Can you talk us through your playing background?
I started playing basketball in 2007 when I was 14 with Andersonstown Tigers in Belfast, before moving to play with Ulster University in 2012 when I began studying there. I enjoyed playing in several college intervarsity tournaments, winning the Ladies B Division in 2014. I played National League Basketball with Ulster since 2016, though I predominately now play local league as I had been coaching underage basketball and refereeing. My experience as a player has taught me a lot about the game, and even as I began refereeing, it has taught me how to communicate with players, coaches and how important respect and adaptability is across all levels of the game.
---
How did you get involved in refereeing?
Not long after I started playing, I was eager to learn more about the game and my coach suggested I attend the referee and table officials' course. I completed the Intro course in March 2009 and have been refereeing ever since!
---
What kind of games have you refereed over the years?
I have been very fortunate to referee games of all different levels over the last decade: Special Olympics, Primary School, Colleges, Local and National League and International Friendlies. In 2014, I joined the National League panel and have refereed Women's Division 1 to Men's Super League. In addition to getting to referee at National Cup and League finals, I was given the opportunity to referee at the Scania Cup in Sweden, the World Police and Fire Games in Belfast and the ISF World School Championships Basketball in 2015 (Limoges, France) and 2017 (Poreč, Croatia).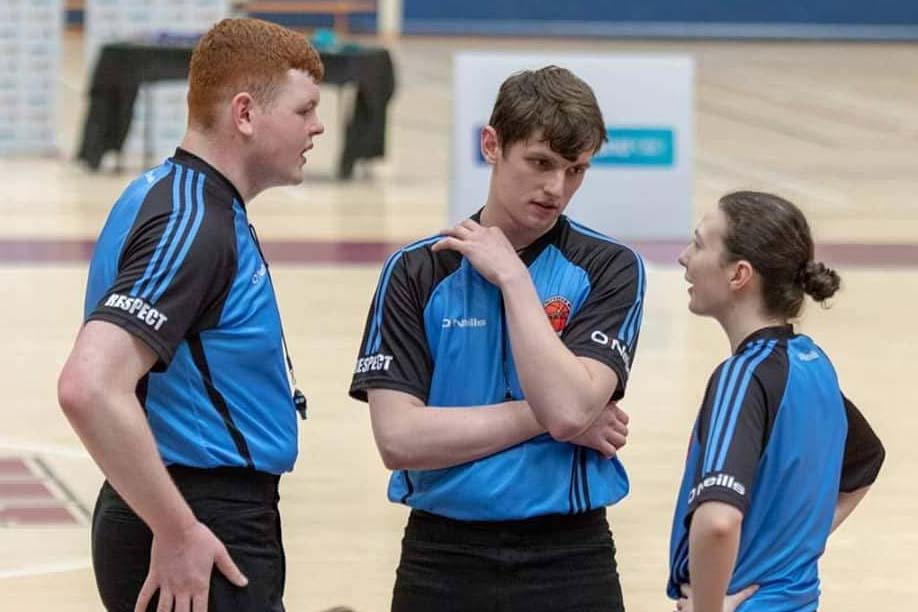 ---
Who would you say was a role model for you as a referee and why?
The late Aidan Fitzpatrick was a role model to me. I loved refereeing junior games with him on Friday nights and' SHE HOOPS' tournaments in UUJ. He also introduced me to refereeing at the Ulster Special Olympics Tournaments in Antrim Forum. From his knowledge, to how he approached the game, I learnt a great deal about how to communicate with players and coaches and the importance of enjoying the game, giving back and volunteering in basketball. Aidan taught me that it was important to see the game from all points of view and how playing, coaching and learning about the game could shape the referee.
---
What is the most important thing for you when refereeing younger/teenage boys and girls?
When refereeing kids U12, I think communication is important but also allowing the game to be fun and helping them understand the fundamentals. In the older age groups, I think having clear two-way communication between players and officials becomes more important as it helps create respect and aids the flow of the game. Throughout all leagues, there will be different ability levels and standards of play so it's important to be able to read and understand the game and this is where communication and respect is vital.
---
Have you any tips you'd like to share on keeping girls engaged in sport - particularly at the 14-18-year-old age group?
I believe to keep girls engaged in sport you have to offer more than the rigid competitive set-up as many girls become discouraged if they feel they're not meeting certain standards or progressing at the same rate as their friends. Fun tournaments or skill competitions are a good way to keep participation levels up. Promoting a strong team and social dynamic also helps keep girls engaged as they feel included and supported and therefore are more likely to stay involved. It is also important to acknowledge that not all girls (or boys) want to be involved in a playing capacity, therefore it is important to promote all aspects of the game to players of all ages - it's never too early to get involved in refereeing, tabling, coaching or event management!
---
Any tips you would like to give to young referees who are starting out?
There is no such thing as a perfect game in basketball, so don't dwell on past mistakes, keep an active mindset and use constructive feedback to grow as an official! Learn from senior officials, coaches and players as it is important to view the game from all angles. You cannot control everything, so just go out and enjoy the game!
---
When you first stepped up to National League/International level, were you nervous about the step up and how did you deal with that if so?
My initial introduction to National League basketball was accidental as I was thrown into a game last minute (Ulster Rockets v DCU Mercy) when the original referees went to Waterford instead of Belfast, at this point I was only refereeing local league in Belfast. I was excited for the game and this overpowered any initial nerves. I think you will always get some type of pre-game nerves, but you can harness them into focusing on the game. Additionally, good pre-game chat with your co-official is beneficial as it helps put you in an active mind-set for the game.
---
What would you say to other female referees who are considering moving up a level in their refereeing careers?
Don't be afraid to ask questions or get involved in games at the higher level. Try to leave your comfort zone as this will help you grow as an official.
---
How do you measure the success of a game?
Each game will be different but overall success of a game can be measured in terms of consistency, communication and professionalism.
---
How do you measure success in broader terms?
Always being open to feedback from more senior referees, knowing the rules, taking every opportunity to improve and watching videos and analysing game performance. I also try set goals every season on what I need to work on in regard to fitness and game mechanics. I think having good communication with teams, co-officials, commissioners and table officials is important in measuring overall success as this is a crucial part of the game.
---
How important do you think it is for referees to keep learning and developing regardless of level of experience?
I think it is extremely important for referees across all levels and leagues to continue to learn and develop particularly as the game keeps changing from the style of play, the type of players on court and the rules change every so often.
---
Have you noticed many changes in Ireland in referees over the years? If so, what?
There have been a lot of changes from the new grading system over the last few years, the fitness levels for National League and the use of technology in games. With more games being streamed, this provides referees with an opportunity to analysis and assess their performance and mechanics for games. Additionally, there has been an increase in workshops to allow referees to keep learning and developing, particularly over lockdown there has been the NLOP webinars and the FIBA Development Female only sessions.
---
What changes would you like to see in basketball refereeing in Ireland in the future?
I think it would be good to see clearer development pathways and mentoring schemes. It would also be nice to see more women refereeing across all National League competitions.
---
What is the most valuable lesson you have learned as a player?
It is important to learn that you can't control everything, so you need to remain calm, positive and not become over-emotional because everyone makes mistakes and everyone is always learning. Try not to take things personally, see the fun in the game!
---
What is the most valuable lesson you have learned as a referee?
One of the most valuable lessons I have learnt as a referee is to never give up and keep learning. Sometimes you can end up in a negative mindset and it is important to rise above any negativity, remain committed, grow stronger and just learn to enjoy the game. Another valuable lesson is being able to understand players, coaches and table officials and how important these relationships and teams are to the game.
If you know referee who deserves to be recognised in this series, please send their details to Jenny at jkelly@basketballireland.ie
Basketball Ireland have a homepage for your refereeing education and development requirements. This page contains all relevant FIBA documents along with training videos and additional material supplied by Basketball Ireland FIBA National Referee instructor, Paul Dempsey to aid your development/education. Click here to view the page.