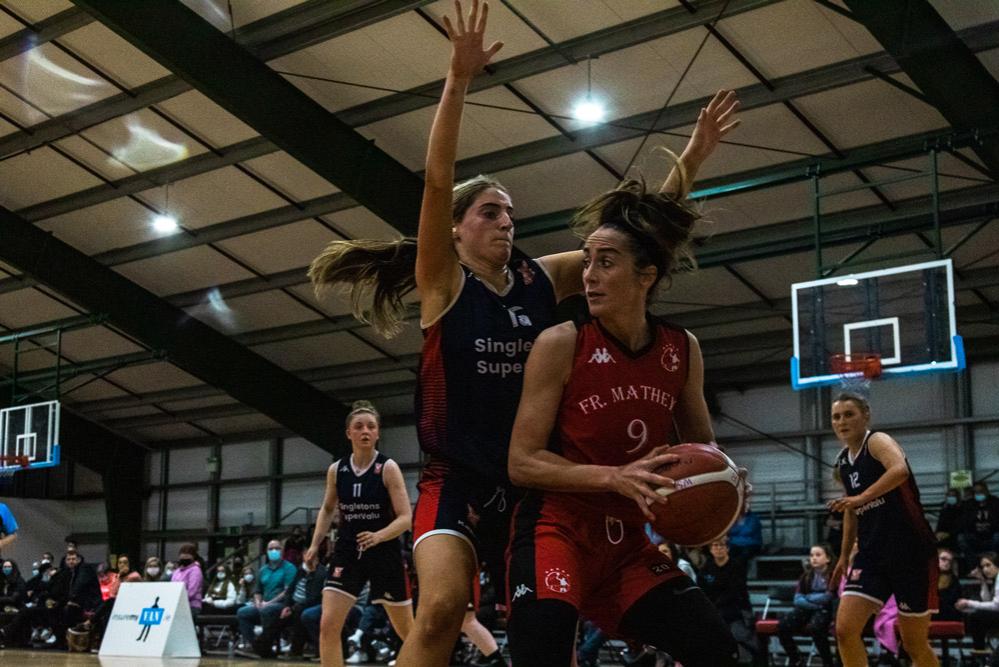 Oct 24 2021
MissQuote.ie National League Weekend Wrap - Round 3
DCU Mercy moved to the top of the MissQuote.ie Super League after a 72-43 win over Team Garvey's St. Mary's on Sunday. Mark Ingle's side are the only the unbeaten side in the division following The Address UCC Glanmire's 84-80 overtime loss to Killester on Saturday. DCU Mercy's scoring came mainly from Alarie Mayze (13), Bailey Greenberg (13), and Hannah Thornton (9). Team Garvey's St. Mary's were on the back foot from the beginning, scoring just four points in the opening quarter, however scoring opened up for them thanks to the effort of Deirdre Geaney (11) and Lorraine Scanlon (8).
The two sides will meet again in round one of the InsureMyHouse.ie Paudie O'Connor National Cup next weekend.
In the meantime, DCU Mercy head coach Mark Ingle was pleased to register another Super League victory. "Delighted with the win, we got on top of Team Garvey's St. Mary's early which was good, as we haven't been starting games well, but they were feisty and will be much tougher at home next week", Ingle said.
Killester had an impressive away victory at The Address UCC Glanmire, winning by four points after extra time (84-80). They trailed by ten points at half-time and did well to force overtime by drawing level on 74 points apiece on the final buzzer. Shannon Powell performed excellently for Killester, scoring 31 points. This was backed up closely by Miah Taylor's impressive 26-point tally. The Address UCC Glanmire had standout shooting performances from Carrie Sheppard, who scored 21 points, and Gianna Smith, who picked up 18.
Killester head coach Karl Kilbride was very happy with their win. "Obviously delighted with the result. It's the first time in seven years we've got a win down there. Claire Melia being out was obviously a big factor and the new American girl they brought in looks excellent. But I thought we did a good job in the second half. Going in 10 down at half-time and shooting the ball so poorly, we were almost happy, as we felt we were pretty awful most of the half and still in touching distance. Our defensive effort in the 3rd is what swung the game. People probably don't appreciate it enough, because they've been doing it for so long - and we probably just take for granted how good they are - but the pressure Claire O'Sullivan and Áine McKenna put on a defence, particularly in transition, is immense. Shannon (Powell) was fantastic for us all night and Ella McCloskey, as she has been all season, was magnificent defensively. But it was a real team effort. We're immediately preparing for Fr. Mathews on Monday now and we obviously play Glanmire again in the (InsureMyHouse.ie National) Cup next week. They'll be coming to Clontarf with a lot of revenge on their mind, so we'll have to be at our absolute best to get the same result."
Elsewhere, WIT Waterford Wildcats recorded an emphatic win over Trinity Meteors in Dublin, giving them a second consecutive win. They ended the game with a 29-point winning margin, 72-43, which can largely be attributed to the scoring prowess of Rachel Thompson, who banked 30 points herself. Other top scorers for WIT Waterford Wildcats were Jasmine Walker (11) and Stephanie O'Shea (10). Trinity Meteors failed to ignite, despite good scoring from Sinead Keane and Rebecca O'Keeffe, with 15 and 10 points respectively.
Speaking afterwards WIT Waterford Wildcats head coach Tommy O'Mahony said: "Very happy with the win, I thought we set the tempo in the first half to pull out a lead. We are now focused on our next game, which is IT Carlow on Monday, and we need to be ready for that challenge."
Fr. Mathews remain without a win, after they suffered a 80-67 home loss to local rivals Singleton Supervalu Brunell at Fr. Mathews Arena on Saturday. They trailed by just two points at half-time, but were overcome by the offensive efforts of Brunell, exemplified by Kwanze Murray who scored 27, Edel Thornton with 19, and Shannon Ryan who tallied 16 points. Gráinne Dwyer shot well for Fr. Mathews, scoring 15 points, but it was Shannon Brady who stood out for the home side, scoring 29 points in the game.
Singleton Supervalu Brunell head coach Tim O'Halloran wasn't taking the win for granted. "All local derbies are tough, and they're a good team, so to come here and get a win, we're delighted with it. It's a tough weekend for us, so we move on now to DCU Mercy on Monday."
The MissQuote.ie Super League round 3 fixture of IT Carlow against Leixlip Amenities Liffey Celtics was postponed due to an outbreak of Covid-19, and is due to be rescheduled for later in the season. This bank holiday weekend brings an extra set of fixtures in the MissQuote.ie Super League, played on Monday 25th October.
In the MissQuote.ie Division 1, NUIG Mystics recorded their third win in a row, 84-63 at Limerick Celtics. Marble City Hawks won 52-44 at Limerick Sport Huskies and Phoenix Rockets enjoyed a similar winning margin over Swords Thunder, beating them 72-64. Portlaoise Panthers hosted Tipperary Knights, and came from a seven-point deficit at half-time to win by six at the final buzzer, 73-67. The largest victory in this round of fixtures was achieved by Griffith College Templeogue, over LYIT Donegal, as they cruised to 72-44 win.
MissQuote.ie Super League – Round 3 results
Saturday 23rd October
Trinity Meteors 43 - 72 WIT Waterford Wildcats
Fr. Mathews 67 - 80 Singleton Supervalu Brunell
The Address UCC Glanmire 80 - 84 (OT) Killester
Sunday 24th October
DCU Mercy 72 - 43 Team Garvey's St. Mary's

MissQuote.ie Division 1 – Round 3 fixtures
Saturday 23rd October
Limerick Celtics 63 - 84 NUIG Mystics
Limerick Sport Huskies 44 - 52 Marble City Hawks
Phoenix Rockets 72 - 64 Swords Thunder
Portlaoise Panthers 73 - 67 Tipperary Knights
Griffith College Templeogue 72 - 44 LYIT Donegal
Sunday 24th October
Ulster University v Limerick Celtics