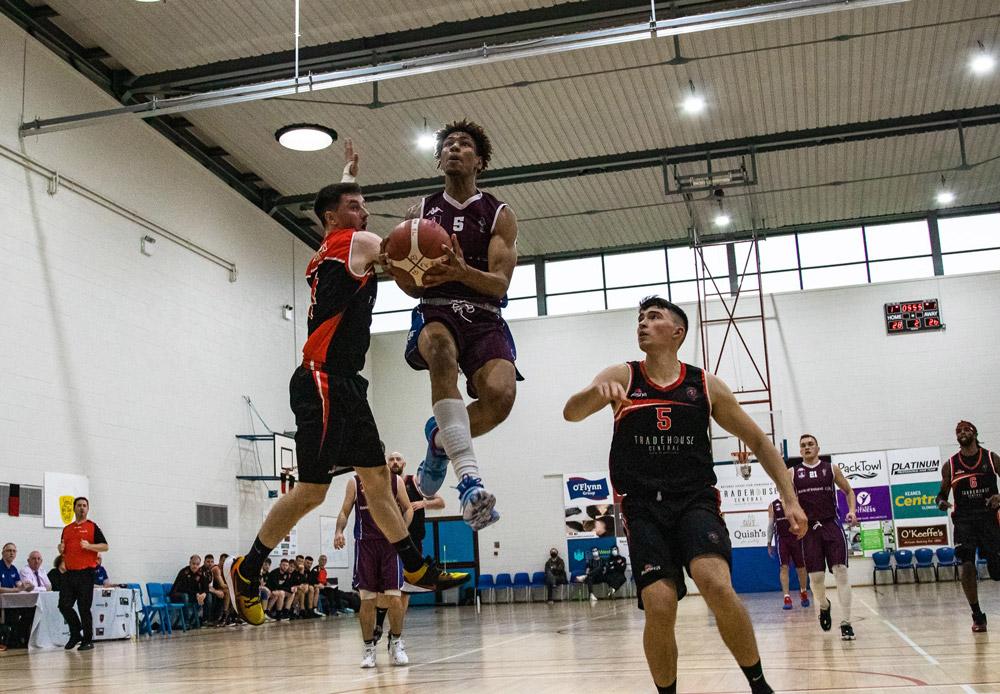 Oct 24 2021
InsureMyVan.ie National League Weekend Wrap - Round 3
In the InsureMyVan.ie Super League, it's Garvey's Tralee Warriors, Tradehouse Central Ballincollig and Griffith College Templeogue who remain as the only undefeated teams after the third round of games in the competition. Garvey's Tralee Warriors hosted C&S Neptune on Saturday evening, which stood out as one of the closest contests of the round, with just 10 points separating the team in the end (88-78). Boston's Aaron Calixte was impressive on the offensive once again for Garvey's Tralee Warriors, scoring 30 points. Other top scorers for Warriors were Nikola Roso (22), and Daniel Jokubaitis (11). C&S Neptune trailed by just two points at half-time, an impressive feat at the Tralee stronghold. Their efforts were led on the scoreboard by Miles Washington (22 points), Nil Sabata (20), and Cian Heathy (17).
Despite their win, Garvey's Tralee Warriors head coach John Dowling wasn't entirely happy with their performance. "Positive result again, victory at home against a C&S Neptune team that are going to be there or thereabouts at the end of this season. Disappointed again with our discipline at times, silly fouls, making hard plays, and defensively I thought we were poor. We've a lot of work to do before Tradehouse Central Ballincollig next week", he said.
The first game of the round was contested by Killester and UCD Marian on Thursday, played in the IWA Clontarf. Killester made the most of their home advantage, winning out by 26 points (106-80), and bringing to an end UCD Marian's early winning streak.
"When you start 0-2, there's kind of that little bit of pressure and desperation (...) the guys were really hungry to try and get that first win" explained Killester head coach Brian Dowling after their win.
Killester's top scorers Kason Harrell, John Behan, and Tomas Fernandez Zerolo, all hit blackjack on the night, scoring 21 points each. UCD Marian's Johnathan Jean was top shooter scoring 30 points, supported by Srdjan Stojanovic (14), and Matt Kelly (9). It was Killester's first win of the season and comes at an opportune time, as they prepare for next weekend's opening round of the InsureMyHouse.ie Pat Duffy National Cup, where they'll meet Bright DCU Saints.
It was a tough contest in Ballincollig Community School on Saturday, where Tradehouse Central Ballincollig came from 10 points behind at half-time, to overcome NUIG Maree by eight points at the close. This continues Tradehouse Central Ballincollig's unbeaten run in the competition, and was aided by the scoring efforts of Andre Nation (24), Adrian O'Sullivan (17), and Milorad Sedlarevic (16). A prolific Deondre Jackson led NUIG Maree in their scoring, adding 34 points to their total. Paul Freeman (10) and Lovre Tvrdic (7) were NUIG Maree's next top scorers.
Tradehouse Central Ballincollig player Ciaran O'Sullivan was happy to be back in front of a full home crowd. "We're absolutely delighted. It's a strong start to the year, it hasn't been easy, there's been a couple of dog fights, but happy to be back here today with full capacity, with kids shooting around. We've lost a lot as a sport the last 20 months, so it's great to have basketball here at BCS, and winning is certainly a bonus."
Griffith College Templeogue achieved an impressive 84-72 victory away to defending InsureMyVan.ie Super League champions Belfast Star on Saturday. Lorcan Murphy led the way for Griffith College Templeogue, scoring 20 points, and he was followed closely by Kris Arcilla (18), and Jason Killeen (15).
"As predicted, it was a very tough and close contest in Belfast. I was delighted with how we closed out the game in the last few minutes, when it could have gone either way" head coach Mark Keenan said.
Belfast Star's Max Cooper was strong in shooting, putting 23 points on the board. James Claar (17), and Conor Quinn (18), also did their best to get Belfast Star over the line, but ultimately it was Griffith College Templeogue's day.
DBS Éanna recorded the largest victory in the round, defeating Bright DCU Saints at home by 33 points, 101-68. Stefan Zecevic led their crusade with 34 points, supported by Devin Gilmore (15), and Romonn Nelson (13). Bright DCU Saints worked hard to remain in the game, with Julius Brooks (35), Kevin Hughes (16), Eoin Darling (6) doing their best to catch DBS Éanna. Ultimately however, their efforts were in vain, and Bright DCU Saints recorded their third loss of the competition.
DBS Éanna's head coach Darren McGovern saw a lot of positives in their win. "Delighted to get off to a quick start offensively tonight. The lads really pushed the tempo when asked to do so. I thought our U20 players were excellent tonight. Made some great reads. Having Josh Wilson back gave us a great option of a change in style that we lacked."
Team 360 Financial Killorglin recorded their first win of the season by overcoming Moycullen 90-74. Scoring was led by Simon Francis (22), Allan Thomas (21), Xabi Arriaga (15) for Team 360 Killorglin, as they fought hard to build on the narrow two-point lead (45-43) which they held at half-time. Moycullen, who have now also lost all three of their games thus far, had strong shooters in Grant Olsson (19), Kyle Cunningham (17) and Josh Marvesley (15), but it was not enough to topple the home side.
Team 360 Financial Killorglin's head coach Declan Wall was pleased with how his team performed. "Delighted to get our first win of the season, as I think over the last few weeks we have got progressively better performance-wise, so it was important to get some points on the board to reflect that. Moycullen shot the ball well in the first half, so at half-time we said we needed to knuckle down in the second half defensively, and that our offence would flow from this on the other end of the floor, and thankfully we did that. We have a bye in the (InsureMyHouse.ie National) Cup next week now, so I'm looking forward to practice and prepare for C&S Neptune in two week's time, who we always enjoy playing over the years."
In the InsureMyVan.ie Division 1 Drogheda Wolves recorded a strong 20-point win over LYIT Donegal, 82-62, bouncing back from their loss last weekend to McGowan's Tolka Rovers. Ulster University also overcame their loss last weekend by defeating Titans 86-83 away in Galway. It was a high scoring contest in the Limerick derby, with Limerick Sport Eagles picking up a 105-99 away win at Limerick Celtics. In the second local derby of the round, McGowan's Tolka Rovers succeeded in narrowly defeating Abbey Seals Dublin Lions by three points (71-74). The final derby of the weekend was won by UCC Demons, as they defeated Fr. Mathews 74-66 at the Fr. Mathews Arena, placing them at the top of the table alongside fellow undefeated team Limerick Sport Eagles.
Most teams will now turn their attention to next weekend's InsureMyHouse.ie National Cup, where those teams that did not receive a bye, will be fighting for their place in the quarter-finals.

InsureMyVan.ie Super League - Round 3 Results
Thursday 21st October
Killester 106-80 UCD Marian
Saturday 23rd October
Tradehouse Central Ballincollig 80 - 72 NUIG Maree
Belfast Star 72 - 84 Griffith College Templeogue
DBS Éanna 101 - 68 Bright DCU Saints
Team 360 Financial Killorglin 90 - 74 Moycullen
Garvey's Tralee Warriors 88 - 78 C&S Neptune

InsureMyVan.ie Division 1 - Round 3 Results
Saturday 23rd October
Drogheda Wolves 82 - 62 LYIT Donegal
Titans 83 - 86 Ulster University
Limerick Celtics 99-105 Limerick Sport Eagles
Abbey Seals Dublin Lions 71 - 74 McGowans Tolka Rovers
Fr. Mathews 66 - 74 UCC Demons