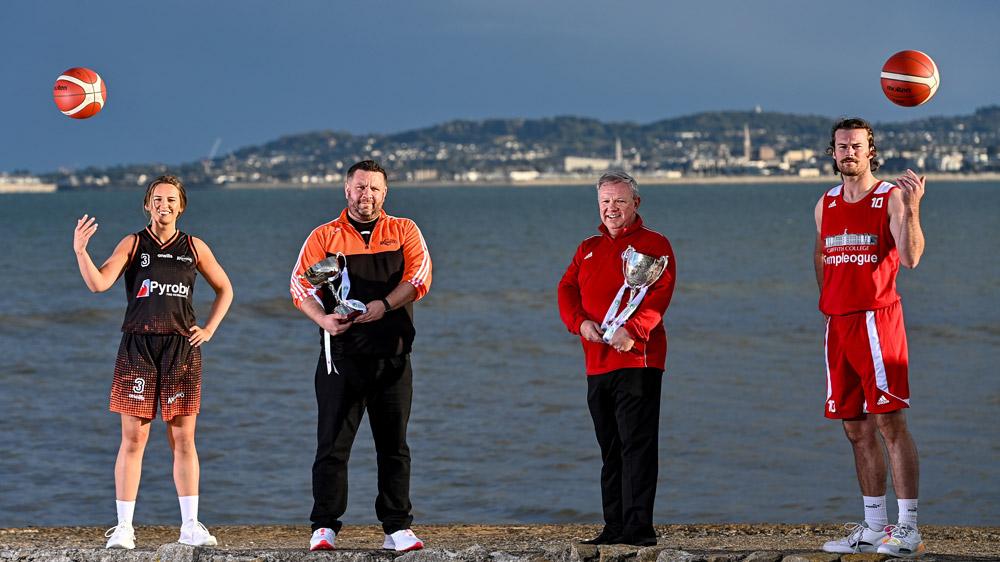 Oct 26 2021
Round 1 of InsureMyHouse.ie Cups gets underway this weekend
The InsureMyHouse.ie National Cups get underway this coming weekend, with teams battling it out to earn their spots in the quarter-finals. All fixture details at bottom of article.
In the InsureMyHouse.ie Pat Duffy Cup, contested by the Men's Super League teams, there are eight teams fighting this weekend for a quarter-final spot, with only four making it through. Current champions Griffith College Templeogue are away to Galway on Saturday, where NUIG Maree will host them at the NUIG Kingfisher. Belfast Star welcome DBS Éanna to De La Salle College in their fixture, while Bright DCU Saints will welcome local rivals Killester BC to St. Vincent's Glasnevin. The last fixture in round 1 takes place in Kerry at the Tralee Sports Complex, where Garvey's Tralee Warriors will face Tradehouse Central Ballincollig. All other teams have recieved BYEs to the quarter-finals.
There are just two round 1 fixtures in the InsureMyHouse.ie Paudie O'Connor Cup this weekend, with current champions Killester BC bringing The Address UCC Glanmire to IWA Clontarf to see who can secure their place in the final eight. The other fixture takes place in the South-West, where Team Garvey's St. Mary's will be looking to get the better of DCU Mercy. All other teams have received a BYE to the quarter-finals.
It's a jam-packed weekend in the InsureMyHouse.ie President's Cup, where all but one of the Men's Division 1 teams will be in action in the opening rounds of the Cup. On Saturday, IT Carlow host Abbey Seals Dublin Lions in their clash, while McGowan's Tolka Rovers bring LYIT Donegal down to Dublin for their tie. Limerick Sport Eagles will be looking to build on their unbeaten run in the InsureMyVan.ie Division 1 National League when they play Titans BC at home this Saturday. Killarney Cougars play Limerick Celtics in the opening round, and Drogheda Wolves will be hoping to get the better of WIT Vikings in their clash. On the Sunday, it's in-form UCC Demons who bring Ulster University down from Belfast to Cork for their encounter, and last up in the round is Grand Hotel Malahide against EJ Sligo All-Stars. The preliminary round fixture of Scotts Lakers Killarney versus Portlaoise Panthers ,originally scheduled for Saturday 23rd October, has been rescheduled for Sunday 31st October in Castleisland Community Centre. The winner of this meeting will face Fr. Mathews in round 1 (Date TBC).
The InsureMyHouse.ie Women's Division One National Cup starts with three fixtures this weekend in the first round. Ulster University bring Griffith College Templeogue to their Jordanstown campus for their game on Saturday, while Limerick Sport Huskies invite Phoenix Rockets to UL Arena. The third fixutre in round one will be played out by LYIT Donegal and Swords Thunder on the Sunday.
InsureMyHouse.ie Pat Duffy Cup - Men's Super League
Round 1 Fixtures
Sat 30/10/2021 6.30pm - Belfast Star v DBS Eanna (De La Salle College)
Sat 30/10/2021 7pm - Bright DCU Saints v Killester BC (St Vincent's Glasnevin)
Sat 30/10/2021 7pm - NUIG Maree v Griffith College Templeogue (NUIG Kingfisher)
Sun 31/10/2021 2pm - Garveys Tralee Warriors v Tradehouse Central Ballincollig (Tralee Sports Complex)
Paudie O'Connor Cup for Women's Super League
Round 1 Fixtures
Sat 30/10/2021 6pm - Killester BC v The Address UCC Glanmire (IWA, Clontarf)
Sat 30/10/2021 6.30pm - Team Garveys St Mary's v DCU Mercy (Castleisland CC)
President's National Cup for Division 1 Men
Preliminary Round
Sun 31/10/2021 4.15pm - Scotts Lakers Killarney v Portlaoise Panthers (Castleisland Community Centre)
Round 1
Date/time TBC - Scotts Lakers Killarney/Portlaoise Panthers v Fr Mathews
Sat 30/10/2021 12.30pm - IT Carlow v Abbey Seals Dublin Lions (The Barrow Centre)
Sat 30/10/2021 6pm - MCGowan's Tolka Rovers v LYIT Donegal (Tolka Rovers Sports Complex)
Sat 30/10/2021 7pm - Limerick Sport Eagles v Titans BC (UL Arena)
Sat 30/10/2021 7.30pm - Killarney Cougars v Limerick Celtics (St Brigids, Killarney)
Sat 30/10/2021 7.30pm - Drogheda Wolves v WIT Vikings (Ballymakenny College)
Sun 31/10/2021 3pm - UCC Demons v Ulster University (Mardyke Arena)
Sun 31/10/2021 3.30pm - Grand Hotel Malahide v EJ Sligo All Stars (Malahide Community School)
Women's Division 1 National Cup
Round 1 Fixtures
Sat 30/10/2021 4:30pm - Limerick Sport Huskies v Phoenix Rockets (UL Arena)
Sat 30/10/2021 5pm - Ulster University v Griffith College Templeogue (UUJ)
Sun 31/10/2021 2pm - LYIT Donegal v Swords Thunder (LYIT)