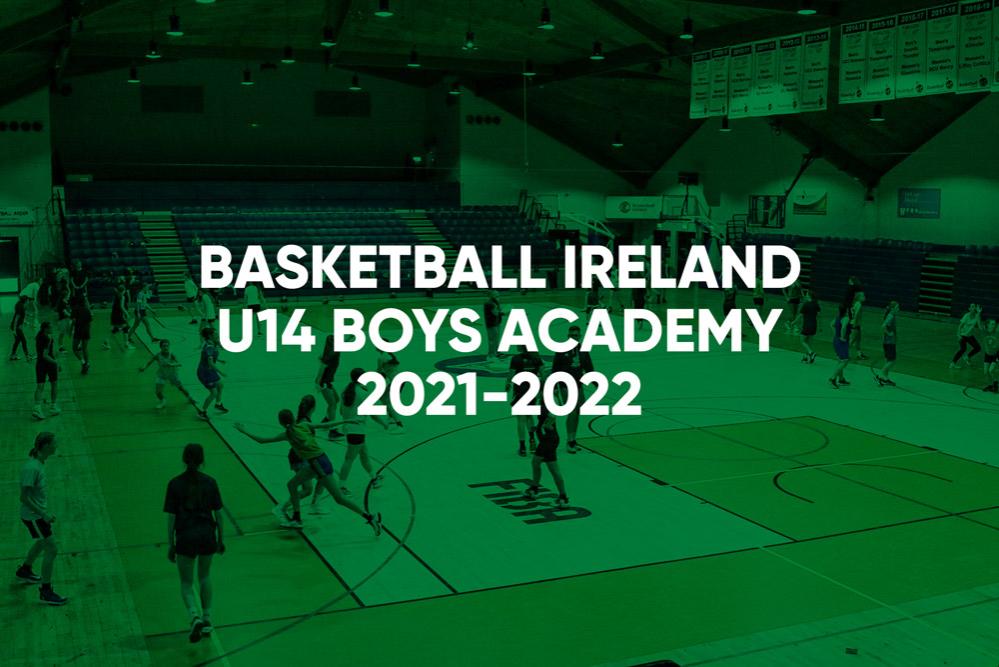 Nov 03 2021
U14 Boys Academy players announced: 2021-2022
The players for the 2021-2022 Basketball Ireland Academies have been selected, and can be viewed at the bottom of this page. Basketball Ireland wishes to thank all players that attended the Talent Identification Sessions, especially for the effort made by each and every player in the sessions.
What's next?
Please see the list of players (bottom of page) who have been selected for Basketball Ireland U14 Boys Academies.
If you / your child has been selected:
If you / your child has been selected for a Basketball Ireland Regional / Provincial Academy, please register & confirm acceptance of place HERE.
The Basketball Ireland Academies will make use of the MaxOne app to support the delivery of training in a blended approach - online and in-person. Players will need access to the device when this is implemented so they can avail of the online training material.
If you / your child has not been selected:
Please do not be disheartened. While this may not have been your time, there will be many more opportunities in the future for you to continue to grow and develop your skills. We saw a lot of talent at the trials, and encourage every player that attended to continue to work on their skills, and improve as a basketball player. You each did your best and that's all you can ever do.
Basketball Ireland U14 Boys Academies 2021-2022: Player Selection
See below drop-down menus for players selected in each regional Academy:
U14 Boys North-West Academy 2021-2022
Head coach: Laura Deeney
Assistant coach:
| | | | |
| --- | --- | --- | --- |
| Players Name | Last | Club / School | Code |
| Jack | Diffily | Ballintubber Bulls | NWB1 |
| Odhrán | McMullin | Donegal Town | NWB2 |
| Damhán | McGettigan | Letterkenny Blaze | NWB3 |
| Jack | McGroarty | Donegal Town | NWB4 |
| Thomas | Healy | Donegal Town | NWB5 |
| Eoghan | McGovern | Kiltimagh Giants | NWB6 |
| Jack | Glenister | Sligo All Stars | NWB7 |
| Aaron | Keane | Sligo All Stars | NWB8 |
| Jasper | Gimena | Sligo All Stars | NWB9 |
| Thomas | Lenehan | Donegal Town | NWB10 |
| Brian | Meehan | Sligo All Stars | NWB11 |
| Manus | McManus | Sligo All stars | NWB12 |
| Dara | Keane | Sligo All Stars | NWB13 |
| James | Lineen | Sligo All stars | NWB14 |
| Carl | Keane Hagemayer | Letterkenny Blaze | NWB15 |
| Euan | Smith | Letterkenny Blaze | NWB16 |
| Dáithí | Breslin | Letterkenny Blaze | NWB17 |
| Oisin | Mullen | Letterkenny Blaze | NWB18 |
| Zen | Zelinka | Sligo All Stars | NWB19 |
| Kenneth | Kalu | Sligo All Stars | NWB20 |
| Kelvin | Kalu | Sligo All Stars | NWB21 |
| Daire | Slevin | Donegal Town | NWB22 |
| Finn | Gillespie | Donegal Town | NWB23 |
| Luke | O'Callaghan | Donegal Town | NWB24 |
| Conall | Flannery | Donegal Town | NWB25 |
| Oliver | Ettery | Sligo All Stars | NWB26 |
| Kian | Gallagher | Donegal Town | NWB27 |
| Cormac | Crossan | Letterkenny Blaze | NWB28 |
| Senán | Gallagher | Letterkenny Blaze | NWB29 |
U14 Boys West Academy 2021-2022
Head coach: Kyle Walsh
Assistant coach: Laura Lopez
| | | | |
| --- | --- | --- | --- |
| Forename | Surname | Club/School | Code |
| Daniel | Tomac | Ennis National School | WB1 |
| Aviel | Oguekwe | Titans | WB2 |
| Tiernán | Grealish | Maree Basketball Club | WB3 |
| James | McGuire | Maree Basketball Club | WB4 |
| mark | O'Shea | Maree Basketball Club | WB5 |
| Danny | O'Shea | Maree Basketball Club | WB6 |
| Rory | Fahey | Annaghdown/St. Jarlaths Colllege | WB7 |
| Darragh | Kelly | Moycullen Basketball Club | WB8 |
| Michael | Cunningham Smyth | Moycullen Basketball Club | WB9 |
| Lucas | Ó Conaola | Titans | WB10 |
| Lukas | Lydon | Moycullen Basketball Club | WB11 |
| Odhran | O'Farrell | Clare Comets | WB13 |
| Conn | Sweeney | Moycullen | WB14 |
| Kevin | Freeman | Maree Basketball Club | WB15 |
| Ryan | Holland | Maree BC & Calasanctius | WB16 |
| Conor | Faherty | Moycullen Basketball Club | WB17 |
| Luke | O'Reilly | Claregalway | WB18 |
| Callum | Devaney Edwards | | WB19 |
| Jamie | Egan | Maree Basketball Club | WB20 |
| Colm | Sherlock | Moycullen Basketball Club | WB21 |
| Hugo | Devitt | Maree Basketball Club | WB22 |
| Barry | Keaveney | Maree Basketball Club | WB23 |
| Leo | Molloy | Maree Basketball Club | WB24 |
| Samuel | Ryan | Moycullen Basketball Club | WB25 |
U14 Boys South-West Academy 2021-2022
Head coach: Ignas Sijanas
Assistant coach: Kelly Ahern
| | | | |
| --- | --- | --- | --- |
| Forename | Surname | Club/School | Code |
| Jakub | Surzyn | St. Mary's Castleisland | SWB1 |
| Jake | Moore | Limerick Lions | SWB2 |
| Colm | Price | Limerick Lions | SWB3 |
| Rory | Gleeson | Limerick Celtics | SWB4 |
| Paddy | lucid | St. Brendan's Tralee | SWB5 |
| Ryan | Sheehy | St. Brendan's Tralee | SWB6 |
| Sam | Boyle | St. Brendan's Tralee | SWB7 |
| Lucas | Conway | Limerick Lions BC | SWB8 |
| Gearoid | White | St. Brendan's Tralee | SWB9 |
| Paul | Corcoran | Limerick Celtics Basketball Club | SWB10 |
| Cillian | O'Leary | St. Paul's Killarney | SWB11 |
| Oisin | Hurley | Gneeveguilla Club & SPSL Rathmore School | SWB12 |
| Cathal | Spring | St. Colmans BC Milltown | SWB13 |
| Ryan | Kavanagh | Limerick Lakers | SWB14 |
| Cian | Cronin | Limerick Celtics | SWB15 |
| Darragh | Duffy | Caherciveen & Colaista Na Sceige | SWB16 |
| Conor | O'Mahony | Killarney Cougars | SWB17 |
| Cillian | Murphy | Limerick Celtics | SWB18 |
| Miguel | Azzopardi | Limerick Celtics | SWB19 |
| Joshua | Minnie | St. Colmans BC Milltown | SWB20 |
| Liam | Harmon | St. Paul's Killarney | SWB21 |
| Sean | Hickey | St. Brendans | SWB22 |
| Fionn | Doyle | Team Kerry Killarney Cougars | SWB23 |
| Feargal | Murphy | | SWB24 |
| Aleks | Danowski | | SWB25 |
| Marcus | Clifford | St. Paul's Killarney | SWB26 |
| Michael | Quirke | Team Kerry Ballymac Bobcats | SWB27 |
U14 Boys South Academy 2021-2022
Head coach: Pa Curran
Assistant coach: Craig Drummond
| | | | |
| --- | --- | --- | --- |
| Forename | Surname | Club/School | Code |
| Liam | Walsh | Carrigaline | SB1 |
| Daithi | Murphy | Ballincollig BC | SB2 |
| Callum | Price | Fr. Matthews | SB3 |
| Luke | Bamber | Neptune | SB4 |
| Seán | Noonan | Neptune & St. Aidan's CC | SB5 |
| Oliver | Ensko | Neptune | SB7 |
| Oisin | Toibin | Ballincollig BC | SB8 |
| Ciaran | Fitzgerald | Fr. Mathews | SB9 |
| Oscar | McMahon | Ballincollig BC | SB10 |
| Finn | O'Sullivan | Ballincollig BC | SB11 |
| Lee | O'Donovan | Ballincollig BC | SB12 |
| William | Maher | Ballincollig BC | SB13 |
| Royce | Lin | Fr.Mathews | SB14 |
| Oisin | Buckley | Crosshaven, Co. Cork | SB15 |
| Jamie | Willis | Mallow | SB16 |
| Jack | Deegan | Ballincollig BC | SB17 |
| Tommy | O'Sullivan | Mallow BC | SB18 |
| Éanna | Ó hUrnaí | Ballincollig BC | SB19 |
| Ronan | Horan | Blue Demons | SB20 |
| Darragh | Carroll | | SB21 |
| Nathan | Vaughan | Ballincollig BC | SB22 |
| Thomas | Byrd | Neptune | SB24 |
| Deniss | Brusevics | Neptune | SB25 |
| Kian | O'Rourke | Ghaelcholaiste Mhuire AG | SB26 |
| Sam | Walsh | Midleton Basketball Club | SB27 |
| Cathal | Murphy | Mallow BC | SB28 |
| Jack | Corcoran | | SB29 |
| Edmund | Burke | Blue Demons | SB30 |
| Ian | O Sullivan | Mallow | SB31 |
| Will | Carmody | | SB32 |
| Joshua | Barry | Blue Demons | SB33 |
| Pablo | O'Regan | Fr. Mathews | SB34 |
| Gerard | Murphy | Ballincollig BC | SB35 |
| Sean | Kelleher | Neptune | SB36 |
| Kasper | Zawadzki | Neptune | SB37 |
| Frank | Clark | Fr. Mathews | SB38 |
| James | Ellis | Ballincollig | SB39 |
U14 Boys East Academy 2021-2022
Head coach: Joey Boylan
Assistant coach: Federico Arroyo
| | | | |
| --- | --- | --- | --- |
| Forename | Surname | Club/School | Code |
| Max | Geaney | UCD Marian | EB1 |
| Donncha | Liston | Malahide | EB2 |
| James | Dillon | St. Vincents BC | EB3 |
| Tom | Byrne | | EB4 |
| Adam | McCarthy | Éanna Basketball Club | EB5 |
| Rían | Olwill | | EB6 |
| Gabriel | Sales | Dublin Lions | EB7 |
| Janric | Yumul | Oblates BC | EB8 |
| Augustine | Farrell | Oblates BC | EB9 |
| Gareth | Hopwood | Dublin Raiders | EB10 |
| Aaron | Carberry | Templeogue BC | EB11 |
| Chester | Medidas | Dublin Raiders | EB12 |
| Kyle | Seltzer | Templeogue BC | EB13 |
| Harry | Lynch | Éanna BC | EB14 |
| Ciaran | Noctor | Éanna BC | EB15 |
| Karl | Walsh | Éanna BC | EB16 |
| Eoghan | Booth | | EB17 |
| Nicolas | Stoyanov | Scoil Chonglais | EB18 |
| Chisom | Chime | Éanna BC | EB19 |
| Shareef | Elmahi | Dublin Lions | EB20 |
| Joaquin | Pahinag | Oblates BC | EB21 |
| Samuel | Whelan | St. Vincent | EB22 |
| Kieron | Martir | Liffey Celtics | EB23 |
| Eoin | Lewis | St. Vincents | EB24 |
| Lorcan | Bailey Morrow | St. Vincents | EB25 |
| Sebastian | Hartas | Éanna BC | EB26 |
| Mark | Rafferty | UCD Marian | EB27 |
| Michael | Lin | Éanna BC / St. Michael's College | EB28 |
| Aodhán | O'Neill | Éanna BC | EB29 |
| Nicholas | Dinca | Dublin Lions | EB30 |
| James | Rocchi | | EB31 |
| Darragh | Burns | Liffey Celtics | EB32 |
| Mark | Geoghegan | Tolka Rovers | EB33 |
| Richard | Mckay | Tolka Rovers | EB34 |
| Joel | Ilogu | Tolka Rovers | EB35 |
| Cian | Dunphy | Éanna | EB36 |
U14 Boys Midlands Academy 2021-2022
Head coach: Brendan Butler
Assistant Coach: Kyle Burke
| | | | |
| --- | --- | --- | --- |
| Forename | Surname | Club/School | Code |
| Calum | Joyce | Carlow Basketball | MB1 |
| Cathal | Ryan | Tipp Talons | MB2 |
| Senan | O Brien | Portlaoise Panthers | MB3 |
| Killian | Drennan | Kilkenny Stars BC | MB4 |
| Pearce | Judge | Daingean Dragon's | MB5 |
| Jim | Hanamy | Portlaoise Panthers | MB6 |
| Christian | McGerr | Longford Phoenix Basketball Club | MB8 |
| Fergal | Murtagh | Longford Falcons/Mercy Ballymahon | MB9 |
| Blazej | Flis | Kilkenny Stars | MB10 |
| Oscar | Wang | Athlone BC | MB12 |
| Max | Moran | Baltinglass Bulldogs | MB13 |
| Marcus | Whittle | Bulldogs | MB14 |
| Nicolas | Stoyanov | School Choinglas | MB16 |
| Senan | McWeeney | St. Mel's College | MB17 |
| John | Drennan | Kilkenny Stars | MB18 |
| Senan | Demspey | Kilkenny Stars | MB19 |
| Roberts | Pikurs | Kilkenny Stars | MB20 |
| Taidhg | Dalton | Portlaoise Panthers | MB21 |
| Samuel | Albertin | Kilkenny Stars | MB22 |
| Ciaran | Bonner | | MB23 |
| Kian | McCormack | St Mel's | MB25 |
| Mindaugas | Nemeikstis | Street Warriors | MB26 |
| Jake | Byrne | Baltinglass Bulldogs | MB27 |
| Ciaran | Daly | Kildare Gliders | MB29 |
| Callum | Kernan | Portlaoise Panthers | MB30 |
| Scott | Davis | Portlaoise Panthers | MB31 |
| Oran | Masterson | Portlaoise Panthers | MB32 |
| Brian | Ciuciu | Bulldogs | MB33 |
| Ronan | Ryan | Gaelcolaiste Ceatharlach | MB34 |
| Cian | Fogarty | Kilkenny Stars | MB35 |
| Oskaras | Piskorowski | Athlone BC | MB36 |
U14 Boys North Academy 2021-2022
Head coach: Gavin Garland
Assistant Coach: Tiago Pereira
| | | | |
| --- | --- | --- | --- |
| Name | Surname | Club / School | Code |
| Alex | McVicar | Blackwater Steelers | NB1 |
| Alex | McGinnity | Muckno Lakers | NB2 |
| Arnas | Jancius | Drogheda Wolves | NB3 |
| Blake | McVicar | Blackwater Steelers | NB4 |
| Christos | Kostopoulos | Dundalk Ravens | NB5 |
| Conor | Moore | Drogheda Wolves | NB6 |
| Cormac | Smyth | Drogheda Wolves | NB7 |
| Cormac | Trainor | UU Tigers | NB8 |
| Dáire | Donnelly | Tigers Basketball Club / St Malachy's School | NB9 |
| Dylan | Davey | Tigers Basketball Club / St Malachy's School | NB10 |
| Eoin | Konate | Drogheda Wolves | NB11 |
| Finn | Dolliver | Queens | NB12 |
| Jack | Higgins | Queens | NB13 |
| John | Moohan | Queens | NB14 |
| John praise | Ogobamidele | Dundalk Ravens | NB15 |
| Karolis | Pileckas | Drogheda Wolves | NB16 |
| Kristupas | Rimkus | Dundalk Ravens | NB17 |
| Layden | O'Neill | Belfast Star / St Malachy's | NB18 |
| Mark | Burns | Belfast Star | NB19 |
| Modestus | Terebeiza | Drogheda wolves | NB20 |
| Nedas | Smigelskis | Dundalk Ravens | NB21 |
| Olek | Jakusz | Drogheda Wolves | NB22 |
| Rory | Sherry | Queens | NB23 |
| Ruairi Og | O Scanaill | Belfast Star | NB24 |
| Ryan | Dowling | | NB25 |
| Sean | Keogh | East Coast Cavaliers | NB26 |
| Shea | O'Neill | Queens | NB27 |
| Jamie | Marron | Carrick Cruisers | NB28 |