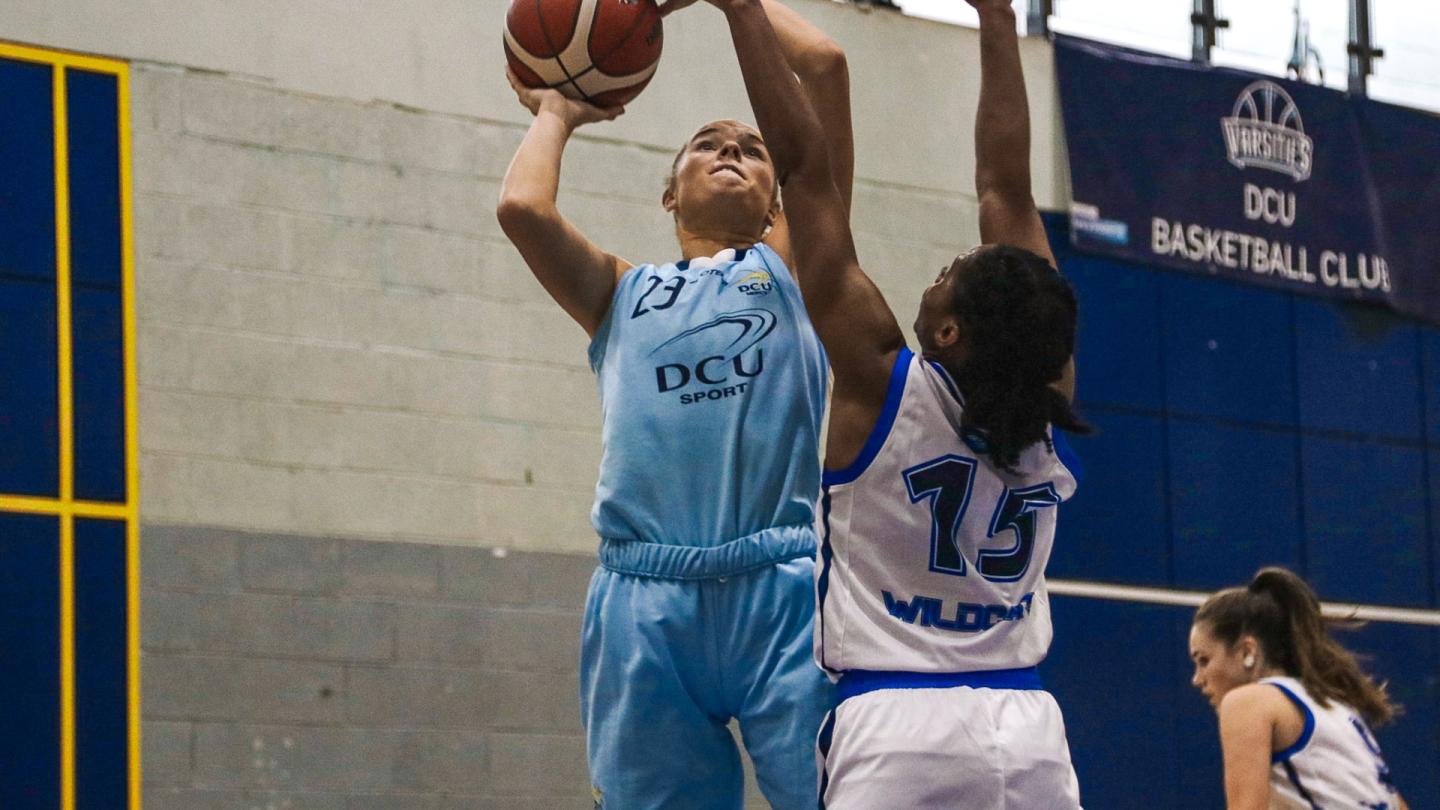 Dec 02 2021
InsureMyHouse.ie National Cup quarter-final preview
Leixlip Amenities Liffey Celtics head coach Ioannis Liapakis says his team will face "a very good team and are up against the best coach in the league", when they travel to Mark Ingle's DCU Mercy on Saturday in the quarter-finals of the InsureMyHouse.ie National Cup.
Leixlip Amenities Liffey Celtics, were Cup winners in 2019, while DCU Mercy last held the trophy in 2018. Ioannis Liapakis is fully aware there is no margin for error this weekend. "We know that it is a Cup weekend, which means no room for mistakes, because it's a do or die game. We're playing against a very good team and are up against the best coach in the league and it's bit more difficult, because it's in their home court, but we have the quality as a team to beat anyone and I have faith to our players that they are going to be able to perform at their best. The key points for the win will be - defensive transition, rebounds and turnovers. We're really looking forward to this challenge and we're working really hard to be ready for a very exciting basketball battle."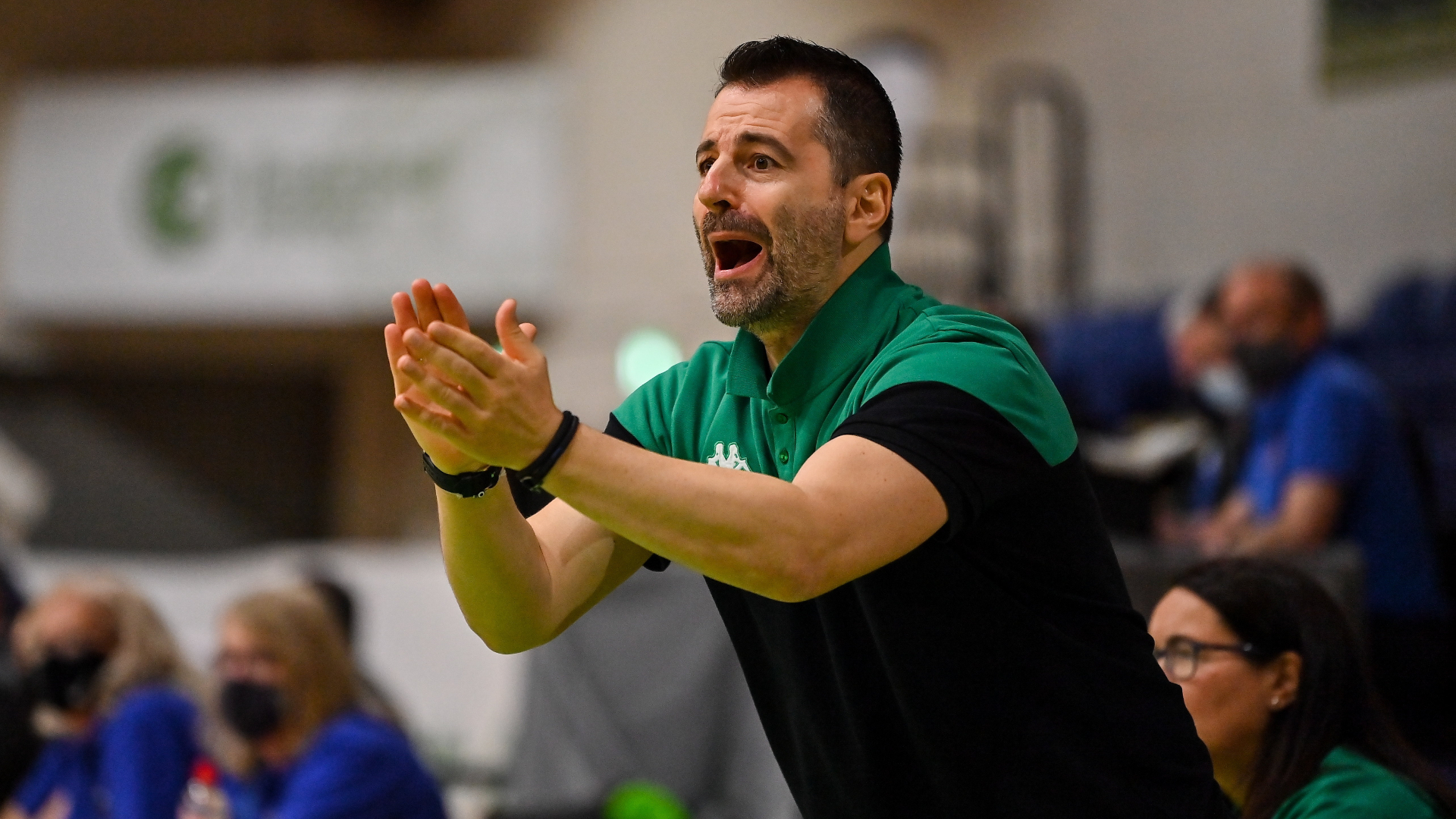 Ireland senior women's assistant coach, Ioannis Liapakis, on the sidelines during FIBA EuroBasket 2023 Qualifiers . 
DCU Mercy head coach Mark Ingle, noted that his opponents will have some inside knowledge. "This should be a great game at DCU Arena on Saturday at 3pm . Liffey's coach Ioannis Liapakis was assistant coach at DCU Mercy for three years, which should add some intrigue to the game."
MissQuote.ie Super League leaders WIT Waterford Wildcats travel to Fr. Mathews. The two sides met last week in the league, when WIT Waterford Wildcats edged a close affair 74-72, their head coach Tommy O'Mahony is predicting another tight encounter. "We are eagerly looking forward to this game. As everyone knows in Irish basketball, the Cup is special and teams will do their utmost to get as far as possible. We had a very tight contest with Fr. Mathews last weekend and I would expect nothing between the sides again. I'm sure both teams will be after different looks this weekend and what should be another nail-biting finish," O'Mahony said.
Fr. Mathews head coach Niamh Dwyer added: "We are excited for our Cup game this week, especially being at home. We know it's going to be another tough game like last week, but with the added excitement of Cup."
The Address UCC Glanmire won the Cup four years in a row between the 2013/14 and 2016/17 seasons and head coach Mark Scannell admits it's a big target for his team, ahead of their home clash with IT Carlow on Sunday.
"We have a fantastic tradition in the Cup, but it's been too long since we've won it and we have put it down as one of our goals this year. We will totally focus this week on this one game and we know that when Carlow shoot the ball well they are very difficult opponents. It's a great competition and knockout competition is what sport is all about. After a great battle last Sunday, we know we're in for another this week. We have great respect for Carlow and they play hard every week, no matter what, so we have to plan and prepare to be ready" - Mark Scannell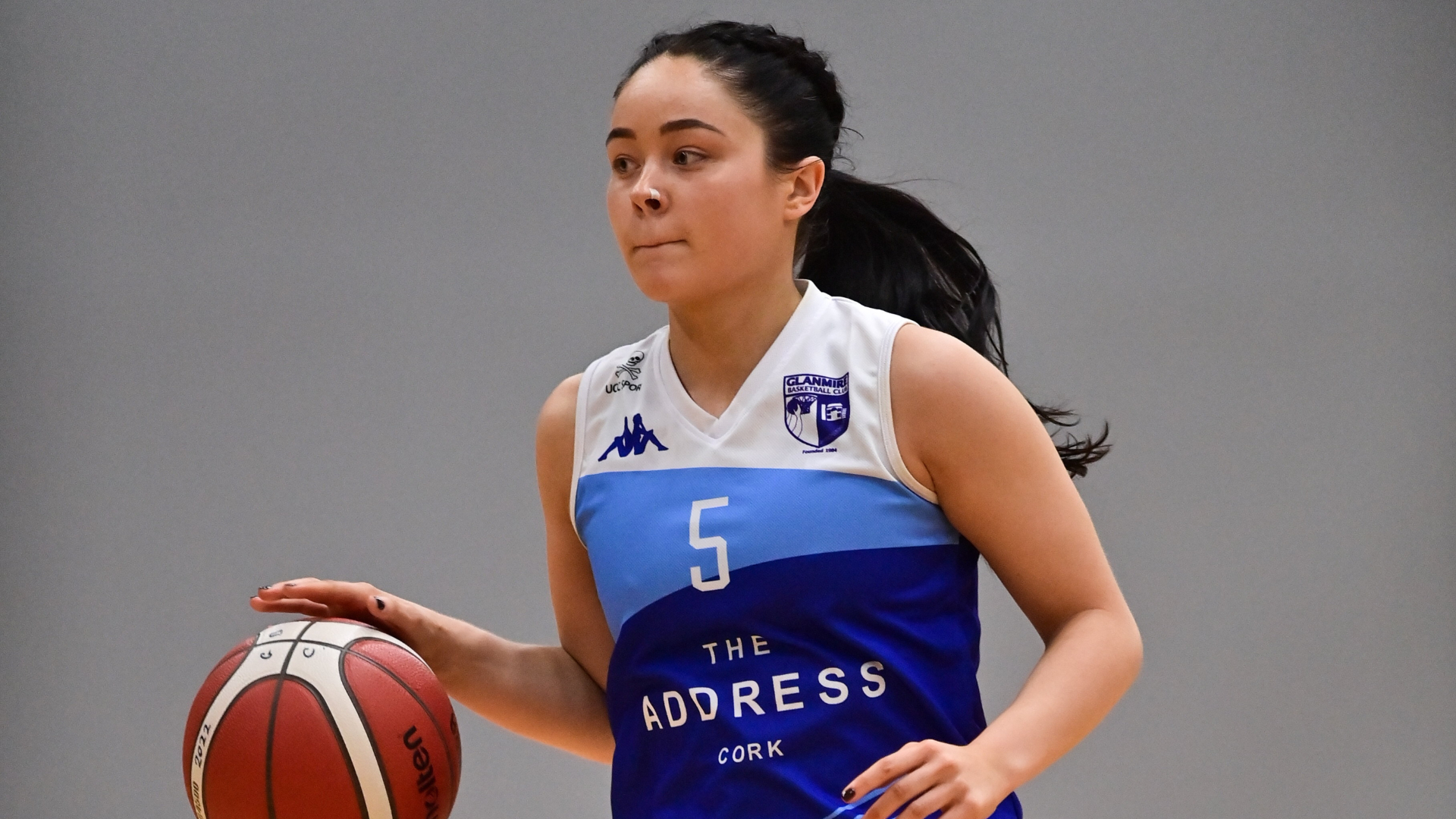 The Address UCC Glanmire guard Lesley Ann Wilkinson during a recent MissQuote.ie Super League game.
The Address UCC Glanmire beat IT Carlow 101-48 earlier this season, Martin Conroy, IT Carlow's head coach, is hoping lessons have been learned. "We take on UCC Glanmire for the second time this season. In our first meeting we were shown up close just what an awesome side Glanmire are and how well they're coached. The Cup is always interesting and we know that Glanmire will be looking to win everything put in front of them this year. For us we just need to show improvement. That's our goal and we have practiced really well this week and over the past couple of weeks. We have to take care of what we can control to be competitive and I'm sure we will be better than the last time we played against this awesome team."
2020 finalists DBS Éanna host Team 360 Financial Killorglin in the InsureMyHouse.ie Pat Duffy National Cup quarter-finals. DBS Éanna head coach Darren McGovern talked up his upcoming opponents.
"Killorglin have pedigree to beat anyone. They signed another Bosman, so we will have a lot to deal with. Allan Thomas is a fantastic American, who's been here and knows the teams well. Simon Fransis has been scoring for fun too. He'll be a handful. We've been here before couple years ago, so we are hoping a small bit of experience can lift us, along with our amazing home support in Coláiste Éanna" - Darren McGovern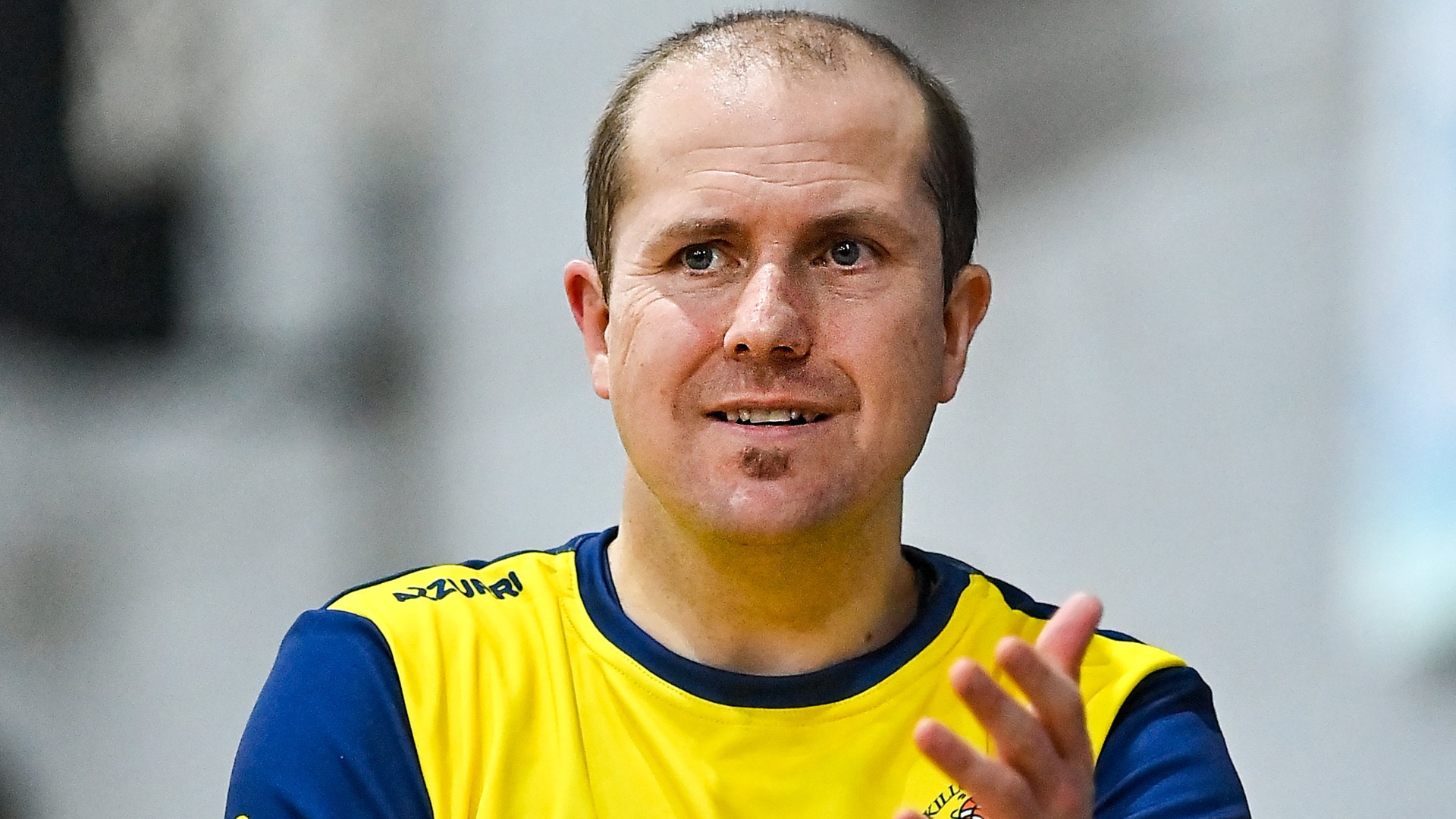 Declan Wall, Team 360 Financial Killorglin, head coach
Team 360 Financial Killorglin head coach Declan Wall says his team will be the "underdogs for sure" this weekend. They come into the game following a 82-76 home win over Belfast Star in the InsureMyVan.ie Super League, but their focus is now firmly on the Cup. "Everyone in the club is excited at the prospect of a Pat Duffy Cup quarter-finals this coming weekend. After coming off the back of a good win in the league against a good Belfast (Star) team, morale in the camp is good and we have been preparing well for the task ahead. We know it's a big ask going up to Éanna, last year's finalists, and again this season have recruited really well. All we are trying to do is get the lads to focus on what we need to do on the defensive end, that might try and keep some of the quality offensive players Éanna have quiet and hopefully that may have us in the game down the stretch. We will be going up there as underdogs for sure, so we have a free shot at getting to a semi-final, which would be huge for our small club."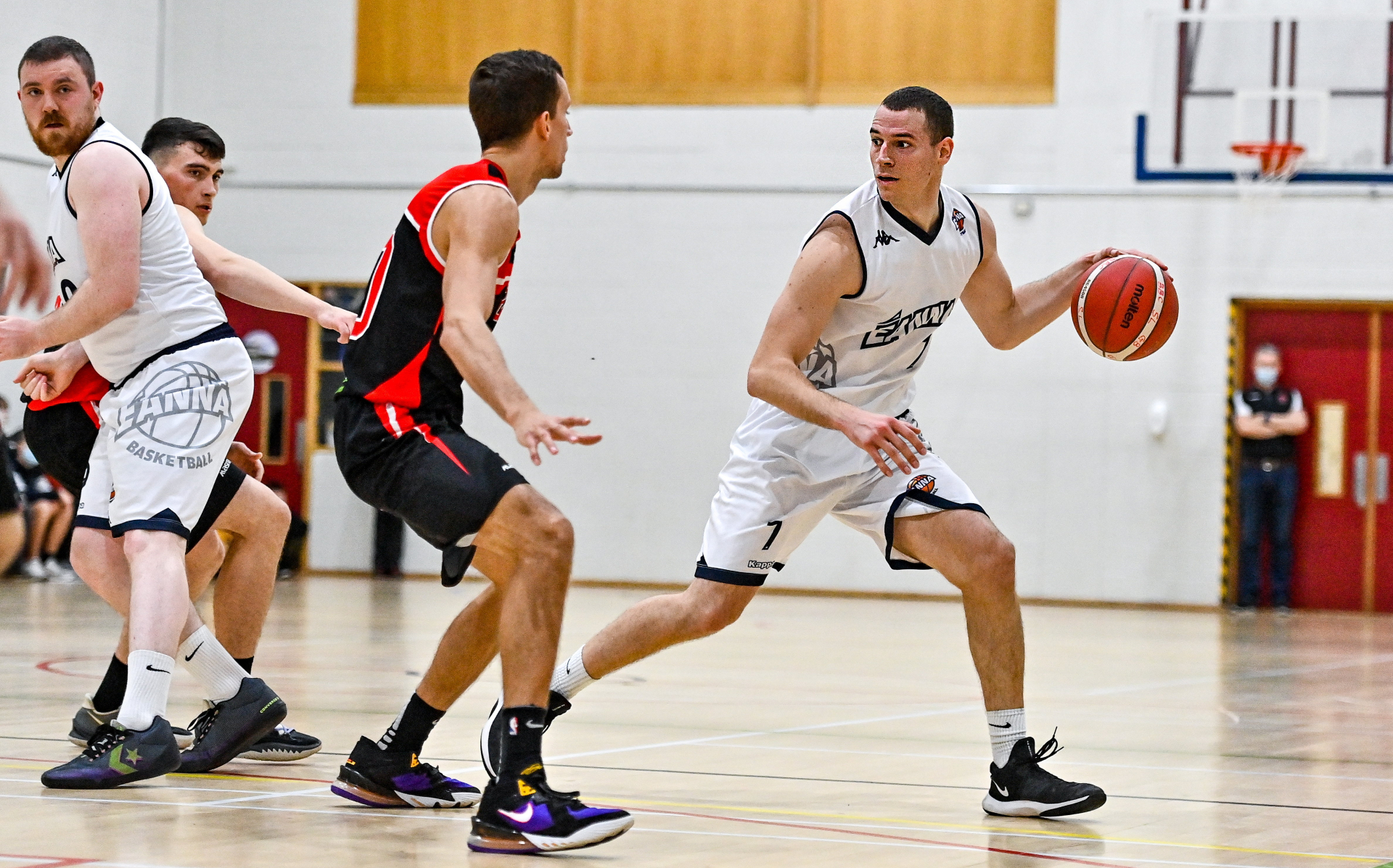 Stefan Zecevic of DBS Éanna in action recently against Tradehouse Central Ballincollig.
NUIG Maree, who eliminated defending champions Griffith College Templeogue in the first round, will take on UCD Marian at Coláiste Bhaile Chlair. The game takes place a fortnight after the two sides played each other in the InsureMyVan.ie Super League, a game which NUIG Maree won 80-64, but their head coach Charlie Crowley, believes that result has no bearing ahead of this weekend's contest. "We look forward to what will be another difficult encounter against UCD. They're a good team, who are well coached with some very experienced players. In Srdjan (Stojanovic) and Jonathan (Jean) you've got an explosive and dynamic backcourt, that every team would struggle to deal with. The game two weeks ago is nearly irrelevant, as the Cup is a different animal. We are under no illusions that there is going to be an added bite, intensity and probably a surprise or two coming with UCD this weekend and we need to put in our best performance to date, to have a chance at getting a winning result."
"With the exams on in NUIG we're in a different venue to usual, but we hope everyone still comes out and pushes our lads over the line. A smaller venue tends to create a bigger atmosphere!"
Josko Srzic, UCD Marian head coach, added: "It is another away game in Galway for us, tough opponent, on tough away court. We had the chance to feel the quality of players they have two weeks ago. It is different competition, everyone will be more motivated this time around. To continue in this competition we have to be able to win tough away games, our guys know what they have to do to get a chance to go to next round of the Cup."
Garvey's Tralee Warriors host Moycullen at Tralee Sports Complex and it's an occasion that head coach John Dowling is looking forward to. "Cup week is always different , it's the mystery of the unknown in a one-off game. Moycullen have continued to push every team they have played, so we are focused and ready for the challenge ahead. We're looking forward to another sold out (Tralee Sports) Complex and we will need everyone and everything to get the win," Dowling said.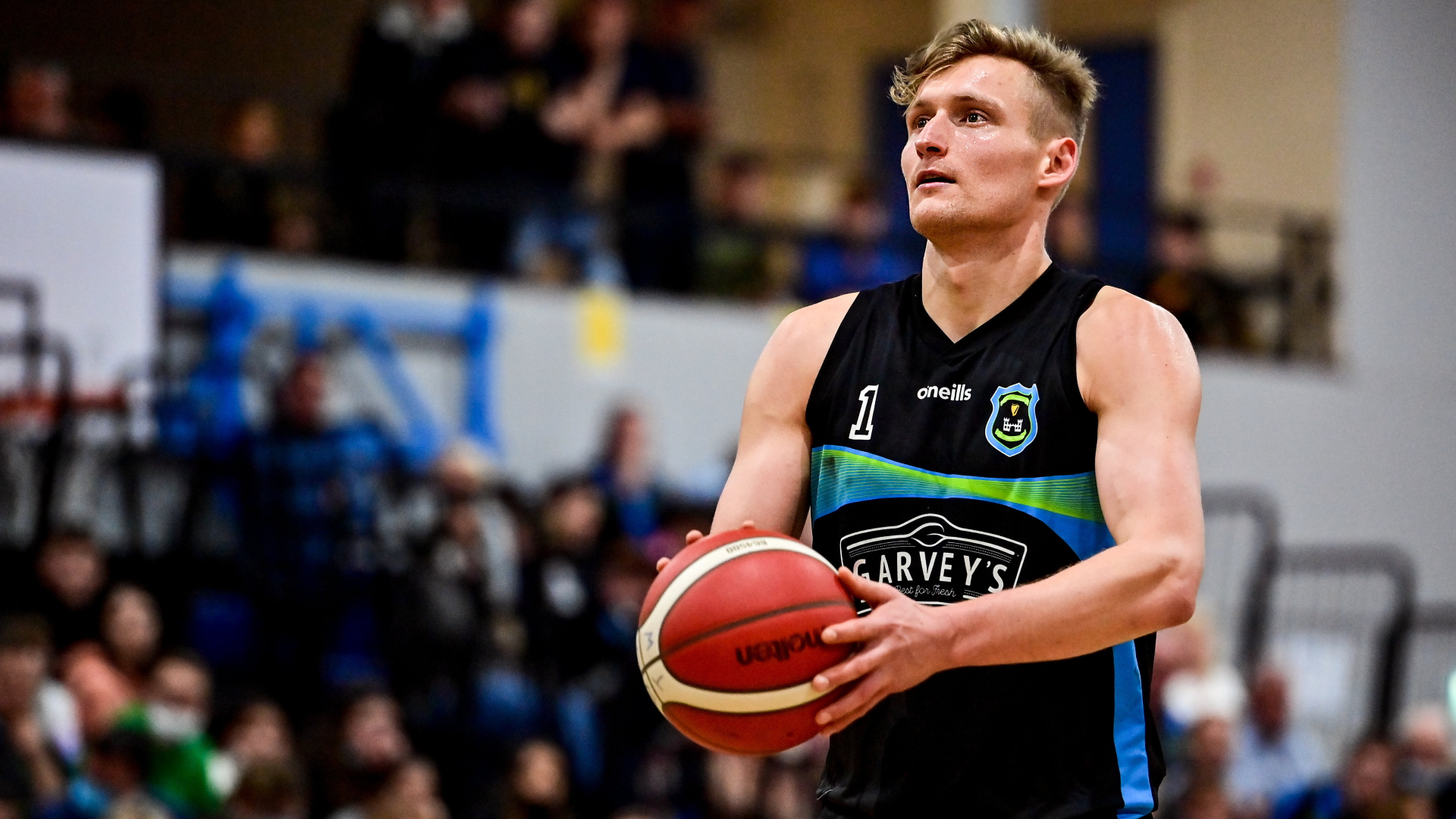 Daniel Jokubaitis of Garvey's Tralee Warriors
Moycullen haven't played since their 86-84 home InsureMyVan.ie Super League defeat against DBS Éanna on November 14th, but head coach John Cunningham has taken great encouragement from that performance ahead of their Cup quarter-final trip to Kerry. He feels the expectancy is on all the home side. "With the way we finished our last game against DBS Éanna, I would have loved the Cup game to be the day after. Now, with the Bright DCU Saints game cancellation and the international weekend, we've had a two week gap, so I hope we can still build on the momentum gained in the Éanna performance. We were very disappointed with our performance at home against an understrength Tralee side and we won't have the luxury of home advantage, or them being understrength on Saturday night. It makes for a very tough challenge, against one of the best teams in the league. However, the buzz of a Cup game, combined with it being in Tralee, will certainly lift our players and we feel that if we handle the occasion we've a genuine shot at causing an upset and making the semi-final weekend. The pressure is all on Tralee and the longer we can stay in the game, the bigger that pressure gets. I'm looking forward to Saturday night."
Killester host C&S Neptune in a repeat of their InsureMyVan.ie Super League clash from a fortnight ago, a game which the Cork side emerged as 100-76 victors. Colin O'Reilly, C&S Neptune head coach said: "We played each other two weeks ago and it's a game where both teams caused each other trouble and will need to make some adjustments before Saturday. We are looking to continue the nice form we had before the break, in what will be an extremely tough task away from home against one of the competitions favourites."
In the InsureMyHouse.ie Presidents' National Cup quarter-finals Limerick Sport Eagles host Drogheda Wolves on Friday. Drogheda Wolves are new to the National League this seaosn and head coach Gavin Garland is looking forward to getting a taste of Cup quarter-final action. "We are very excited to be playing in our first quarter-final game. We believe the teams match up well and it will be a fast, exciting game. Our focus will be to compete on the boards. If we win that battle, we can win the game. We want to play in the National Basketball Arena this season and this is a huge opportunity to make that happen."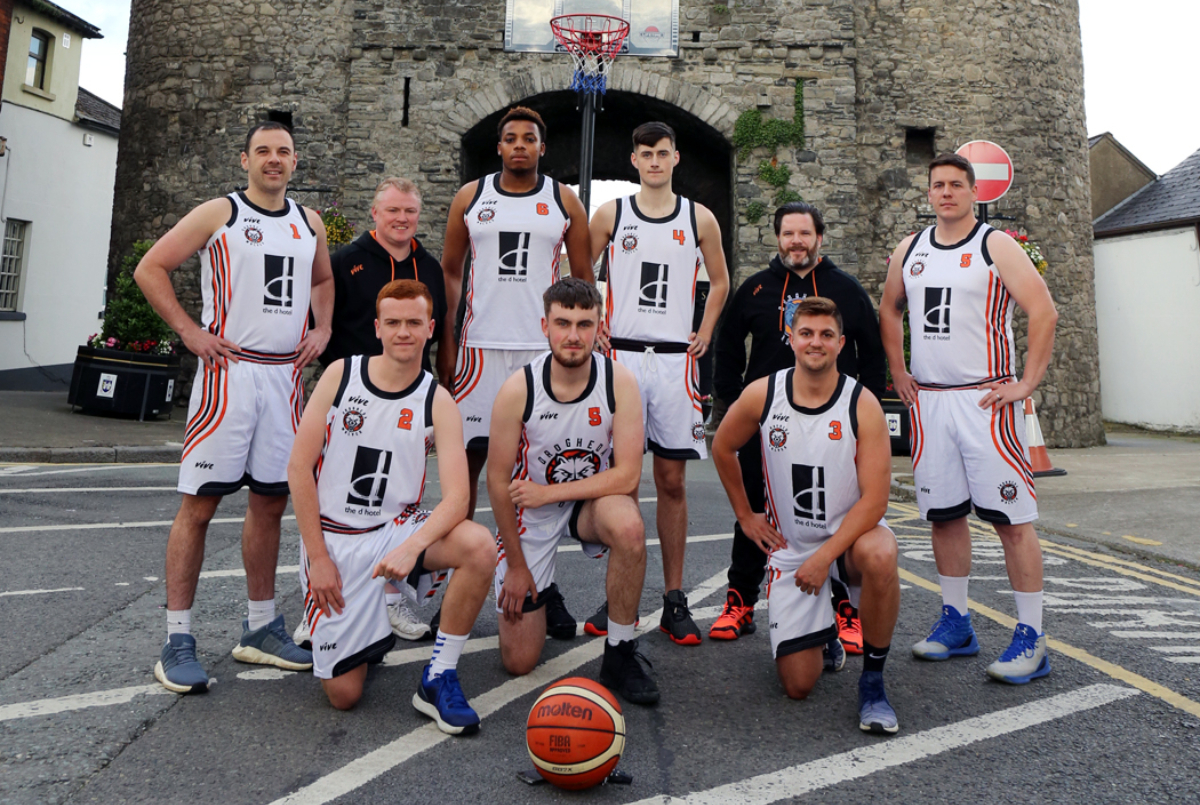 Drogheda Wolves players and Gavin Garland pose for photo ahead of 2020/21 season
UCC Demons, are seven-time senior National Cup winners, the last of which in 2014/15. They travel to Fr. Mathews on Saturday. Head coach Daniel O'Mahony says the team are in good shape ahead of the game.
"When the Cup draw was made and the possibility of a Cup quarter-final in the first week of December I was bit worried, as we had only two games. But we have really upped our intensity in practice the last few weeks and guys have never been better prepared. The reintroduction of Kyle (Hosford) back to us following international duty has been a huge lift, not only within the team, but the whole club, as to have the Irish senior captain within our squad is something we are very proud of. We also have Toby (Christensen) eligible this coming week and he has been a fantastic addition to us" -Denis O'Mahony
Fr. Mathews player/coach Darko Bucan stated: "We are pleased to be in this position, this is where every team wants to be at this stage of the season. Our young squad works hard to get better each day. We know we will have to play hard and execute in order to give ourselves a chance to win, and we are looking forward to the match."
The other last-eight games in the InsureMyHouse.ie Presidents' Cup also take place on Saturday, with McGowans Tolka Rovers hosting IT Carlow Basketball and EJ Sligo All-Stars facing Limerick Celtics.
In the InsureMyHouse.ie Division 1 National Cup quarter-finals defending champions Portlaoise Panthers travel to NUIG Mystics. Peter O'Sullivan's side come into the game off the back of an impressive 57-54 league win over previously unbeaten Ulster University.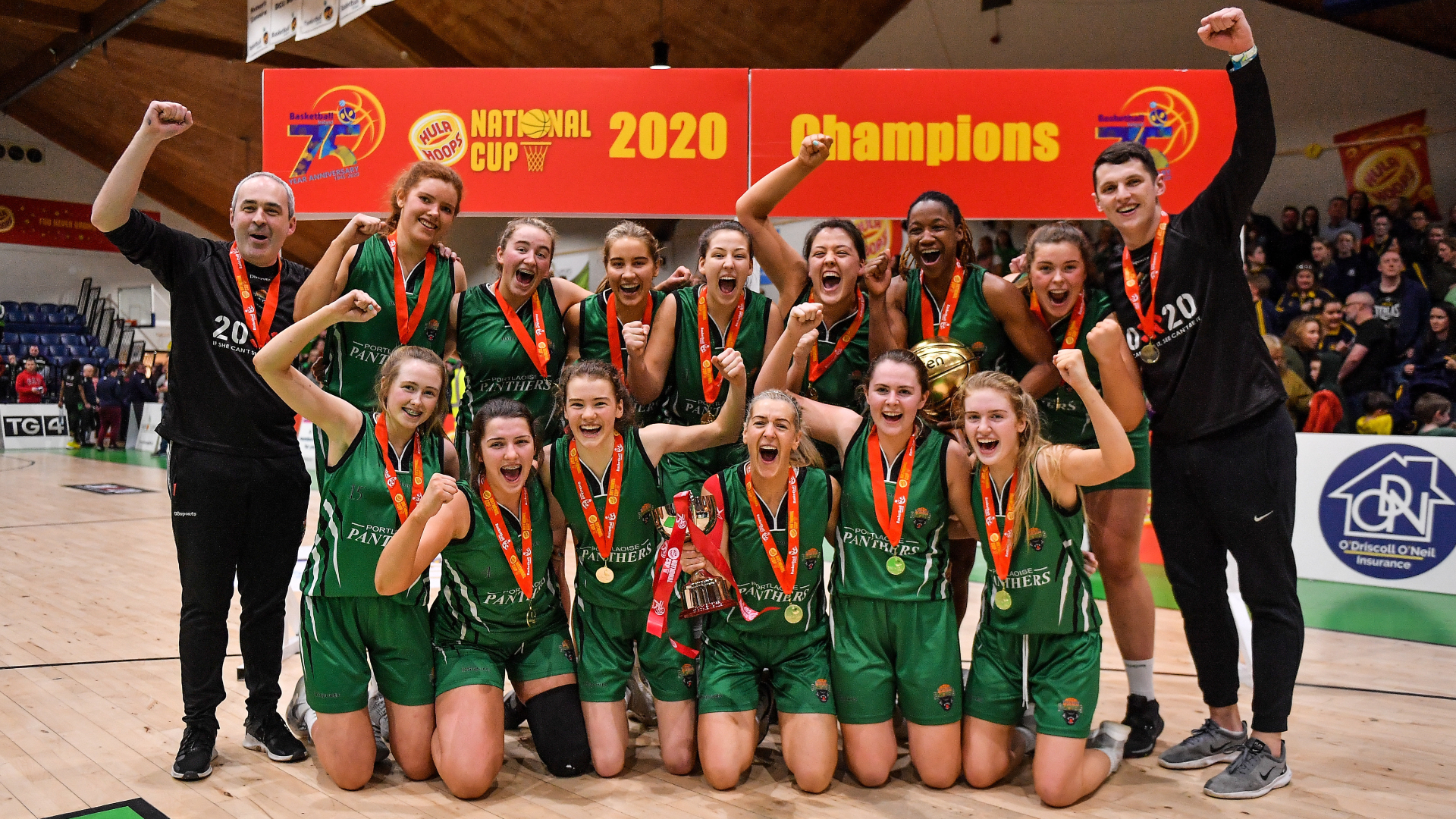 Portlaoise Panthers won the Division 1 National Cup in 2020.
Paul O'Brien NUIG Maree head coach, believes it'll be a tight affair. "We are expecting a really tough game this weekend against Panthers. They are reigning Cup champions and I'm sure they don't want to give that up. Both teams are young and full of underage Irish internationals, so hopefully it will be a great advert for women's basketball. We are feeling good after coming off a strong win at Templeogue, but we know Portlaoise are flying high as well after beating Ulster. It's a game that can honestly go either way.
There is a Limerick derby as Limerick Sport Huskies host Limerick Celtics, James Fleming, Limerick Celtics head coach, feels his side face a difficult task. "We're up against it at the weekend, we have improved immensely since the start of the year, but unfortunately this weekend we're missing Aoife Dineen and Jenny Morrison, who are injured, while Aoife Henn and Laura Stapleton are unavailable. We are playing against the in-form team in the league, with a super coach and two of the best Americans in the league too and great experience in Cathy Grant, who has won Super League Cup's with UL. We know the task at hand, Limerick Sport Huskies are the overwhelming favourites and hopefully our young squad - with an average age of just under 18 - will learn from it, however we're not going there to make up the numbers, we will give it our best shot."
Elsewhere, Swords Thunder face Marble City Hawks and Griffith College Templeogue take on Tipperary Knights.
InsureMyHouse.ie Pat Duffy National Cup Quarter-finals
InsureMyHouse.ie Pat Duffy National Cup Quarter-finals
Saturday 4th December
NUIG Maree v UCD Marian (Colaiste Bhaile Chlair) 1700
DBS Éanna v Team 360 Financial Killorglin (Coláiste Éanna) 1730
Killester v C&S Neptune (IWA Clontarf) 1900
Garvey's Tralee Warriors v Moycullen (Tralee Sports Complex) 1930
InsureMyHouse.ie Paudie O'Connor National Cup Quarter-finals
InsureMyHouse.ie Paudie O'Connor National Cup Quarter-finals
Saturday 4th December
Trinity Meteors v Singleton SuperValu Brunell (Trinity Sports Hall) 1430
DCU Mercy v Leixlip Amenities Liffey Celtics (DCU Arena) 1500
Fr. Mathews v WIT Waterford Wildcats (Fr. Mathews Arena) 1700
Sunday 5th December
The Address UCC Glanmire v IT Carlow (Mardyke Arena) 1330
InsureMyHouse.ie Presidents' National Cup Quarter-finals
InsureMyHouse.ie Presidents' National Cup Quarter-finals
Friday 3rd December
Limerick Sport Eagles v Drogheda Wolves (UL Arena) 1930
Saturday 4th December
McGowans Tolka Rovers v IT Carlow Basketball (Tolka Sports Complex) 1800
EJ Sligo All Stars v Limerick Celtics (Mercy College) 1930
Fr Mathews v UCC Demons (Fr Mathews Arena) 1945
InsureMyHouse.ie Division 1 National Cup Quarter-finals
InsureMyHouse.ie Division 1 National Cup Quarter-finals
Saturday 4th December
NUIG Mystics v Portlaoise Panthers (Claregalway Secondary School) 1400
Limerick Sport Huskies v Limerick Celtics (UL Arena) 1700
Swords Thunder v Marble City Hawks (ALSAA) 1730
Griffith College Templeogue v Tipperary Knights (Nord Anglia International School) 1900