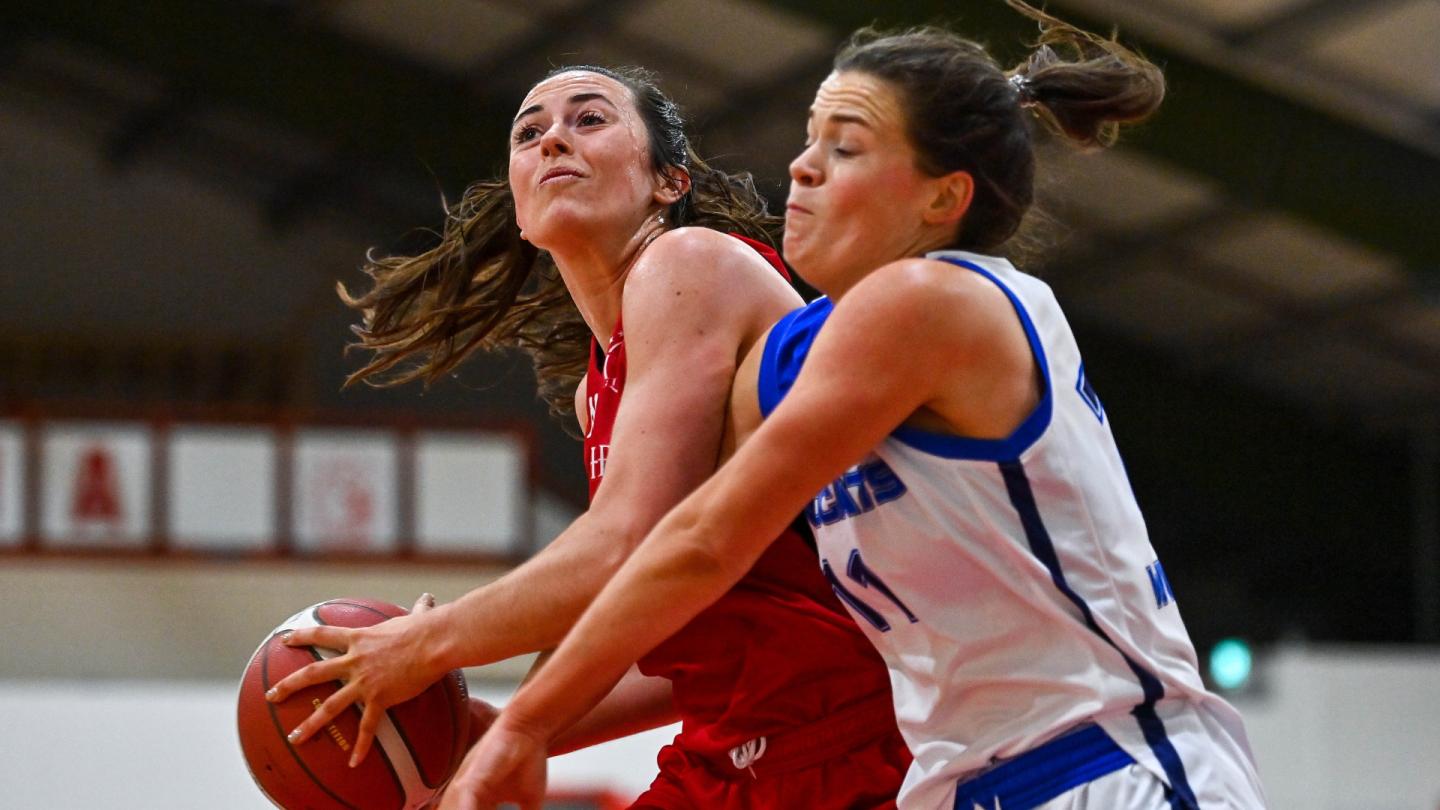 Dec 05 2021
InsureMyHouse.ie Cup Weekend Wrap
MissQuote.ie Super League leaders WIT Waterford Wildcats are into the semi-finals of the InsureMyHouse.ie National Cup after a 80-62 win at Fr. Mathews.
It was a tight contest for the opening three quarters of their Paudie O'Connor Cup tie, Fr. Mathews led by six (25-19) at the end of the first and by a point at half-time (38-37) and the sides were level at 55-55 going into the final quarter.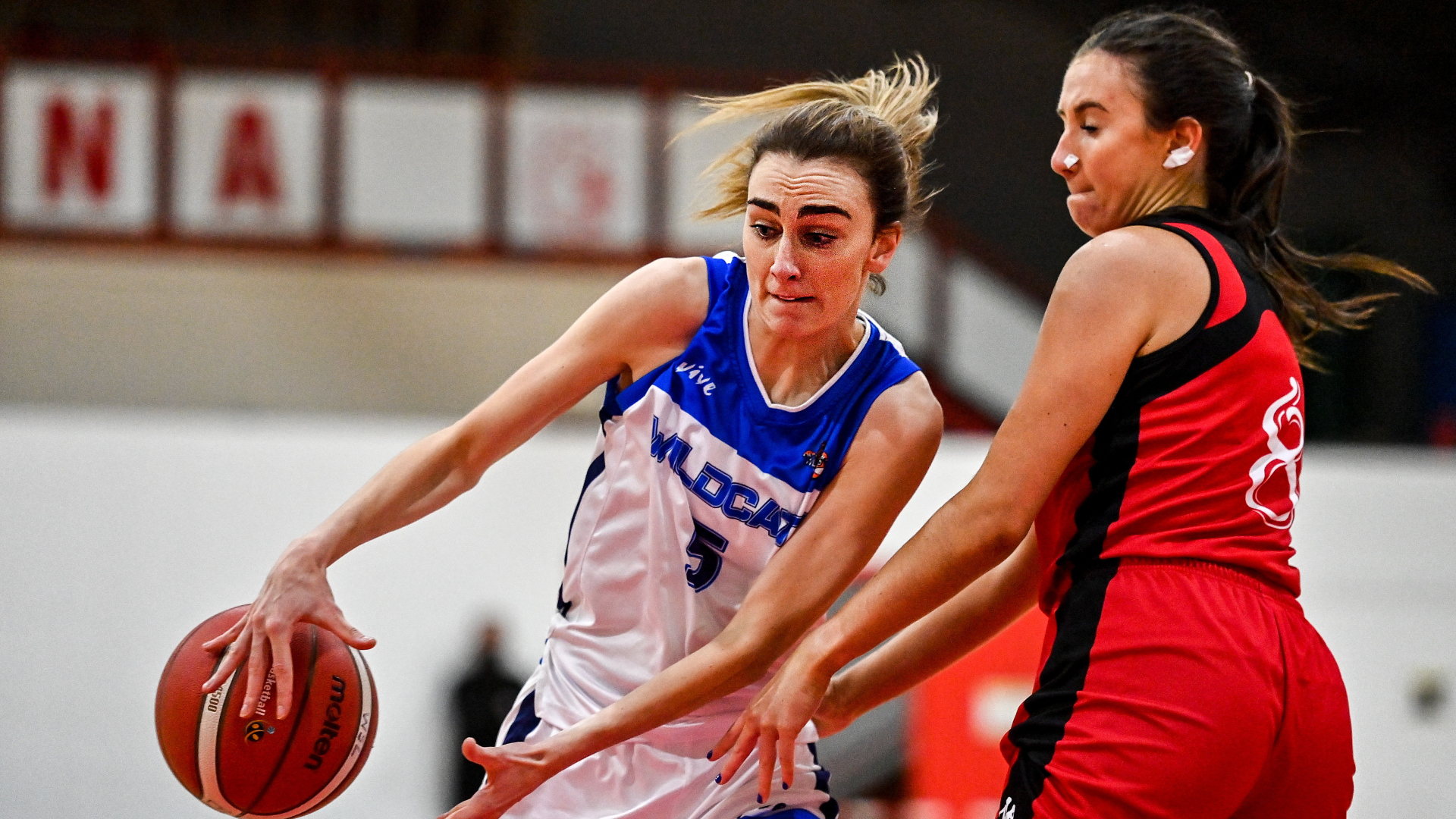 Helena Rohan of WIT Waterford Wildcats in action against Hollie Herlihy of Fr. Mathews
But a strong finish down the stretch saw Tommy O'Mahony's side advance. "Tough game, as expected, both teams made adjustments from last week's game that added to the excitement of the game. We were slow out of the blocks at the start. We picked up our defence in the second quarter. Second half we managed to hit our shots and build a lead. Our focus now turns back to league action next week, where we travel to Killester."
WIT Waterford Wildcats will face DCU Mercy in the last four. The 2018 InsureMyHouse.ie National Cup winners beat the 2019 Cup winners Leixlip Amenities Liffey Celtics 61-50 at DCU Arena.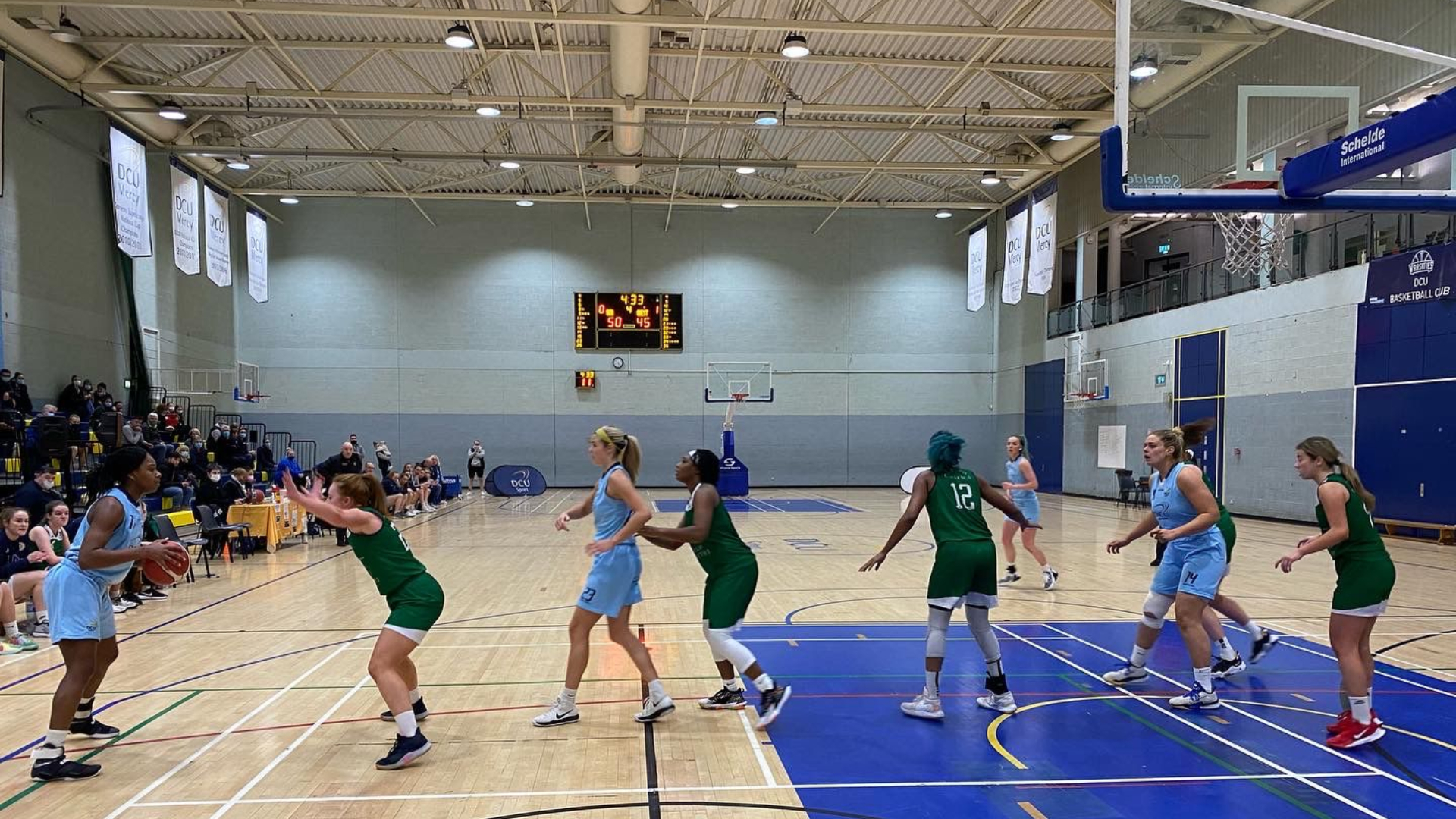 Alarie Mayze in possession for DCU Mercy in their InsureMyHouse.ie National Cup game with Leixlip Amenities Liffey Celtics
Alarie Mayze (20) and Bailey Greenberg (15) top scored for the home side. Centre Hannah Thornton was pleased to get the win, after battling against some of her international teammates.
"It was obviously a bit goal of ours to get down to Cork, so we are happy that we are going to be there. It was a tough game, we couldn't really convert the way we wanted to, we missed a lot of easy baskets, but we thought our defence was solid enough to see us through the game.

"A lot of us know each other from the Irish team, so we know their tendencies and stuff. That's always kind of interesting when you play against your friends and then you're like 'oh well, you're not my friend right now!' But it was a good tough fight at both ends," Thornton added.
Adrienne Jackson, Alexis Dillard and Sorcha Tiernan each had 12 for Leixlip Amenities Liffey Celtics. Ireland international Tiernan, lamented the fact they couldn't build a bigger score. "They were very good defensively, they were very well prepared for us and I think we struggled to execute. 50 points is a pretty low score, defensively we only gave up 61 which is okay, but we can definitely do better.
Trinity Meteors were heavily disadvantaged going into the weekend, with six of their roster absent due to Coivd-19, resulting in a loss to Singelton SuperValu Brunell in their quarter-final (49-90). Shannon Ryan, Kwanza Murray and Katie Walsh each scored 18 points for Singleton SuperValu Brunell.
"Great win today, it was a total team performance and I'm so happy for the girls. Trinity to be fair put up a great fight under the circumstances, but we are just so happy to be in a Cup semi-final" iterated Singelton SuperValu Brunell head coach Tim O'Halloran.
They will play The Address UCC Glanmire in their quarter-final, after they defeated IT Carlow Basketball at Mardyke Arena on Sunday. A game of two halves, The Address UCC Glanmire were just four points ahead at half-time, but impressive scoring from the Cork side proved too much for IT Carlow in the second half, and The Address UCC Glanmire took the win by a margin of 38 points (97-59). It will shock no one that Claire Melia was once again an impressive performer for The Address UCC Glanmire, scoring 25 points for the home team. Carrie Shephard (18 points) and Louise Scannell (14 points) followed Melia's example in scoring for The Address UCC Glanmire. Scoring for IT Carlow was led by Alyasa Velles (21 points), Lauren Laplant (16 points), and Lucy Coogan (10 points).

The Address UCC Glanmire head coach Mark Scannell was happy with how his team performed on the day. "Very good win, Cup games are always tough. IT Carlow were good in the first half, they shot the ball really well and we had to up the intensity. Second half our defense improved and that made the difference. Our bench players were brilliant today, particularly Miriam Loughrey and Mia Furlong , who did a brilliant job defensively. Delighted also for Louise Scannell who shot the ball very well. We now have to work hard over the next few weeks to get back into the league and to get ready for the semi-final", remarked Scannell.
2020 finalists DBS Éanna are into the semi-finals of the InsureMyHouse.ie National Cup after an 83-76 Pat Duffy Cup win over Team 360 Financial Killorglin. Stefan Zecevic (23), Devin Gilmore (15) and Romonn Nelson (14) led the home side's offence, while Team 360 Financial Killorglin's top scorers were Alan Thomas (17), Simon Fransis (15) and Isa Xander Brandon (15).
DBS Éanna head coach Darren McGovern was delighted to reach the last four. "We played great defensively tonight. We stuck to our tasks and delivered a big home win for our club. Many excellent contributions from the players tonight. Stefan (Zecevic) lead the offence and Devin Gilmore really showed up tonight. He's capable of much more too. I thought Hillary Nets was exceptional on his defensive assignments too. Overall, everyone is always thrilled to get through to the next round. Two Cup semi-finals back-to-back is progress. We'll now get back to prep for next weekend."
DBS Éanna will play Garvey's Tralee Warriors in the semi-finals. The Kerry side defeated Moycullen 77-62. Daniel Jokubaitis 20, Aaron Calixte 17 and Ronalds Elsknis 14 led scoring for Garvey's Tralee Warriors, while Moycullen's leading point scorers were Grant Olsson (18), Connor Curran (14) and Kyle Cunningham (12).
Afterwards Garvey's Tralee Warriors head coach John Dowling gave his assessment. "Moycullen had a solid game plan which they executed very well. We made a run in the 3rd quarter - and like they have all year - they came right back at us. We responded with some massive plays from Daniel (Jokubaitis), Quigs (Eoin Quigley) and Arron (Calixte) finished very well after a slow start. All roads lead to Cork for us, but we have two tough league game before the break, so we must focus in next week."
C&S Neptune followed up their recent InsureMyVan.ie Super League win over Killester with a 92-86 quarter-final Cup success at the IWA in Clontarf. Neptune led by three (49-46) at half-time and by four at the end of the third (66-62), with Killester unable to overcome that deficit in the last. Roy Downey (21), Miles Washington (20) and Nil Sabata 13 top scored for the Cork club and Cian Heaphy says the team will be determined to perform in the semi-finals. "Bringing it back to our home territory and our fans behind us, a Cork crowd and obviously there is always a great atmosphere down there. We take it one step at a time, we're not afraid of anyone, we're not going to back down, especially on home soil, so we'll leave it all out there."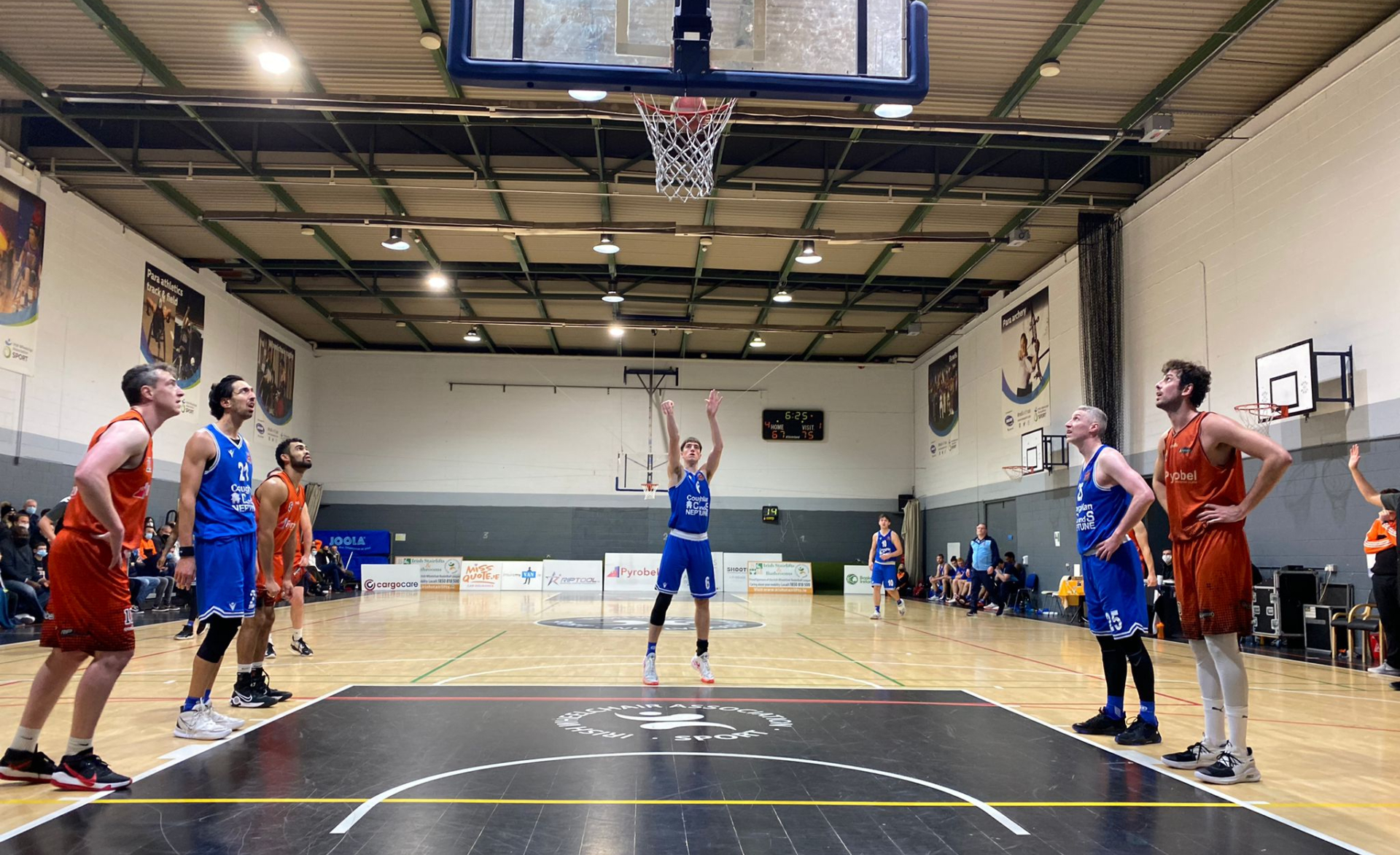 Cian Heaphy of C&S Neptune takes free throw against Killester in their InsureMyHouse.ie National Cup quarter-final.

Tomas Fernandez Zerolo (20), Kason Harrell (20), Ciarán Roe (13) top scored for Killester.
NUIG Maree and UCD Marian had a thrilling climax to their game, a three pointer with two seconds left brought the game level at 82-82, before Lovre Tvrdic picked up possession from the restart and converted his buzzer-beating shot, to seal a dramatic 84-82 win.
Head coach Charlie Crowley praised the battling qualities of his team. "Extremely intense game against a very, very good UCD team. They Serbian Srdjan (Stojanovic) is a phenomenal player, kept them alive on so many levels, but our guys just fought and fought and that was a gritty performance from our team that got us over the line. All credit goes to all the players, they put in all the work week in and week out. Lovre (Tvrdic) injured all week, he came in and he shoots that shot every day in training and we let rip on him about it, but God, he came up big there tonight."
"We march on now down to Cork, again, another historic night for NUIG Maree, we've never been to a Cup semi-final at Super League level. We get back to work now on Monday for Killester, but we'll enjoy tonight."
In the Women's Division 1 Cup holders Portlaoise Panthers are out. They lost 66-53 at NUIG Mystics.
Mystics head coach Paul O'Brien said: "We are delighted to be into the cup semi's after a tough game against Panthers. Our defensive effort was incredible, particularly in the first half to hold them to 18 points. Portlaoise were defending champions and we knew they wouldn't give up and brought it back to five in the third quarter. I was really happy with the composure the girls showed after Portlaoise went on a run, to close the game out. We are really looking forward to the cup semi-finals next month."
They will play Limerick Sport Huskies next, who edged the local derby against Limerick Celtics 70-69, a game which went to overtime after it finished 63 apiece at full-time. MissQuote.ie Division 1 Player of the Month Yuleska Ramirez Tejeda continued where she left off with 32 points for the winners.
Swords Thunder defeated Marble City Hawks 56-47, Peggy Black with a 24 point haul in their win. Griffith College Templeogue completed the Women's Division 1 Cup semi-final line-up with a 20-point 85-65 win over Tipperary Knights. Akeema Richards (24), Jah-Leah Ellis (16) and Lynn Tunnah (14) top scored for the victors.
In the Presidents' Cup Drogheda Wolves reached their first National Cup semi-final with a 83-82 win at Limerick Sport Eagles. Adam Mullally (24), Guilherme Alves Vulela (21) and Jubril Alade (17) top scored for the Louth club. They'll now play IT Carlow Basketball, who reached their third Presidents' Cup semi-final in a row with a 74-60 win at McGowan's Tolka Rovers.
EJ Sligo All-Stars beat Limerick Celtics 93-78 at Mercy College, Keith Jordan (22), Zack Powell (20) and Jamie Hayes (17) helped them to victory. Their prize is a last four meeting with UCC Demons, who won 80-72 at Fr. Mathews. Tala Fam Thiam had 25 points for UCC Demons, while Ireland captain Kyle Hosford contributed 18 for the club which has won seven senior National Cup titles in their history.
InsureMyHouse.ie National Cup Results:
InsureMyHouse.ie Paudie O'Connor Cup - Quarter-final Results
Saturday 4th December
Trinity Meteors 49-90 Singleton SuperValu Brunell
DCU Mercy 61-50 Leixlip Amenities Liffey Celtics
Fr. Mathews 62-80 WIT Waterford Wildcats
Sunday 5th December
The Address UCC Glanmire 97-59 IT Carlow
InsureMyHouse.ie Pat Duffy National Cup Quarter-finals
Saturday 4th December
NUIG Maree 84-82 UCD Marian
DBS Éanna 83-76 Team 360 Financial Killorglin
Killester 86-92 C&S Neptune
Garvey's Tralee Warriors 77-62 Moycullen
InsureMyHouse.ie Presidents' National Cup Quarter-finals
Friday 3rd December
Limerick Sport Eagles 82-83 Drogheda Wolves
Saturday 4th December
McGowan's Tolka Rovers 60-74 IT Carlow Basketball
EJ Sligo All-Stars 93-78 Limerick Celtics
Fr. Mathews 72-80 UCC Demons
InsureMyHouse.ie Women's Division 1 National Cup Quarter-finals
Saturday 4th December
NUIG Mystics 66-53 Portlaoise Panthers
Limerick Sport Huskies 70-69 Limerick Celtics (after OT, 63-63 at full-time)
Swords Thunder 56-47 Marble City Hawks
Griffith College Templeogue 85-65 Tipperary Knights
InsureMyHouse.ie National Cup – Semi-final fixtures (Played January 7th/8th/9th)
InsureMyHouse.ie Pat Duffy National Cup - Semi-finals
C&S Neptune v NUIG Maree
DBS Éanna v Garvey's Tralee Warriors
InsureMyHouse.ie Paudie O'Connor National Cup - Semi-finals
The Address UCC Glanmire v Singleton SuperValu Brunell
DCU Mercy v WIT Waterford Wildcats
InsureMyHouse.ie President's National Cup - Semi-finals
Drogheda Wolves v IT Carlow
UCC Blue Demons v EJ Sligo All-Stars
InsureMyHouse.ie Women's Division 1 National Cup - Semi-finals
Limerick Sport Huskies v NUIG Mystics
Swords Thunder v Griffith College Templeogue