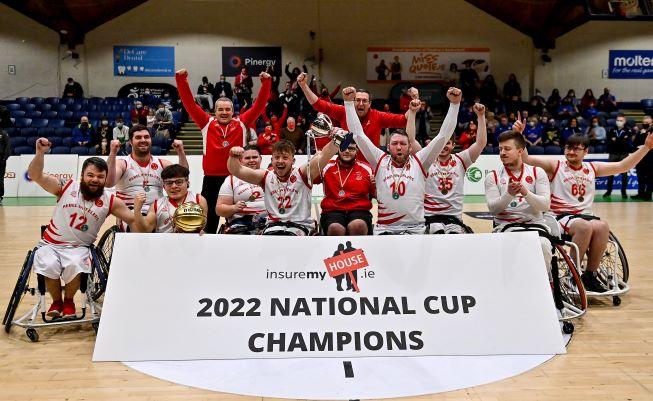 Jan 22 2022
Rebel Wheelers claim 3 in-a-row as they beat Killester 58-49 in InsureMyHouse.ie IWA National Cup final
In a repeat of the 2020 IWA National Cup final, Rebel Wheelers came out on top once again, defeating their familiar foes 58-49, claiming the trophy in the process. An MVP performance came in the form of Conor Coughlan from Rebel Wheelers, as he scored 16 points, with seven rebounds. Coughlan's teammate was top scorer for the game, with 18 points and 17 rebounds. Killester's top scorer was Seamus Holland with 17 points.
Killester won the tip-off but failed to capitalise on the possession as they lost the ball in the paint. Jack Mangan was first on the board for Rebel Wheelers, after an assist from captain Jack Quinn, who totaled 12 assists for the game. Mangan was also top scorer for the quarter, making 7 points. Killester's Seamus Holland followed suit, scoring Killester's first basket of the game. Rebel Wheelers then led 7-4 after 4 minutes. Killesters' Michael O'Cearra missed a pair of crucial baskets that could have put the North Dublin team ahead, as the halfway point of the quarter loomed.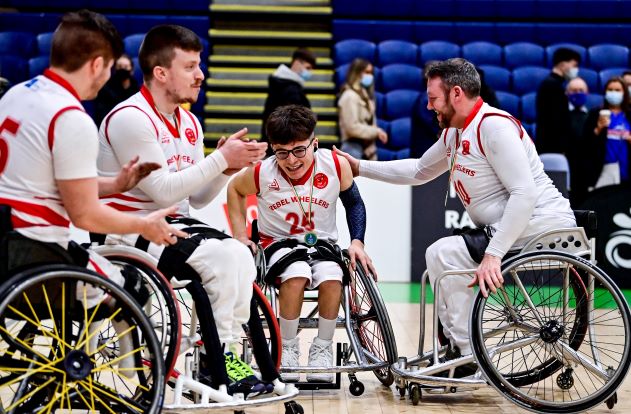 Patrick Forbes made a basket for Killester, before Derek Hegarty increased the lead for Rebel Wheelers to three once more after a score in the paint. A court-length pass from Seamus Holland resulted in a Killester basket from Michael Cunningham, making it a one-point game again. John Fulham put Killester ahead with a pair of free throws with a minute left in the period, before Jack Mangan nudged the Cork side ahead by a point thanks to a basket from rebound. Con Coughlan assisted Jack Quinn for the final score of the quarter, making it 13-10 for Rebel Wheelers.
A long range score from Con Coughlan from opened the proceedings in the second quarter. Patrick Forbes responded in kind less than a minute later, scoring for Killester at the opposite end. Seamus Holland added another two points for Killester a minute later, following steal from his teammate Barry Cooke. Rebel Wheelers had built a seven-point lead in the middle of the second quarter, with baskets from Derek Hegarty, Jack Quinn and Con Coughlan, before Patrick Forbes scored Killester's next basket, making it 21-16 for Rebel Wheelers.
A dash for the basket from Michael O'Ceara brought Killester to 20 points, thanks in large part to an excellent assist from Patrick Forbes. Less than 20 seconds later, Rebel Wheelers retaliated with a score from Derek Hegarty, and a minute later he did the same again, building the Rebel Wheelers' lead to six. A basket for each team in the last minute ended the half with Rebel Wheelers ahead, 28-22. A buzzer-beater for Conor Coughlan was the opening score of the second half, as Rebel Wheelers looked to cement their lead over Killester. Seamus Holland made shot as Killester looked to keep themselves in the game, but it was Darragh O'Regan put Rebel Wheelers in front by double figures with his lay-up, assisted by his captain Jack Quinn. The quarter ended 43-35, with Rebel Wheelers leading as they headed for the final quarter.
Jack Quinn and Patrick Forbes kicked off the last period in style, both scoring big threes in the first minute. Jack Quinn then pushed Rebel Wheelers to 50 points, and a basket from Conor Coughlan moments later gave them a comfortable lead of 12 points against Killester. Derek Hegarty assisted both teammates in their scores. Jack Quinn and Michael O'Cearra exchanged baskets to make it 54-42 with 4:00 on the clock. O'Cearra set John Fulham up for a shot a minute later, which he scored well under pressure. Killester weren't finished yet, as Seamus Holland made an offensive rebound, but scores from Jack Quinn and Con Coughlan made for an emphatic reply for Rebel Wheelers. Seamus Holland, Michael Cunningham Michael O'Cearra and John Fulham all got on the board for Killester in the last five minutes, but it wasn't enough to bridge to gap Rebel Wheelers had maintained, and the final finished out 58-49, crowning Rebel Wheelers as champions.
Reacting to the win, Rebel Wheelers captain Jack Quinn pointed to the hard work of his team as the reason for their victory. "We put in a good six, seven months hard work to get to this, I feel we won this back in May when we were training out in Ballincollig. We trained every Sunday morning, we didn't miss a session, so that's where we won this. We're the hardest working team here, we train three nights a week, so I think we deserved to win this fully," said Quinn.
When asked about the MVP performance of Conor Coughlan, Quinn praised his teammate; "Conor's unreal, he's my roommate, we travel together on the Irish team. He loves this sport, it means everything to him. His dad's the coach as well, his mom's in the stand so it's a huge day for him. He's improved so much over the last couple of years so he fully deserves this." This win is a third Cup victory in-a-row for Rebel Wheelers.
Quarter score: 13-10; 28-22; 43-35; 58-49
Top scorers:
Rebel Wheelers - Derek Hegarty 18, Conor Coughlan 16, Jack Quinn 13
Killester WBC - Seamus Holland 17, John Fulham 10, Patrick Forbes 9

Rebel Wheelers - Jack Quinn (C), Neil O'Sullivan, Alex Hennebry, Derek Hegarty, Alan Dineen, Darragh O'Regan, Conor Coughlan, Dylan McCarthy, Jack Mangan, Sean Ryan
Killester WBC - John Fulham, Seamus Holland, Michael Cunningham, Michael Bryan, Bledar Suxha, Barry Cooke, Michael O'Cearra, Darren Healy, Pauric Franey, Adrian Donoghue, Patrick Forbes (C), Sean McCullagh