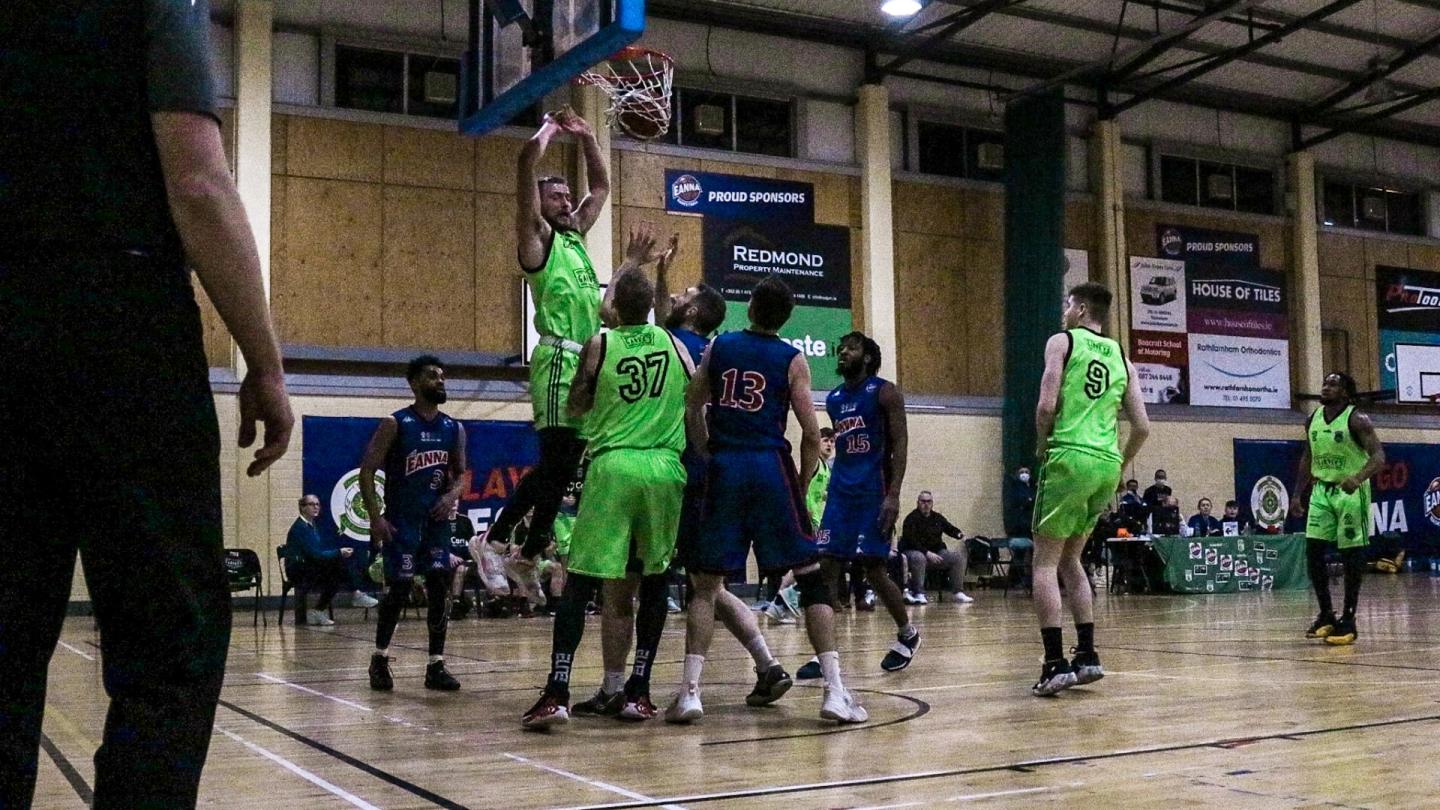 Mar 27 2022
Garvey's Tralee Warriors into InsureMyVan.ie Super League final, UCC Demons promoted
Garvey's Tralee Warriors and C&S Neptune will face each other next weekend's InsureMyVan.ie Super League final, in a repeat of January's InsureMyHouse.ie Pat Duffy National Cup decider.
Garvey's Tralee Warriors won 75-57 at North Conference winners DBS Éanna on Sunday, joining C&S Neptune in the final, after they'd beaten Tradehouse Central Ballincollig 92-75 on Saturday.
Garvey's Tralee Warriors got off to a good start and opened up a 19-10 lead, and were ahead by six, 28-22 at half-time.
The second half saw Garvey's Tralee Warriors up the tempo further and they had a clear 14-point lead, 49-35, going into the final quarter.
The fourth quarter was successfully negotiated by the Kerry club, who had Aaron Calixte in fine form on 22 points, with Daniel Jokubaitis hitting 17.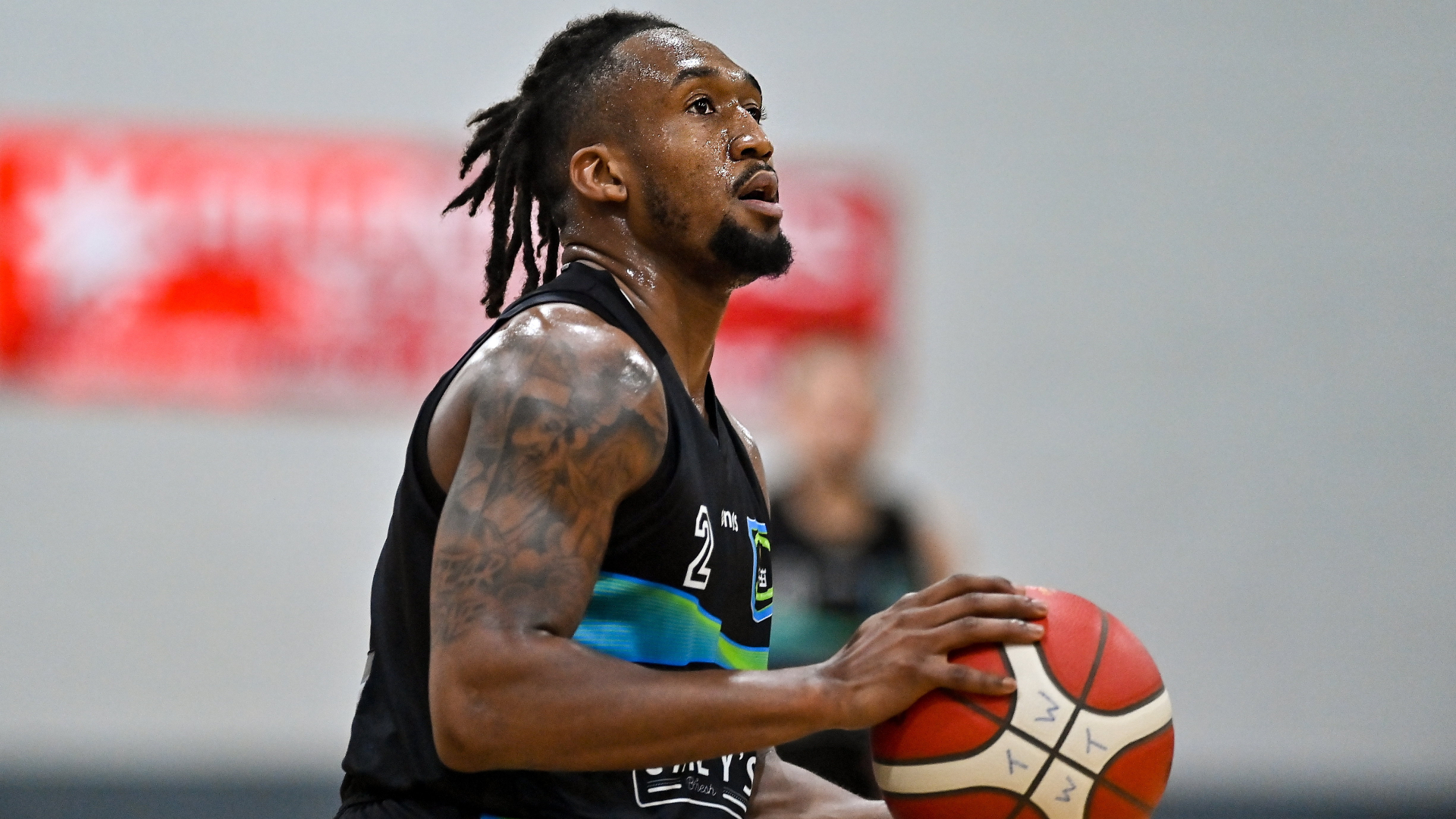 Aaron Calixte hit 22 points for Garvey's Tralee Warriors in their win at DBS Éanna
"A huge win for us on the road, a lot of our big players showed up today. It was an outstanding team performance and we're looking forward to next week in Tallaght." - John Dowling, Garvey's Tralee Warriors head coach
Stefan Zecevic stood out for DBS Éanna with 20 points, with Garvey's Tralee Warriors' defence restricting the potent Josh Wilson and Romonn Nelson to nine and eight points respectively.
"Look it certainly wasn't our day. Tralee arrived with an attitude we just didn't match. John Dowling coached a terrific game and credit to them. It's been a long season and on reflection I'm sure I'll look at all the positives during the week. I want to thank our supporters and clubs committee for all the support in the number of seasons." - Darren McGovern, DBS Éanna head coach
C&S Neptune inflicted a first home defeat of the season on Tradehouse Central Ballincollig to reach the InsureMyVan.ie Super League final, something which C&S Neptune player/coach Colin O'Reilly hailed as "a huge achievement".
Tradehouse Central Ballincollig got off to a great start in their InsureMyVan.ie Super League semi-final and led 25-13 at the end of the opening quarter, but C&S Neptune got themselves back into contention and trailed by six by half-time, 39-33.
Tradehouse Central Ballincollig's lead was whittled down to a single point, 58-57, by the end of the third, before a strong fourth quarter saw C&S Neptune pull clear and reach their second final of the season, having reached InsureMyHouse.ie Pat Duffy National Cup final in January.
Colin O'Reilly was elated afterwards.
"To beat the top seed on the road is a huge achievement for this group. They dominated the first 15 minutes of the game and had a huge 17 point lead, but there was no panic on our end. We had started to see a few things working and knew that if we could get back in contention that we had the experience to close out knockout games on the road. The game swung in the 4th, where we made consecutive 3's down the stretch, which gave us the lead and we held our composure to see it out from the free throw line."
Nil Sabata was C&S Neptune's leading scorer on 21, backed up by Miles Washington (14), Ireland international Roy Downey (14) and Richard Gittens (13).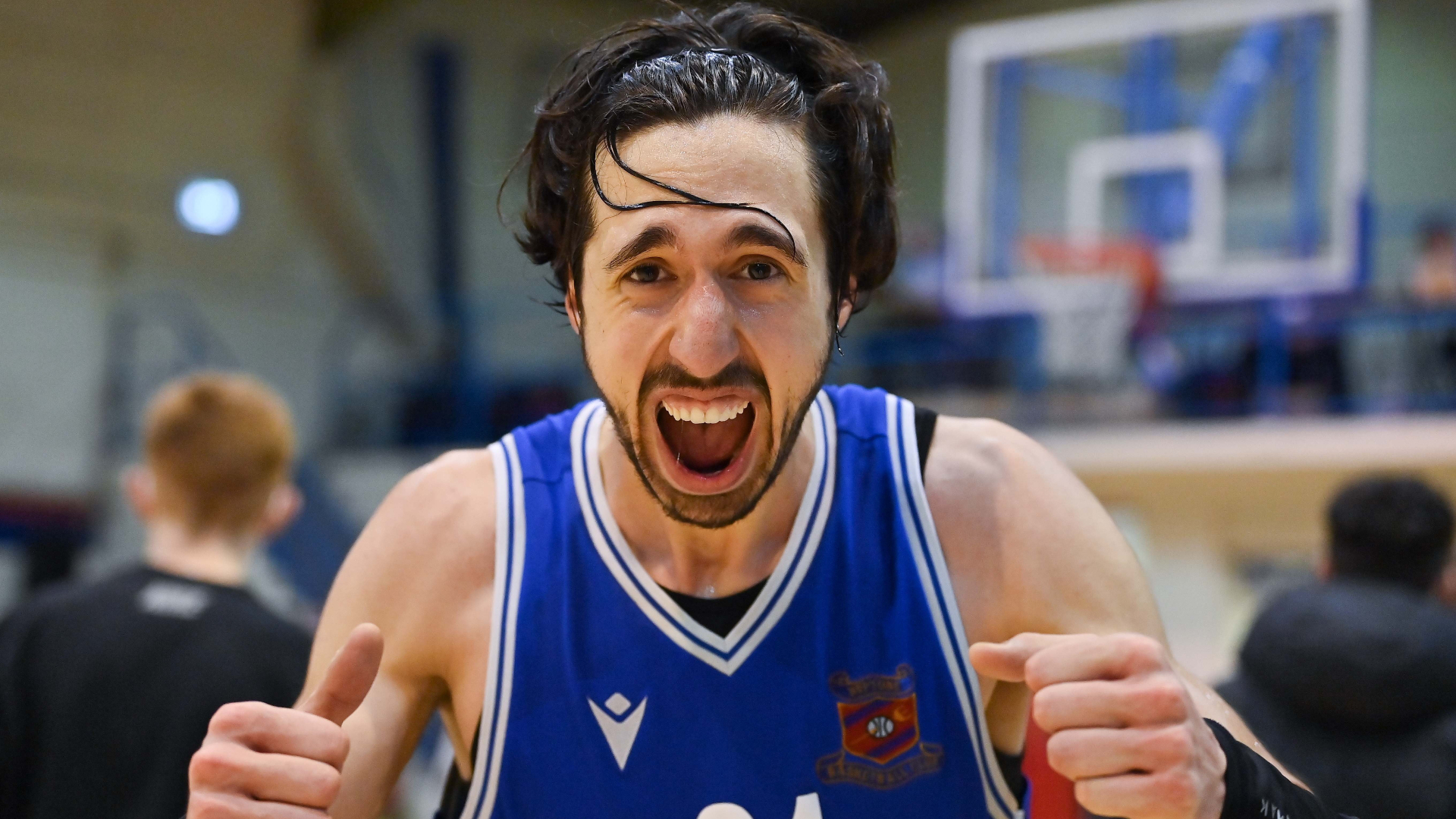 Nil Sabata scored 21 points for C&S Neptune in their win at Tradehouse Central Ballincollig
Andre Nation was the game's top scorer, on 26 points, while Tradehouse Central Ballincollig also had notable contributions from Ireland international Adrian O'Sullivan (19) and Milorad Sedlarevic (13).
Although naturally disappointed, Tradehouse Central Ballincollig head coach Kieran O'Sullivan praised the efforts of his players, after topping the South Conference, with a 15-1 regular season record in their debut Super League season.
"We have had a tremendous season and faulted at the last hurdle. Coming up from the first division going 15-1 shows the calibre of team we have. We are here to stay at the top table and will go again next year. The MNCC (Men's National Competitions Committee) need to review the rules and make the league best record the winners. Credit to Neptune today, they played a fine game and it was going to be tough to beat them three times in a row", Kieran O'Sullivan, Tradehouse Central Ballincollig head coach
UCC Demons and Ej Sligo All-Stars promoted to InsureMyVan.ie Super League
UCC Demons and EJ Sligo All-Stars will play in the InsureMyVan.ie Super League next season.
UCC Demons, who are eight-time Super League winners, defeated Grand Hotel Malahide 97-84 in their InsureMyVan.ie Division 1 semi-final on Sunday, while EJ Sligo All-Stars got past IT Carlow Basketball 94-68 on Saturday.
UCC Demons, who comfortably finished top the Division 1 South Conference with a 15-1 regular season record on their return to the National League, were made to work hard for their victory over Grand Hotel Malahide. The home side were ahead by just four points at the end of the first, 25-21. That lead was eight by half-time, 53-45, but again Grand Hotel Malahide made inroads and trailed by six going into the fourth quarter, 74-68, before UCC Demons powered clear in the final quarter.
There were big performances from Tala Fam Thiam (27), Ireland captain Kyle Hosford (20) and Tobias Christensen (19), while for Grand Hotel Malahide Trevor Recio hit 31, backed up by Kevin Foley (17) and Cian Daly (11).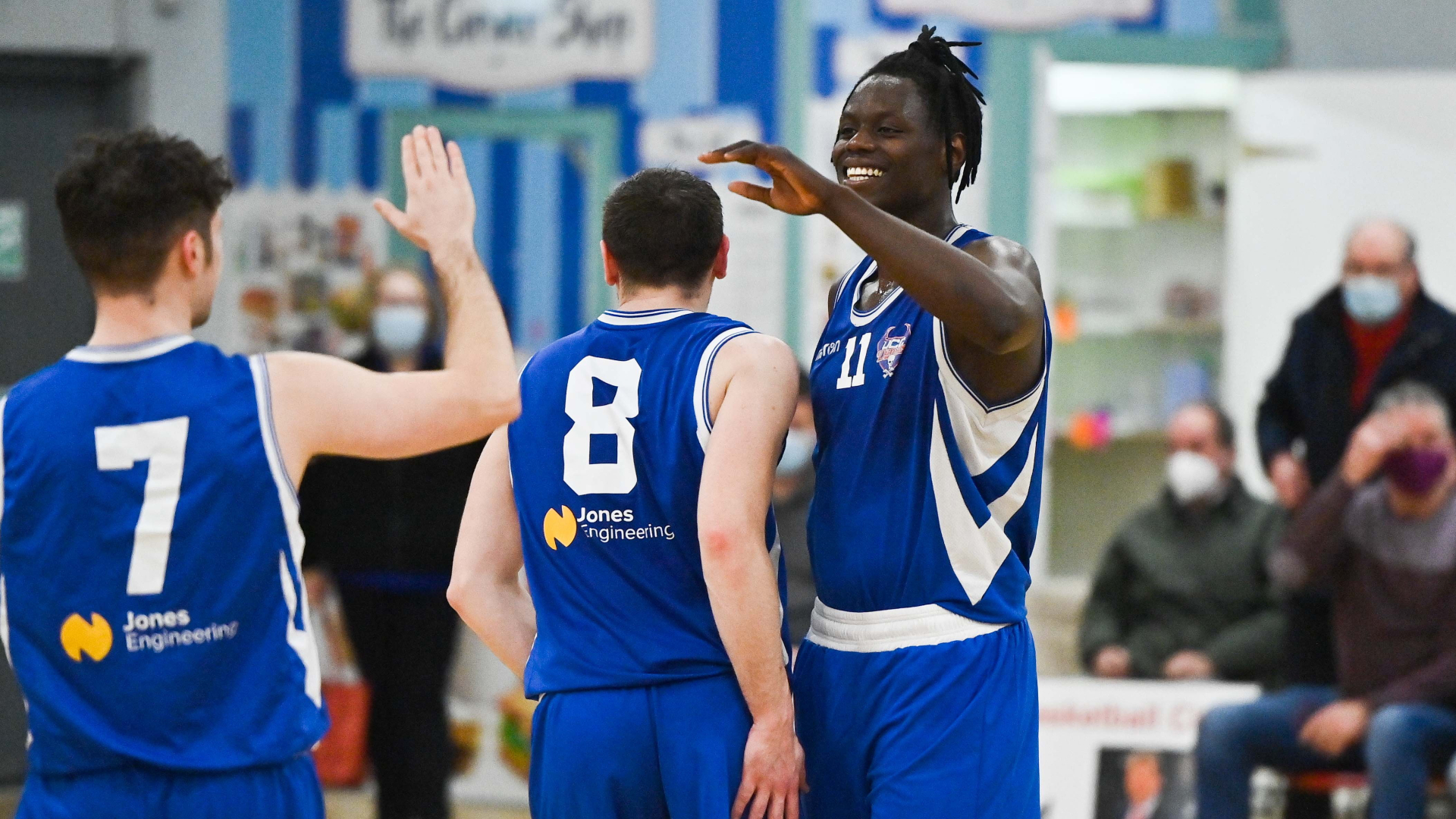 Tala Fam Thiam scored 27 points for UCC Demons in their win over Grand Hotel Malahide
UCC Demons head coach Daniel O'Mahony hailed the impact of Hosford in their win.
"Yeah we are absolutely thrilled to have won promotion and the journey continues to a perfect season. Malahide kept pushing up from quarter to quarter, but it was some huge plays from Kyle Hosford down the stretch which created that separation after 40 minutes."
EJ Sligo-All Stars, the Division 1 North Conference winners were 27-13 ahead at the end of the opening quarter in their game with IT Carlow, a lead stretched to 18 points by half-time, 47-29.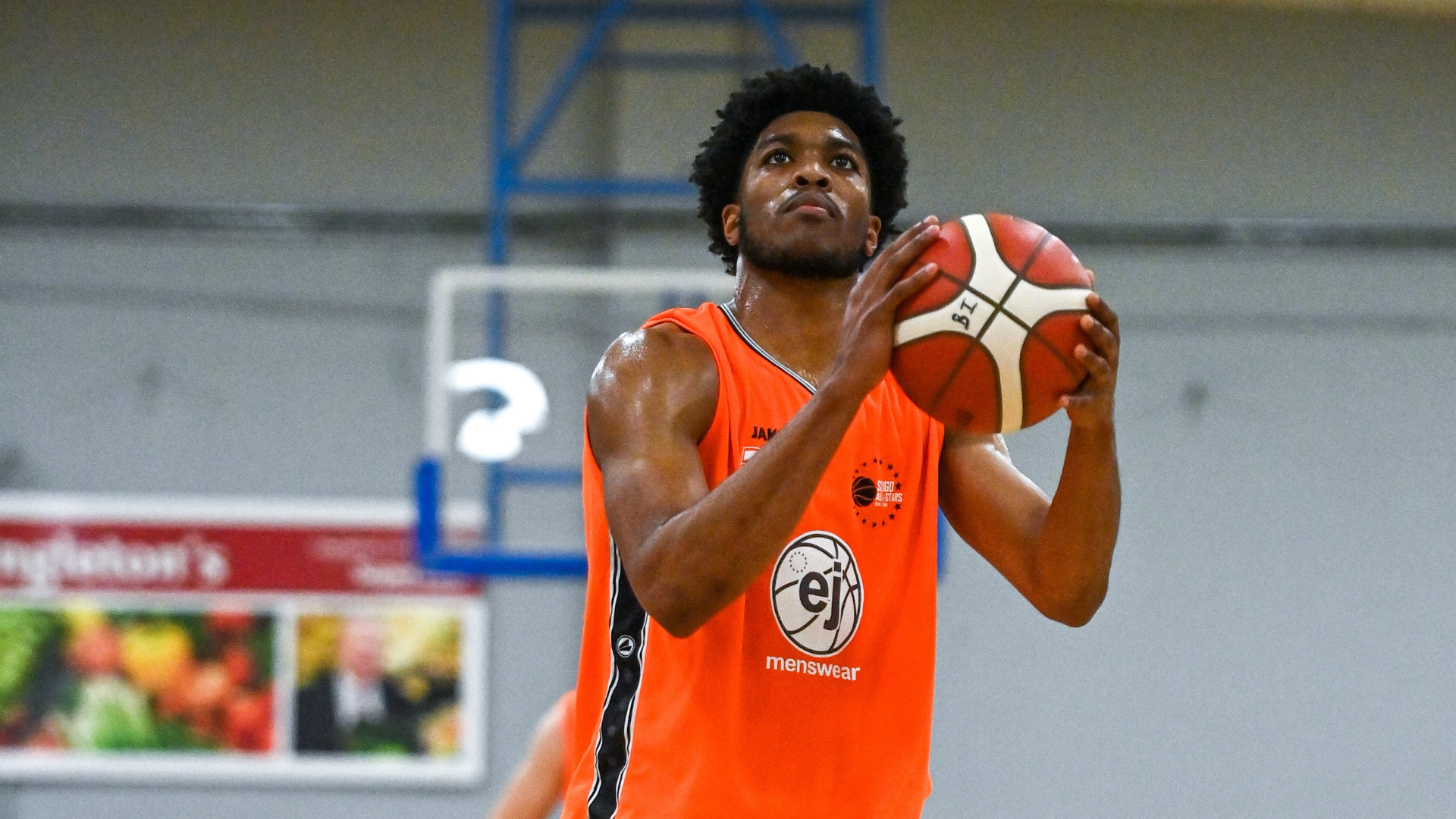 Keith Jordan Jr. hit 25 points for EJ Sligo All-Stars
There was to be no second half fightback from IT Carlow. Ej Sligo All-Stars offence was led by Zack Powell (26), Keith Jordan Jr. (25) and Oisin O'Reilly (18).
"I'm over the moon for the players, they've invested so much time and energy into our league campaign. They've grown as a team and as individuals and they're showing all our academy players what it means to be part of a team, part of a club.

"Our club executive and volunteer groups are second to none in ensuring that all the needs of our team are met and that the game is promoted in the right way.

"We knew Carlow were going to play a fast paced intense game and despite a rocky start, once we took the lead you could see our body language was that of a team that was hungry to win. Our effort on defence and our selfless execution on offense was hard to live with. Tonight was the perfect storm for us and Glen (Monaghan) and I couldn't be more proud of the lads." - Shane O'Meara, EJ Sligo All-Stars head coach
For IT Carlow, their scoring was headed by Kevin Donohoe (22), Jordan Fallon (14) and Nate Shafer (9). IT Carlow head coach Martin Conroy was magnanimous in defeat.
"All-Stars played like All-Stars tonight. They were aggressive, assured and composed and played at a pace we couldn't get to grips with. The shot the ball unbelievably well and forced us out of our comfort zone. Their three pro's Jordan, Powell and Hayes were outstanding and Oisín and Cian definitely chipped in and made it very difficult for us. Our guys kept going right to the last whistle though and I'm very proud of them for that. It's a tough one to take but we'll learn and move onto next season. It's been a decent year and hopefully we'll be right back in the thick of it next season also. Best of luck to Sligo in the final next weekend." - Martin Conroy, IT Carlow Basketball head coach