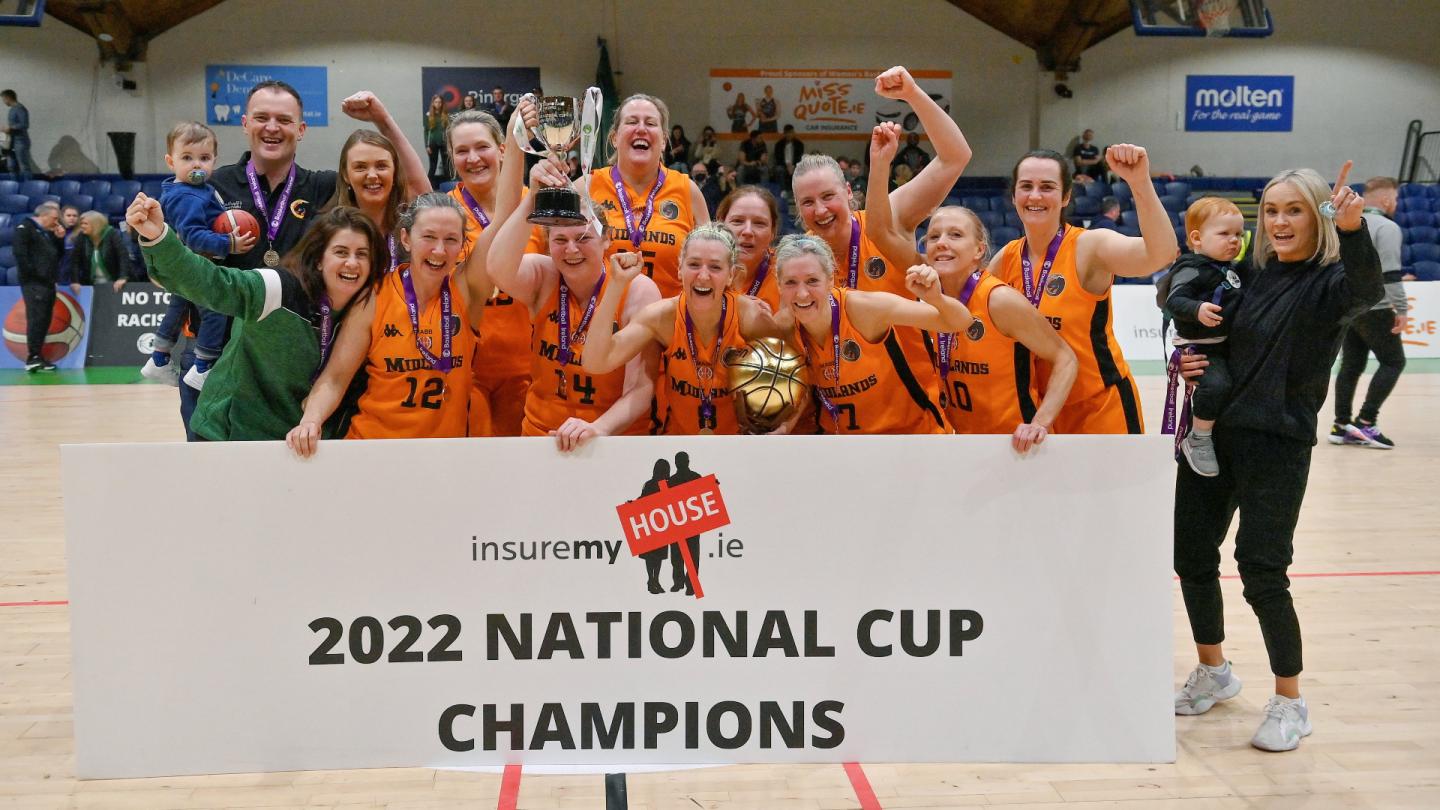 Apr 03 2022
Midlands Masters edge Glanmire 50-47 in InsureMyHouse.ie Masters Over 40's Women's National Cup final
Midlands Masters won the first ever InsureMyHouse.ie Masters Over 40's Women's National Cup, edging a tight affair against Glanmire 50-47. A crucial three point jump shot in the final quarter by Catherine O'Sullivan with just under three minutes remaining proved to be the difference between the sides. The MVP went to Midlands Masters forward Deirdre Tomlinson, who scored 16 points, including six from six at the free throw line. Tomlinson also had 8 rebounds, 6 turnovers and an assist in an impressive overall performance.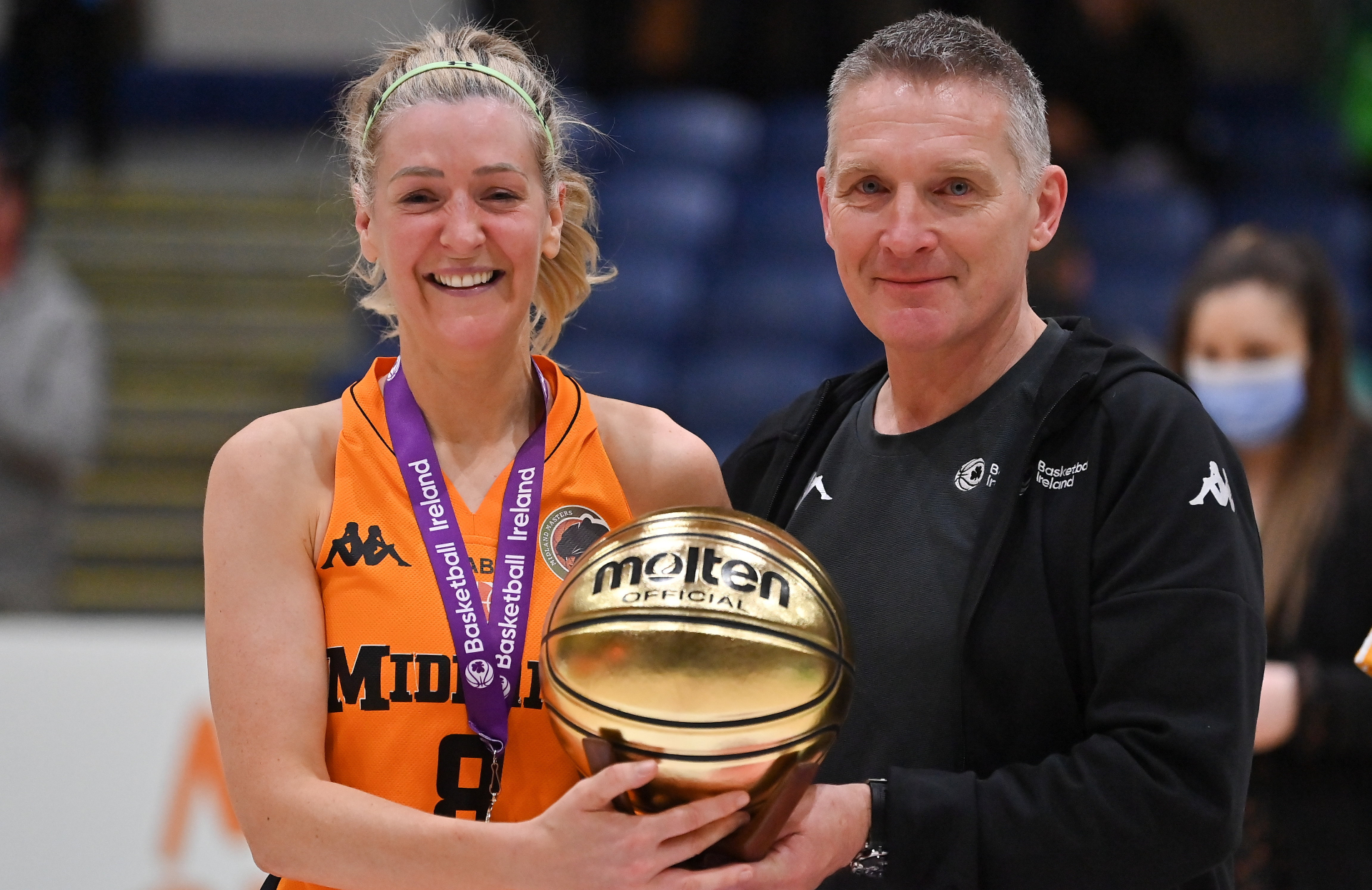 Midlands Masters player Deirdre Tomlinson is awarded her MVP by Basketball Ireland's Mike Murray
Midlands Masters started well and were 9-6 ahead at the halfway point in the first quarter, following Anna Reddin's free throw. Maria Harty subsequently kicked off a nine point run for Glanmire with a layup, which was followed by Juliet Murphy's three point jump shot and jump shots by Harty and captain Fiona Lynch, to move them into the lead, 15-9. It would be level at 19-19 following Claire Foyle's layup for Midlands Masters.
The second quarter was a lower scoring affair, with the lead exchanging multiple times, however it was Midlands Masters who were just in front, 29-28, after a couple of free throws in the final minute, one each for Pam Grogan and Edel Larkin.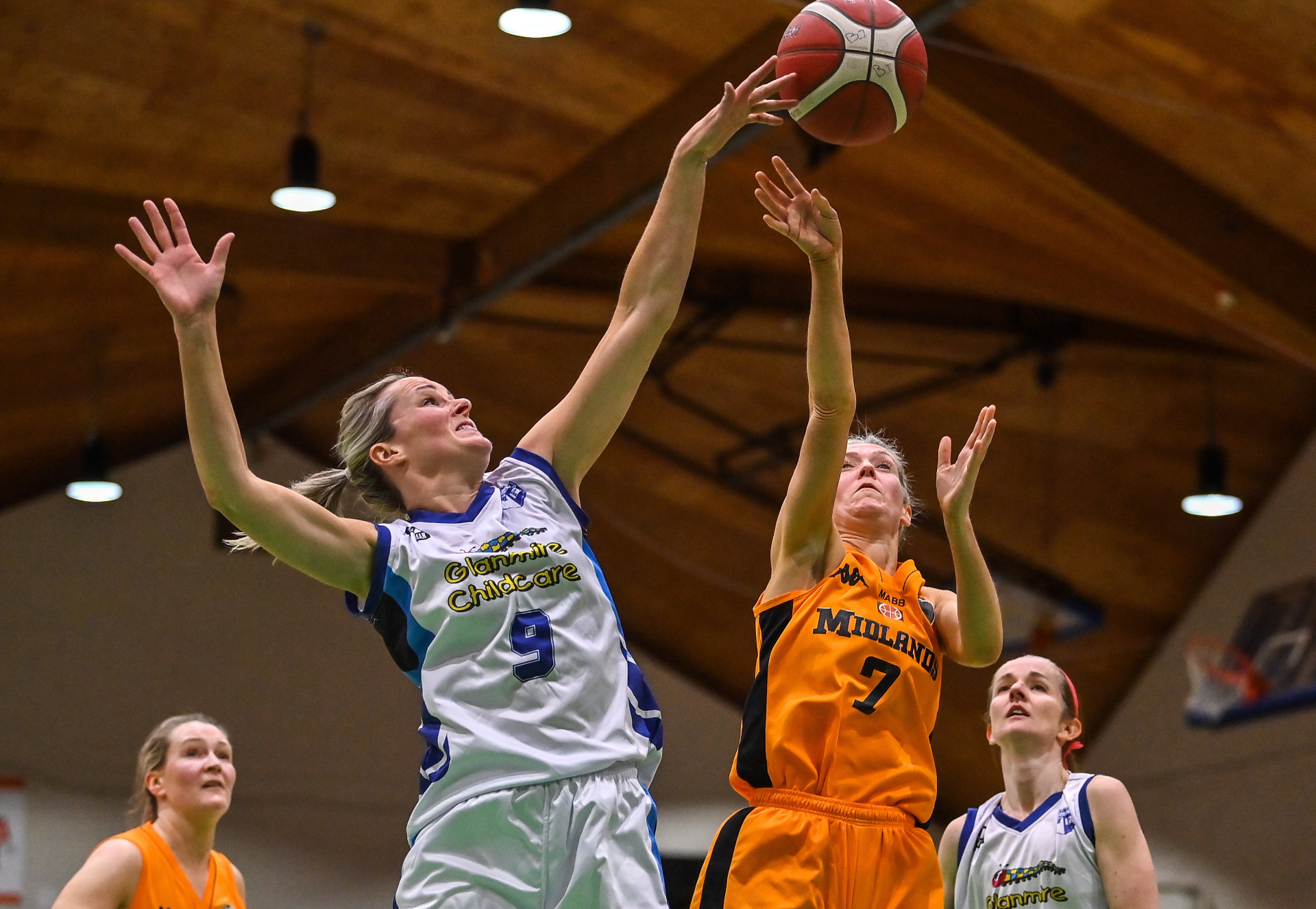 Maria Harty of Glanmire blocks a shot by Grainne Tomlinson of Midland Masters 
Glanmire went up by six midway through the third quarter, 37-31, following Harty's basket, to bring her personal tally up to 14 points at that stage. She'd finish with 16 points overall, along with eight rebounds and two assists. But Midlands Masters responded and MVP Tomlinson's baseline drive and finish with 30 seconds to go, saw them trail by just two, 39-37, going into the final quarter.
Tomlinson also brought it level with the first basket of the final quarter. A Harty jump shot and a Juliette Murphy layup edged Glanmire ahead again, 45-42, with six minutes to go. But a minute later it was level once more, after captain Reddin converted a free throw and a layup within a couple of seconds of each other. Montse Salvado's layup put Glanmire back in front, but when Catherine O'Sullivan landed a three point jump shot with 2'43 left on the clock it brought Midlands Masters bench and supporters to their feet. O'Sullivan then converted one of her two free throws with a 90 seconds remaining to hand Midlands Masters a 50-47 lead and that is how it would finish.
Asked about her crucial three pointer in fourth quarter, O'Sullivan said: "I had been missing a lot all game, but in fairness I have the best girls on the team with me and anybody could have stepped up at any time in the game and they did. I just happened to be in the right place at the right time at that moment and thankfully it went in."
MVP Deirdre Tomlinson was relieved to get over the line in a hard-fought final. "We knew this was going to be a tough game, they have stellar players like Juliet Murphy, Fiona Lynch, the list is endless, so we knew it was going to be a battle. Just from the first quarter, it was going to be tight, neither of us were going to give at all, so it was down to who had a little bit more at the end."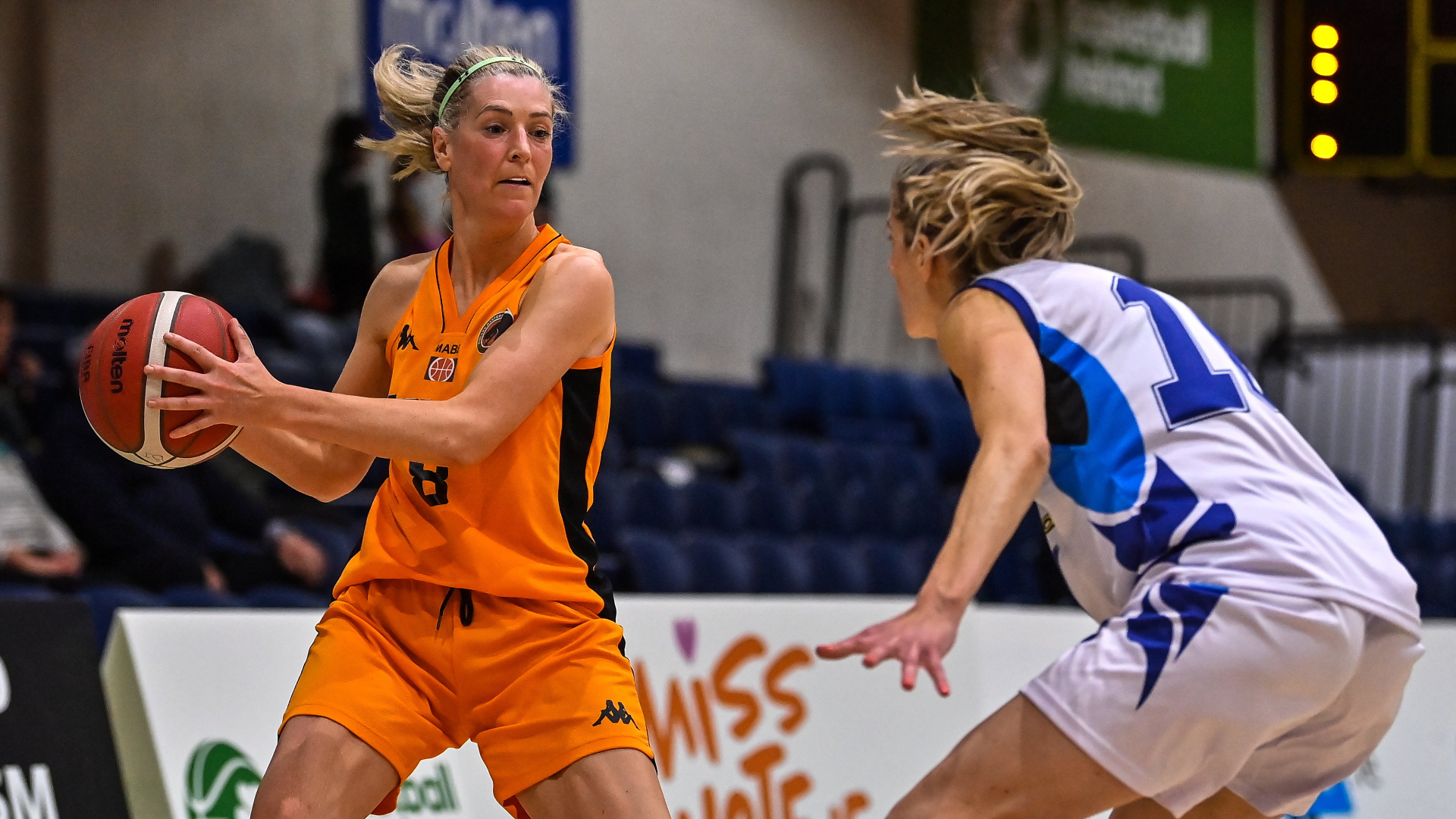 Deirdre Tomlinson, in action for Midlands Masters in the InsureMyHouse.ieMasters Over 40's Women's National Cup
On her MVP award, Tomlinson added: "This is my fourth Cup game, three with Portlaoise Panthers, one with Midlands Masters and I haven't lost one. I hoped I wouldn't lose one today, but in 2019 I was captain for that one and that was really, really special, but I think this one – winning and getting the golden ball is probably my top."
Top three scorers:
Glanmire – Maria Harty (16), Fiona Lynch (10), Juliet Murphy (8)
Midlands Masters – Deirdre Tomilinson (16), Anna Reddin (11), Edel Larkin (8)
Glanmire: Gillian Condon, Mai O'Leary, Angelene Myers, Fiona Lynch (C), Maria Harty, Juliet Murphy, Jo O'Keeffe, Mary Bridget Ennesguess, Sharon Doyle, Mags Mulhall Downey, Caroline Taylor, Montse Salvado.
Midlands Masters: Catherine O'Sullivan, Edel Larkin, Gráinne Tomlinson, Deirdre Tomlinson, Pam Grogan. Anne Marie Troy, Claire Foyle, Jackie Coleman, Anna Reddin (C), Marie Ramsbottom.