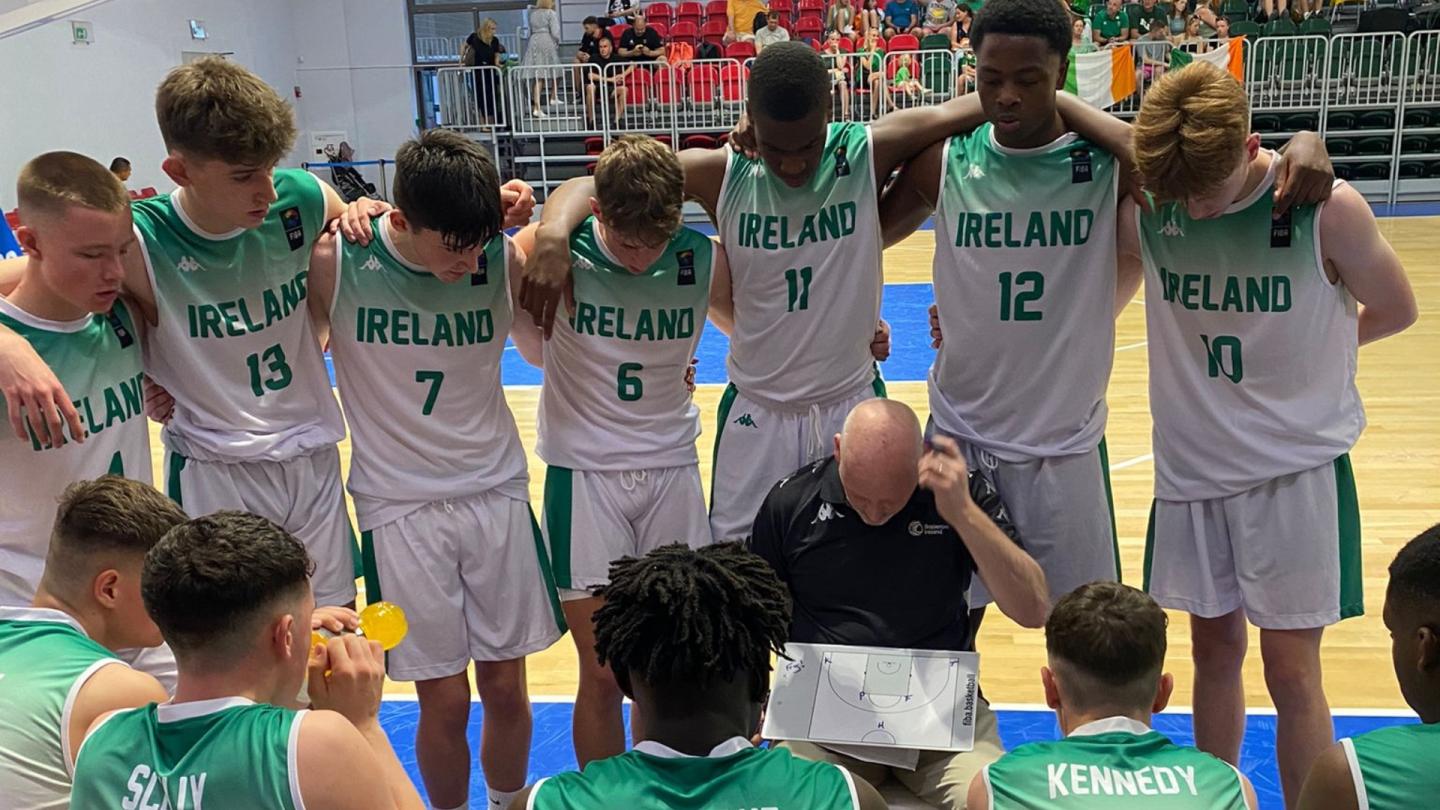 Aug 11 2022
Ireland outgunned by classy Romania at FIBA U16 Men's European Championship
Ireland U16 men battled hard throughout despite a slow start against an impressive Romanian team in their first game of the FIBA European Championship, ultimately going down 76-45.
It was a difficult opening quarter for Ireland as Romania started very strongly, going on a 11-0 run before the Irish got on the board through a free-throw from captain Harry Scully. Pat Price's team just couldn't get any momentum during the opening exchanges. Romania's guards were nipping at Scully and Kennedy's heels while they brought the ball up the court, generating 13-steals in the first half. Romania also made their presence felt inside the paint in the opening half. In total, 26 of their 34 points came from inside the arc, with 24-points attributed to turnovers by the Irish team.
As Ireland grew into the game, they began to chip away at the deficit. Conor Mac Criosta led the way, draining both his efforts in the first two quarters, including a delicious three-point shot. Having trailed by as many as 18-points, the gap reduced to 12-points by the end of the half. Ireland taking the quarter 16-13. Scully was a vocal presence in the middle of the floor, while Pharrell Osagie, Jakub Malecki and Tomas Kennedy all drained pressure shots in crucial moments.
Reminded that they were in a game, Romania came out from the break with the same intent they showed in the first ten-minutes. Ireland this time were ready for that intensity and matched it in patches. Cillian O'Connell had a breakout quarter, going for five points an assist and a defensive rebound, the assist coming following a steal and almost alley-oop to an onrushing Luke Seltzer. As the clock ticked into the final quarter, both Romania and Ireland spread the floor and gave all their players some minutes. Romania proved merciless in punishing Ireland's turnovers, accumulating more than half their points from Irish errors, something head coach Pat Price will want to be rectified ahead of their next game.
On the positive side Ireland held their own on the glass and matched their opponent's efficiency from play. If they can be more careful with the basketball, bring their free-throw percentage up over the coming games (it was 45% here) and tighten up their defence in the paint having conceded over 50-points from that area today, they'll give any team in this bracket a run for their money.
Elsewhere in Ireland's group today, there were wins for Finland and Germany over Ukraine and Slovakia. Next up for Ireland is a tango with the Germans tomorrow. They will be full of confidence after posting 104 points in their opening contest.
Ireland Top-3 Scorers:
Cillian O'Connell (9), Jakub Malecki/Tomas Kennedy (7), Conor MacCriosta (6).
FIBA U16 Men's European Championship Result:
Ireland 45–76 Romania
FIBA U16 Men's European Championship Fixture:
Ireland v Germany, Friday August 12th, 16:15, Venue: Sofia, Bulgaria.